Each season I take a fresh look at my table potential.
This spring was no different. Rather than an entire  table, I did a sampling with the blue place mats I found at Home Goods. I have been looking for a couple of years for not only for the perfect match for my blue Haviland dishes from Mom but for enough place mats for my family table. I finally found 12!
Got to hit the stores when they put the new season offerings on the shelves!
Fresh  flowers with Mr. Bunny with a sweet blue bow for an  Easter touch. Not much is needed to make a table special for your loved ones.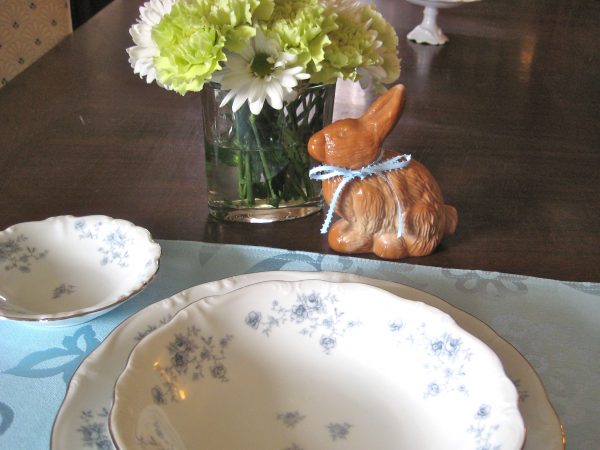 I love how the sliver swirls are highlighted by the place mat design. The pure delicate white blue enhances an old world look for my table.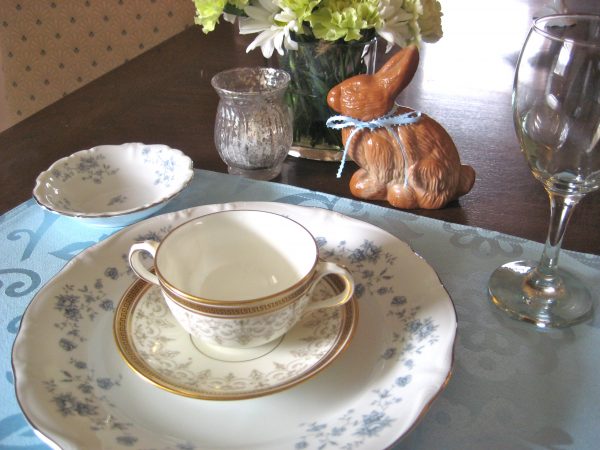 The blue flowers have hints of grey so I matched it with Great Aunt Daisy's English Greek key china. Not a perfect match so it may not make the "cut".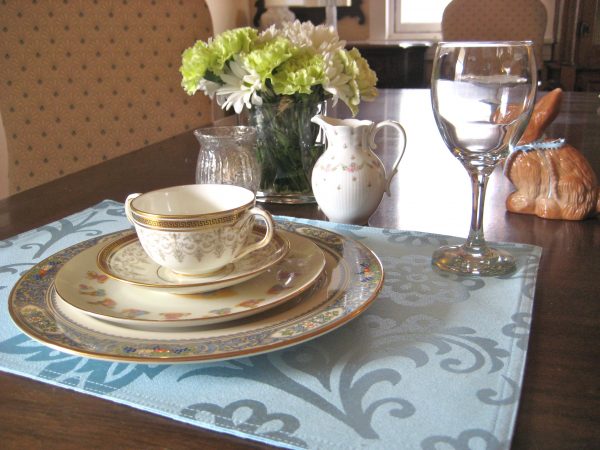 This combination is better. Anniversary china from my husband layered with bunny flea market nursery plate and the Greek Key china consommé soup  cup and saucer works. I' m liking it! Add a few more accessories to help anchor the mix and match china, styles and colors.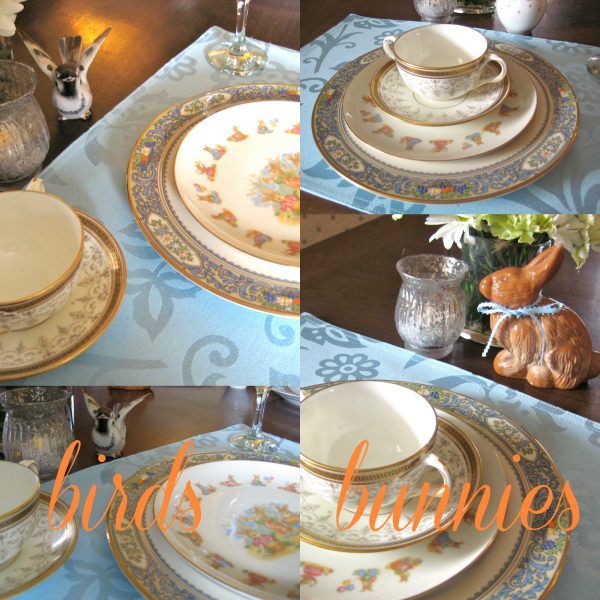 Layering makes it possible to pull in different styles and patterns. Add a bird for a spring or summer look.. A small change for the seasons. The sweet oranges are complimentary, not jarring.  Perfect for bunny food…carrots! The blues and greys pop against the clear blue place mat. The mercy glass votive is a gentle touch.
Try and mix and match! You just never know what will look drab or fab!
Autumn    Lenox China
Blue Grey Flowers  Haviland China
Place mats    Home Goods
Flower vase    Colonial Candle glass container
Bird and cream pitcher  from Mom
Brown bunny and bunny plate    Local auction & flea market
Wineglass       Wal-Mart
Mercury votive, battery candle & votive holder     Michael's 
How about you? Do like to mix and match; any hints for us? 
http://betweennapsontheporch.net
http://thetablescaper.blogspot.com
http://www.astrollthrulife.net
http://www.savvysouthernstyle.net
http://linda-coastalcharm.blogspot.com