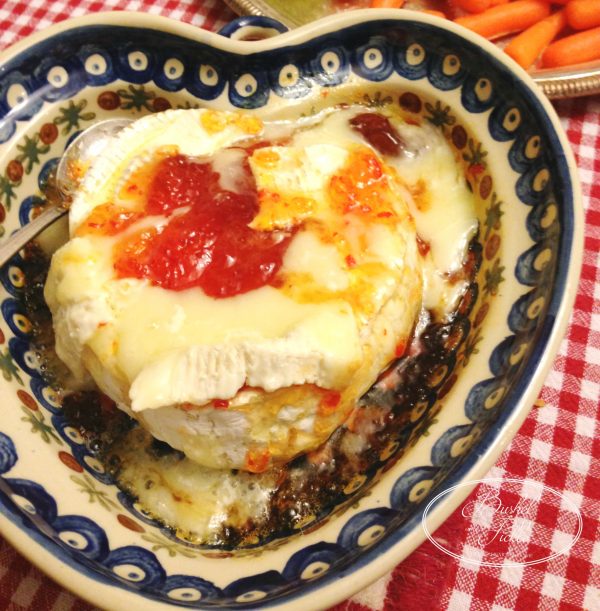 Next Sunday is a big day!  Lots of excitement and good food will be served.
It's the day for
APPETIZERS!!!
Okay, it's the Super Bowl but I do love appetizers and making a fun selection to nosh on.
Baked Brie is one of our all time favorites.  But like most appetizers we only have it a few times a year.
This one is so easy, like Velveeta Cheese Nacho Dip.  I don't have a photo.
Follow the recipe inside the Velveeta box.
Cube the cheese, heat in a microwave or a heavy bottomed sauce or skillet until melted.
Add Ro Tel Sauce. Heat and stir.
Serve with tortilla chips.
I have even taken this as my dish for family and friend gatherings in a pinch.
Baked Brie is maybe a little snazzier because well, it has a French name and you buy it from the fancy cheese section in the grocery store.
Use a cute baking dish.  Mine is a Polish Pottery heart-shaped dish.  You can find it HERE.
Baked Brie with Red Pepper Jelly
Baked brie with red pepper jelly
Ingredients
I small Brie wheel
¼ 1/2 cup red pepper jelly
Cooking spray
Water crackers
Instructions
Lightly spray baking dish bottom with cooking spray
Place Brie wheel in the center of the dish
Bake in preheated over for 10-12 minutes
Heat red pepper jelly until melted in a small sauce pan or in the microwave
Spoon over baked brie prior to serving.
Serve with water crackers
Enjoy!
What are you making this Sunday?  
Disclosure: Bushel and a Pickle is a participant in the Amazon Services LLC Associates Program,  an affiliate advertising program designed to provide a means for sites to earn advertising fees by advertising and linking to amazon.com.
Maybe linking here:
Foodie Friday & Everything Else Link