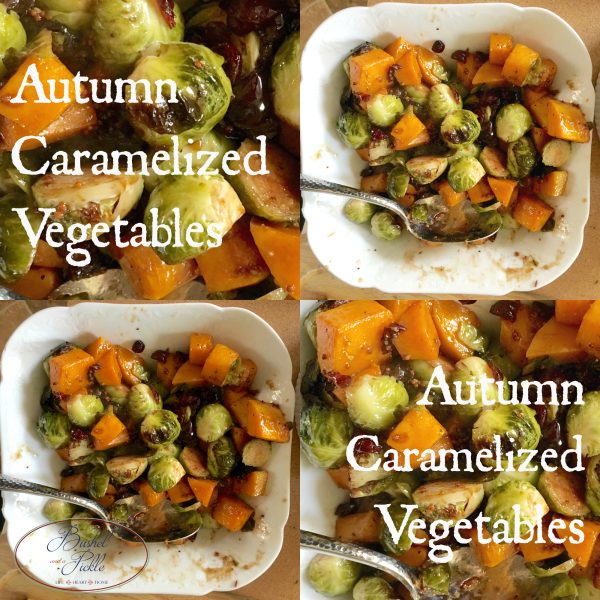 Fires take the chill out of the evening air.  Display bins in the markets overflow with colorful squashes and vibrant greens.
Love it when the weather turns cooler, finally!  Love when the Thanksgiving season comes.  This year we go to friends on the day.  We are taking ham loaf, a Lancaster speciality and coconut custard pie by Meg.  Check out the recipe here.  Come the weekend, our sons, DIL and girlfriend will be here for their second turkey family meal. Plus it is Amy's 18th birthday.
What can I add to our usual meals to perk them up, make them more appetizing and appealing?  Usually, it starts looking on-line at favorite blogs with recipes I like and being a visual kind of gal, at the vegetable section of the grocery store.  On a trip home Will's girlfriend Hailey made this yummy autumn caramelized vegetables for us.
This mix of seasonal vegetables seasoned with balsamic mustard vinaigrette.  The added dried cranberries are a pop of even more flavor.
<span class="mceItemHidden" data-mce-bogus="1"><span></span>Autumn <span class="mceItemHidden" data-mce-bogus="1">Caramelized</span> Vegetables</span>
Tasty autumn vegetables with balsamic glaze.
Ingredients
1 butternut squash, peeled and cubed
1 pound

brussel

sprouts, halved
dried cranberries
salt
pepper
2 Tbls balsamic vinegar
2 Tbls honey
2 Tbls

dijon

mustard
Dash of soy sauce
olive oil to coat vegetables
Instructions
Prepare shallow baking sheet with parchment paper or

cooking

spray

Preheat

oven to 425 degrees
Cube butternut squash into bite size cubes
Toss vegetables with olive oil, salt pepper to taste to lightly coat
Cook vegetables only for 30 -35 minutes until lightly crispy
Add ¾ of vinaigrette to vegetables
Stir
Add cranberries
Cook all for another 5 -10 minutes until

caramelized

Gently mix in remaining vinaigrette before serving
Thanks to all fellow bloggers for sharing their favorite holiday recipes.  Do you have one to share with my readers and me?  Please do!
May you have a blessed Thanksgiving!