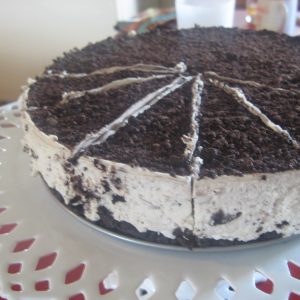 Showy Oreo Cheesecake
Oreo Cheesecake with six ingredients
CHOP 15 cookies coarsely.

Finely chop remaining cookies; mix with melted butter.

Press finely chopped cookies and butter mixture into bottom of springform pan or 13x9 in pan. Refrigerate while preparing filling.

BEAT cream cheese, sugar & vanilla until blended. Gently stir in sweetened whipped cream or cool whip and reserved chopped cookies.

REFRIDGERATE unitl firm, about 4 hours.