Setting a tablescape for Autumn with tips and how to build a lovely centerpiece is the topic of today's post.
Centerpeices can be easy to make for your table! They don't have to be expensive or elaborate to be lovely and elegant.
tips for tablescape
#1. Use what you have
#2. Use faux florals and natural elements
#3. Add different colors that complement what you have
#4. Don't skip over previously unused elements
tip #1 Use what you have
I planned to use my white china with a gold rim. Sage seems to be a popular color this year so I have soft sage like green placemats. They were a Christmas gift several years ago purchased from Target. I have lots of pottery choices in natural tones to incorporate courtesy of my studio art major daughter.
I ended up pairing my Autumn china dinner plates with the white salad plate on top. The trim really highlighted the sage color of the placemats.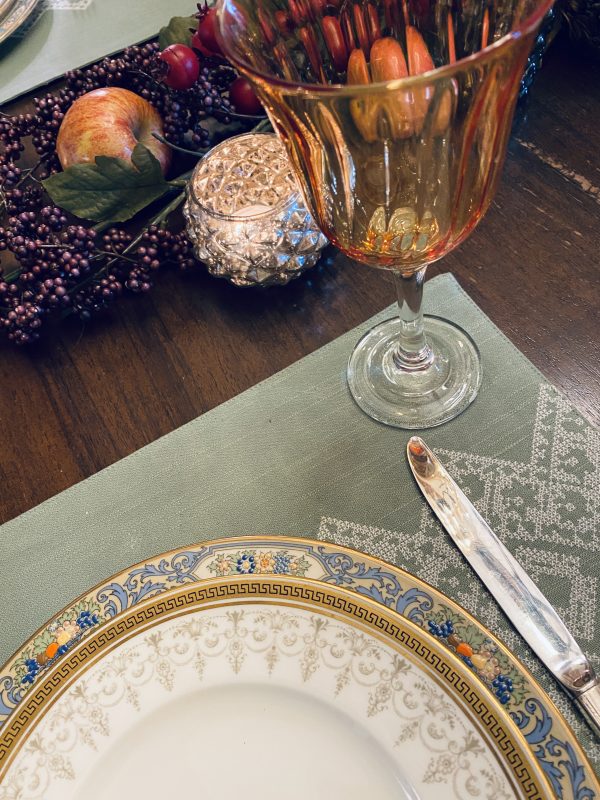 tip #2 use faux and natural elements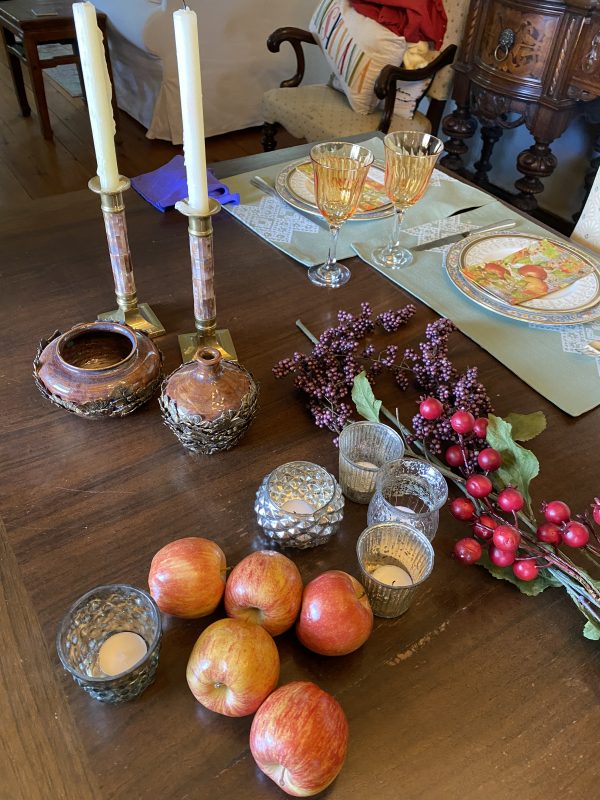 I also took into consideration our Thanksgiving turkey and fruit motif china with several colors to accent when choosing new colors. Think of it as the same a building your wardrobe. I also knew I have a variety of colors in my table linen collection including my neutral linen table cloth.
I wanted to add purple and maybe red, not deep burgundy this year. At Michael's I found two long stems to use. Dusty purple and red cherry stems were my choices. (Always check for Micheal coupons. Take advantage of military and teacher discounts)
Use fresh fruit or vegetables from the kitchen or garden. Eat them later!
tip #3 add different colors that complement what you have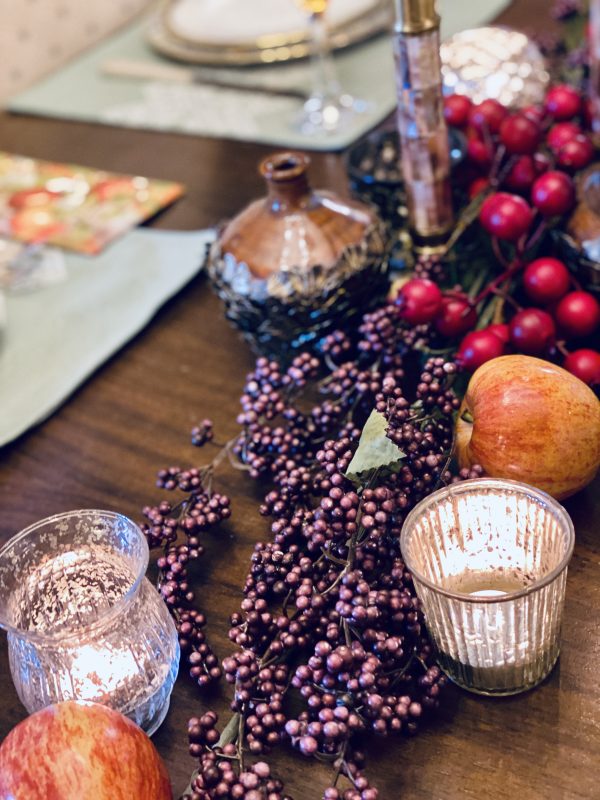 Intense red and dusty purple colors may not seem like they would go together but think of fall colors in nature. There are so many to chose from!
These colors look very pretty with the soft sage backdrop placemats. I'll use them again when I set the table with the Turkey plates.
tip #4 don't skip over previously unused elements

I tried the gold rim white china by its self. Nope! It didn't look good. So I went to my all season Lenox China, Autumn. Wow! Did it work well, to my surprise. A combination I have never tried.
The green in the trim is a match.
building the centerpiece
Having the basic base color with the sage placemats set for the backdrop was the first part of building the tablescape.
Tall candlesticks are a tradtional touch to any tablescape. These brass ones are covered with shell pieces that are shiny and add another texture with color to the centerpiece.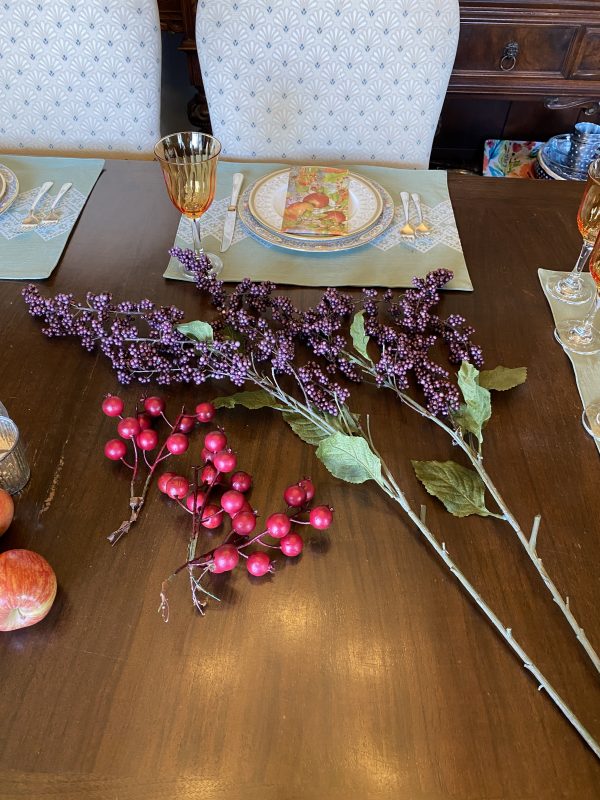 As a base for the arrangement, I put the purple berry clusters end to end. I did not cut the stems. The length is equal to the two long stems added together. To cover where the stems overlapped in the middle I added red berry clusters. I stripped them off the red berry stem. They came right off with a tug. They wre only wrapped to the stem. I tucked each one to cover the middle section taking care to cover bare overlapping stems. It also adds a little height and dimension to the arrangement.
e
.
From the kitchen I grabbed 5 spples to randomly tuck in the stems for a natural element and to highlight morefallcolors.

Another versatile element is mercury glass votives. I placed them at random intervals in between the purple berry clusters. The subdued color fits with the elegant feel of the centerpiece.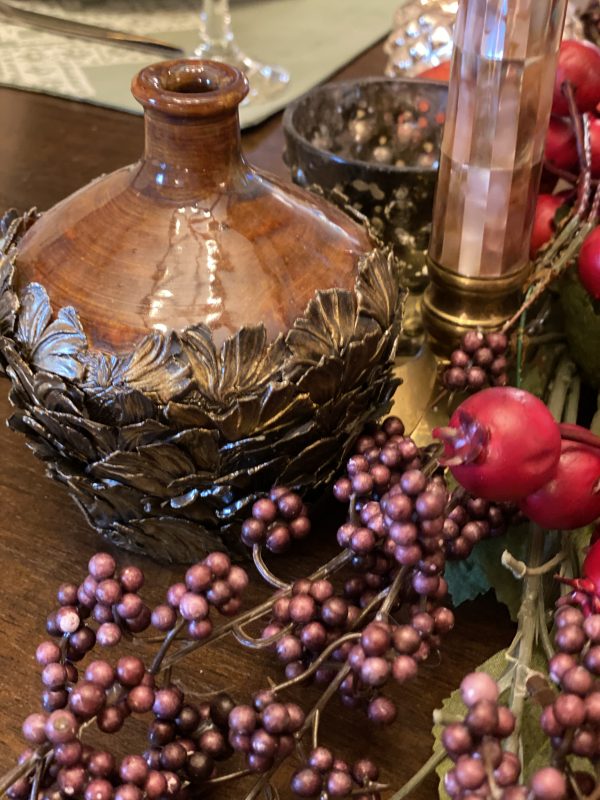 The ceramic pot and vase with the shiny brown and individually crafted leaves with gold brushed paint were the final tocuhed that made this centerpeice something extra special.
Balance and symmetry is important to consider when arranging your centerpiece. The length should be equal on each side (or for a round centerpiece). The elements can be odd or even amounts. It usually takes me a few tries to get just the right arrangment that is pleasing to the eye. A mistake I made in my early tries was to not have enough; my arrangements could look skimpy. It's hard to over to a special centerpiece!
place setting

s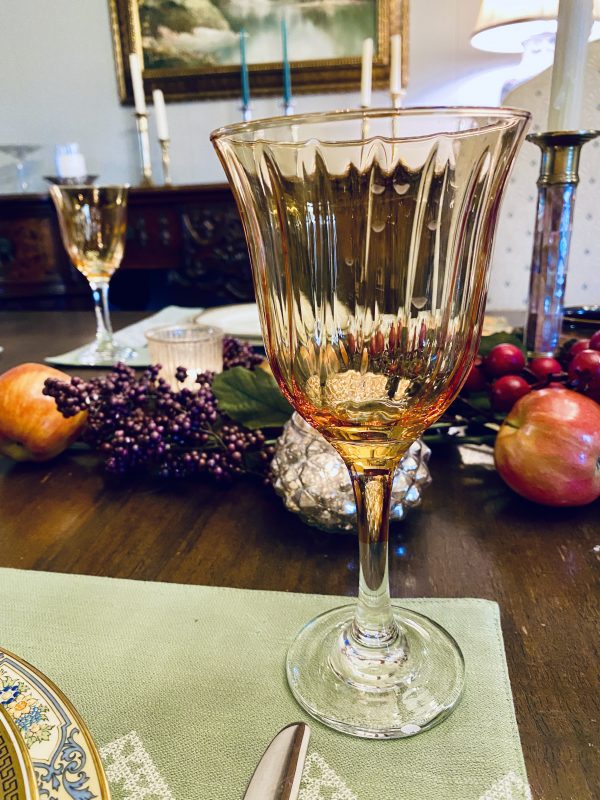 Next I finished the place settings with layered plates, silver and a new addition, amber goblets from Home Goods. I had the fruit designed napkins left over from a previous year.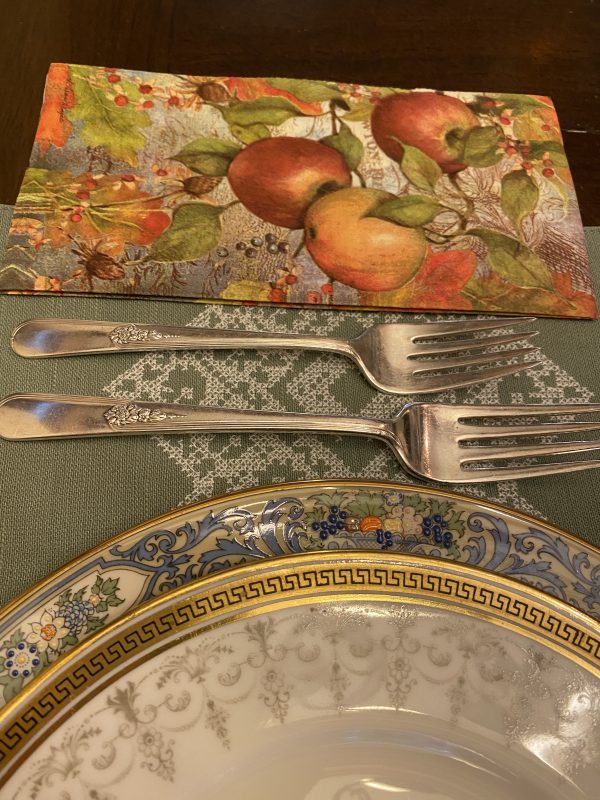 I've used the chinas together before but with the addition of the sage placemats and fruit napkins, they made a beautiful autumn place setting. The white china is vintage. The Lenox china Autumn was a gift from my husband over several years from the Tangier Lenox outlet! I bought my first piece, an oval bowl at a local auction years ago.
The finished tablescape is so pretty. With just two new faux stems I made this lovey centerpiece. The amber goblets were a bonus buy. When I saw them I I got them. They were just so pretty!

I enjoyed creating this Autumn tablescape for the coming season. Hope it inspires you when making your own!