It is elegant, livable and retro! It is the Gettysburg retirement home and farm of our 34th President 'Ike' Eisenhower and First Lady Mamie.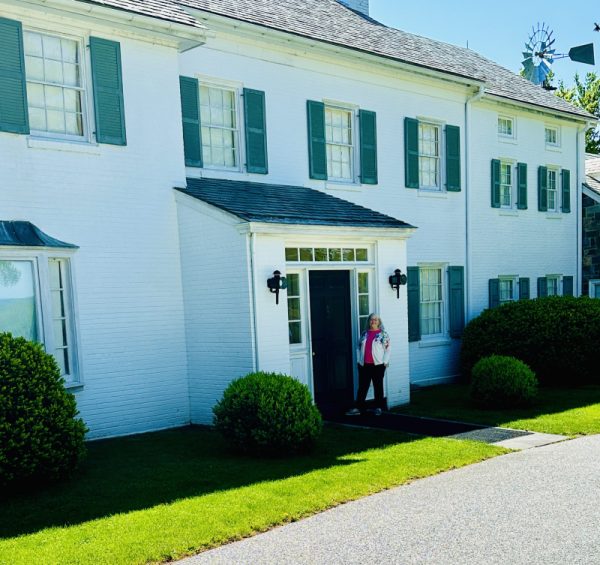 LOcal Day Trip
A little more than an hour away from our house is the Gettysburg National Military Park and The Eisenhower Home and Farm.
It was a fine morning so Jim said. 'Let"s go!' One positive about day trips…no prior planning needed. Visits were finally resuming for the interiors after COVID restrictions.
A little background
The Eisenhowers bought this home and farm in 1950. Mamie was ready to have their own place to call home once he retired from the army. Friends recommended the Gettysburg area which suited them very well.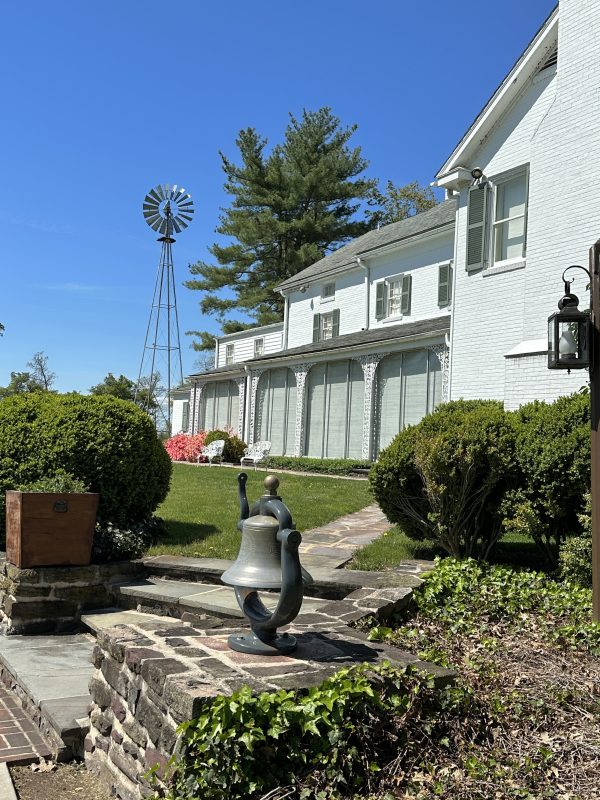 Ike and Mamie had fond memories of their time in 1918 when he was assigned to Camp Colt, a small training post established on the battlefields of Gettysburg. It was an early training ground for armor warfare (tanks). Read more here about Camp Colt.
It took several years for the renovations to be completed including a break when Ike was the Supreme Commander of NATO in 1951. This time, Mamie and Ike went to Europe together. He became president in 1953.
They celebrated the completion of the renovation with a party on their anniversary in 1955. The staff of the White House was included on the guest list which was very much appreciated.
This would actually be the first home they owned! Not uncommon for career military members. Usually, military familes live in military quarters or rented places because moves typically are every 3 years or less.
Mamie had renovations and additions done to make it a home. The home when additions were completed had 8 bedrooms and 8 bathrooms. Lots of room for grandchildren, her elderly mother, their staff and guests. A big. project! Mamie worked with an interior designer and contractors to accomplish this large project.
"Give her what she wants"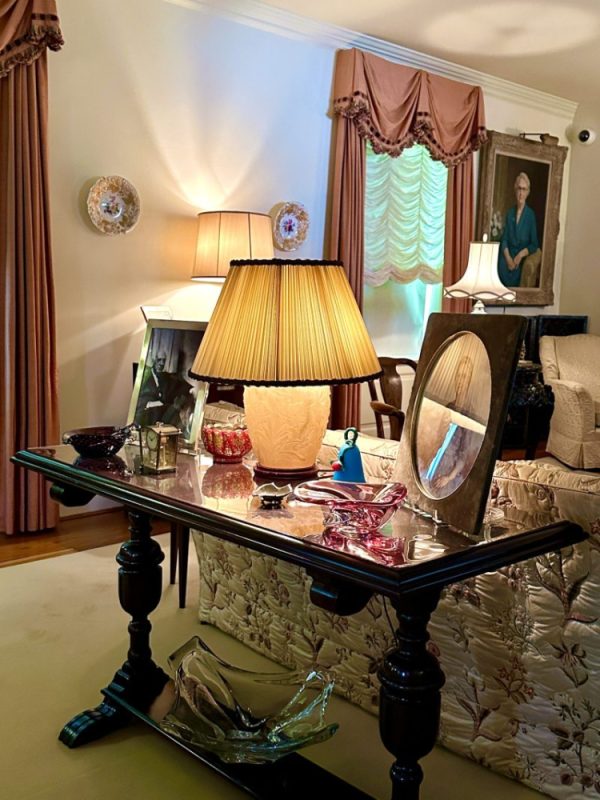 The plans for decoration and construction of the house were dictated by Mamie Eisenhower. At one point, Eisenhower told the contractor
"For God's sakes, just give her what she wants and send me the bill."
His main concern was personally mixing the paint to recolor the barn, which had a red coat he thought was hideous, so he painted it a light gray green. Mamie, meanwhile, was delighted in being able to use everything they always had in storage, and decorated more for sentimentality than for aesthetics. from https://en.wikipedia.org/wiki/Eisenhower_National_Historic_Site.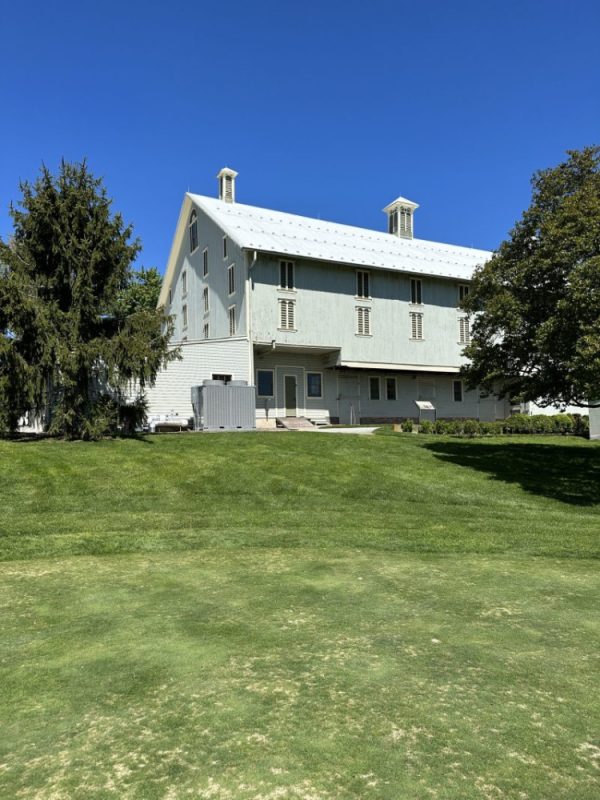 It took several years for the renovations to be completed including a break when Ike was the Supreme Commander of NATO in 1951. He was elected president in 1953.
They celebrated the compeltion with a party on their anniversary in 1955. The staff of the White House was included on the guest list which was a big deal and very much appreciated by them.
Formal Rooms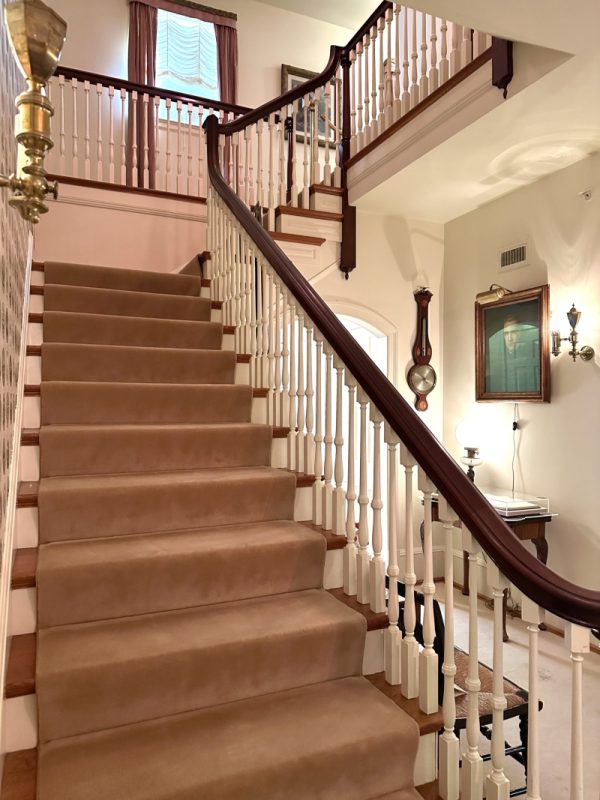 Typical of the Gregorian style, our first view inside was of this elegant center hall stairs.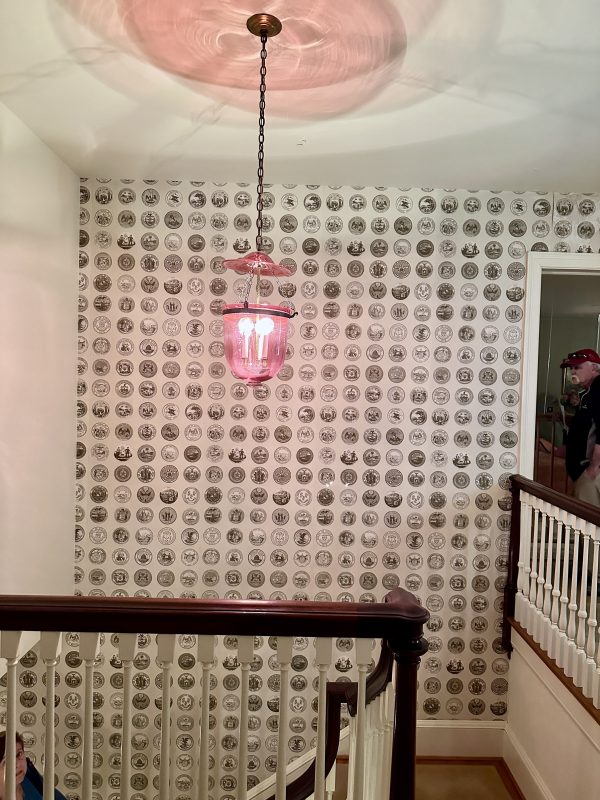 The wallpaper up the stairs is custom with the 49 state seals Mamie had made. Hawaii was not a state yet. This special wallpaper is a tribute to service in the military and as president.
It must have been very satisfying to finally have all of their collective household goods out of stoarage and to have your very own home to decorate to please. Miltary families are not able to move all of their household goods everywhere they move.
I can tell you from personal experience; it is a sweet experience to unpack all of the family's special items and "the memories".
Finally, Mamie could do just that and put them on display. She also used long stored furniture from years gone by. Sentimentality was very much part of their home's decor. So was pink!
This became a weekend escape for them during the presidental years along with Camp David named after their grandson.
Mamie was not outspoken or political like many women of the era and military spouses. However, Mamie was well liked and a trend setter. She loved PINK!
Mamie's famous Inaugural ballgown was all Mamie pink. Mamie said pink made her look good. The Thomas Stevens 1953 portrait is the first thing you notice when entering the formal long living room.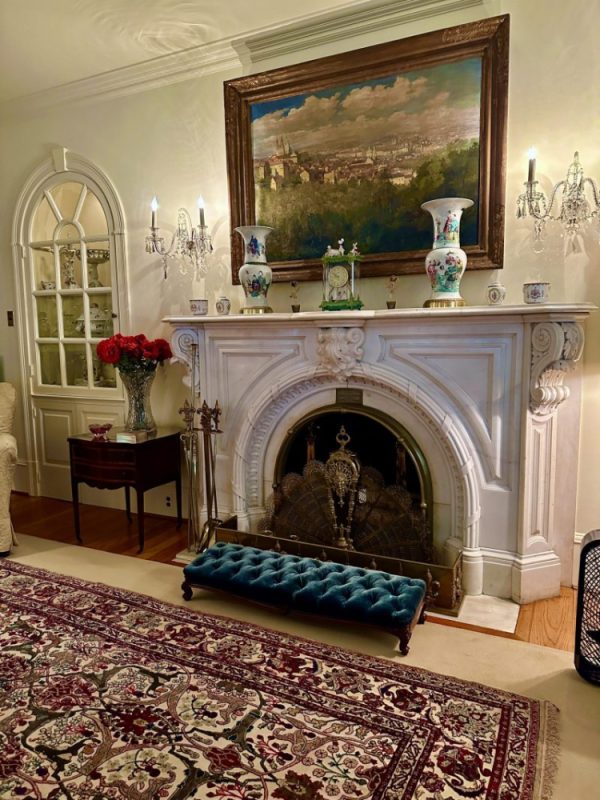 The formality of this living and dining room is in contrast to the comfort of the rest of the house. World leaders and other dignitaries were entertained in these formal rooms.
The living room walls were a very pale soft green, a color used in other rooms.
The shades pulled down to protect the furnishings from sun damage. The decor is all original to the home. The curator, of course is being very careful.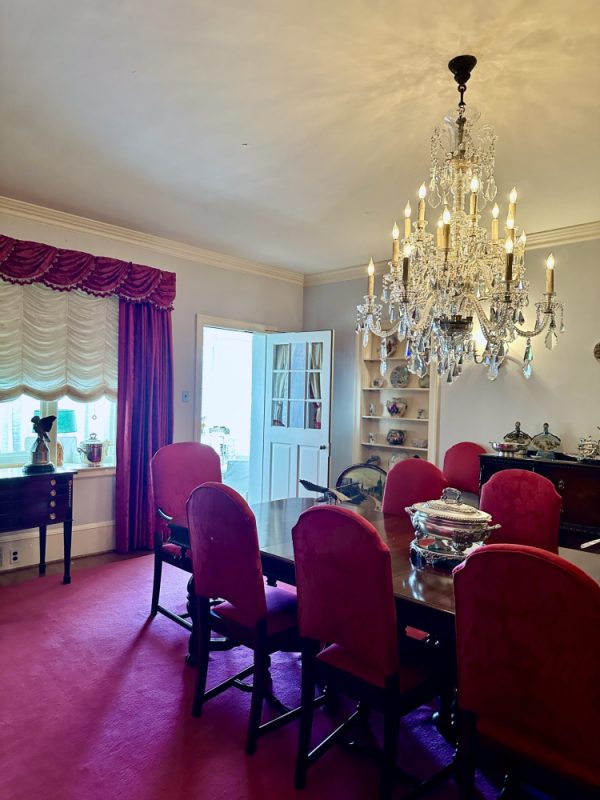 Mamie was known to be an excellent hostess. When she and Ike met, she was a 'socialite'. He was a USMA cadet from a rather poor family. Her father told her not to bother to learn to cook because she would be expected to cook!
They lived on his military salary. She always managed the budget which would frequently be tight. Occasionally her father helped. It was common to have household help which undoubtedly whose duties included cooking.
The social life among the officers was active. Bridge, dances and dinners took place often. Over the years Mamie would have honed her skills as a hostess.
Silver sets would be added. Entertaining could be very formal. Also there many would have been gifts. As one rose in rank, more was expected. I still have our silver serving sets tucked away and bring them out on occasion. A different time!

pink for mamie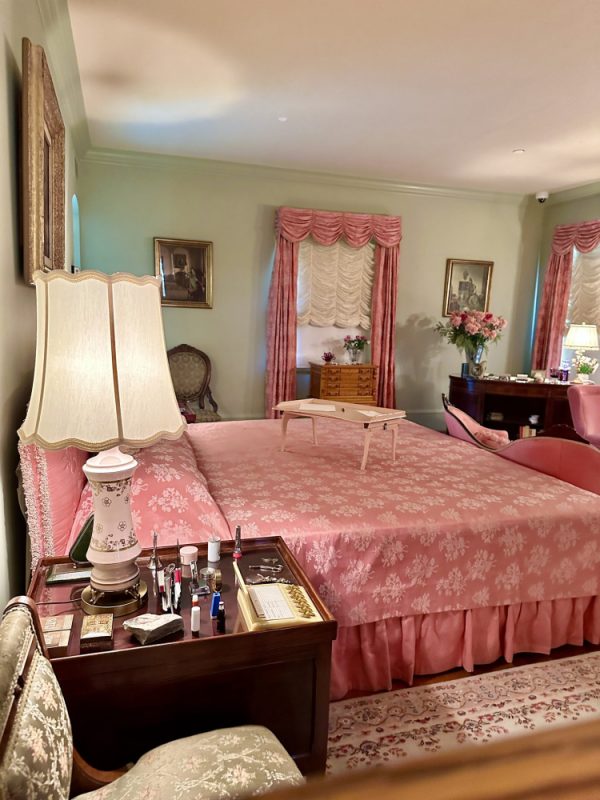 They shared this beautiful dusty pink large bedroom. She also had a dressing room. Ike had a small simply decorated bedroom for naps he took regularly after his heart attacks. Mamie had a heart condition from childhood; she often spent most of the day resting in her room.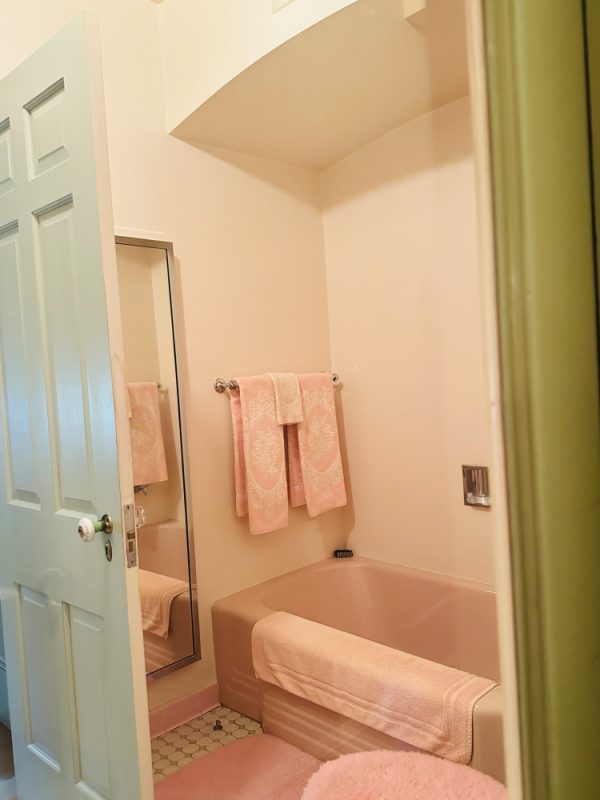 It was not only her signature color; it became a popular color and not only for clothes. It was for wall paint, home decor especially for bathrooms. We had a pink bathroom when I was little. Did you or your parents?
More to Come Next week
This is only part of the home. I find the decor choices and details of a historical home interesting. Sometimes, they can be inspirational too. People who are part a homes' history are part of of our country's history. We can learn alot when we study them too.
After all, this military wife who be came the First Lady influenced an entire nation to think pink!
Next week read more about our day trip! More about the house, a little of the property and lunch!
Visitor information
Always check on line for visitor updated information! The battlefield has several preservation and repair areas in progress this summer!
The Eisenhower home and grounds has seasonal schedules. Here is the current one.
1 June – 13 August Schedule:
Thursdays, Fridays, Saturdays, Sundays, and Mondays
9:30 am–Ranger Guided walking tour of the grounds of Eisenhower National Historic Site. Meet the ranger in front of the Eisenhower home. Note: this program does not include a tour of the Eisenhower home.
House tours will take place at 10:30 am, 11:30 am, 12:30 pm, 1:30 pm, 2:30 pm, and 3:30 pm. House tours are first-come, first served, and limited to 40 visitors per tour. Meet the ranger in front of the Eisenhower home. https://www.nps.gov/gett/planyourvisit/eisenhower-national-historic-site.htm
Other sites to visit:
Gettysburg Battlefield. https://www.nps.gov/eise/index.htm Check out the visitor center with information for self tours and personalized ones.
Gettysburg National Cemetery. US National Military Cemetery where Lincoln delivered the famous "Gettysburg Address" at its dedication after the battle that changed the tide of the Civil War. https://www.nps.gov/nr/travel/national_cemeteries/pennsylvania/gettysburg_national_cemetery.html
~~~~~~
Below is a shopping list for your convenience. The items are the same or similar to the ones I use. I also included other favorites! Please note I am an affiliate so any purchase you make through the provided links, I may make small commission on at no extra cost to you. Thank you!

~~~~~~~