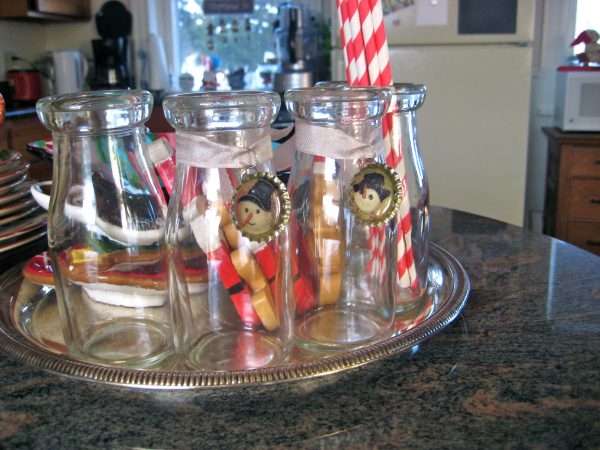 Over the hills and through the woods to the open houses we went!  Literally over and through.
Last week the Bible study gal pals and I went over the hills nad throug hte woods to a log cabin home for brunch.  The inspiration was bubbling up! Then we were off!  Over the hills and through the woods…to 2 Amish homes' Christmas open houses.    I seriously needed some Christmas inspiration. Big kids are off to the other families' homes. It's only right; we were together for Thanksgiving and Christmas last year.
I just could not think of anything creative and fresh for those of us who would be here.
It was a dismal rainy day and I only took one picture.  Using the flash especially seemed out of place. There was lots of the  
new old.  
Back to the country style of

Christmas

.  Not the classic Victorian,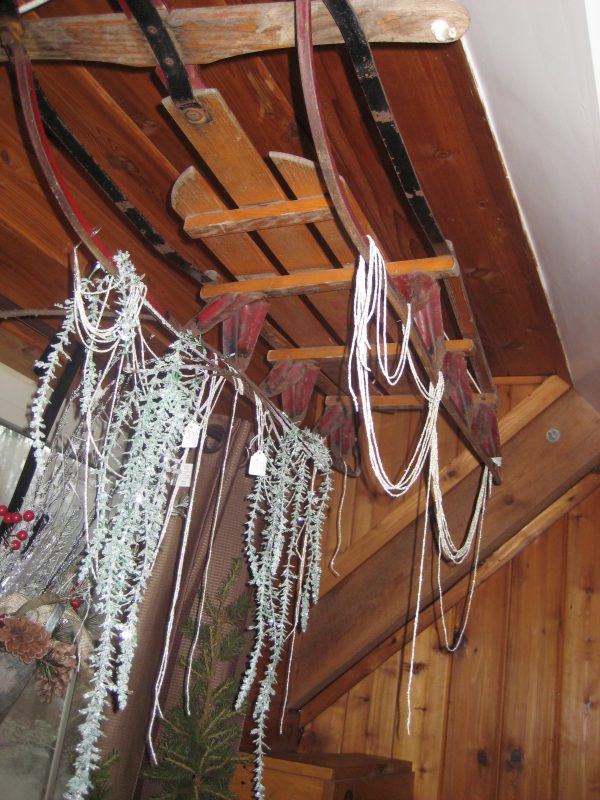 A bit of Americana  Country…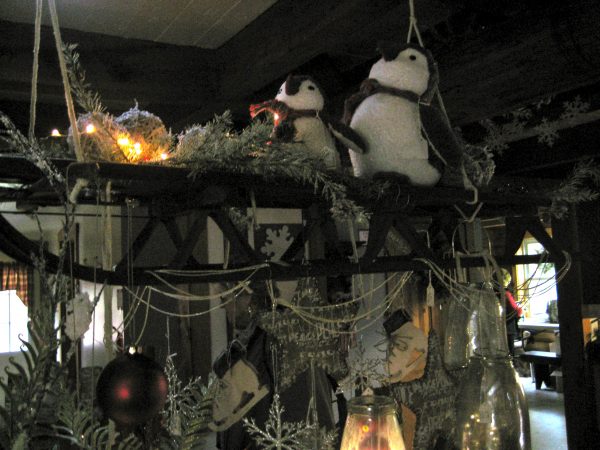 Suspended sleds a nod to winter fun ahead! We have snow.
First was a scrapbook shop.  Her charming shop was over the 2 car garage that held the horses and buggy.
Right then and  there you know you're in for treat!  I had been told these Amish business women were exceptionally creative. How right that was.
As I heard the propane lights hiss in the background, I poked around.  I was musing over her little shop's inspiration. I could have taken dozens of pictures!  But didn't.
First there were the cute milk jugs.
With plastic lids. I love to have special glasses for the littlest girls.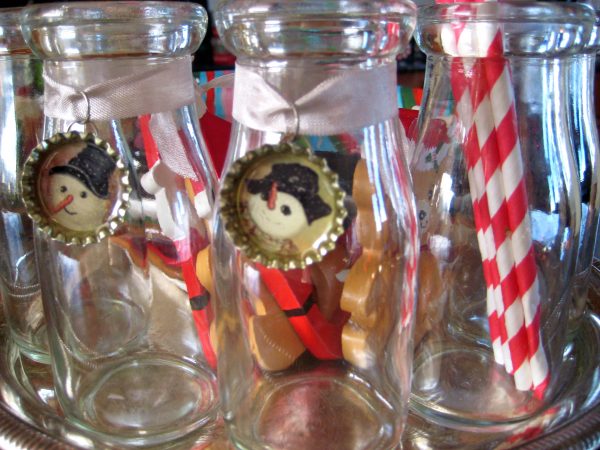 Absolutely perfect.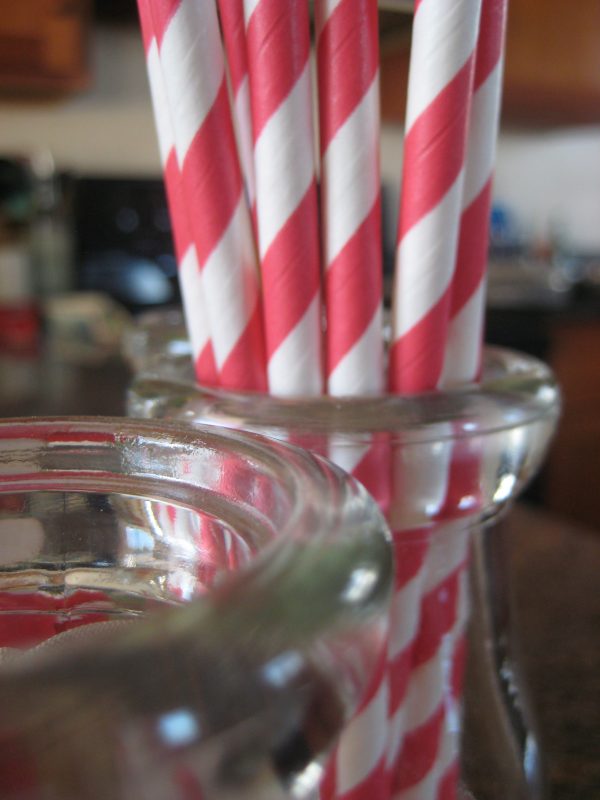 Silver tray stacked with candy striped straws. Novelty plates and napkin rings… snack ready!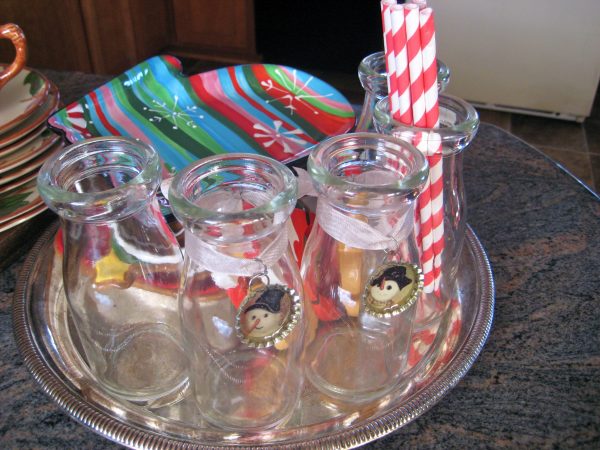 How cute are these mini milk jugs decked out with ribbon and bottle cap tags!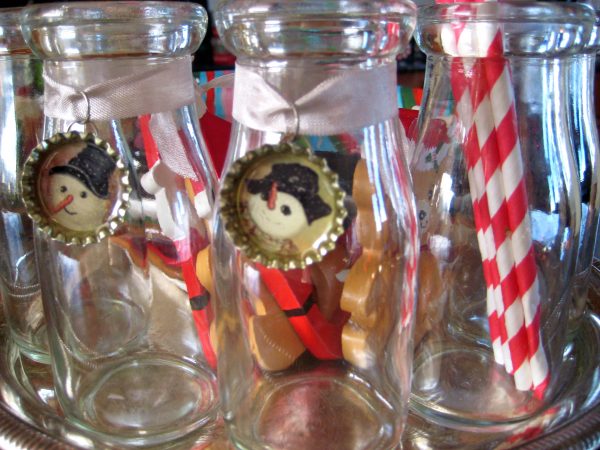 Absolutely perfect for little hands.
Mugs for hot chocolate.
I cleared the bottom shelf for Santa and his sleigh.  Emma was sure to climb up on the bench and examine it. She did the first time she spotted it.  I like beauty that can be touched since we have little ones around.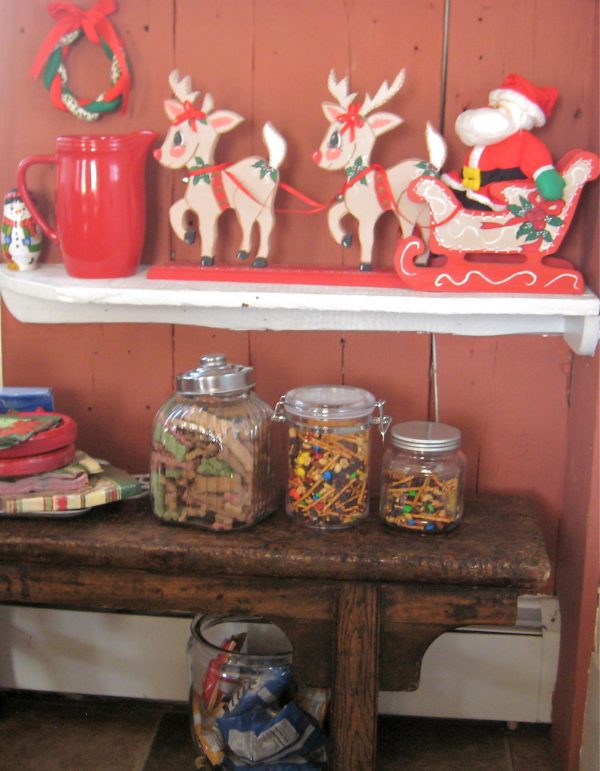 Our farmhouse kitchen is ready for
Christmas.
How about you? How is the heart of your home ready?
blessings, linda