It's quick, easy and delicious!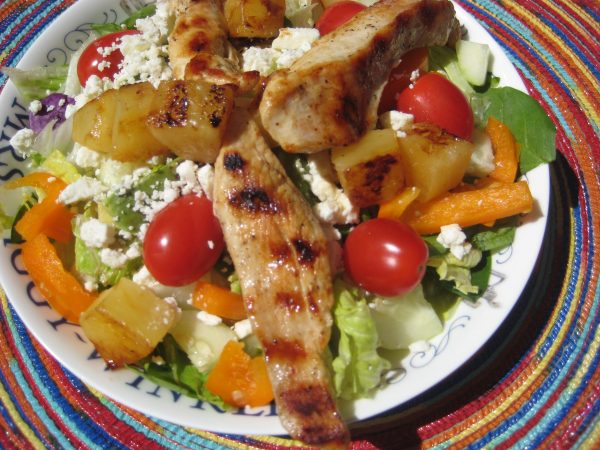 This Chicken, PIneapple, Feta Salad is Sunday Lunch delicious!  It is easy and quick to prepare and easy and quick clean up.  Hanging out in the kitchen or around the grill is perfect for Sunday or any time for family and friends are together.
In our house we are a little tired of meals that involved the oven. Winter food is heavier; roasted vegetables and delicious soups and stews. The vegetables seem brighter in the grocery store displays.
Here is a delicious salad with grilled chicken paired with the yumminess of avocado and grilled pineapple. Perfect for Sunday lunch because it is quick to prepare for the hungry family after church.
quick easy preparation
I cooked on the stove top and brushed the grill pan lightly with olive oil. It was still too cold to cook outside.
Canned pineapple made this even easier. After draining the pineapple I tossed the chucks with a touch of olive oil. After the chicken was almost done, I put the pineapple to one side of the pan to grill. Toss frequently as the sugar will brown fast!
I served this in large soup plates. My salad makings were pretty much what I had in the fridge…yellow peppers, cherry tomatoes, mixed lettuces. Blueberries are also a colorful and flavorful addition.
Meg's not a salad fan so her meal was rice with the chicken and pineapple. She loved it. The rice in the rice cooker was finished by the time the rest was ready.
Enjoy!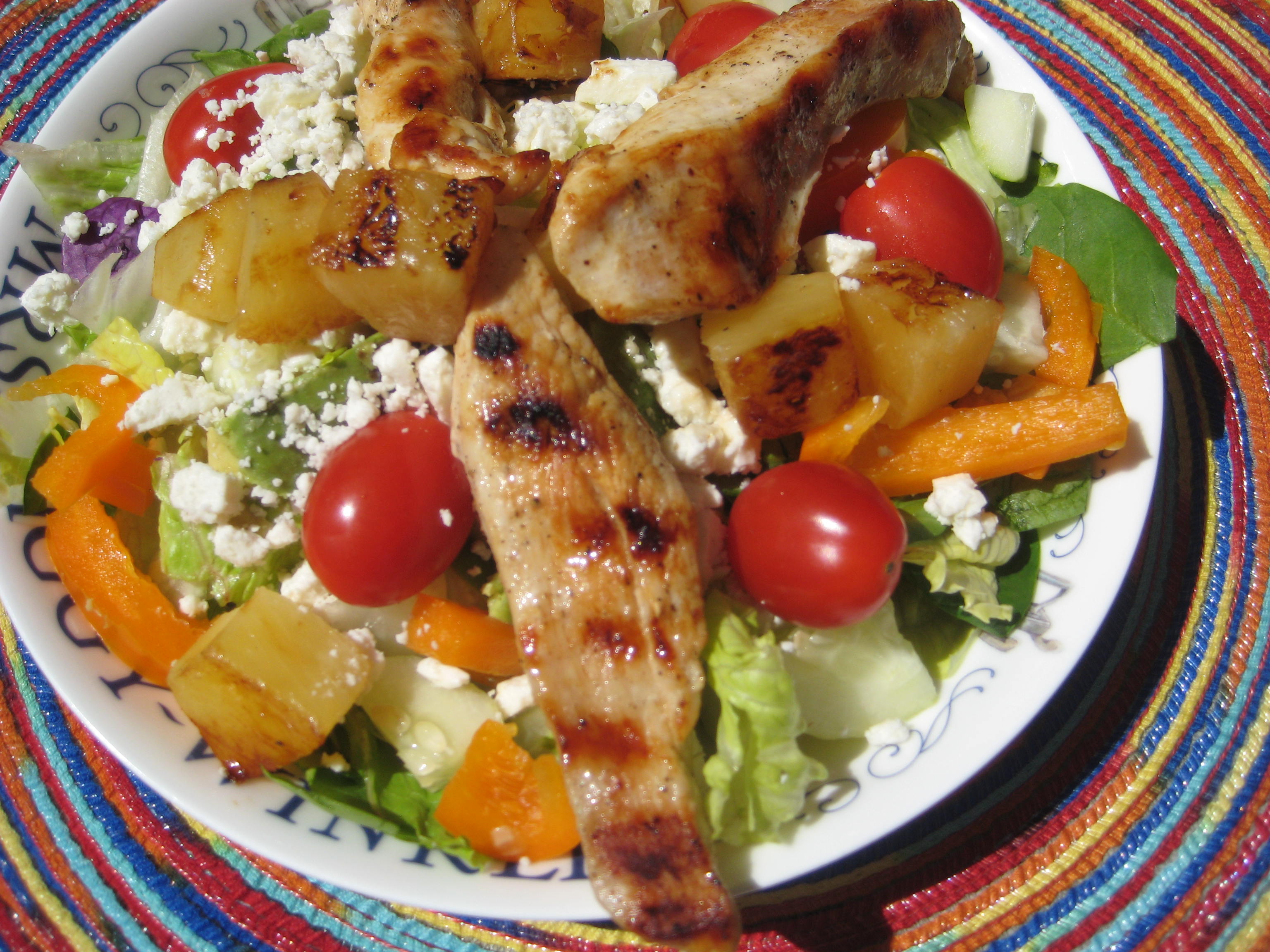 Hope you enjoy this as much as we did! The extra was a delicious school lunch on Monday. As always, I put the dressing in the container first and then added salad with feta, chicken and pineapples on top.
Grilled Chicken, Pineapple, Avocado Salad
Wonderful main dish salad combining sweet and tangy for tasty delight
Ingredients
Salad Ingredients:

2

boneless skinless chicken breasts

2

tsp.

olive oil

salt and pepper to taste

garlic powder to taste

1

fresh pineapple

peeled, cored and sliced into 1-inch thick rings

canned works too

8

cups

baby spinach

fresh or frozen

1

cup

fresh blueberries

optional

1

avocado

peeled, pitted and diced

1/2

cup

crumbled feta cheese

quarter of a red onion

thinly sliced(optional)

lettuces

iceberg and romain recommended

Honey Garlic Vinaigrette Ingredients:

3/4

cup

vegetable oil

1/4

cup

apple cider vinegar

3

Tbsp.

honey

2

cloves

garlic

minced

pinch

of salt and black pepper each
Instructions
Brush the chicken on both sides with olive oil, then season generously with garlic powder, salt and pepper. If cooking on stove, slice chicken into strips first.

Preheat your outdoor grill to medium-high, or heat a grill pan with added olive oil over med-high heat. Place pineapple slices and chicken breasts on the grill.

(I used canned pineapple chunks and lightly drizzled with olive oil and tossed prior to grilling in pan. Cook after turning chicken)

Cook for about 10 minutes turning midway or until the chicken is cooked through

Let cool for 10 minutes.

Slice chicken into strips and cut pineapple into chunks.

In a large bowl, toss together spinach, blueberries, feta, red onion, pineapple and chicken until combined. Drizzle or toss with salad dressing, and serve immediately.

Arrange greens and vegetables in larger individual bowls layering feta, chicken, avocado, and pineapple on top. Drizzle with honey garlic vinaigrette

To Make The Vinaigrette:

Whisk all ingredients together until blended. Let sit for at least 10 minutes for flavors to meld. Whisk again until blended, then drizzle over salad.

Withhold dressing if not serving immediately or packing it for lunches. Add when serving.
Enjoy this flavor filled salad!