Each season I take a fresh look at my table potential. I'm sharing options I tried out. Actually, I do this nearly every time we have a family gathering for holidays or birthdays. Sometimes, I do it just for Sunday lunch.
Easter is around the corner. I'm hoping this will inpsire you as you plan your Easter table! 
Rather than an entire table, I did a sampling using the blue place mats I found at Home Goods several years ago. I had been looking for several years for not only for the perfect match for my blue Haviland china from Mom but for enough place mats for my family table. I finally found 12!
Got to hit the stores when they put the new season offerings on the shelves!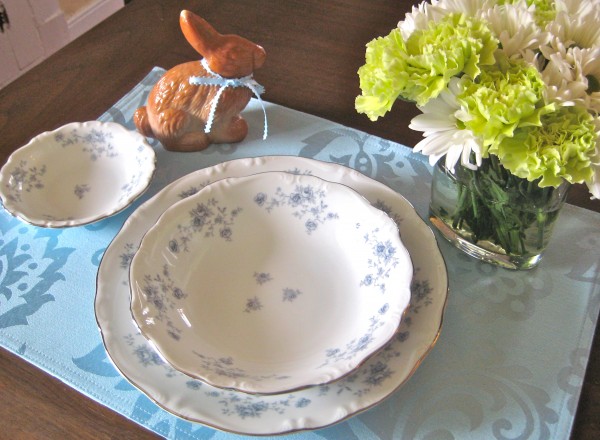 if possible, I like fresh flowers for the table centerpiece. For Easter, I would add more bunnies and Easter candy.
With Mr. Bunny I gave him a sweet blue bow for an Easter touch. Enhancing the soft blue theme and pastels of Easter was just that easy!
Making your table special for your loved ones doesn't take a lot. It's often the attendtion to detail and using your creative imagination when setting the table!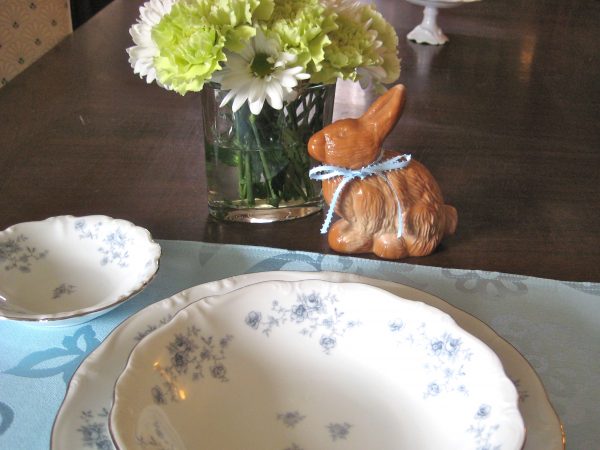 I love how the sliver swirls are highlighted by the place mat design. The pure delicate white blue enhances an old world look for my table.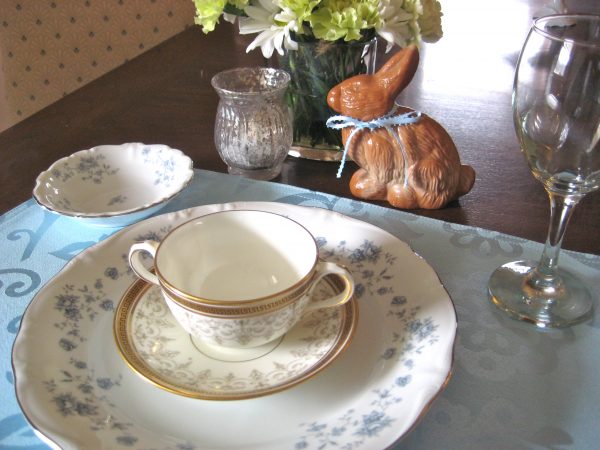 Next, was layering different china pieces. The blue flowers on the Haviland Blue Garland china  have hints of grey so I matched it with Great Aunt Daisy's English Greek key china. Not a perfect match so it may not make the "cut".  When layering, it's better to have some transition between the pieces. Would you agree this just needs more or don't use at all.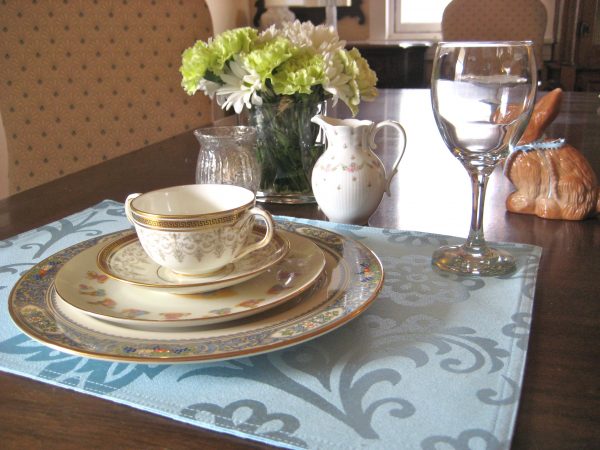 This combination is better. Anniversary Autumn Lenox china from my husband layered with Royal Doulton Bunnykins plate bought at our local auction house and the vintage Greek Key china consommé soup  cup and saucer works.
I'm liking it! Now, add a few more accessories will  bring the mix and match china, styles and colors together.  
Layering makes it possible to pull in different styles and patterns. It also extends your dish options!
Add a bird for a spring or summer look. Be on the lookout for different small birds or other figurines for decorting your table and your home. Small changes for the seasons doesn't have to be expensive.  Ribbon addtios bring in unexpected pops of color. Fruits are eatables with that burst of color too. The blues and greys pop against the clear blue place mat. The mercy glass votive is a gentle touch.
Try and mix and match! You just never know what will look drab or fab!
Links and Sources
Blue Grey Flowers  Haviland China 
Tip: I have found all three of the patterns at Root's, our local auction house and at flea markets
Place mats    Home Goods several years ago
Flower vase    Colonial Candle oval glass container 
Bird and cream pitcher  from Mom
Brown Bunny       flea market
Mercury votive     battery candle & votive holder     
How about you? Do like to mix and match?  Any tips for us? 
I am an Amazon affiliate. I may earn a commision from any purchasses you make at no extra cost to you. 
If you haven't subscribed yet would you please take a second to do that?  Also you can find me at  Bushel and A Pickle on Facebook and Instagram. Thanks! Hope to see you soon!
~~~~~~~~~~~~~~~~~~~~~~~~~~~