It's a Whimsical Easter Tree! Sparkly eggs, rubber duckies and dainty bows of pretty ribbon!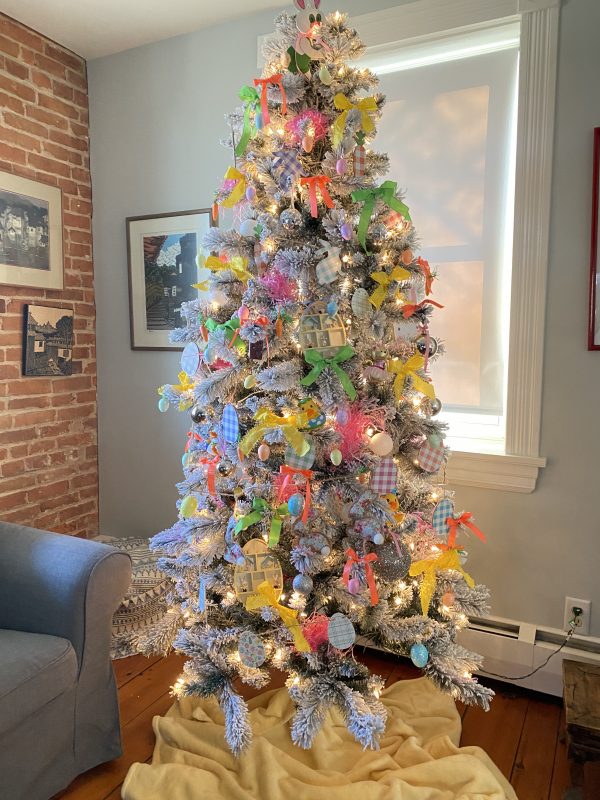 our first full sized easter Tree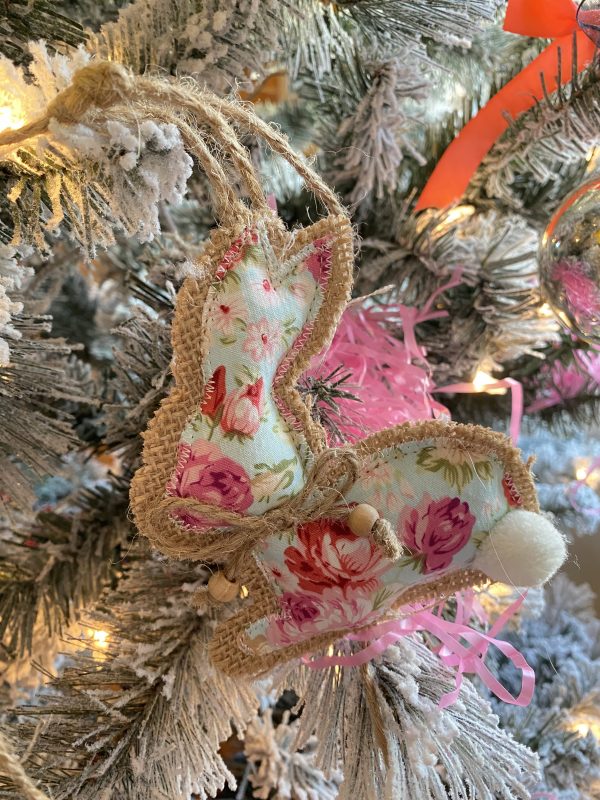 This is a first for our home, to have a full size tree decorated for Easter. Maybe it was the need for comfort and enjoying the fairy lights on our Christmas tree that made me want to keep it up.
One evening I told my husband how much I was enjoying the tree with its fairy lights and wasn't looking forward to taking it down. 'Then don't' was his response.
Now it is March and we still are enjoying our flocked tree. It's no longer a Christmas or Valentine tree but it is a Whimsical Easter Tree!
In between times I did a Valentine's Day Tree. Though I did put all the specific Christmas decor away, I kept the white, red and silver ornaments out and added pale pink ribbons and paper hearts of red, white and pink. I didn't post about it; it was a difficult month for our family.
whimsy in the living room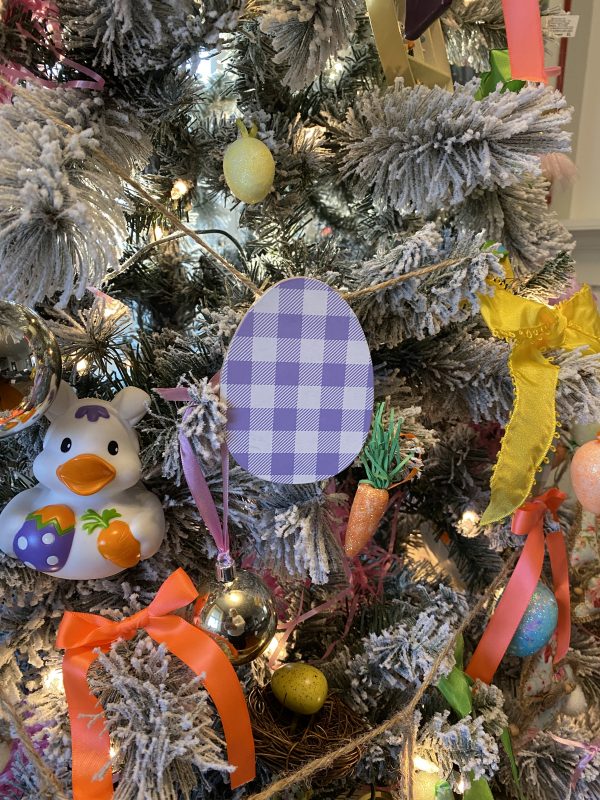 Seeing the lights with their soft glow was a peaceful sight in our living room was a comfort and joy.
When Nancy and her family came for dinner and saw the tree, they loved it. One of them asked what was next? Hmmm, maybe May Day?
decorating a wimsical easter tree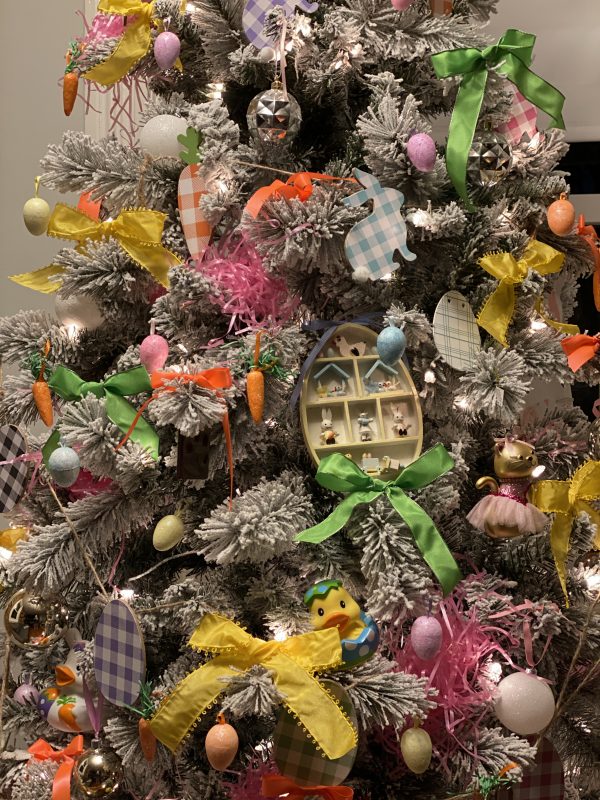 I left the white and silver ornaments on the tree. Jim and I went to the attic to find the right bins. We have one small flat and one larger size. I also gather yellow and green ribbon. I purchased the coral ribbon.
The garlands are from Home Goods and Micheal's several year ago. The gingham egg garland is from Dollar Tree that Amy picked up this year. She also brought the small pastel egg ornaments.
I tucked in pink basket grass deep in-between the branches. Next was the egg and rabbit garlands were strung up around the white and silver ornaments.
I love unpacking my seasonal bins. Often there are items I forgot about like the two rubber duckies! So cute.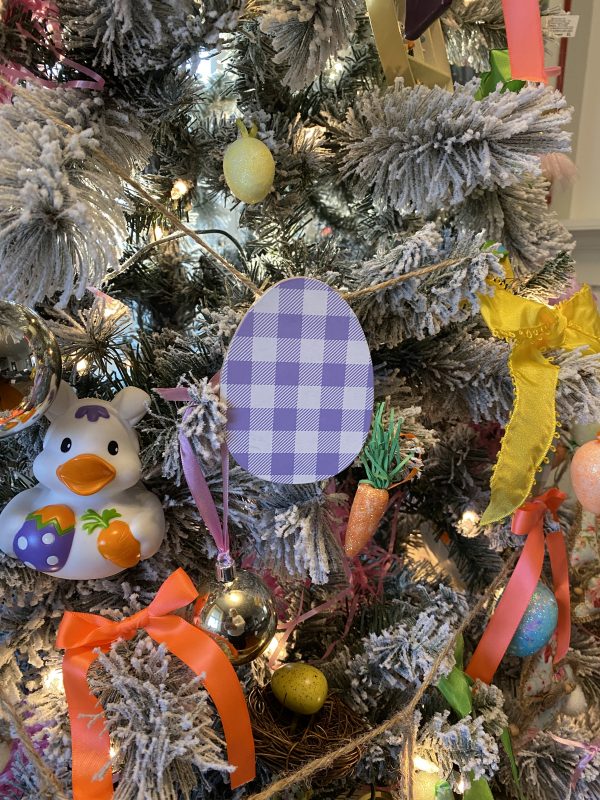 USing what you have
During our times were stationed in Germany, I bought many mini eggs (you'll see them on my upcoming tablescape post) and the two shadow boxes. I love my sentimental ornaments and decorative items. More memory making! Do you enjoy using yours too?
There are mini carrots in a robust orange to hang with the larger pastel sparkly eggs. I used them with napkins rings before. One goal I had was to maximize what I had and buy very little. I did buy the coral ribbon at Micheal's.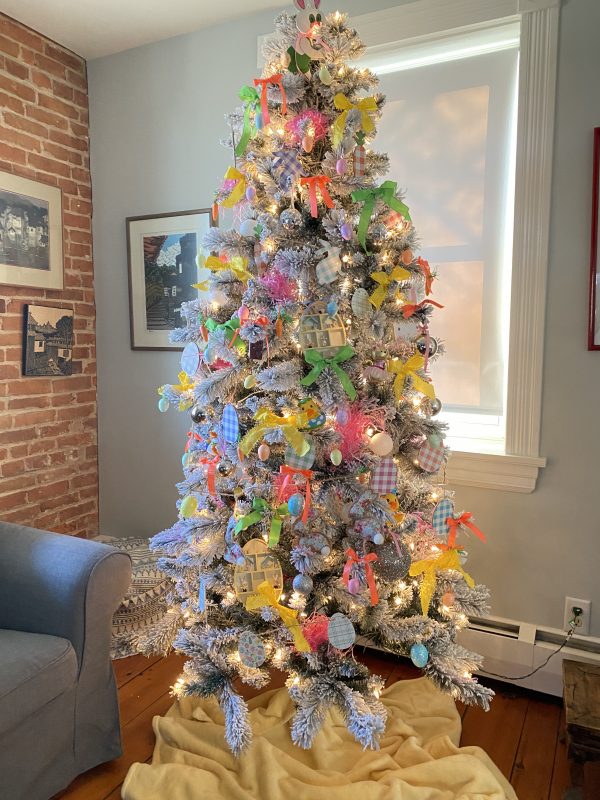 The bunny at the top is one I painted when I was in high school. There used be a cart Mom filled with eggs but Nancy, my oldest, a toddler at the time, was so fascinated by is every time we went to my parents, she eventually broke it and the eggs went rolling!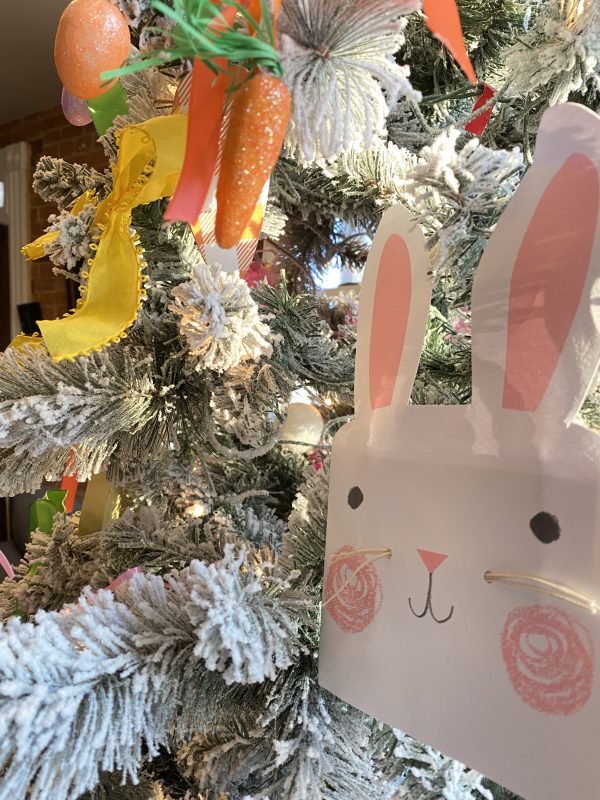 Pretty ribbon bows were the finishing touch! The pretty bows, rubber duckies and German decorations with hanging eggs make this flocked tree a Whimsical Easter Tree!
Hope you enjoyed a look at our Whimsical Easter Tree! Also that you have a blessed day during this Lenten time.