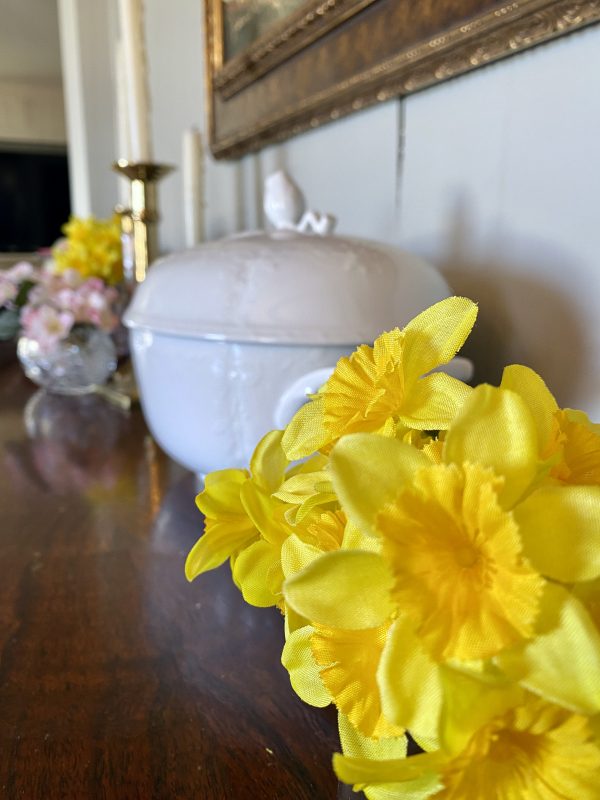 Snow is still on the ground. My dining room was bare of any extra decorations reflecting winter or spring. So sad looking!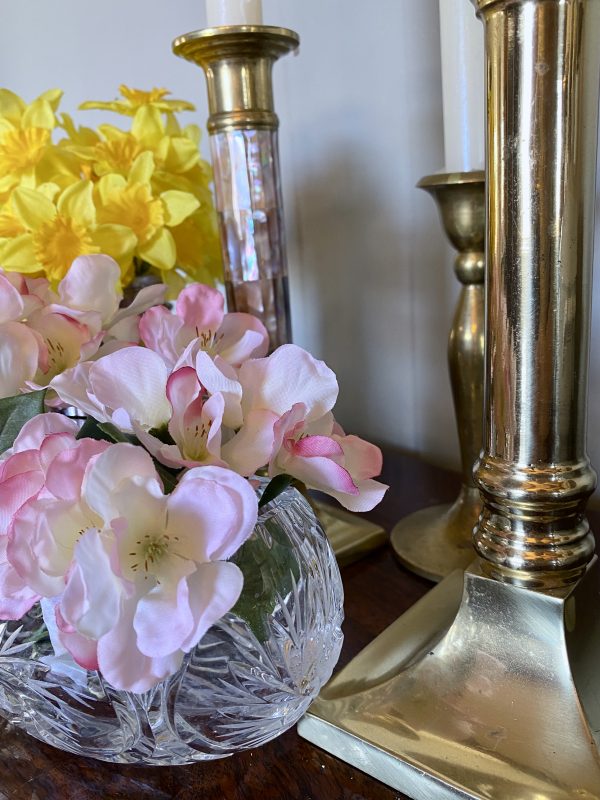 first comes cleaning
There were still some random Christmas decor hanging around and a pile or two that needed to be packed away and carried to the attic. During long winter days, it is easy to just ignore those little piles that have accumulated around the house. One more task done!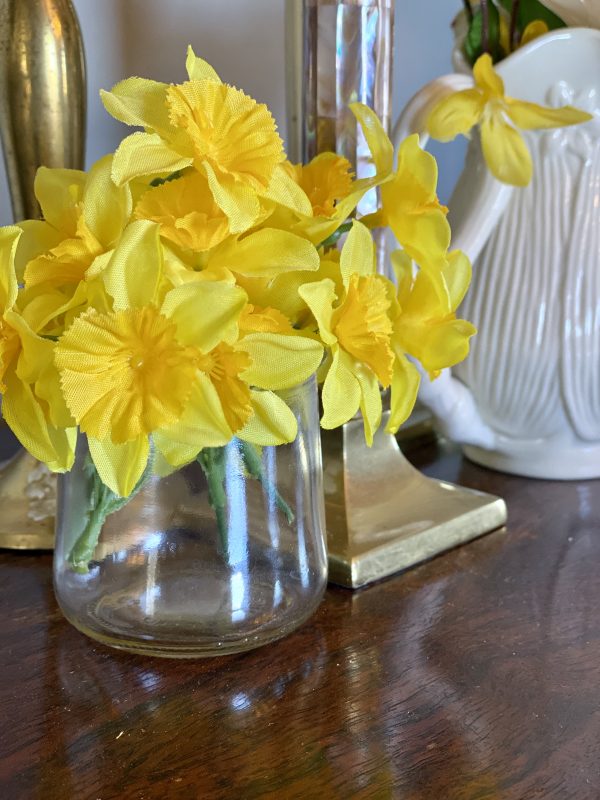 Some dusting and through floor cleaning was needed before any new decor was put out. It's not quite spring cleaning but almost. It's a start.
What looks more beautiful than clear reflections on your beautiful wooden surfaces? It make me smile every time I see it.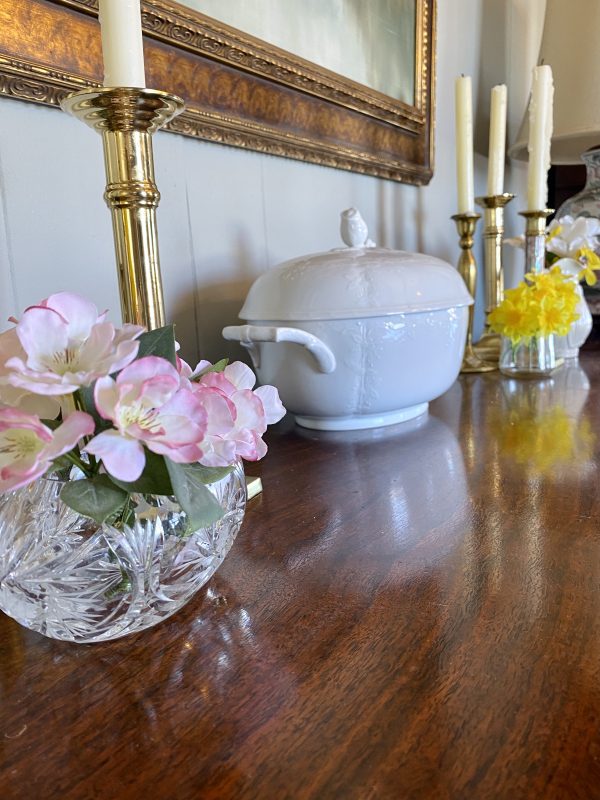 then gather the elements
My husband brought down the artificial flower bins from the attic. I was looking for early spring ones. The only ones were some small blooms with cut stems from previous arrangements.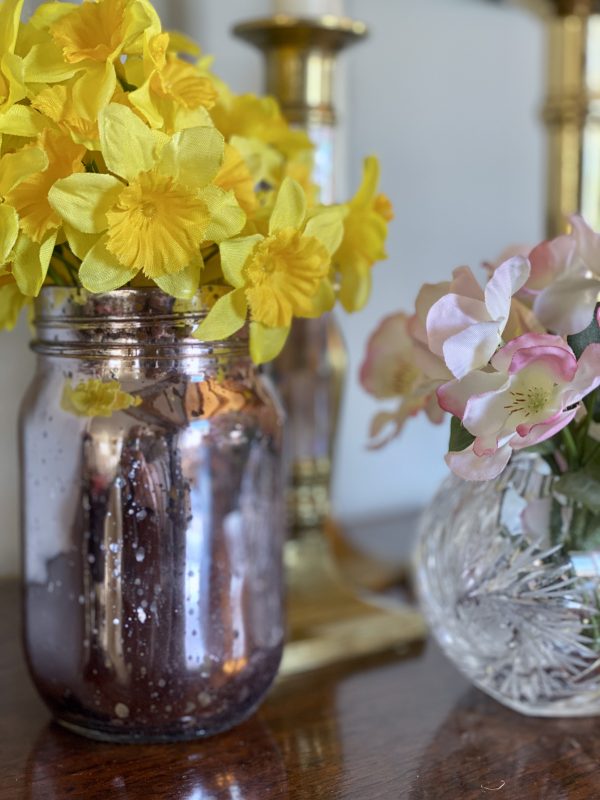 No problem. A mason jar with the mercury glass coating, a glass yogurt jar, a small crystal candy dish and a small pitcher I have had for years worked out really well. Perfect for the spring blooms and stems I used for this buffet vignette.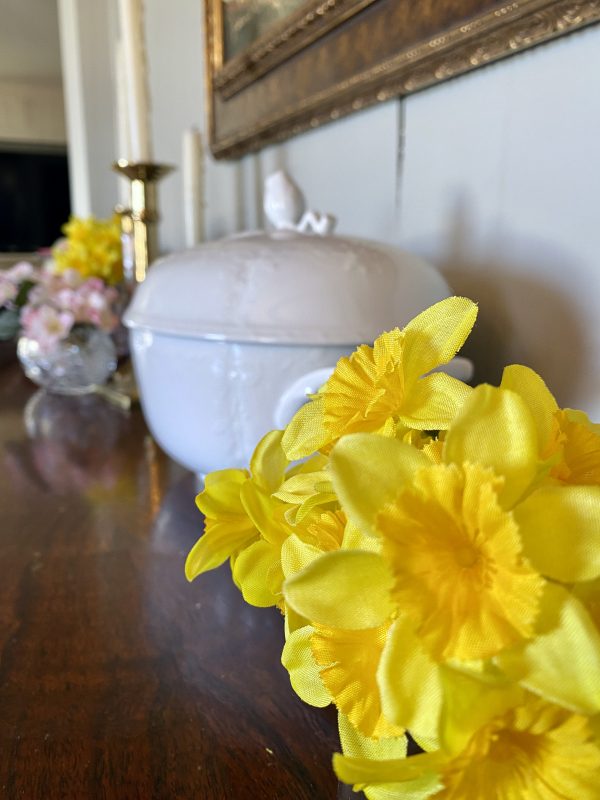 I had small jonquils, a few dogwood and cherry branches trimmed to be very short. There were two forsythia stems too. They all had been in a wreath at one time. For years I would try to bend the stems to keep from cutting them which meant I struggled making arrangements. Oddly enough I thought it would save money in the long run. Just so you know, it doesn't. No more. I cut them!
gathering then arranging
I gathered them in tiny bunches to tuck into the small vessels I was using as vases. I liked using the colors separately. It looked better than a mixed bunch.
After selecting the early spring stems, I sorted all the flowers by color and packed them away. How nice to have that job done! Jim took them to the attic. We're still slowly sorting and restacking all the boxes and bins.
The four small arrangements with the candlesticks and soup tureen centered on the buffet under the painting look a little relaxed but with a bit of elegance. The lightly pink tinged cherry blossoms and dogwoods complement the pink in the ginger jar lamp. The brass candlesticks of different styles with creamy candles including the drips down the sides out will stay. I especially like the Colonail tapers. They stay in the candlestick better without the wobble. Moving them around with the vases until it looks just right is one of the fun parts of decorating your home!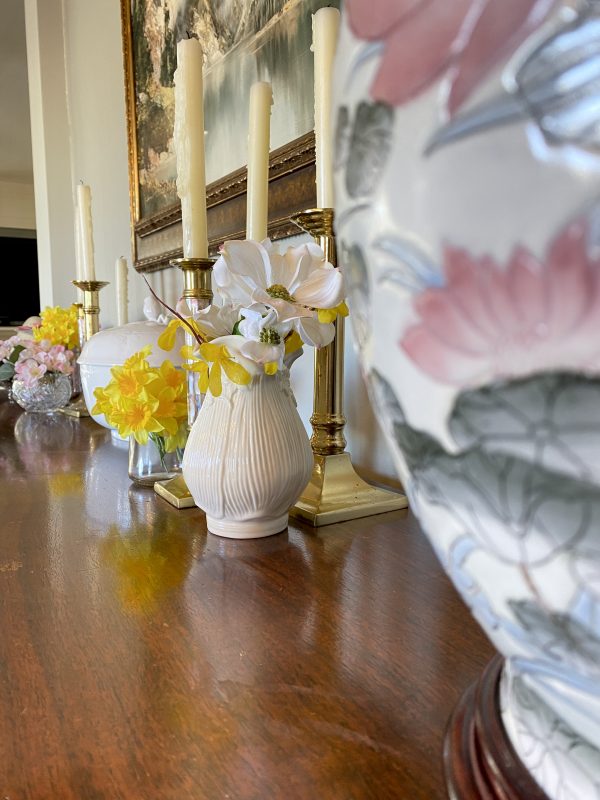 using artifical flowers and basics
The pure white soup tureen (this one is simialr)adds variety and depth to the buffet arrangement. Did you notice the leaves that decorate the pitcher? The tiny details like this can really make a vignette look extra special.
It's nice to have the artifical flowers on hand to use during all seasons. Never fear, I also love fresh flowers!
It's reminder that artifical flowers and everyday objects and candlesticks can be used again and again with wonderful results! I used them in a fairly simple way to make a simple arrangement that suits the style of the dining room. A good selection of basics will work for all styles and occasions when decorating.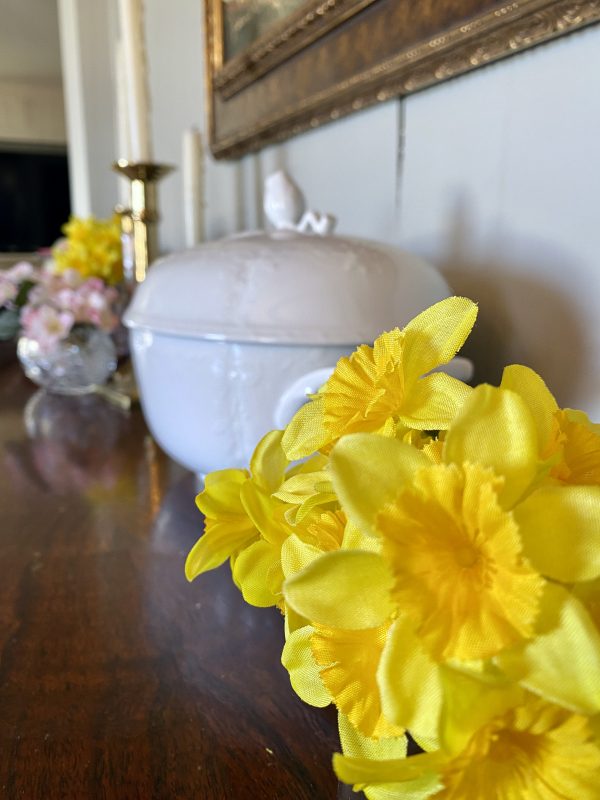 Loving how the dainty arrangements reflect early spring with the sturdy candlesticks, tureen and lamp looks just right in the dining room. You don't always have to have fresh flower to make your space beautiful.
And my personal favorite, the reflection!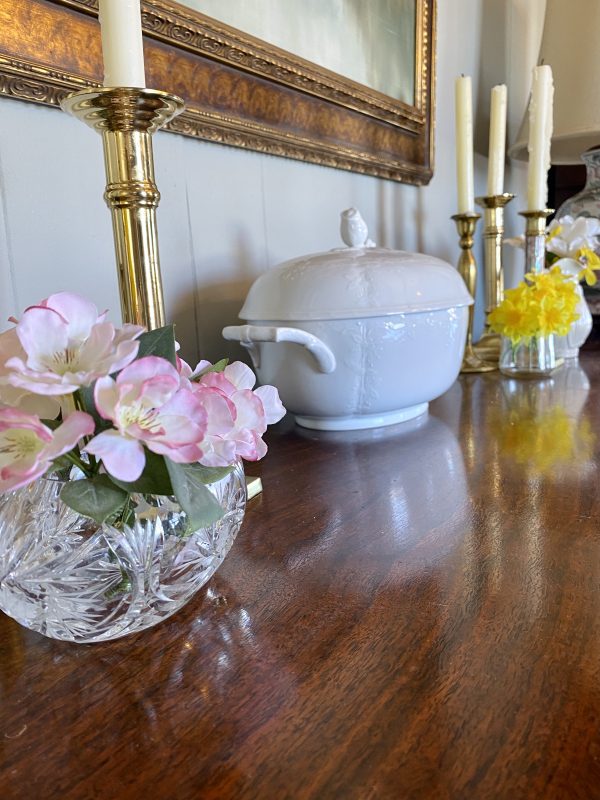 I bought the yogurt so I could have the jars. Fortunately the yogurt tasted good. Mason jars in a variety of styles are easy to find and are so versatile to use. The crystal dish and vase were pieces that caught my eye not only for the look but the price. I try to not buy just for the prices only but because I really like the object. I have come home a few times with good priced items and hated them. The flowers are from local craft stores.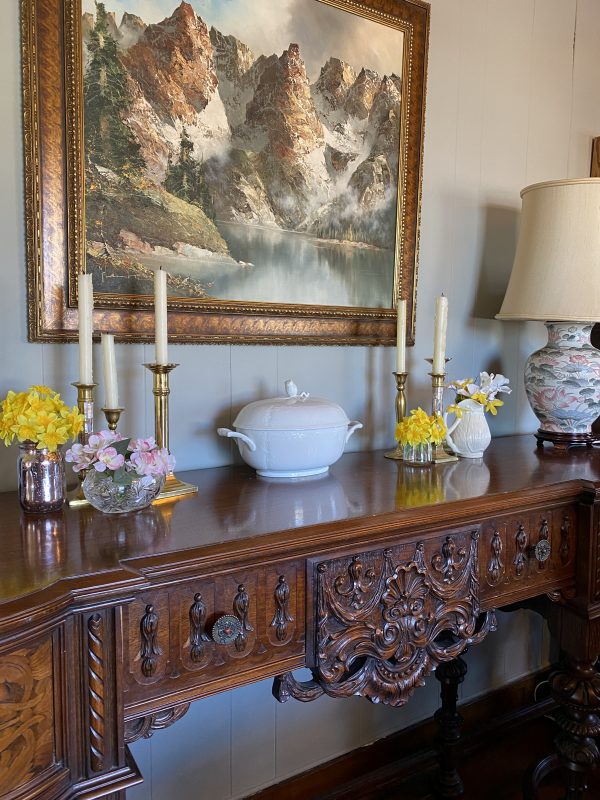 How about you! Making you home ready for spring? Love to hear how!
~~~~~~~~~~~~~~~~~~~