This site contains affiliate links to products. I may receive a commission for purchases made through these links at no extra cost to you.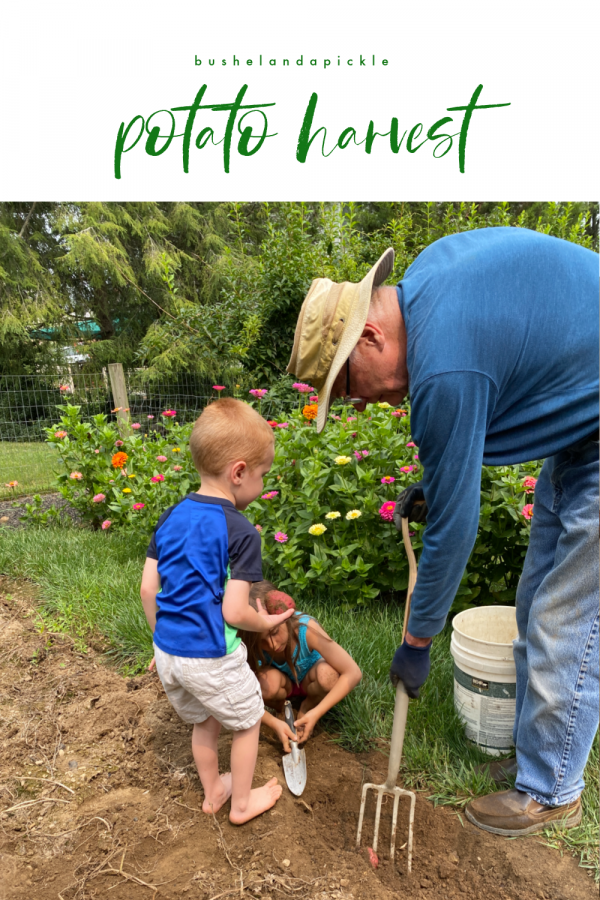 Potato harvest time! Grandpa texted their mom to bring helpers over for digging them up.  
Call for helpers
Every year, the helpers are more helpful! They are getting bigger! Having the grands come help is common and easy because they live mere minutes away. The others are a drive away, not so close that they can drop everything and come up yet close enough for frequent visits.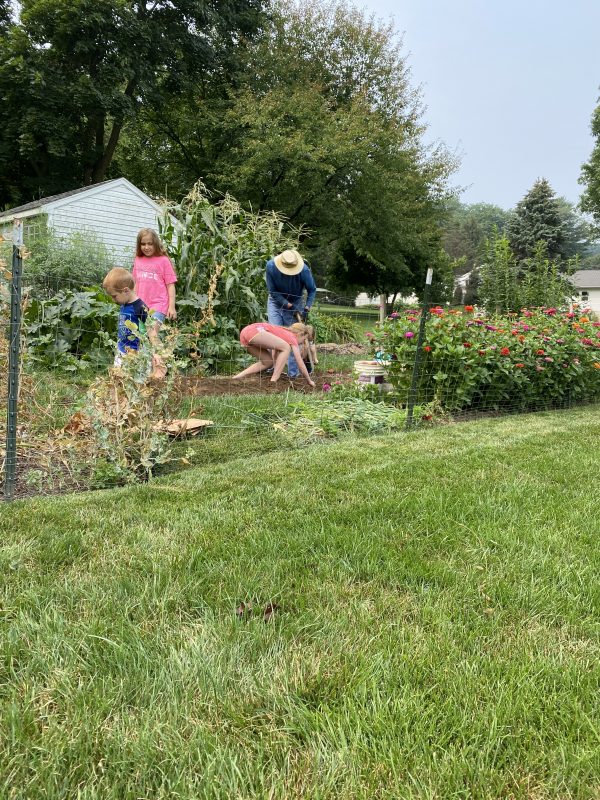 No worries, they will get their chance. More produce to come!
grandpa's potato digging fork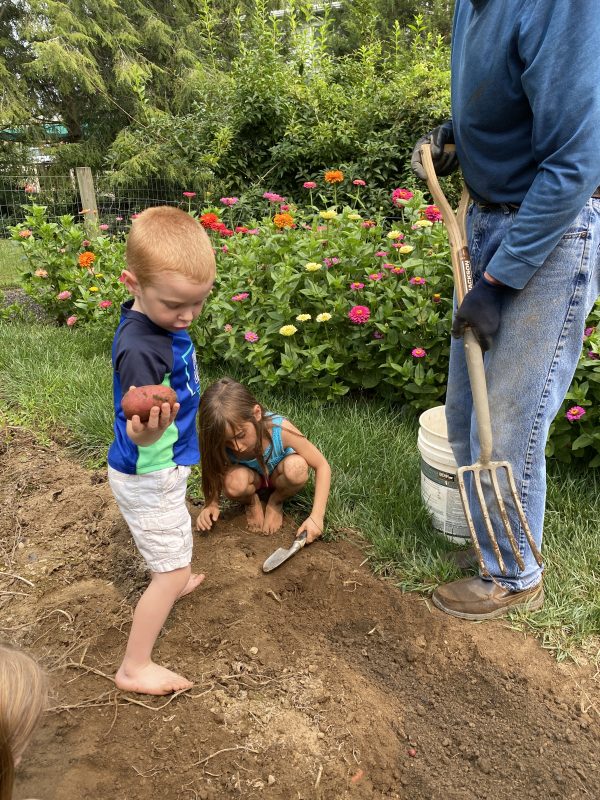 Who knew there was a special fork for potato digging? Not me. It makes the potato harvest so much easier.
Having the right tool to do a job is really does make everything is go more smoothly. Ever try to wallpaper without a extra sharp mat knife? Word to the wise, don't! Jim has his special potato digging fork The kids used the typical gardening tools like spades. The potato mounds were dry and the dirt was easily turned over to expose the potatoes.
A few potatos do get speared! They are the first to cook.
satisfaction of working together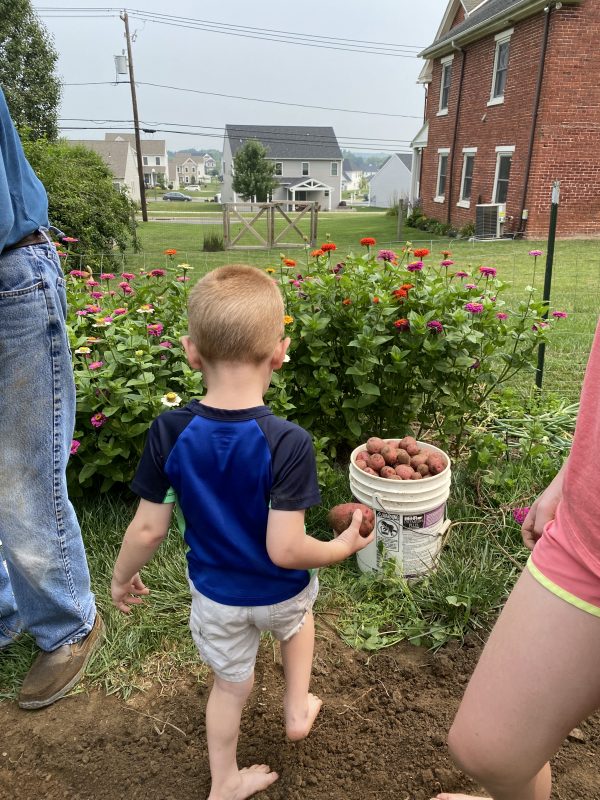 With nearly evey toss of potato Cor scooped up he was excited and let Grandpa know! So satisfying.
The red potatoes came up easily and the kids scooped then up as they rolled over the turned earth. They had to do some digging too. Watching the repurposed large paint bucket filling up was a measure of a job well done!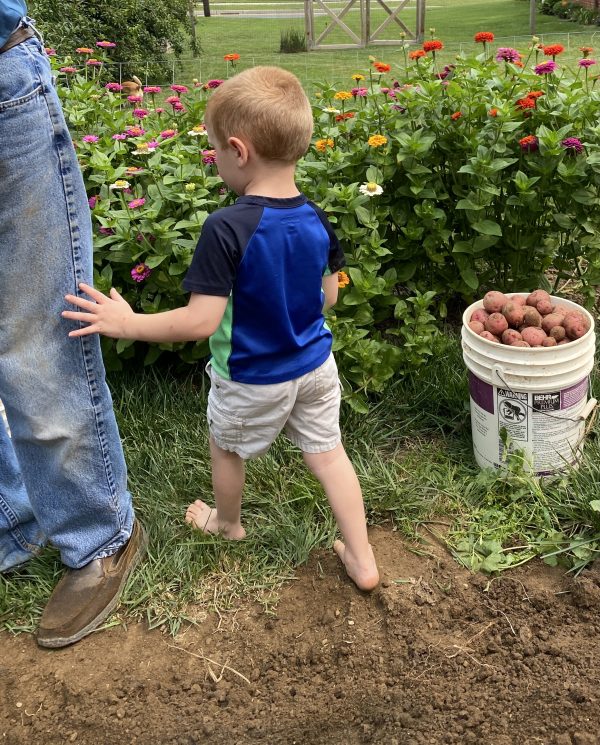 They also brought in squash, zucchini and corn. I'll be sharing more on that later.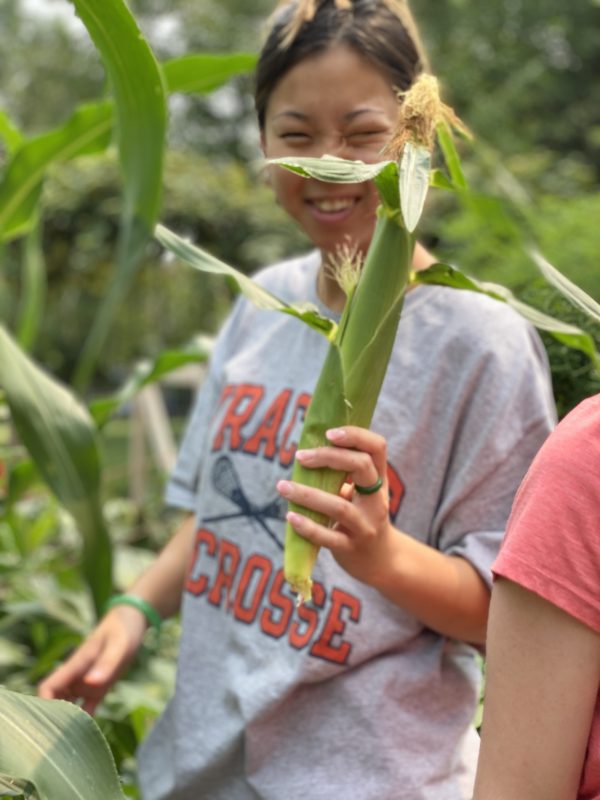 Honestly, having them do the harvesting was not only a fun activity it also saved Jim's back. Us older people sure appreciate that! It also teaches work can be fun and it literally has good results.
Thankfully the day was not a scorcher!
barefeet clean up
Need an excuse to go barefoot? Walk on the turned soft earth while harvesting potatoes. But…that means some foot washing needs to be done before going inside.
One of the girls cleaned out the utility bucket and filled it with water. Another one got towels from upstairs. We were ready to wash those dirty feet up to the knees on the patio.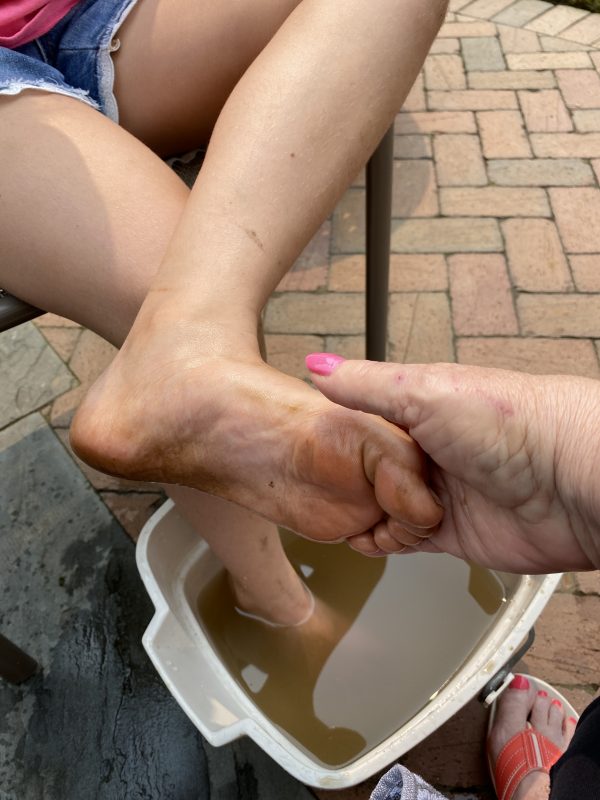 When I was washing Omega's she asked me if it was like the Bible story about washing someone else's feet. Yes, it is. You know, it was not only necessary for cleanliness but also an act of caring. Jesus did it to demonstrate servant leadership and a willingness to do the lowest job for the good of the person.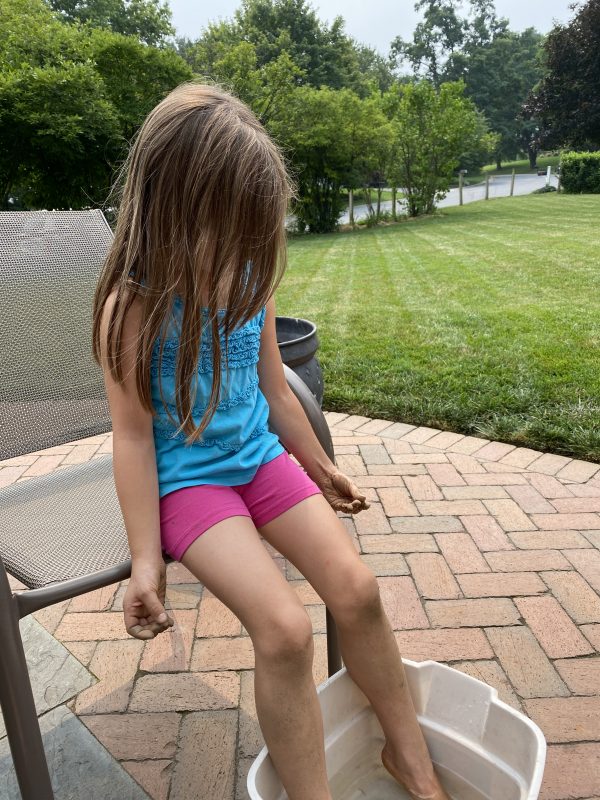 The bucket water had to be dumped and refilled. It was so muddy!
leftovers, lunch and pretty treat cups
Need a way to serve small portions and easy clean up after lunch? Do you have party treat cups or hot bowls? I did, so I got them out of the china cabinet and found plastic forks. I bought these at Home Goods becasue I thought they were pretty not sure exactly how or when I would use them. Turns out with younger kids around these little treat cups and other like them are something I use frequently.
If you do order, make sure they are not wrappers that you have to assemble. If you use my affilate link I may make a small commission at not cost to you!
Lunch was Chinese leftovers from last night's take out. The pretty treat cups were just right and a bit of whimsy to the ordinary.
It happens that the kids do love Chinese food. there were odd amounts of each dish; this was a way to share somewhat fairly. The La Mien chicken noodle dish was the 'filler' dish insuring everyone had a taste and also had enough to eat.
Everyone got at least a bite or 2 of each dish and even some refills. Bonus…easy cleanup. The little cups and plastic forks were tossed into the trash.
50 pounds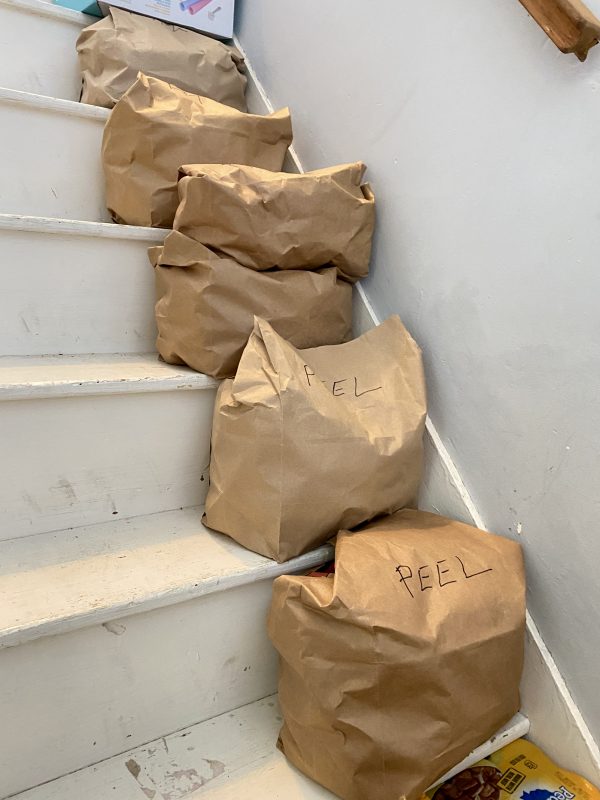 They harvested 50 pounds of potatoes! 50 pounds!
Jim sorted them, unwashed into seperate grocery bags. He labeled them…not 'one potato 2' but First, Peel, Roast and of course Bake.
We had mashed potatoes that night. So good!!
It was a wonderful morning working togther with a good harvest!
By the way, it is an organic garden! Tomatoes are ripening now. So satifying.
Do you garden? How does your garden grow?
~~~~~~~~~~~~~~~~~~~~~~~~