This site contains links to affiliate products I may recieve a small commission for when you purchase at no extra cost to you.
Christmas in the dining room can be beautiful with some simple elements. The beauty of the Christmas shines in our dining room.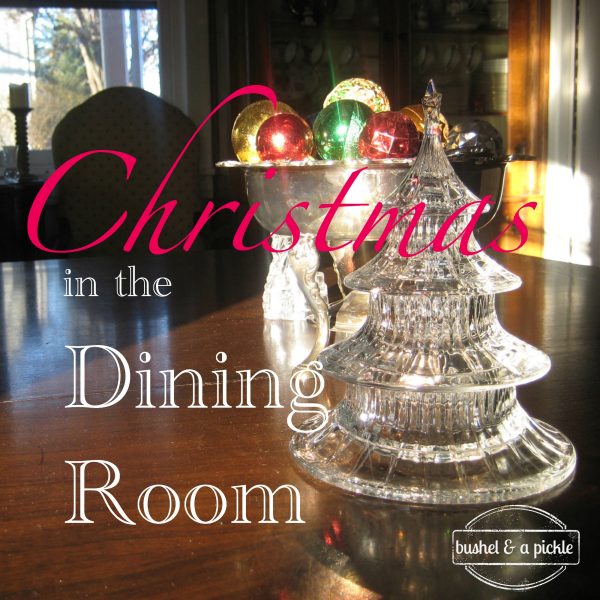 Our dining room decorations are quite different from the farmhouse kitchen casual decorations. Often we find ourselves eating our evening meal in here. It is a special room in the evening with the twinkling lights and sparkling colors and silver.
prepare for the season
Somehow, the elegance of the room and decorations help me prepare for us to come together during the busy season. Planning ahead helps. So does being flexible. The daily tablescape is simple but can be easliy set for a meal by adding place mats.
When the extended family comes for the holidays, I'll be changing the tablescapes for the different meals. I love making special meals and gathering around a specially set table. It brings me a lot of pleasure to do that for my loved ones.
THE NATIVITY

The dining room decor is simply traditional this year. Our traditional Italian nativity set on the buffet is wrapped in bronze shiny ribbon, garland and twinkling lights.
Jim's great-aunt bought this in Italy years ago while on the Grand Tour of Europe with her sisters. Thankfully, it has survived our many moves.
Honoring the season with a nativity is important for our family. Don't have an inherited one? Use the one you have. Beauty isn't because of cost. It is because of style and creativity!
The rich colors of the nativity haven't faded over the years. The rich earthy colors make it easy to coordinate additinal decorations.
use what you have before buying
I left the large candlesticks on the buffet in place. Then large glass balls were set out. I bought them at Pier 1 several years ago. You can also use plastic large shiny balls that will reflect the light and coordinate with the rich earthy colors. I pulled out my flea market teal vintage glass candle sticks for more color.
The tall mercury glass candlesticks with globe tops for tea lights add another touch of old world elegance. Behind and around the candlesticks and lamp, I added the garland, tucking, bending  and fluffing it to fit the length of the buffet. Next the shiny copper ribbon was added with twist and tucking for visual interest. Don't just lay it on top of the garland. I play with the look even as I add fairly lights to get just the right look!
Tips for garland and ribbon
Some of my garland is too skinny so I double it up if I am using it on flat surfaces of buffets, shelves and cabinets. Over the years I have purchsed garland that is fuller. Prelite garland is nice too.
Some of my ribbon is too narrow and gets lost in the greenry. Scale in decoration for Christmas or even in our homes is very important! Honestly, in an effort to save money I often bought the more narrow ribbon.
table centerpiece
Silver and glass sparkle against the black walnut wood of our dining table top.
The angel votive was a gift from my son years ago from a school Christmas store. The affordable glass tree was a party exchange gift. Neither were expensive. How about a cookie jar or trifle bowl?
Most of my decorative dishes of glass and silver are wedding gifts or collected over the years. Silver pieces are wonderful additions to any table vignette. There are a plethora of places and ways to add to your collection. The links I have given you are similar to what I use. Please take note of the disclosure at the top and on the sidebar.
table tip
Arranging in threes with varying heights is a classic "rule". The silver chafing dish is not too tall to block your view across the table with each other.
enjoy your dining room
This season, we have taken to eating in the dining room for our evening meals and Sunday lunches. We all feel just a little more special, more festive. We enjoy our dining room for the four of us and when we have company.
I am finding I look forward to these quiet meals together several times a week. Havings older kids taht drive, have clsses and work means we need to be flexible. Often, our dinners often slip to later in the evenings just so we can all sit together. Depending on schedules, I may even make 'dinner' for lunch!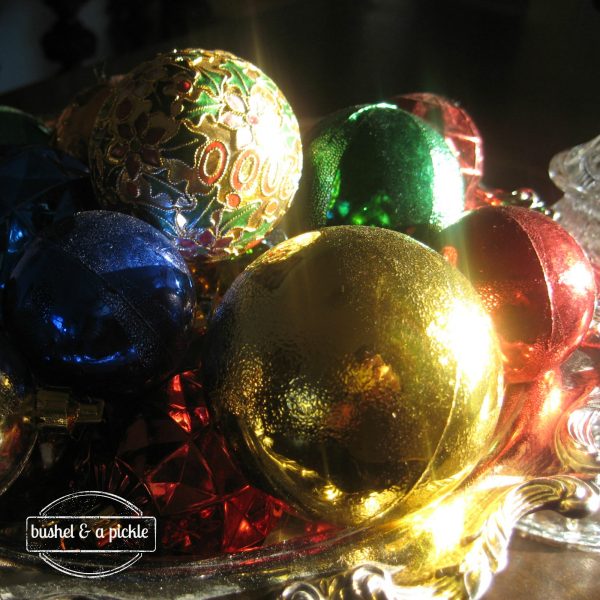 quiet oasis in the evening
Surrounded with twinkling lights and colorful sparkles with the nativity that reminds us of the why we celebrate Christmas, the dining room regularly becomes a quiet oasis for our family. In the evening light, it is quiet and pretty.
It doesn't take much to make a room warm and pretty for the Christmas season.
'Tis the season to come together. Soon, it will be humming with activity as our extended family comes together for a few days.
Can not wait!!
What ways do you make the season special for your family?
~~~~~~~~~~~~