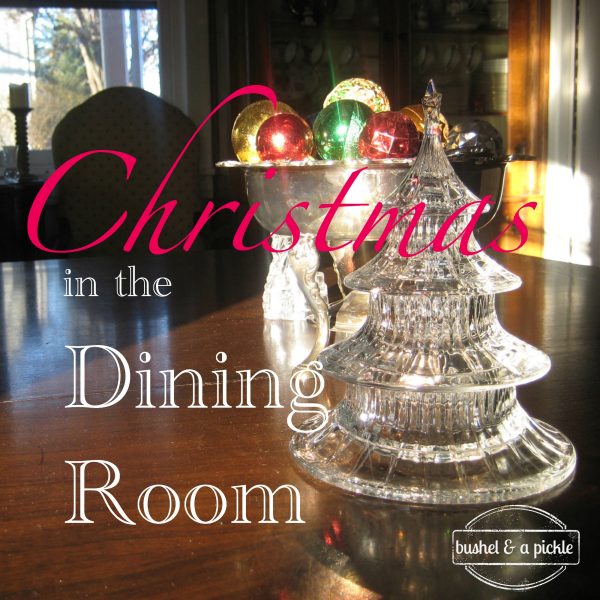 The beauty of the Christmas shines in our dining room.
It is quite a difference from the farmhouse  kitchen casual decorations.  Often we find ourselves eating our evening meal in here.  It is a special room in the evening with the twinkling lights and sparkling colors and silver.
Somehow, the elegance of the room and decorations help me prepare for us to come together.  Planning ahead helps.  So does being flexible.  The daily table scape is simple but properly set with place mats.
When the extended family comes next week for several days, I'll be changing the tablescapes for the different meals.  I love making special meals and gathering around a specially set table.  It brings me a lot of pleasure to do that for my loved ones.

The dining room decor is simply traditional this year.  Our traditional Italian nativity set on the buffet is wrapped in bronze shiny ribbon, garland and  twinkling lights.  They stay on all the time.
Jim's great-aunt bought this in Italy years ago while on the Grand Tour of Europe with her sisters.  Thankfully, it has survived many moves.
I left the candles and silver pieces in place.  Then large glass balls were set out.  I bought them at Pier 1 several years ago.  The rich  colors of the nativity haven't faded over the years. The rich earthy colors are reflected those balls and teal vintage glass candle sticks. The mercury glass and silver box bring a touch of old world elegance adding highlights to the earthy natural richness of the colors.  Behind I folded over a garland, fluffed it and tucked in a shiny bronze ribbon with a few twists and turns.  Twinkling lights finish the look.
Silver and glass sparkle against the black walnut wood of our dining table top.

Gather unbreakable colorful Christmas balls in a silver bowl.  The angel votive was a gift from my son years ago when he was a 4th grader. The glass tree was a party exchange gift.  Neither were expensive.  The balls are from Wal-Mart.  Silver pieces are wonderful additions to any table vignette.  Mine is from my mom; other pieces were wedding gifts or flea market finds.
Arranging in threes with varying heights  is a classic "rule".   The silver chafing dish is not too tall to block your view across the table with each other.
This season, we have taken to eating in the dining room for our evening meals and Sunday lunches.  We all feel just a little more special, more festive.
Making an effort to spent time together can be tough as schedules and commitments change.   With each season it seems we establish new routines for gathering as a family.  I am finding I look forward to these quiet meals together several times a week.  Having high schoolers means we need to be flexible.  Often, our dinners often slip to later in the evenings so we can all sit together.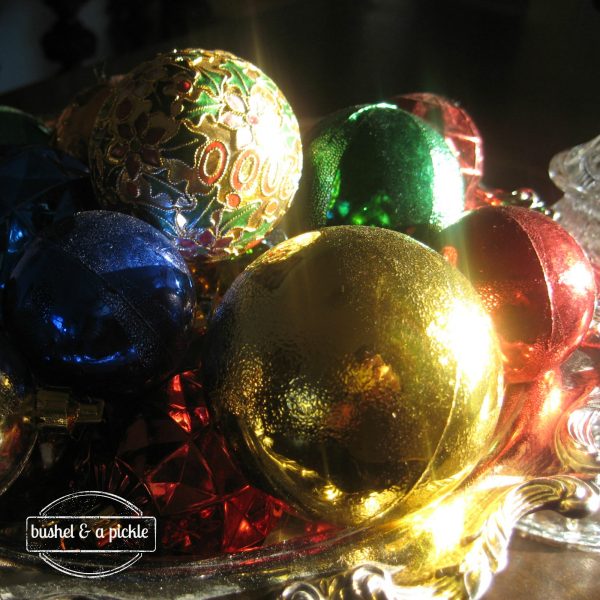 Surrounded with twinkling lights and colorful sparkles with the nativity that reminds us of  the why we celebrate Christmas, the dining room regularly becomes a quiet oasis for our family.  In the evening light, it is quiet and pretty.
It doesn't take much to make a room warm and pretty for the Christmas season.
'Tis the season to come together. Next week, it will be humming with activity as our extended family comes together for a few days.
Can not wait!!
What ways do you make the season special for your family?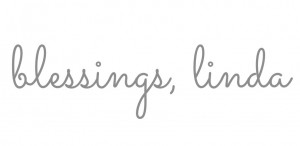 linking at