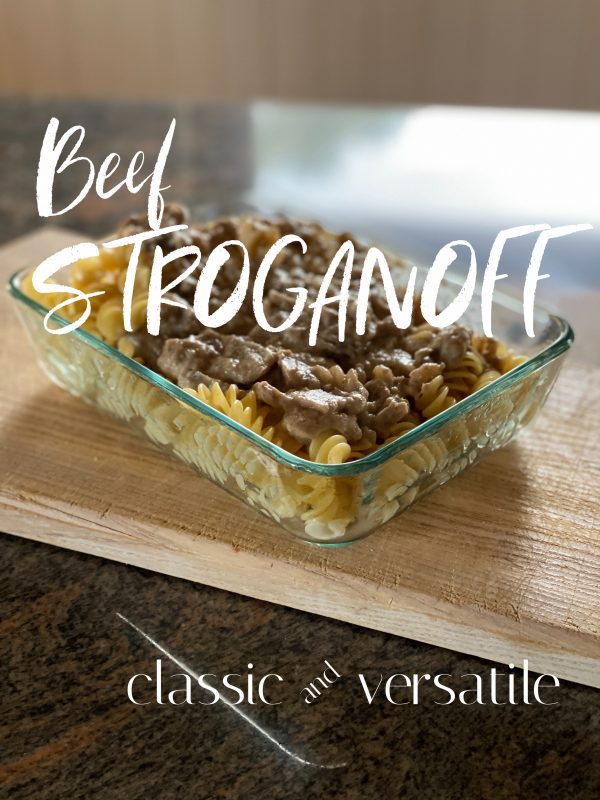 Classic beef stroganoff. Do you think this classic dish would be easy to make? It is. Do you think it would be afforable? It is. And the best of all? Totally delicious. PS. And makes for delicious leftovers too.
Origins of classic Russian dish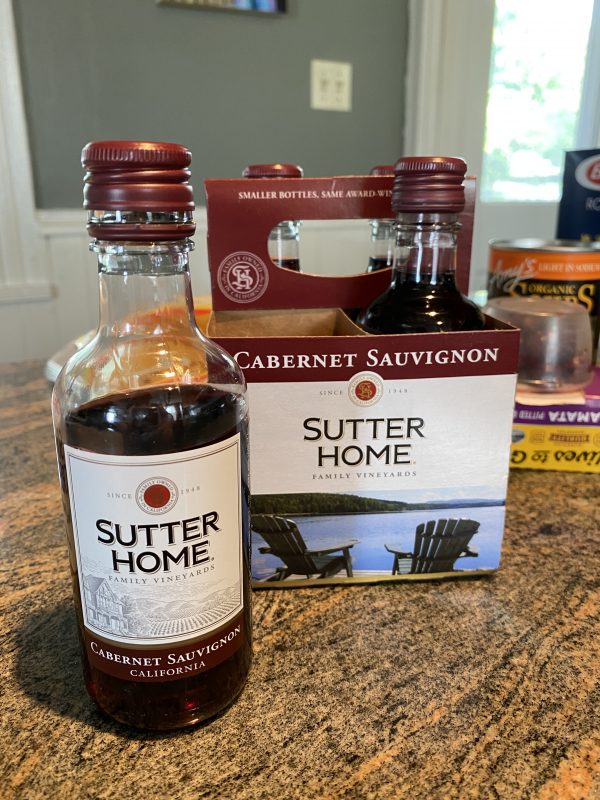 Though this dish's recipes vary depending on regions and chefs two things are a must…beef and sour cream! And wine!
How is a classic dish based on the original from Russia has been adapted by different chefs and countries as its popularity spread across the globe? Through travelers, relocations and some media of the day! Some stories credit a French chef who worked in Russia or an aristocrat. All agree though it is based on an much older Russian dish made in many homes, not just palaces and resturants.
Many classic recipes many require many pots and pans and many ingredients and lots of time, this one does not! Noodle or non-trditioanal white rice is very affordable. Expensive wine isn't necessary. I use the 4 pack red wine in plastic bottles for connivence. We first saw them in a tourist area. Small bottles for the holiday without waste. We don't always have wine on hand when I decide to make certain dishes.
Why versatile? This classic recipe is wonderful for left overs! I don't make my stroganoff with tomato paste like some do.
Affordable
I use precut stew meat or sirlion steaks on sale. Cheaper meats are key for me. Even if the meat is precut, I will make sure the cubes are trimmed and in bite size pieces I think it makes for a more tender taste. Some recipes call for the beef to be cut into strips but I prefer cubes.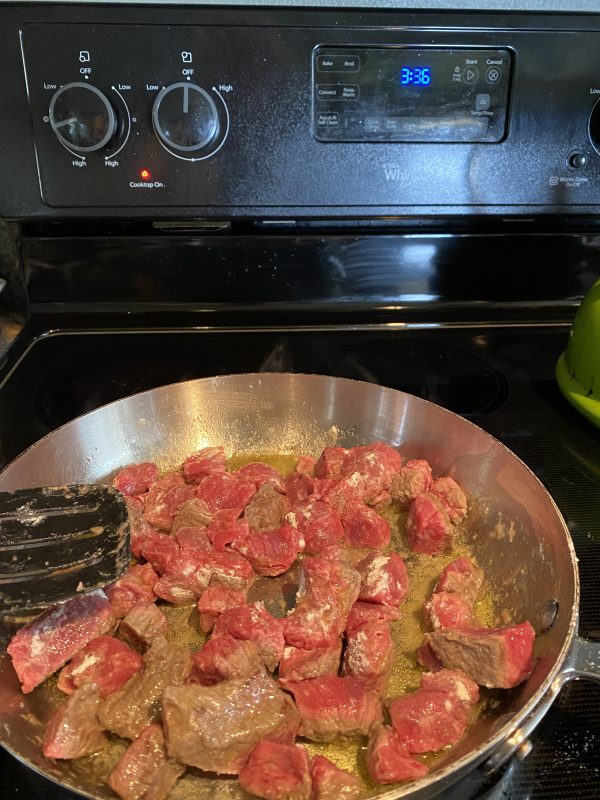 Why Flour and Butter?
Why coat the beef with flour? It serves as a base for the cream sauce and helps with the browning of the beef. Toss as you brown and don't let it burn.
The recipes calls for butter. Butter can easily burn if unattended or cooked on too high heat. This can be prevented. Don't leave it unattended while stirring and tossing constantly. Using butter (or margarine), not oil adds to the creamy flavor. However, a tiny touch of oil added can prevent the overbrowning or burn.
Continually toss and scrape the skillet bottom while cooking.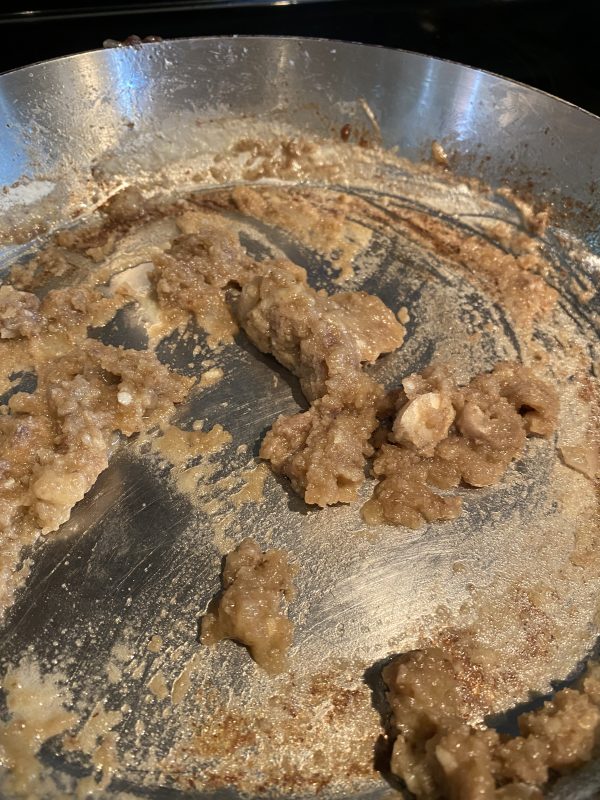 blend, stir and watch the heat
Add cut up mushrooms and onions with addtional butter. More stirring! The onions should be just shy of translucent and still a liitle crisp. Remove from skillet into a separate bowl. Start the sauce.
Follow the steps below in the recipe. Again, take care to not burn the flour and butter. Stir in the broth with a whisk until smooth. No whisk? Stir vigorously as you add the broth to prevent lumping.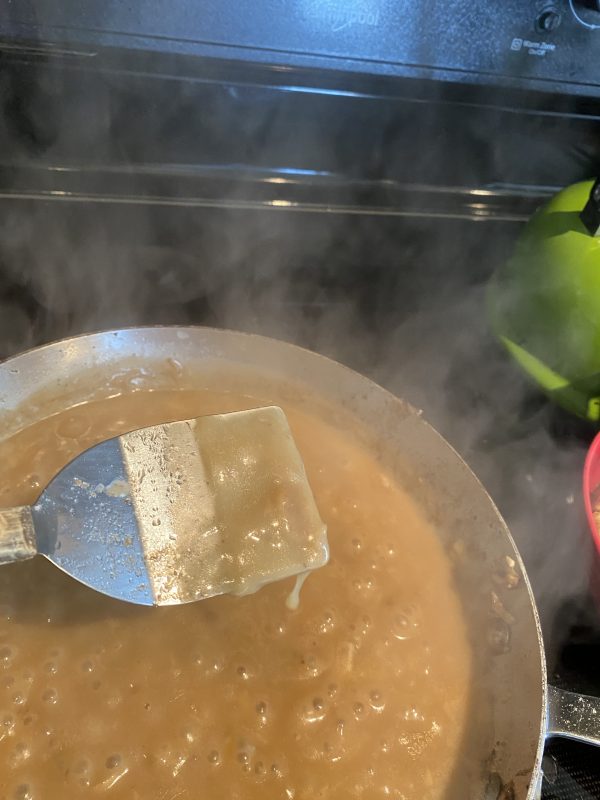 Bring to a soft boil. Test thickness if spatula or spoon is coated and slow to drip.
When thickened, turn down heat, add sour cream, stir then add wine.
Versatilty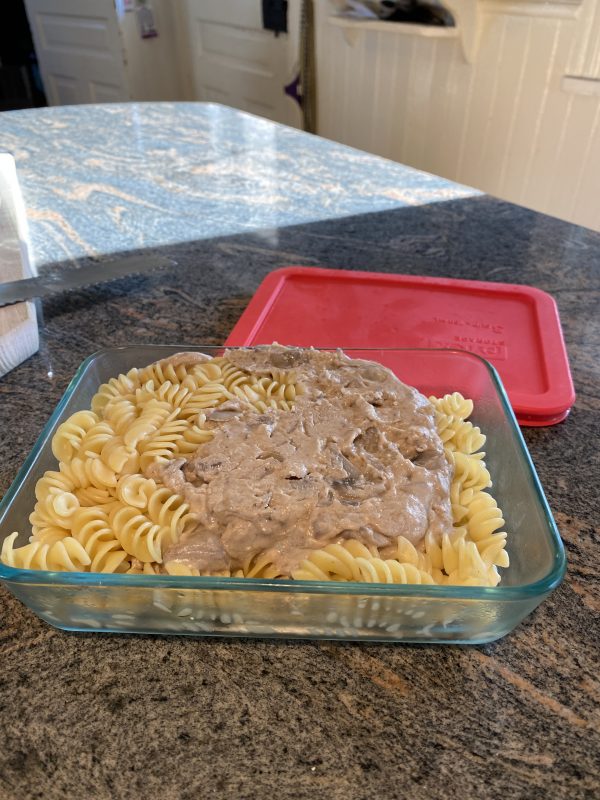 Some recipes use tomato or papricka. I don't add these. I actually only add salt to the noodle when boiling. Letting the creamy sauce with beef flavored with mushrooms,onion and a bit of garlic stand alone is a wonderful full flavored dish.
That is one reason why this dish is so versatile. Varying indegredients is certainly one. It is not that you can serve it with rice instead of noodles.
For our family it is because the leftovers just taste so good!
Now, I am not found of leftovers at all. But this is an exception. There are only 4 of us in the house now so there are leftovers Our girls who are still at home work and like to take advantage of any leftovers to have instead ofthe usual sandwiches.
Packing lunch is a huge money saver. Jim and I also enjoy it for our lunch! You can freeze it too!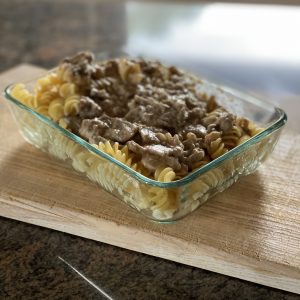 Beef Stroganoff
Easy to make classic beef stroganoff
Equipment
heavy bottom skillet, knife, cutting board, spatula, whisk, pot for cooking pasta, strainer, bowl for cooked beef mixture
Ingredients
1

pound

beef sirlion or stew meat cut into bite sized cubes

1

tbsp

flour

2

tbsp

butter

8

oz

sliced white (button) mushrooms

1/2

cup

white onion, chopped

1

clove

garlic, minced
Sauce
2

tbsp

butter

3

tbsp

flour

1 1/2

cup

unsalted beef broth

or 1 10 1/2 oz can of condensed beef broth

1

cup

sour cream

2

tbsp

red wine

white wine option
Noodles
1

pound

bag of wide noodles

white rice in lieu of noodles

1

tbsp

butter

1

teas

salt
Instructions
Cut beef into bite size cubes, trim as needed

Chop enough white onion for 1/2 cup

Rinse, slice and cut mushrooms

Melt 2 tbsp butter and add flour coated beef and brown quickly on all sides. Add a touch of oil to prevent butter from burning if needed

Add onions, minced garlic, mushrooms

Cook until onion is crisp tender

Removed cooked beef mix into a seperate bowl

Melt 2 tbsp butter to pan drippings in the skillet

Blend in 2 tbsp flour stirring throughly. Do not over cook.

Whisk until flour is totally blended over med high heat, thickened and bubbly

Reduce heat to medium low then add beef mixture

Continuing to stir occationally until heated throughly

Prepare noodles according to the bag instructions

Drain and toss with butter
Notes
This makes for great leftovers to pack for lunch or grab out of the fridge to warm in the microwave.
Serve with a warm crusty bread and side salad to round this classic meal out!
~~~~~~~~~~~
This site contains affiliate links to products. I may receive a commission for purchases made through these links at no extra cost to you.
These items except the Calpahlon skillet which I love are similar to those I use.