Bold Pink and Coral…do they clash? Tips for a patio table are ones I have learned over the years that help me do it without fuss or muss.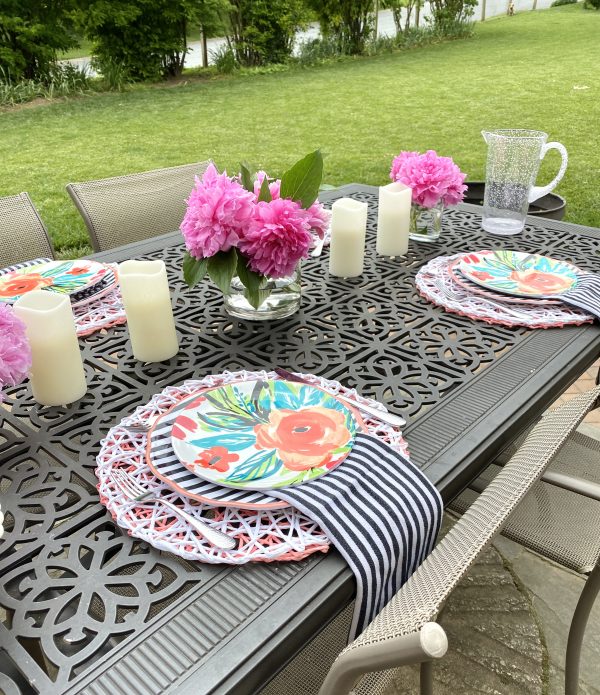 pink and Coral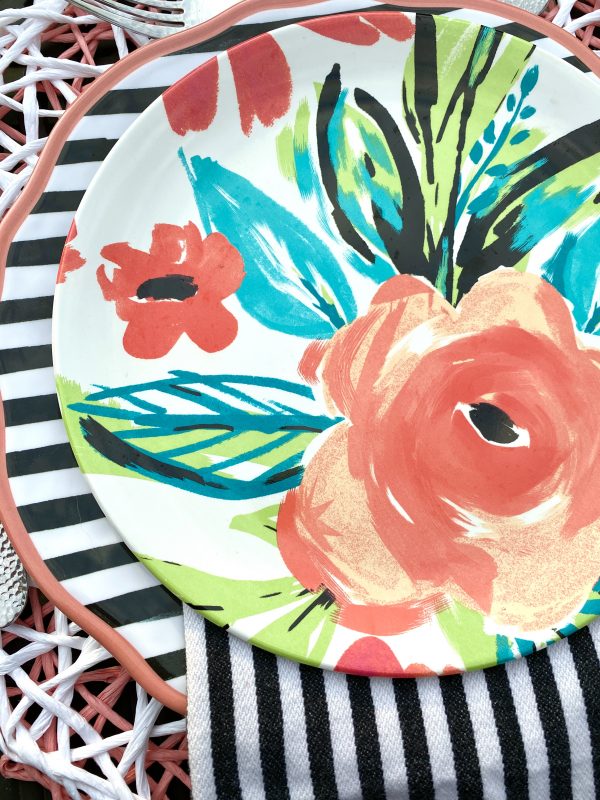 Our pink peonies and the coral floral plates might not go together. They are bright summer colors. Clashing?
I wasn't sure but I didn't have white flowers in the garden. Peonies were the only choice. Then, my mind drifted to bright summer clothes like Lily Pulitzer and thought, "Of course they will!" Proving the old adage that you won't know until you try.
black and white striped plates and pink peonies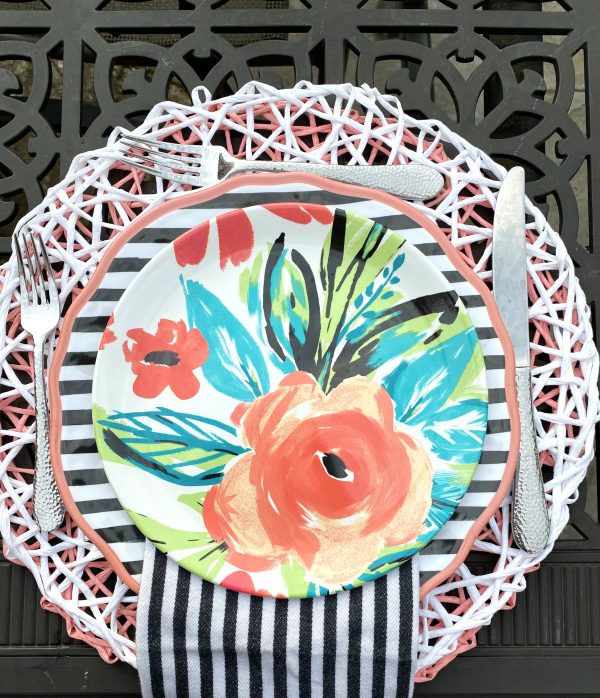 A few years ago I bought theses gorgeous coral and black melamine plates. Black and white stripes are always a good look. Adding the small plates with the bright blooms and green leaves with a touch of teal is the outside summer vibe you want!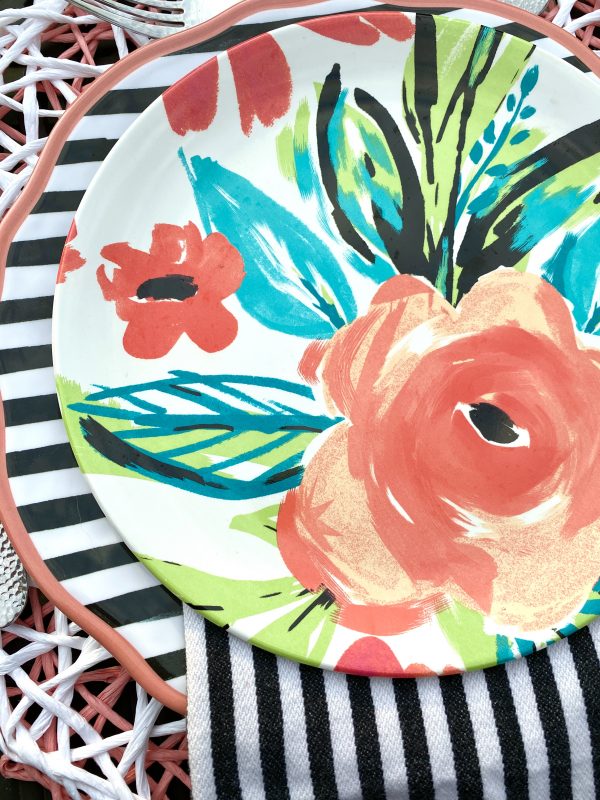 Setting a table outside takes extra time bringing everything outside so I use trays and large totes. First, I gather all the indivdual pieces for the centerpiece and place settings in the kitchen. The serving dishes come out later filled with food.
Why a tote bag or tray? Large tote bags are sturdy and chances of breakage especially with the patio melamine dishes are nil. Using a big tray, I carried the glass vases and a plastic pitcher full of water for the centerpiece outside.
When using fresh flowers from your yard, cut them early in the morning for optimal freshness. Put in water immediately. My arrangements are simple ones so I usually put them directly in the vases I plan to use.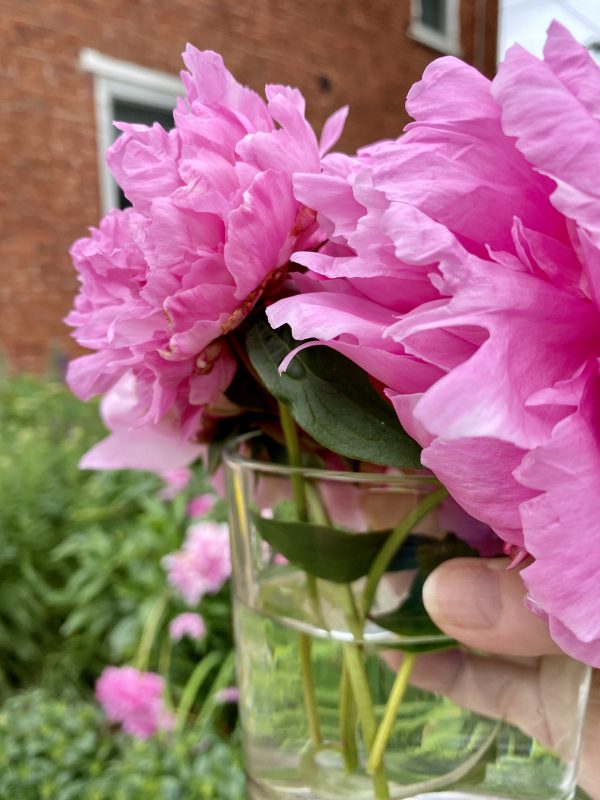 Starting with the centerpiece I added the peonies cut earlier in the morning when they are at the best perkiness. Our peonies are a bold pink. At first I was disappointed, thinking, "Oh no! Will these bold summer colors actaully work together for this table?" There are no coral flowers anywhere, anytime in our yard.
Jim will be happy to plant us some coral colored cutting flowers. He'll enjoy figuring out which ones to plant!
Then my mind drifted to bright summer clothes like Lily Pulitzer and a particular shirt and PJ bottoms I have with ombre stripes. Of course they can be together! Admittedly, I am not a professional designer so I still hoped they would.
My oval vases are great for table centerpieces. They originally were double wick Colonial Candles. Not only are they a good height for a table center piece, they can hold lots of flowers. I also like that the opening and sides are the same up and down, no curves. It is easier for making simple arrangments.
I admit after I had one, I bought 2 more just so I could have them for vases. Good thing they come with pretty colored candles!
After filling the 2 vases with water and very pink pink peonies I arranged them with battery operated candles down the center.
When I purchased the plates, I picked this matching tray too. It's a nice size for a drinks or as a serving dish for food like a charcuterie board or mini desserts.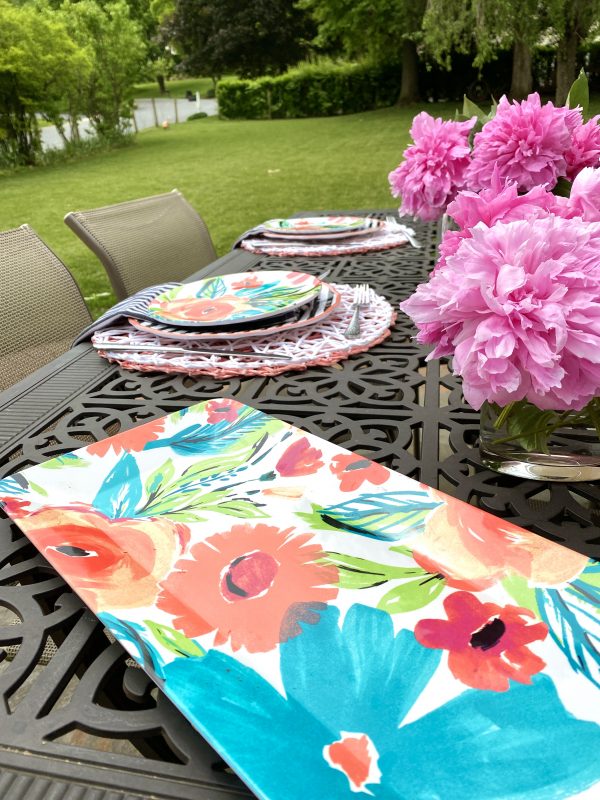 This tray gets used a lot of use during the summer in or outside for serving food.
placemats and napkins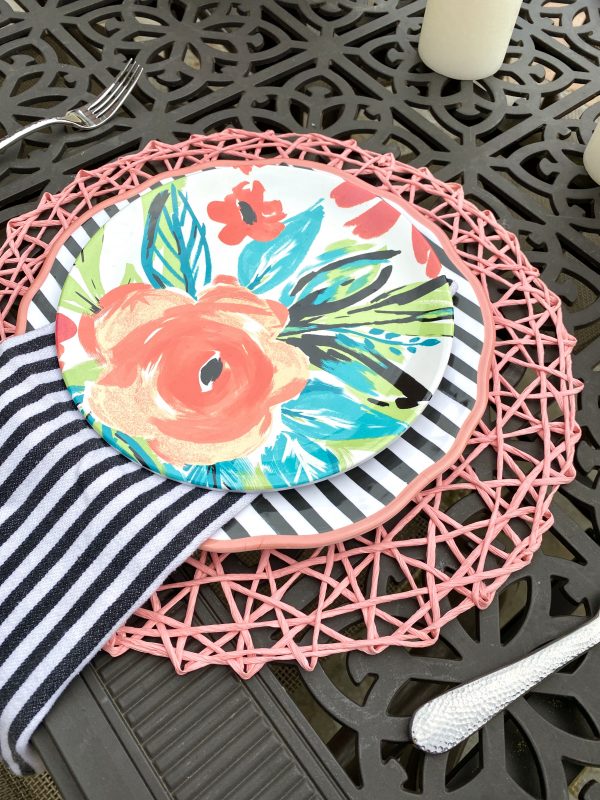 When I bought the white woven placemats at Home Goods earlier in spring I snagged the coral one too hoping they would match.
Sometimes, exact matching isn't a good idea. In this case it totally dulled the colors and didn't add anything at all. They did match but the plates seemed get lost on them. So I tried layering the white on top. The peekaboo coral was the right amount to acent the plates and to make the overall look even better!
Finding the right balance is important when setting a special table, a tablescape. Adding can actually make the setting better or not. Playng with combinations can be fun. Patio tables should have a light touch I think and not be fussy.
I used my all purpose black and white striped large napkins folded lengthwise. Don't you like how the stripes coordinate?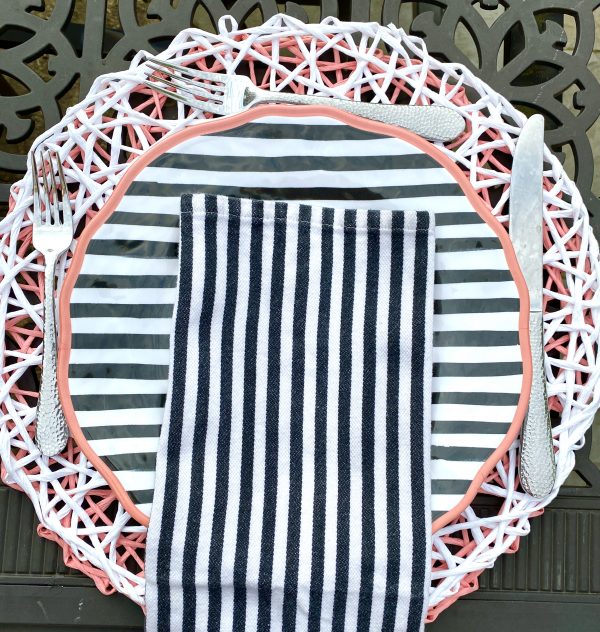 I did add extra green leaves to the vases to highlight the green in the plates. There are 4 candles. It's good to have them there in case our meal goes right through dusk to evening.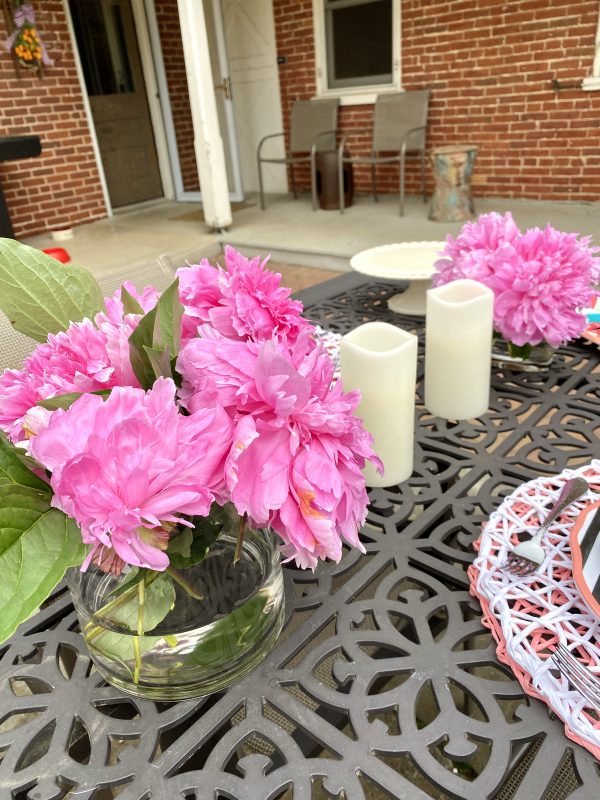 Bold pinks and corals with bright green are wonderful summer colors and make for a beautiful summer tablescape.
tips for creating outdoor tablescapes
Cut your flowers early in the morning. Arrange inside and take outside just before everyone gathers.
Cut your flowers early in the morning. Arrange inside and take outside just before everyone gathers.
Collect everything you plan to use for each setting before taking anything out. Grab those large tote bags and trays to fill with all the assorted items for the table. It saves extra steps and door opening. Better for the AC and keeping bugs out. if you have a plastic dishpan or large bucker, stach dirty dished in to take inside later.
If you see melemine dishes that you like and can afford it, buy them! These seasonal dishes disappear from the shelves quickly.
There are so many options available for patio dishes. Use any of these options. Some are more affordable and fit your budget. Or may be you just want more variety to chose from for your patio table. Paper? Yes, but make sure they are sturdy. Many designs are available in stores and on Amazon. I have also used square plastic plates. There are so many fun designs for paper napkins too. This disposable choice works well when you really don't want to wash dishes or have a large crowd. They look more polished. Warning…they are not dishwasher safe but can be washed and reused. It is a cheaper option.
Having a beautiful table is possible to do with some creative thinking and inspiration from others. Check out my Pinterest .
The best part of a beautiful table is to be welcoming and happy to have family and friends there to share it with you!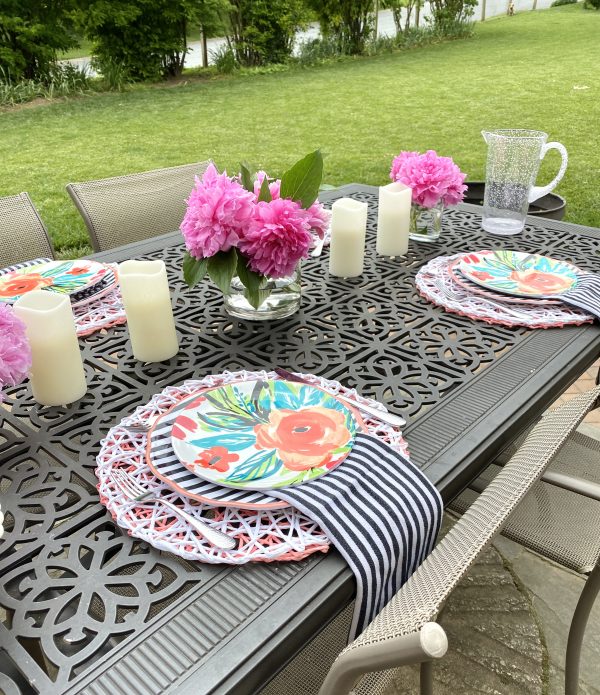 The most important part of hosting family and friends is your attitude! The extra effort you made to set a pretty table is appreciated but most of all, your welcome that says I am glad you are here is the best of all!
~~~~~~~~~~~~~~~~~~~