Summer morning buffets don't have to be elaborate to be tasty. There doesn't have to be eggs or panckaes either.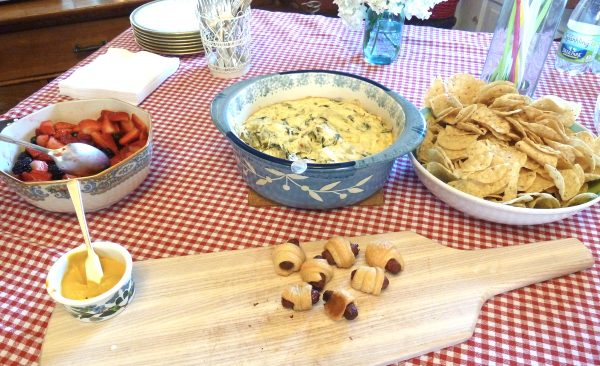 A little red. white and blue.  A prelude to a patriotic holiday weekend. Fun, delicious food served for a crowd. Simple to make. Easy to handle on your lap with drink on the side table.
It may look like an afternoon snack but I like to offer some non-traditional for a casual buffet sometimes. This is a meal my grandchildren can especially enjoy, a grab and go.
Coffee taste good with food on this menu. This buffet takes little time to prepare. Having a slow morning  of conversations, sitting outside the yard just says summer!
summer simple
Summer is a great time for having guests and family. The garden is full of fresh vegetables like spinach for the spinach artichoke dip. Local farm stands overflow with berries and other seasonal produce.
Brilliant sunlight, flowers showing off against a green background of a summer yard. There seems to be a little more time for conversation and yet another sip of coffee.
The mix of formal and country is one I am loving these days. Blue ball mason jars filled with summer flowers and formal china on a red checkered tablecloth were a pretty combination.  Don't you love unusual shaped bread boards?  Here is a similar one…bread board.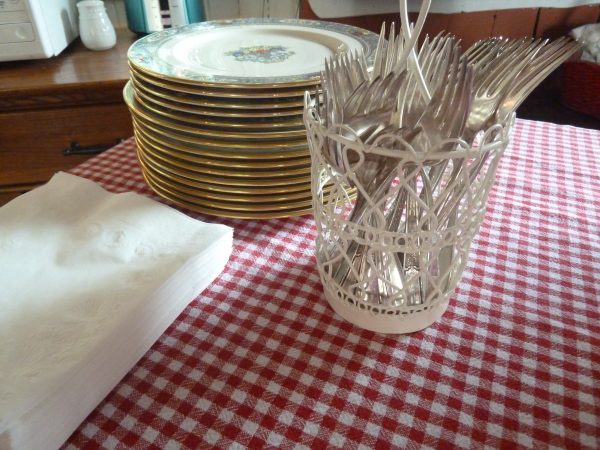 Plates were stacked. Paper napkins with mixed family silver mixed with flea market finds in a wire holder adds a little interest to the table setting.
I moved the table to the corner. It opens up the kitchen making a better flow for this casual buffet. Hot drinks and cold juice are on the counter.
easy to prepare menu
My easy menu for a summer morning buffet is the hot dip instead of an egg dish plus the timeless favorite of Little Smokies roll ups.
Spinach Artichoke Dip      
Tortilla chips
Summer Berry Bowl  
Little Smokies Roll Ups
Mustard
Orange Juice, sparkling water, ice water, coffee and hot teas
  ~~~~~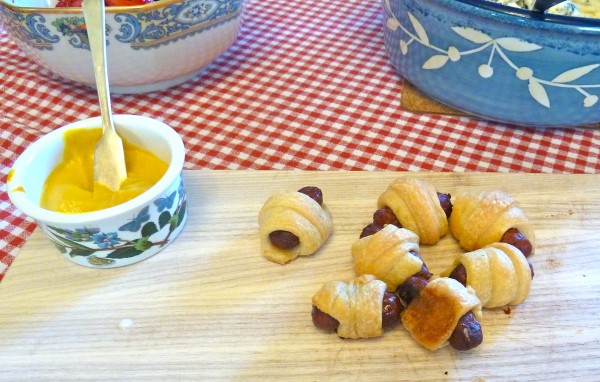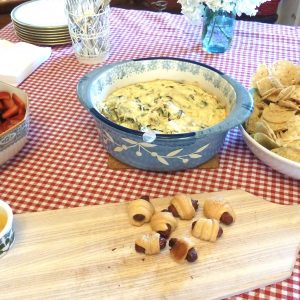 Little Smokie Roll Ups
Ingredients
1

package HIllshire all beef Little Smokies

1

can 8 each Cressent rolls
Instructions
Preheat over to 350 degrees (175 C)

Cut each perferated piece into 4 triangular pieces (Less doughy)

Roll one smokie in each cut piece beginning at the wide end

Place on ungreaased cookie sheet (optional use parchement paper)

Cook until golden brown appx 15 min depending on your oven

Serve with a pot of mustard
Check out my spinach artichoke dip post here…https://bushelandapickle.com/retro-artichoke-dip-that-spinach-one-too/.  
It's a good one not only for morning buffet but any time too!
Links:
This site contains affiliate links to products. I may receive a small commission for purchases made through these links at no extra cost to you.
~~~~~~~~~~~~~~~~~