Casual and elegant come together for a beautiful table!  Farmhouse blue check tablecloth, Lenox china, daily silverware and paper napkins come together for a casual elegant table!
My parents always said there was no use having china and silver and not use it. They also thought children learned manners when eating at a nicely set table in the home or out. I agree.
Plus, it is fun to be creative from simple to extravagant!
summer bold flower colors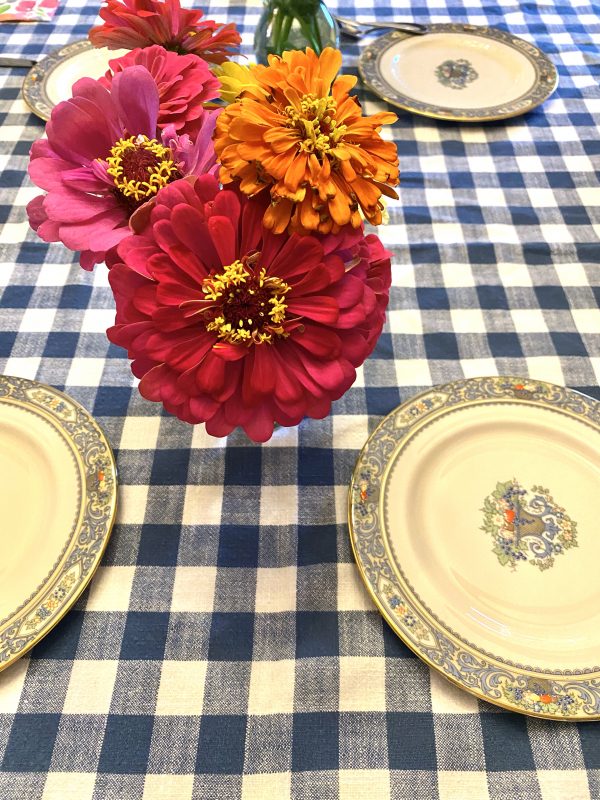 Zinnias are old fashioned flowers. Mom always planted them. They are easy no maintance flowers to plant and grow. Their bold colors just say summer!! Jim plants some very year.
use colors from nature and china
Did you notice how those colorful zinnias have the same colors as the Lenox china? Colors don't have to be match match; they just have to not clash!
When I chose the Lenox china I had no idea how much I would use in so many differnt ways both casual and elegant!
Looking with fresh eyes may help you to create a beautiful table for a casual yet elegant using what you have. That's the beauty of basics. I have both the basic white dishes that are truly affordable and china like my Lenox Autumn.
https://rstyle.me/+KqQqp1UqPs7FKGmtLp6ToA
Picking up random items for setting a table like the floral paper napkins I used for this summer table get tucked away in my cabinet drawers for when inspiration strikes.
These napkins were leftovers. Aren't they a great addition with the Lenox Autumn china, the blue checked tablecloth and the vibrant summer zinnias?
https://rstyle.me/+dskv9AU-D3VdsGCBGcw89Q
Grandchildren are my sweet helpers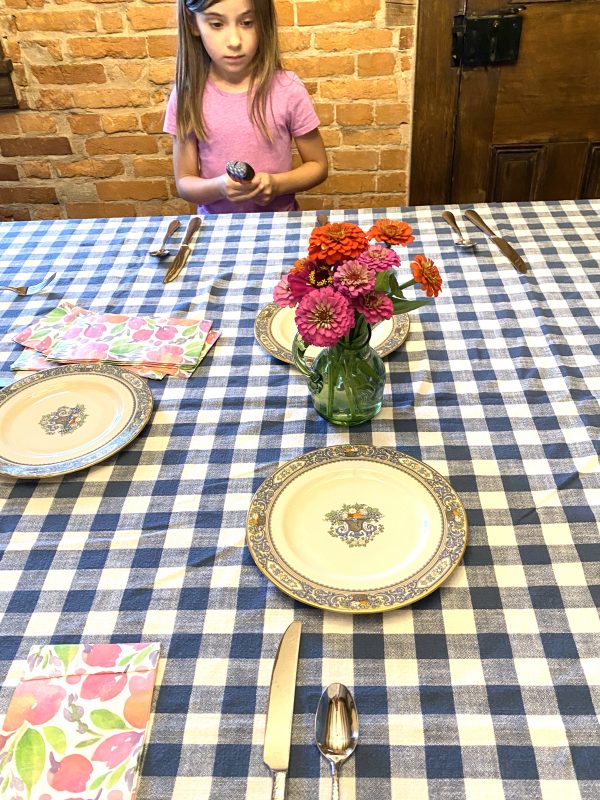 I had a sweet helper who loves poking in the china cabinets for something that catches her eye. Her siblings often pitch in too.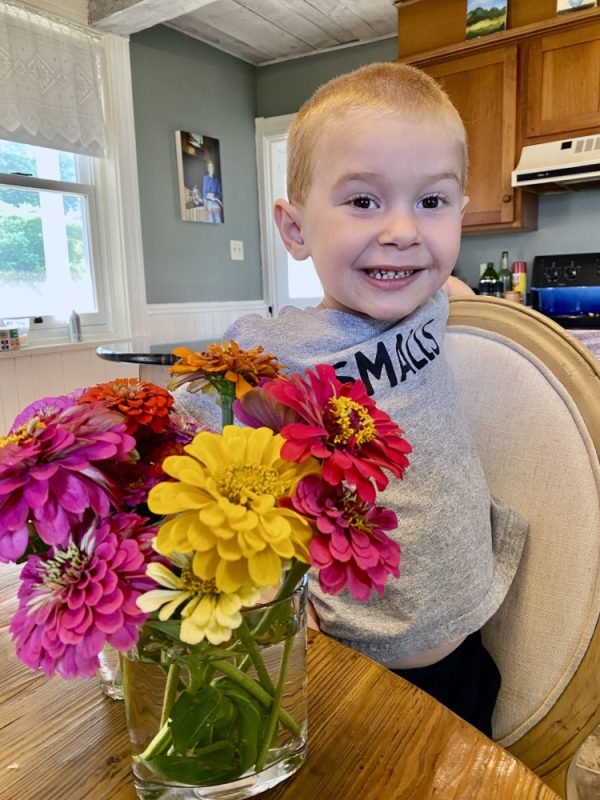 Earlier that morning, Omega and Cor cut zinnias from Grandpa's garden. Those folksy blooms look right at home on the blue check tablecloth. It's from the Pottery Barn outlet years ago.
Extras for the table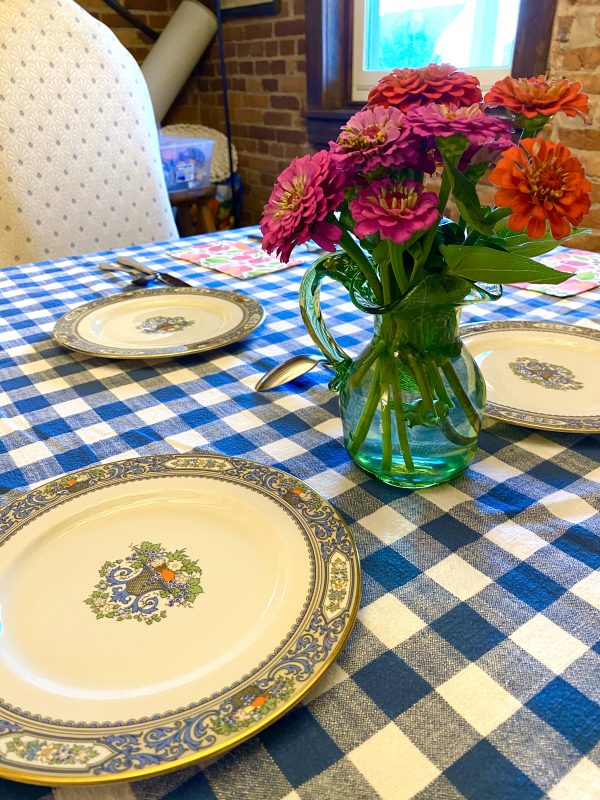 This graceful hand blown pitcher is from the Original Jamestowne Glasshouse. Old Jamestowne is a national park located on the original settlement in Virginia. (https://www.nps.gov/jame/planyourvisit/glasshouse.htm)
I also used one of the oval vases from Colonial Candle collection. 
The summer floral paper napkins are a nice touch with the flower colors and the blue that is often used in Williamsburg textiles.
dinner is served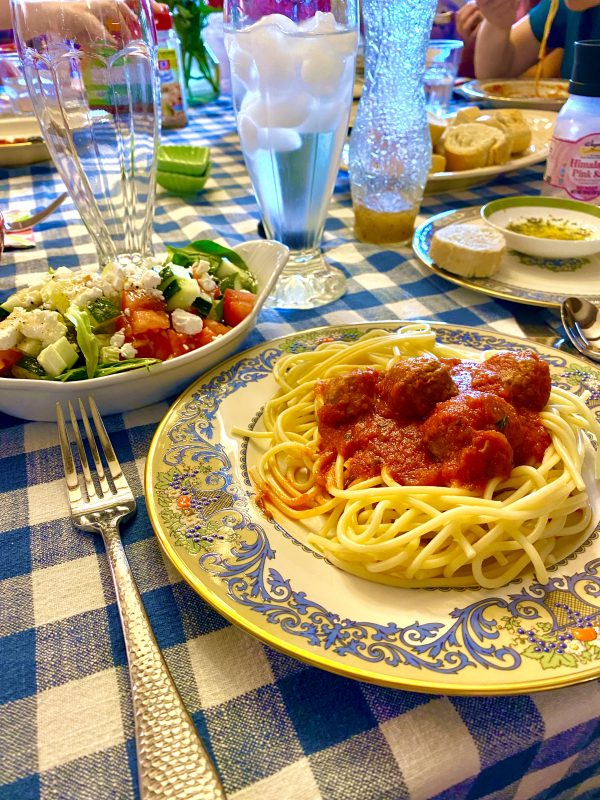 We were having spaghetti and meatballs so I used the Autumn soup plates. I don't have enough for all of us so I also set out dinner plates to fill out the table.  
On the dining table, I set out luncheon plates for bread plates. anf little dishes for herb and olive oil dipping sauce. The warmed loaves were served on the bread cutting board and 'Blessings' platter.
assorted serving pieces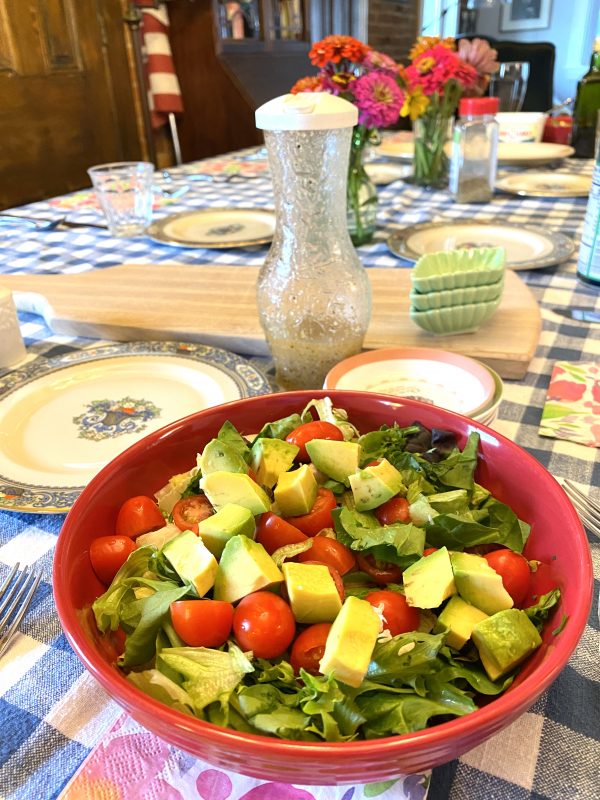 I have an assortment of small china round and odd shape dishes for the herb and olive oil bread dipping sauce. My family loves the dipping sauce so the herb shaker is set on the table along with the olive oil bottle.  
The warmed loaves were served on the bread cutting board and 'Blessings' platter.
I used our regular Oneida silverware and bistro glasses. Amy made us salad and just grabbed dishes out of the cabinet for serving. Casual, remember!
CASUALLY ELEGANT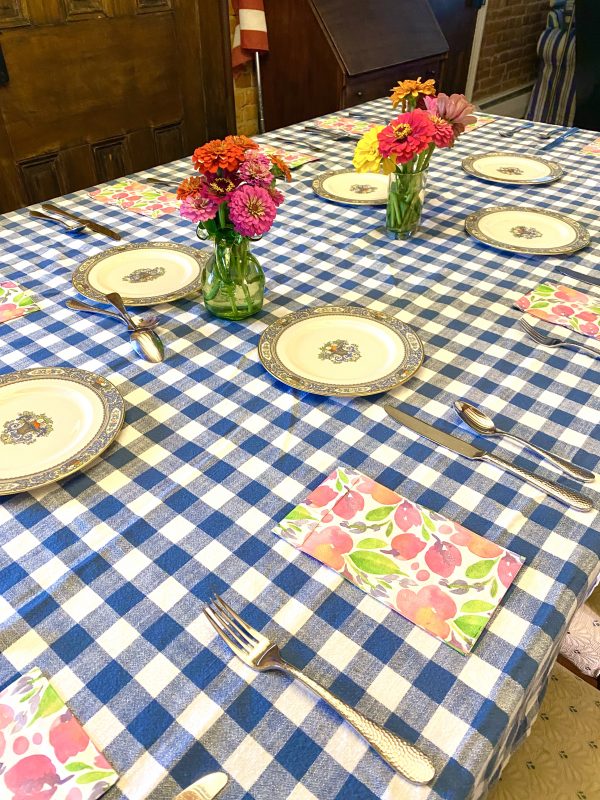 Mixing fine china with paper napkins and classic checked picnic tablecloths with old fashion flowers makes us feel special. We hAD our easy meal of spaghetti and meatballs.
Casual and elegant can come together for a beautiful table!
~~~~~~~~~
This site contains affiliate links to products. I may receive a commission for purchases made through these links at no extra cost to you. 

~~~~~~~~~