Meg strolled on the terrance with her big smile that melts my heart with this huge bouquet.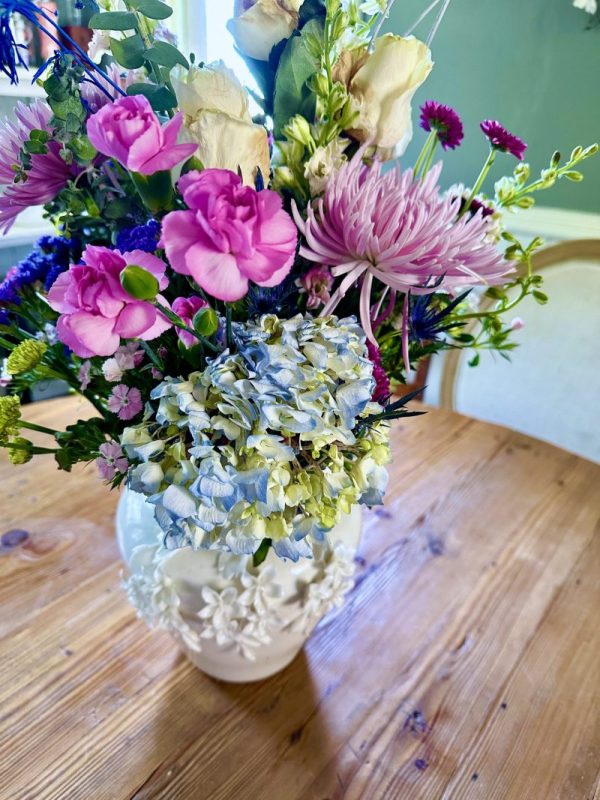 BRUNCH ON THE TERRACE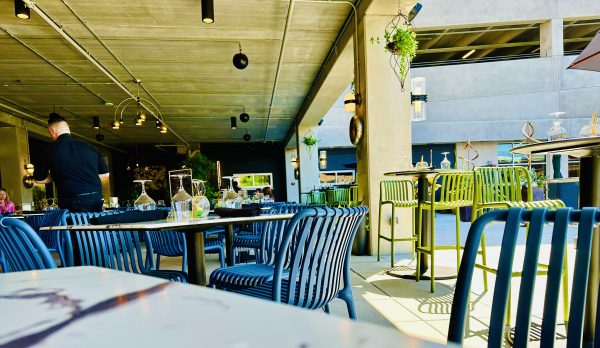 Amy trained in from NYC where she now lives. Yikes! You know how these moves can affect a mom's heart.
Of course we are excited for her! She has a new job; shares a small apartment with 2 other young women. This move is so different from dropping her off at college. I miss her every day but so thrilled for her.
So glad she came for Mother's Day! We had such a good time, I didn't get a photo of the four of us including Jim.
We definitely will get one, I say with total confidence, on Father's Day.
MIMOSAS AND DELICIOUS BUFFET BRUNCH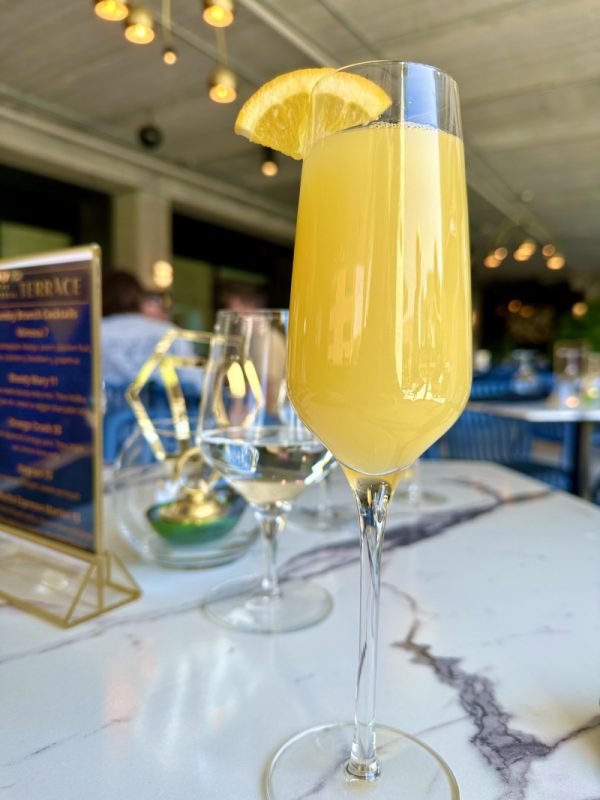 She and Meg made reservations for Champagne Brunch at The Imperial on the Terrace.It is a renovated old downtown hotel that is now a Holiday Inn. Many of the original detail were preserved like the stunning decorative tile floors.
It was one of those perfect times. The terrace was in the shade but the sunshine kept us warm. So the location and weather were just about perfect! The serve staff was attentive.
The spread was delicious. Next to the omelet and waffle station was the prime rib carving station. There were vegan and gluten free options. Fruits, pastas, potatoes, pastries, breakfast meats, bread and smoked salmon. Plus amazing desserts including a very delicious carrot cake.
We took our time, small portions so we could enjoy the buffet by courses. We laughed alot! Jim shared photos we had never seen of him as a child. One of our grandsons is a mini Jim.
Again, no photos of the buffet.
BOUQUET WITH FAVORITE FLOWERS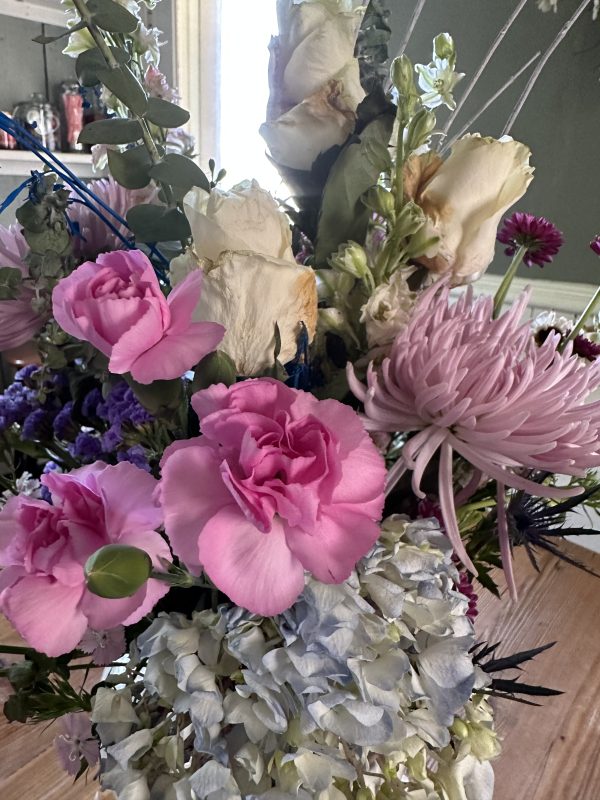 What are your favorite flowers Mom? Roses…mmm. And usually whatever is in season. She selected a big bouquet that had my favorites, roses and. hydrangea. Meg told me she thought so.
We are still enjoying part of the bouquet. 
YEARS GONE BY PHOTO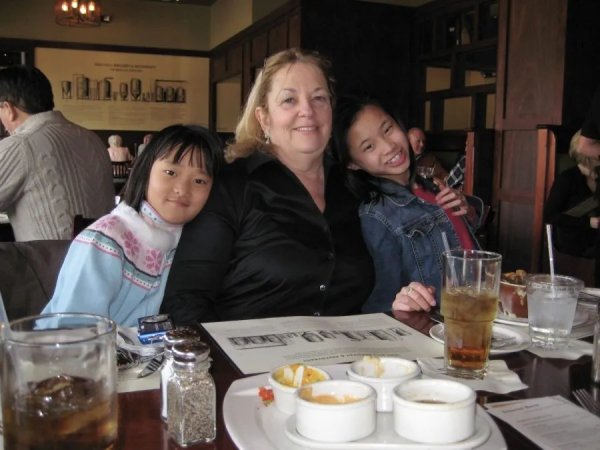 No photos of this years' Mother's Day; no problem. When looking through the old photos, I found this one!
This one was taken when we still lived in China. I actually don't recall where this was taken. I assume it was at the Sheraton Hotel restaurant. In the early years, the Sheraton Hotel resturant was an oasis for me. In the backyard there was a large patio and play area with lush grass. The girls loved the play ground. It was a big treat to play on it. Eventually other western restaurants opened up to enjoy. One was TGI Friday's. I only mentio that because we could have been there. We also defiantly had our favorite Chinese restaurants!
See what happens when photos aren't labeled!!
Our city had a population of about 11 million. There were not many green spaces. Public play areas were concrete. yes, concrete! Walking on grass was forbidden.
A WONDERFUL DAY TO REMEMBER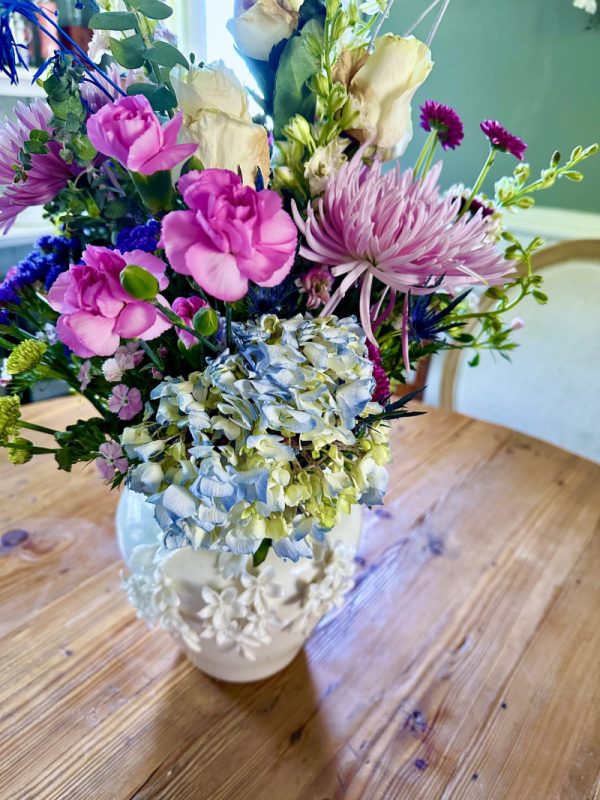 Yes, you can remember special days even without a lot of photos.
All of that is to say, record the information for your photos before it is lost to your children. I'm working on it! 
All in all I had a wonderful day with our youngest kiddos for the special day!