We're eating our way through family favorite and trying out new dishes too. It depends on who is cooking!
One of our favorite is chicken tetrazzini. It's an easy recipe to make and we all love it! It was Jim's turn. He needed the recipe. Since I've made it so much over the years, I typically prepare it from memory. Do you have recipes like that?
The simplest side dish is canned peaches. Typically, kids really like them usually. A friend called them and boxed Mac and cheese part of the orange food group! Any cut up fruit is good, adding a like sweet to the savory. If I want to make the meal special I would add one or more of these sides. Baked fruit, salad and broccoli. I plan to post that baked fruit recipe later. It's also so good with breakfast casseroles too.
You only need one larger pot, a big, big mixing bowl, a small skillet and 2 baking dishes. Grab the foil for covering the casseroles while baking. A nice big bowl for stirring is great but if you don't have one, stir all ingredients together except the spaghetti. Divide the spaghetti into the lightly greased baking dishes first then add the mixture on top. Then poke your spoon in the dish at different spots and giving it gentle mix to incoporate the mixed. spaghetti together.
Sprinkle cheese on the top. Put the foil to cover the dish. Try not to press it down on the cheese top. It makes a mess and all that lovely cheese may be lost to the foil!
For our years in China, I made the soup. We would rarely find the canned variety in the local 'international' shop. I tried not to be greedy when the soup boat came in; kind of like there's TP! Don't take it all! A common philosophy with expats every where we've lived is 'You should always leave one on the shelf if possible'. I also used unsweetened yogurt in lieu of sour cream or made the sour cream with heavy cream and white vinegar. When you live where options can be limited, you learn all sorts of way to make those dishes that are a touch of back home.
Chicken Tetrazzini
Easy to prepare chicken cassarole that family and friends will love. Great for a large gatheirng or a family meal.
Equipment
Pot, large bowl, 2 8×11 baking dishes, cutting board, small saute skillet, foil to cover baking dishes
Ingredients
1 box

/16 oz

thin spaghetti

1/2

cup

reserved chicken broth

4

cups

cooked chopped chicken breast

cut prior to cooking, reserve the water

1

10 3/4 oz

can cream of mushroom

you need 3 cans of the cream soups but often I only use mushroom if that's all I have on hand.

1

10 3/4 oz

can of cream of chicken

1

10 3/4 ox

can of celery

8

oz

container of sour cream

6

oz

sauted sliced mushrooms

substitue:drained canned slice mushrooms

1/2c

cup

shredded or grated Parmesan cheese

2

cups

shredded cheddar cheese

Set aside 1 cup to add on the casserole before baking

1/2

tsp

salt

1

tsp

pepper
Instructions
Cook cubed chicken breasts in large pot, reserve the water in the pot for cooking the spaghetti

Cook spaghetti in the same pot and reserved water used for the chicken according to box instructions

Sautie sliced mushrooms

Set aside 1/2 cup of chicken broth from the pot

Drian the noodles then toss with reserved 1/2 chicken broth

Mix all ingedients except the spaghetti and the 1 cup of cheedar cheese together

Add spaghetti and toss well

Split mixture into lightly greased baking dishes. Sprinkle evenly with cheese.

Bake covered at 350 for 35 minutes; uncover and bake 5 more mintues until cheese is melted

Freezes well! I freeze one for later unless we have company. Suggested side dishes are salad with a vinaigrette , broccoli, sliced canned peaches, baked mixed fruits.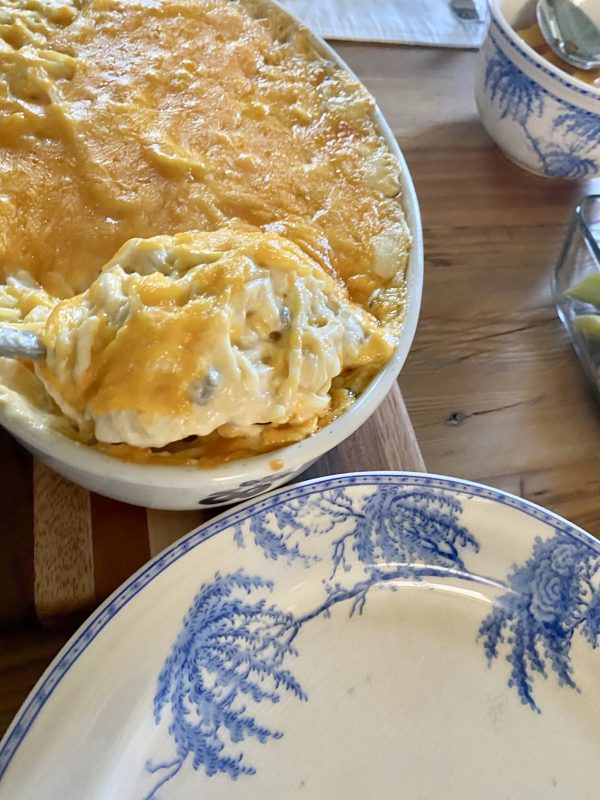 Hope you enjoy this as much as my family does! Freeze the second one for another day. If there are any leftovers, it's a delicious lunch to pop in the microwave the next day.
~~~~~