It was so much fun to be part of this Christmas Dough Bowl Challenge 2021!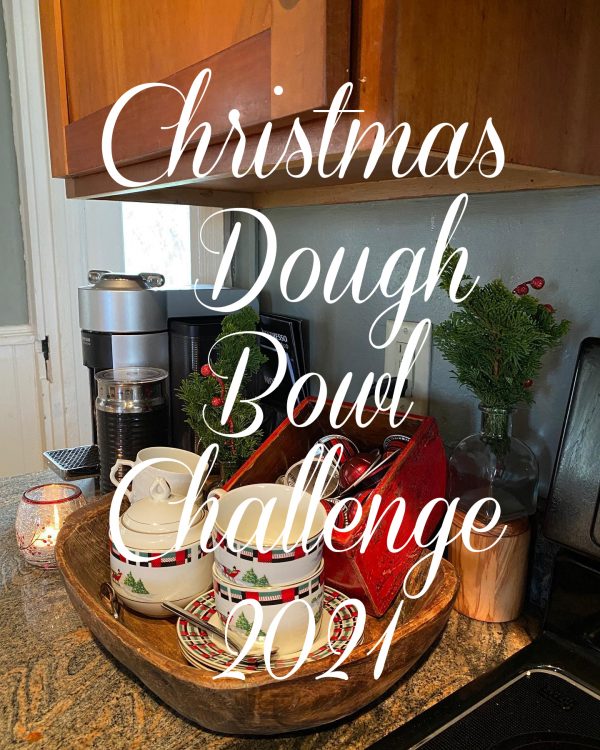 My dough bowl is an treasure from China. Dough for breads. They didn't taste like our yeast breads. Most were not baked. This is a glimpse of bread or buns served at the local market where a group of us went for dinner each week. Do you remember the food market scene in Crazy Rich Asians! It is like that exactly. It was still daylight and summer in this photo but still had the lively vibe!
Today, I don't make dough in my dough bowl. Instead I use it mostly in the kitchen as for fruits and vegetables in the kitchen. Also, often I will do a little more especially on the DR. table.
A start to decorating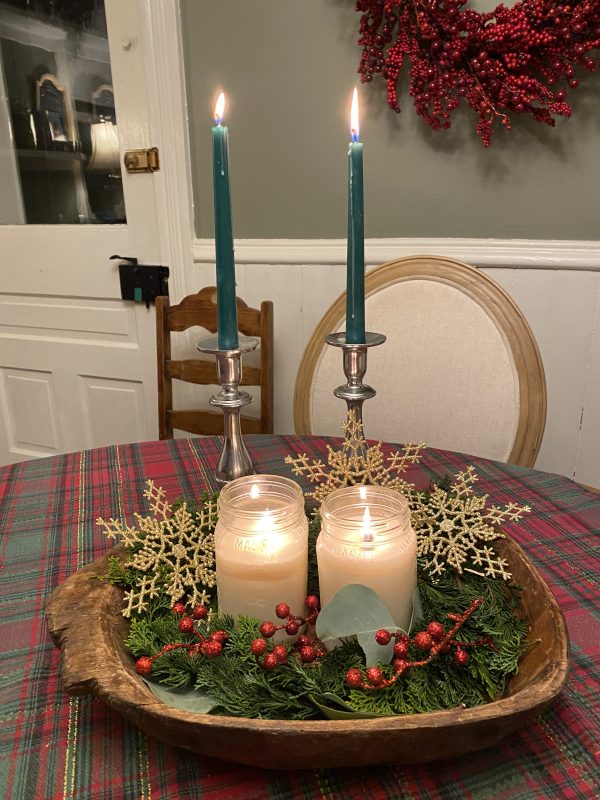 Along with other bloggers, I was part of the Christmas Dough Bowl Challenge 2021! Honestly, I am behind in Christmas decorating. I think all the appointments and other distractions have ended for now so I can focus on decorating.
This challenge was a kick start!
dough bowls many ways for many rooms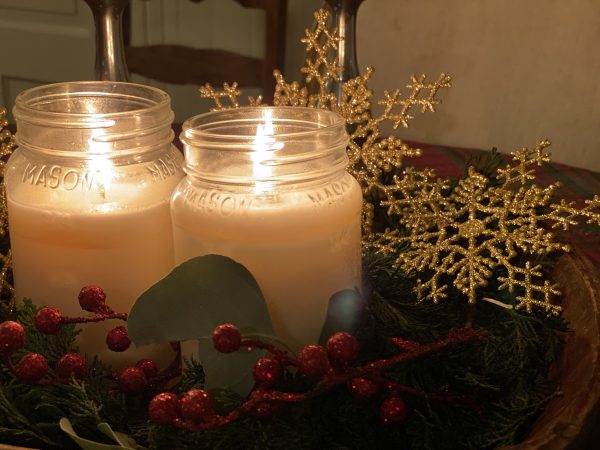 Do you have an entry? We have an old style one…right into the kitchen through the back door. This arrangement with candles is a sign of welcome especially for our girls who come in after work in the dark.
Can I say I artfully arranged these large Chrsitmas ornaments in my dough bowl? I did and added some around the votives and large candle holders for this holiday brunch table.
The browns and blues are typical colors for Chirstmas but with the plaid and silver, I think it is beautiful.
Family living room
Our Family living room is the place after the kitchen counters and table, our family tends to settle in. We talk, nap, watch TV and well, lounge! If Jim isn't up yet, when it is chilly and cold I have morning coffee in here. Tomorrow we will start making fires! Adding to the coziness. We're also putting our tree up.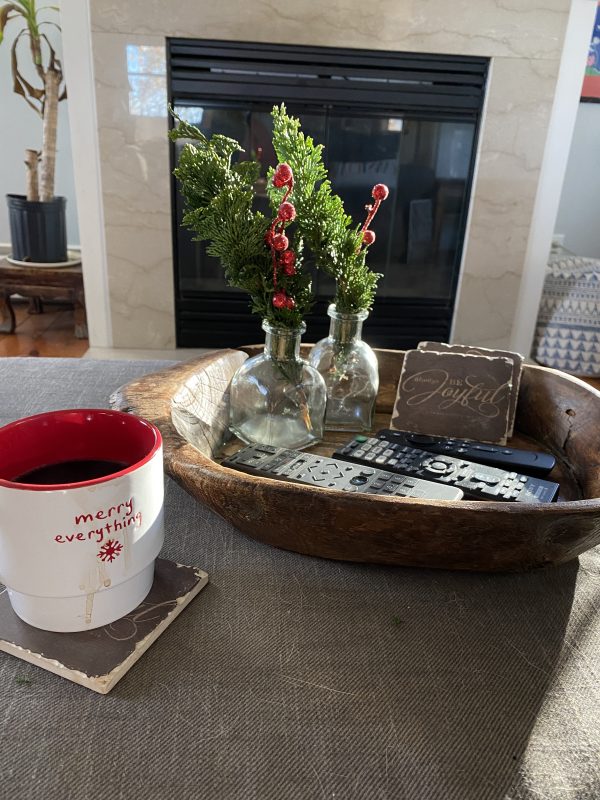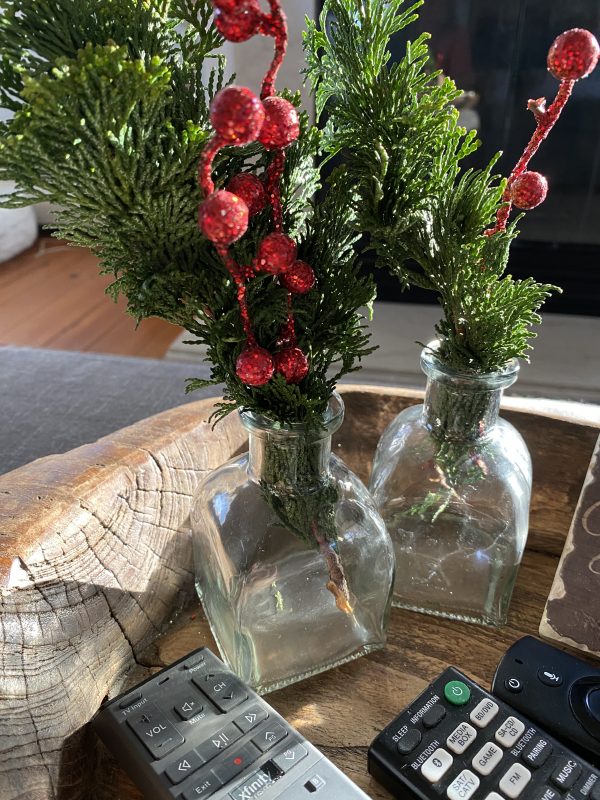 I put one branch and glittered berry stem into my very useful mini vases. The stone coasters add to the holiday cheer…"Joyful".
Easy and so pretty, don't you think? If you don't have dough bowl, how about a tray or platter?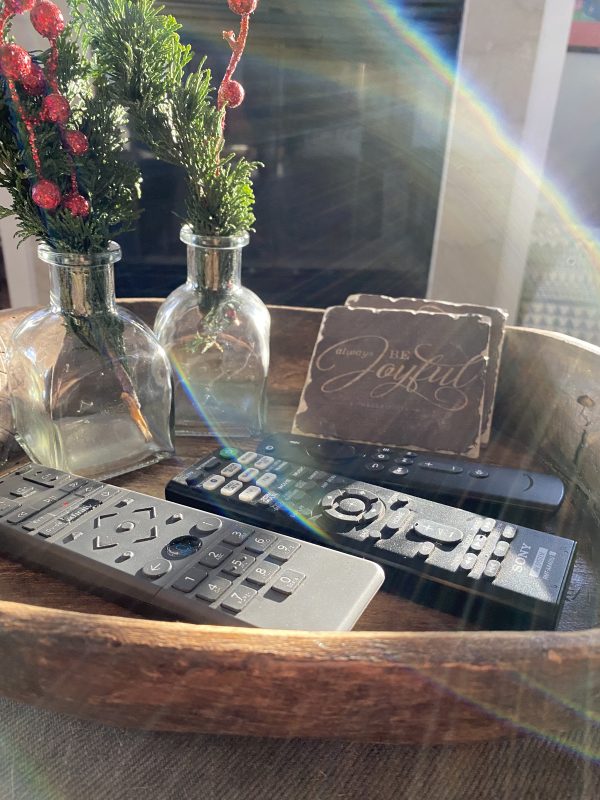 Perfect for keeping the remotes handy and adding Christmas cheer to the functionality!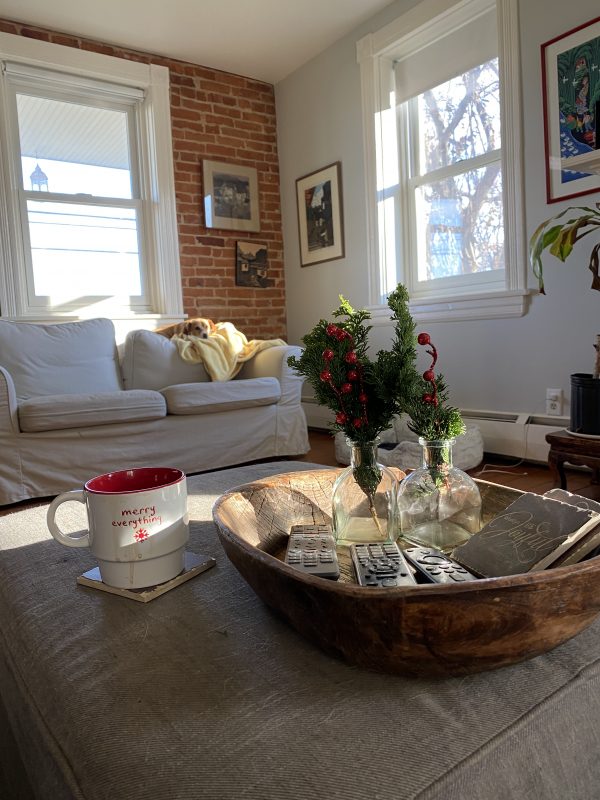 Even Peach agrees!
christmas coffee station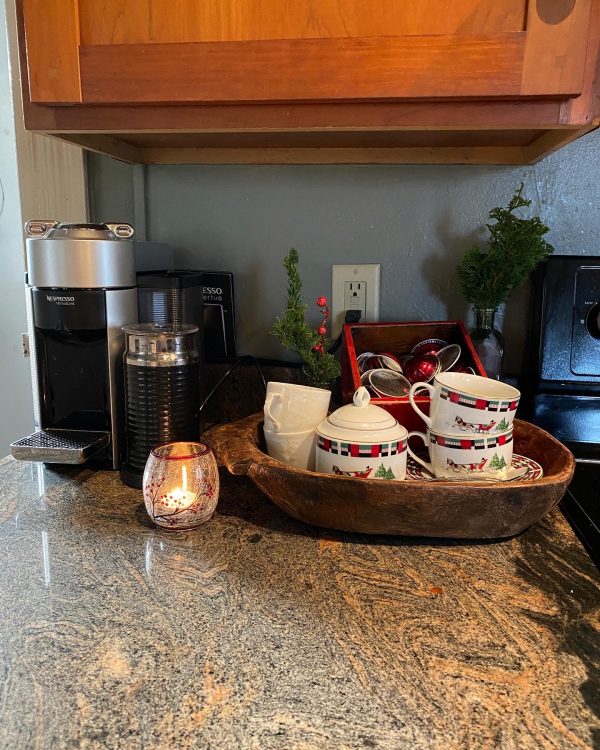 For the coffee stations, I placed 2 cups for coffee and expresso. Sometimes Jim likes a little sugar so I added demi spoons. We use te Nespresso coffee makers; the pods are in a small antique box also from China.
Again, I added the greenery in mini vases to the arrangement. The lit votive is a nice touch for afternoon coffees which I typically when we use our machine. Did you notice the milk frother, a Christmas gift? Cappuccino anyone?
So pretty and ready. When family comes, I'll rearrange for more cups or switch to a tray.
Christmas decorating does not have to be elaborate to celebrate the season! Or stressful. I do love lots of lights and trees and sparkle that can be a little elaborate. I also like simple and easy, remembering what we are celebrating!
~~~~~~~~~~~~
Be sure to visit the other who are part of the challenge to see even more creativity! See the list to click on below.
~~~~~~~~~~~~~~