Pressed for time?
Need a gift?
A way to punch up the coffee you are hosting?
Activity for a teen group?
Fun time with your kids or grandkids?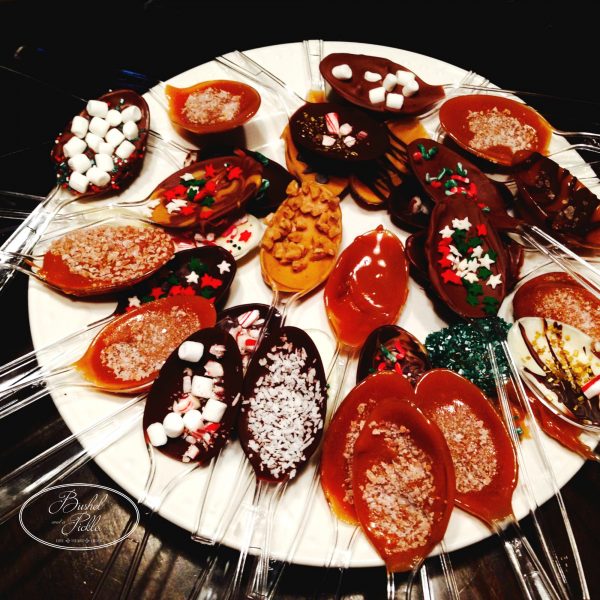 Activity for a teen group?
Fun time with your kids or grandkids?
Make these spoons full of fun!
Aren't they cute and festive?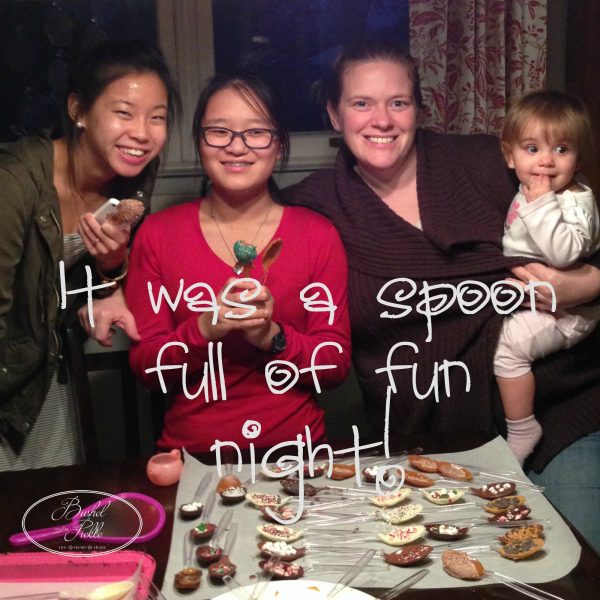 Last week, Nancy had Amy and Meg come over to be part of the fun of making Christmas gifts for all of the wonderful women who teach and influence the little girls' lives at school and church.
 The young girls take gifts to the neighbors and all their teachers.  Since they are traveling to the other grandparents' home they made enough to give to their grandma and grandpa plus all the aunts, uncles and cousins they will be celebrating with this year!
What do you need?
Supplies
Crock pot
Parchment paper or silicon sheets
Cookie sheets or trays
Wide mouth heat-resistant glass jars
150 Plastic spoons
Cling wrap or small cellophane gift bags
Colorful ribbon or yarn
Ingredients
Extra  mini-marshmallows
Sprinkles and stars
Crushed candy canes
1 bag each of assorted baking chips
White chips
Dark chocolate 60% cacao
Milk chocolate
Reese's Peanut butter 
Caramel                                                                                                                                                                                                                                                                                                                 Melt the caramel in the microwave.  It was not easy to work with.
(Don't make the peanut butter spoons until the chocolate is finished!   This is necessary for those who have peanut allergies.  Cool in a separate area.)
Directions 
Place jars in crock pot. Add water up to the bottom of the jar's rim.  Turn on HIGH.  Fill each jar about 2/3 full of chips.  Use table knifes to stir each jar while heating.  This takes about 25 – 30 minutes.  Once heated lower temp to LOW.
Do not let the melted chips cool!
If you have to reheat them, the coating may crack. It will not be as shiny and look cloudy.
While the chips are melting, prepare the work area around the crock pot.  Put sprinkles and decorations so everyone can more easily reach them.  Lay out the parchment paper sheets.  Have the spoons on the ready.  Nancy used tray and cookie sheet to move each filled try to the dining room table to finish cooling.
Once totally melted, drip spoons one at a time into melted chips.  Let excess drip off. Lightly scrape the bottom to prevent pooling when they are laid on the parchment paper.
One person can easily decorate 3 at a time before the coating hardens.
Decorate!  If you use stars or other larger decoration, lightly press them into the coating to keep them from falling off.
When spoons are totally set, take 3 or 4 together and wrap with cling wrap or put in cellophane candy gift bags.  Nancy used cling wrap to keep expense down.  Since she is a knitter, there were plenty of yarn options!  We used left over bags and mini ribbons we had on hand.
Finished?  Spread leftovers on parchment paper to make "bark".   Sprinkle decorations on top and let cool. Break into pieces and store in covered air tight container.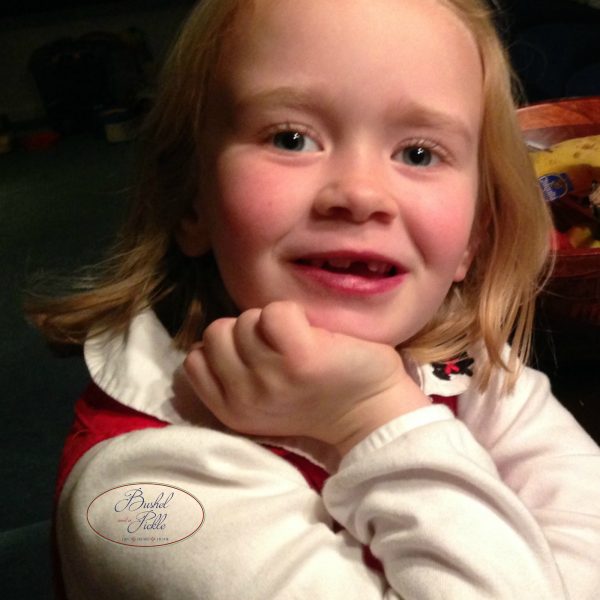 This is definitely a Christmas spoon full of fun activity.
What fun things are you doing with your kids or grands for a fun time together for this Christmas holiday season?
Linking at these great parties!