This site contains affiliate links to products. I may receive a commission for purchases made through these links at no extra cost to you.
Cold tuna pasta salad Perfect for summer days' meals! Do you remember it? Have you forgotten what a delicious dish this can be?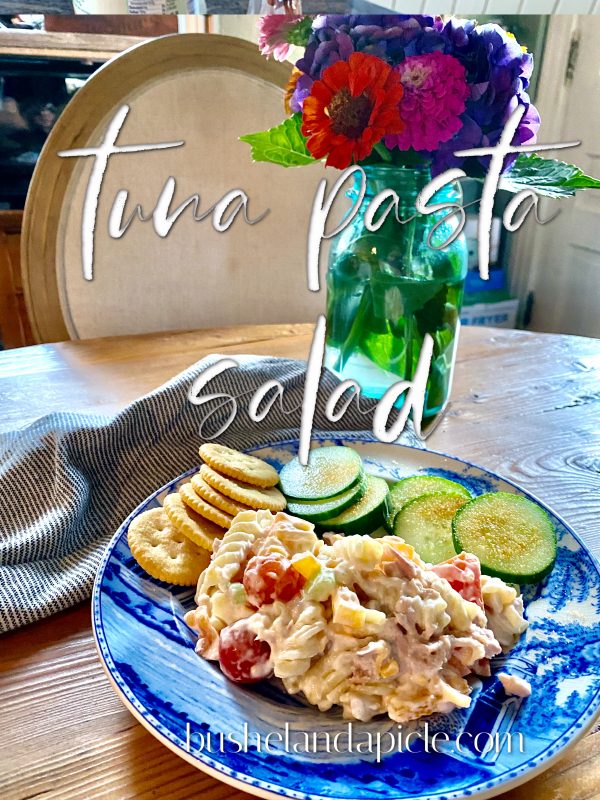 I'll be honest; I had. I'm not a big fan of tuna in general. We're been eating so much chicken, both fresh and yes, canned these days, I guess I developed tunnel vision. But a well made tuna salad with a garden ripe tomatoes is, let me be honest here…delicious.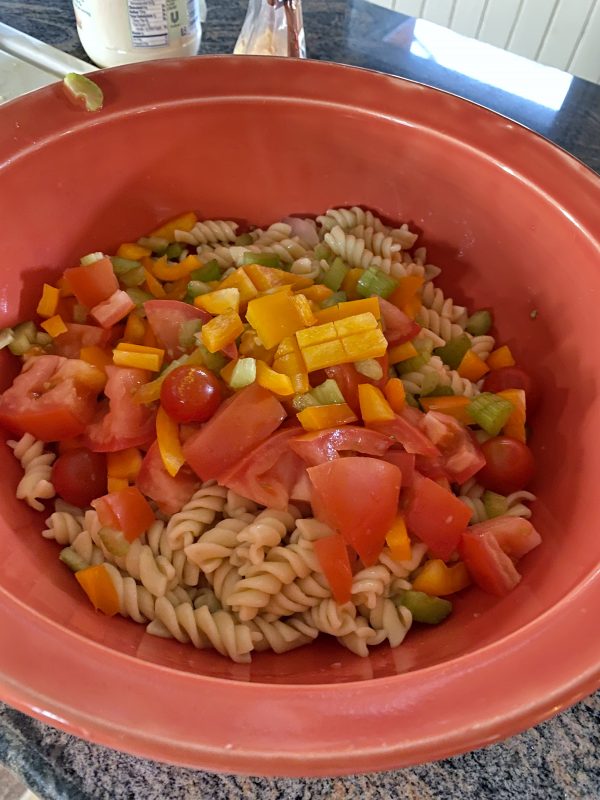 So is a well made tuna pasta salad. I have made tuna salad for sandwiches or luncheons. But not pasta salad. This is excellent dish to serve for a meal, lunch or dinner that is easy and quick to make. The leftovers are a good choice for to pack for a meal at work or a picnic. You only need a lidded container and forks. Toss in a cooler or backroom refrigerator to keep chilled before eating.
Lunch in Hong Kong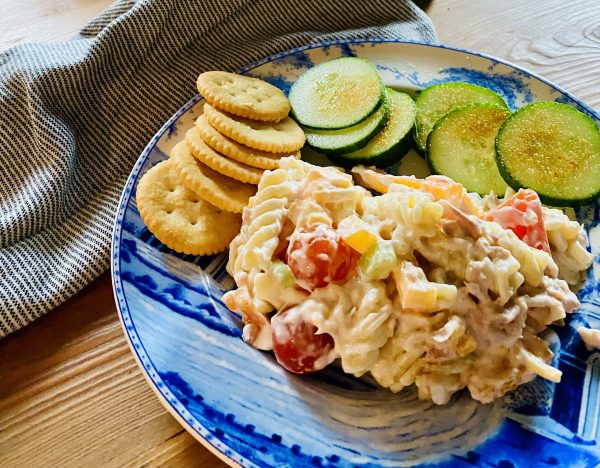 Years ago when we lived in Hong Kong went to a friend's for lunch. She served a tray of fresh vegetables and a big bowl of tuna pasta salad with a side of crackers.
When you live in so many places, you can collect not only memories but also great food experiences and recipes.
She set the table with embroidered starched luncheon napkins. Hong Kong was different lifestyle for us in those days.
I don't think I had ever had tuna salad with pasta in it! Unless it was the baked casserole.
ingredients for planning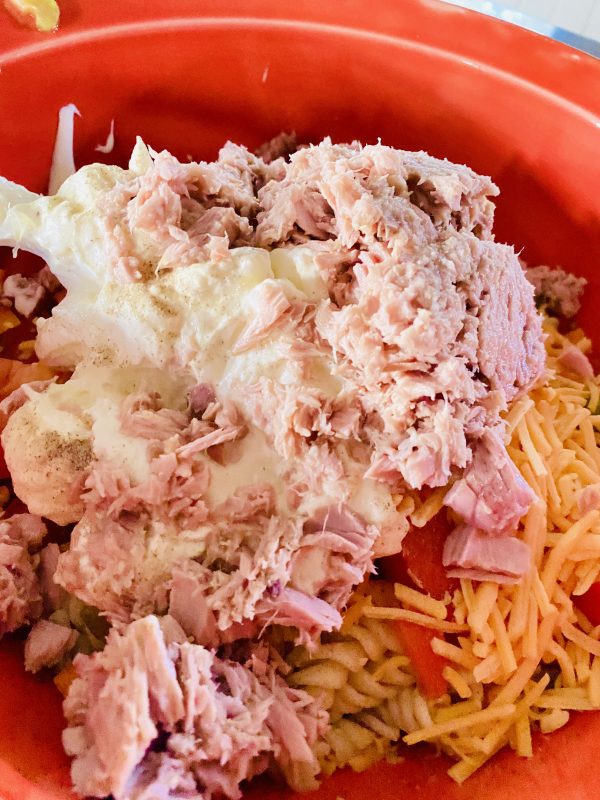 Amy and Jim were the ones who reminded me of this easy, cheap yummy dish. It can be a grab what you have from the crisper drawer. In the summer we usually can grab from the garden except for celery. Then get a box of spiral pasta (or any favorite).
Jim does not grow celery.
We use tomatoes and sweet peppers from our garden.
Basic ingredients for your grocery list are:
1-2 4.oz cans of tuna packed in water, cherry tomatoes, celery, sweet peepers of any or all colors and large shredded or chopped sharp cheddar, mayonnaise, lemon juice, white pepper and pasta noodles. We like spiral, macaroni type noodles but not bow ties in our tuna salad.
Onions are optional. Mayonnaise is not optional!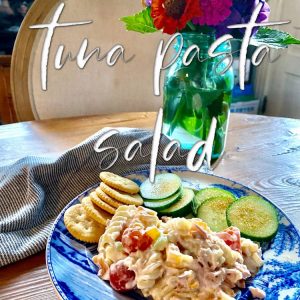 Tuna Pasta Salad.
Tuna salad with pasta is easy to prepare with fresh ingredients plus pasta
Equipment
pan, large bowl, spatula, colander,knife ,cutting board
Ingredients
2

4oz

canned tuna in water, drained and rinsed

1

cup

cherry tomatoes

cut in half

2-3

stalks

chopped celery

1

cup

grated sharp cheddar cheese

use larger grated

1

cup

chopped sweet peppers

optiona; use red, orange, yellow, green

1

tbls

chopped onion, optional

1

cup

mayonnaise

16

oz

box of spiral pasta
Instructions
Cook pasta according to instructions. Drain and chilled (Iput ice cubes and toss in pasta while on colander

Drain water from can and rinse and drain tuna well with fresh water. It keeps the fishy smell away.

Chop or slice vegetables. Cut cherry tomatoes in half.

Put drained chilled pasta in large bowl

Add prepared vegtables to bowl

Add shredded cheese (or cut uo into small pieces) Larger pieces oe grated cheese is better than finely shredded cheese.

Toss together until evenly distributed

Refrigerate untill chilled before serving if neeed

It will keep in refrigerator for several days
This is so delicious for a summer meal. It's quick and easy to make and keeps well over several days. Do you like picnics? Perfect dish to take. Just add forks. Pack lunch for work? Can't go wrong with this tuna pasta salad!
Hope you enjoy this tuna pasta salad. What special meal do you make for summer time meals?
This site contains affiliate links to products. I may receive a commission for purchases made through these links at no extra cost to you.
~~~~~~~~~~~~~~~