Cleaning mud and dirt off pets and glass doors is made easier with these products. See what I used below.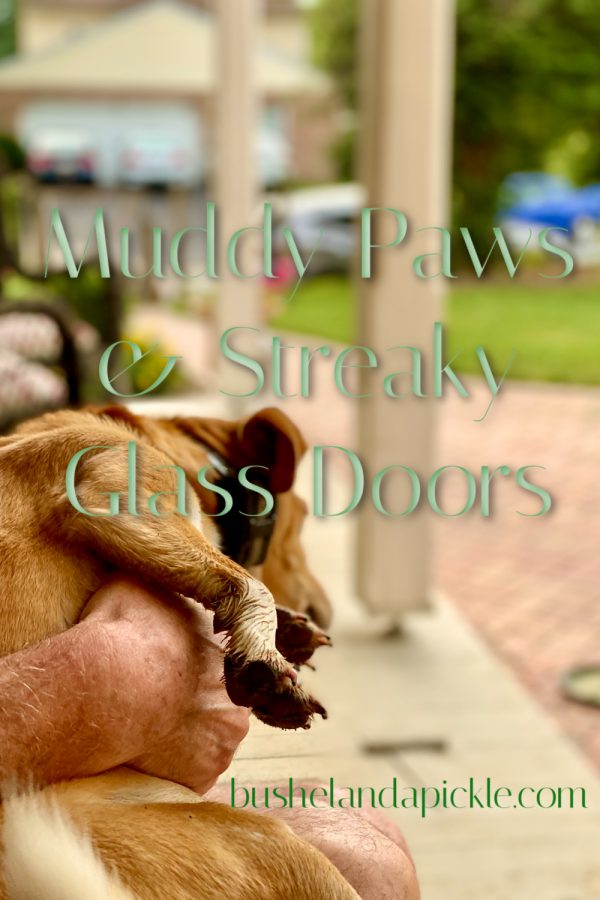 who is peach and why is she muddy?
Peach is one of our beloved dogs. She and Shadow are family dogs but we all know whose dogs they really are. Meg and Amy's.
The neighbors all know; we know. Peach is a barker. Peach likes people. Peach loves to run and to bark. Parents and grandparents come by with thier young children to say hi to this friendly dog who barks greetings to every dog and child that passes by and bird s in the bushes.   The kids often bring treats!
When she runs in the rain or afterwards along the side fence up and down. It turns to mud when it rains. She doesn't care! She still runs barking hello!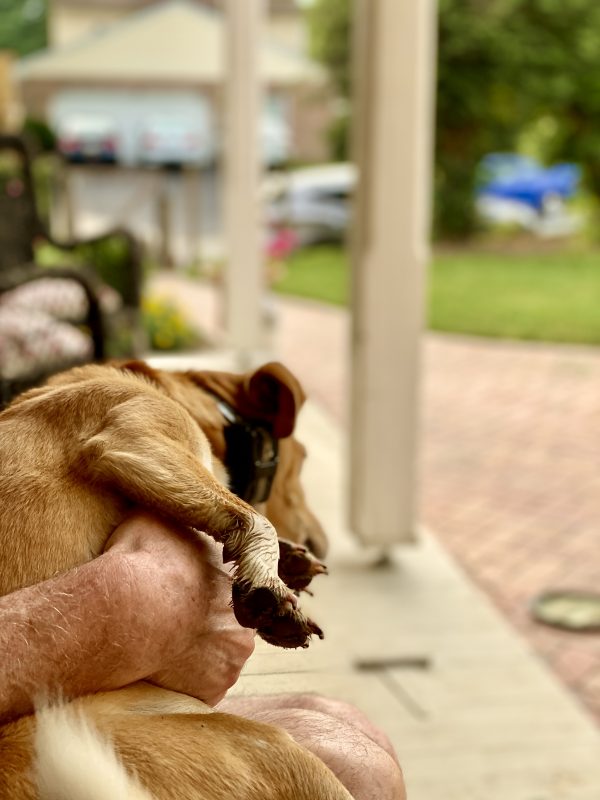 Because this is a daily routine and when there is mud and we don't want to give her a bath or take her to the sink to wash her paws, we use the grooming wipes.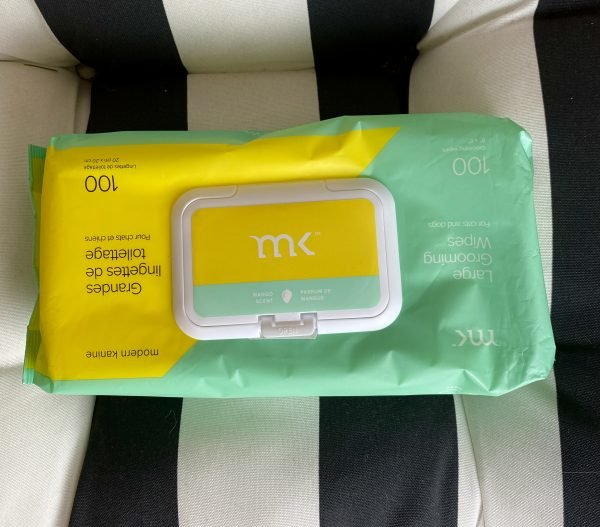 Instead, we use the Grove Collaborative Grooming Large Wipes. When Jim and I were having morning coffee on the back porch, Peach was doing her morning routine of running an X pattern corner to corner of our yard with frequent runs up and down the side fence…through the muddy ground. MUDDY!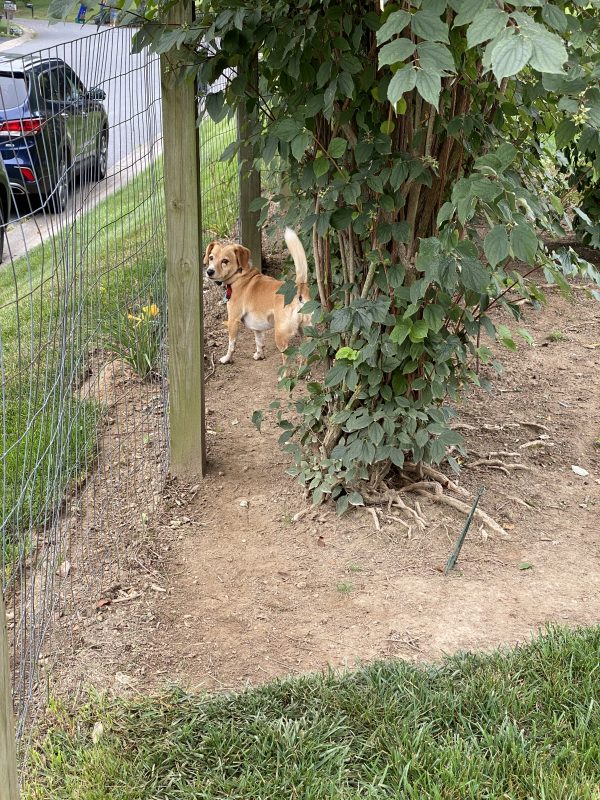 We brought out the wipes.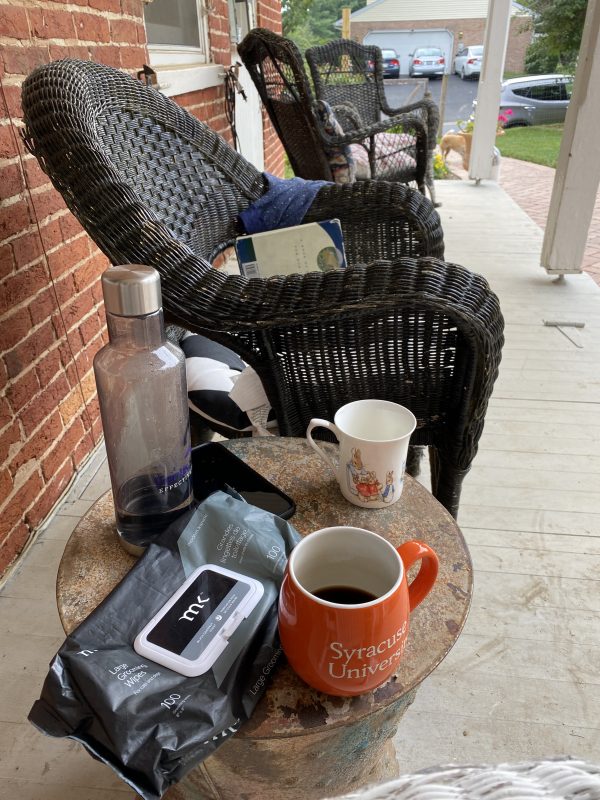 These are not only great wipes not only smell good, they are large which makes them very effective.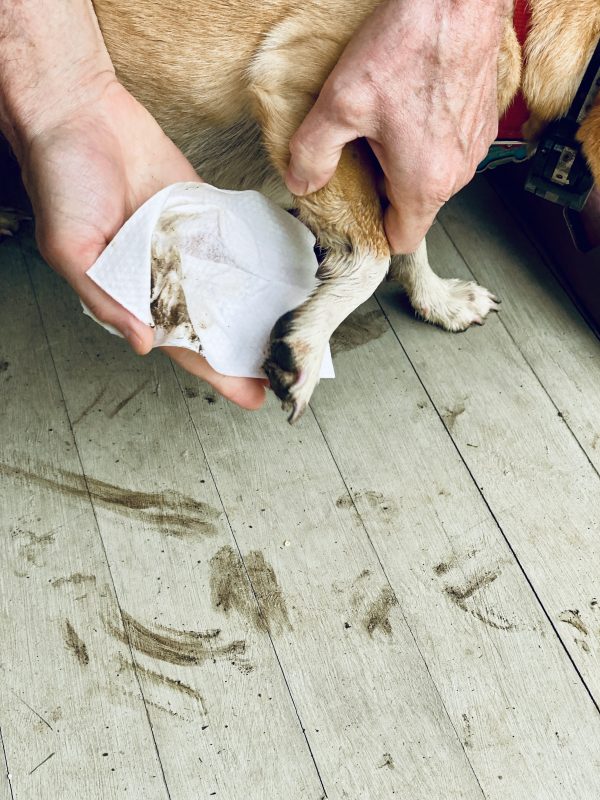 Speaking of Peach, she just came down from Meg's room where she frequently sleeps to sleep more on our white couch. It is IKEA one with a slipcover.
She will stand still but Jim keeps a firm hold on her.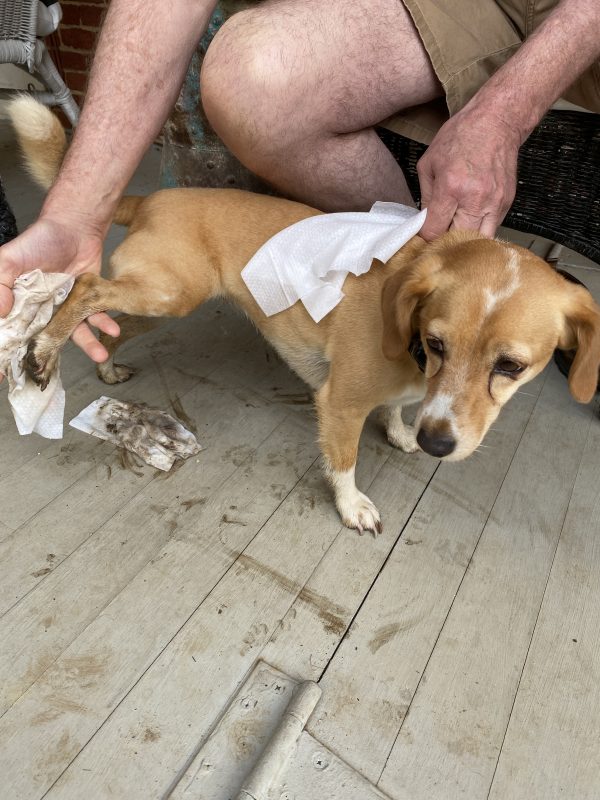 As soon as Jim is done wiping her paws, we all go inside. Her paws are house and white couch ready!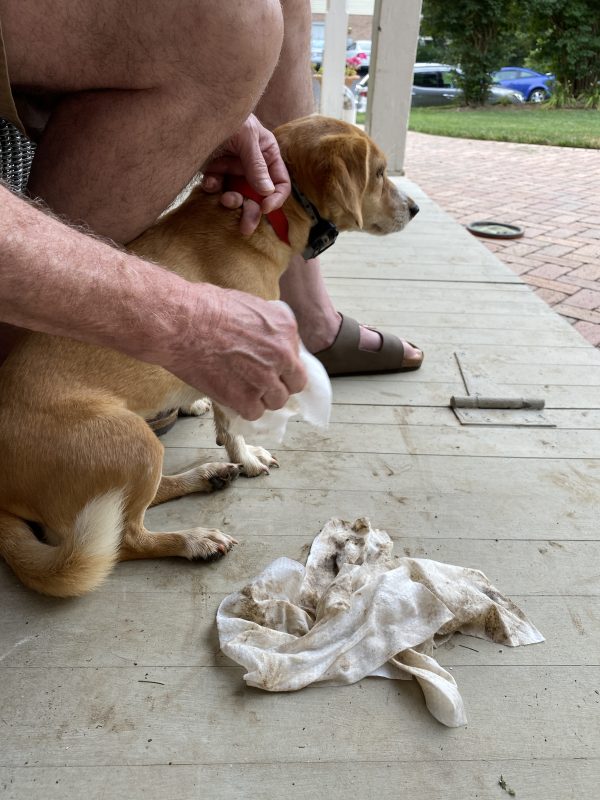 But it won't be long before she will want to go back out!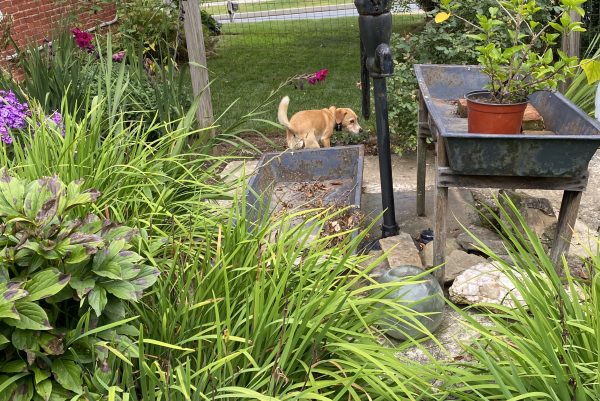 little dirty hands and glass door
Remember when the kids dug up potatoes? Read that story HERE. I had to wash their feet. Their feet were just dirty.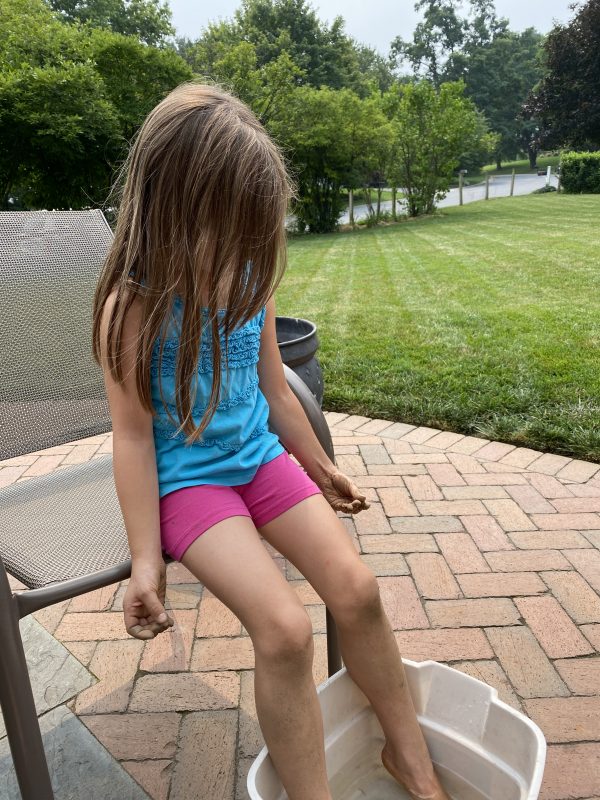 Do you see those cute little dirt covered hands?
Potato harvest involved digging in the dirt and picking up potatoes that are covered in dirt.
We have a glass door on our back door. Kids leave all kinds of smudges on that door when they visit. We vall do! During this visit opening and closing the door, in and out, there were definitely dirty streaks.
I don't mind their smdges and diet streaks because I love heving them here. Using Aunt Fannie's Glass and Window Vinegar Wash makes the cleaning easier. The dirt streaks did required several wipe and squirts to get the sparklely clean I like on my back glass door. There were lots of little dirty hands using that door.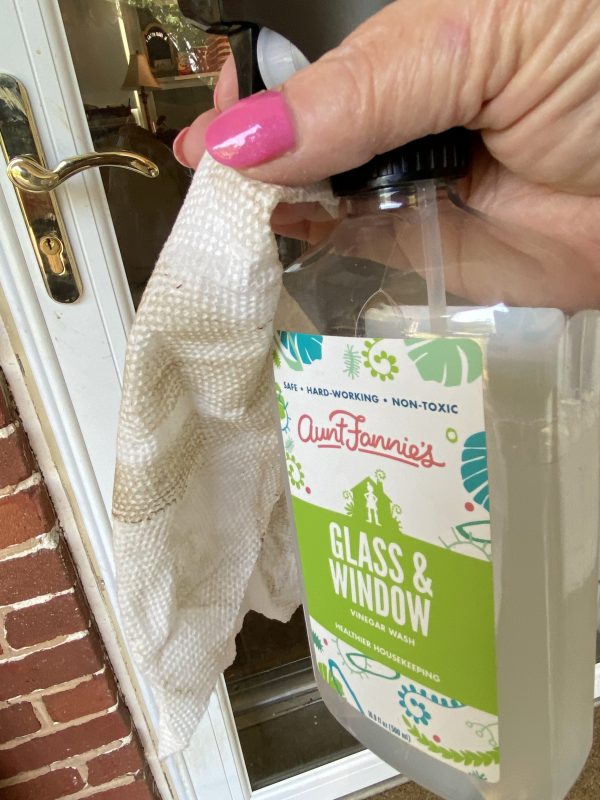 Sww the dirt. Later today, the door needs another cleaning. When you have a glass door on the most used exterior door in the house, it gets lots of fingerprints. Frequent cleaning is needed.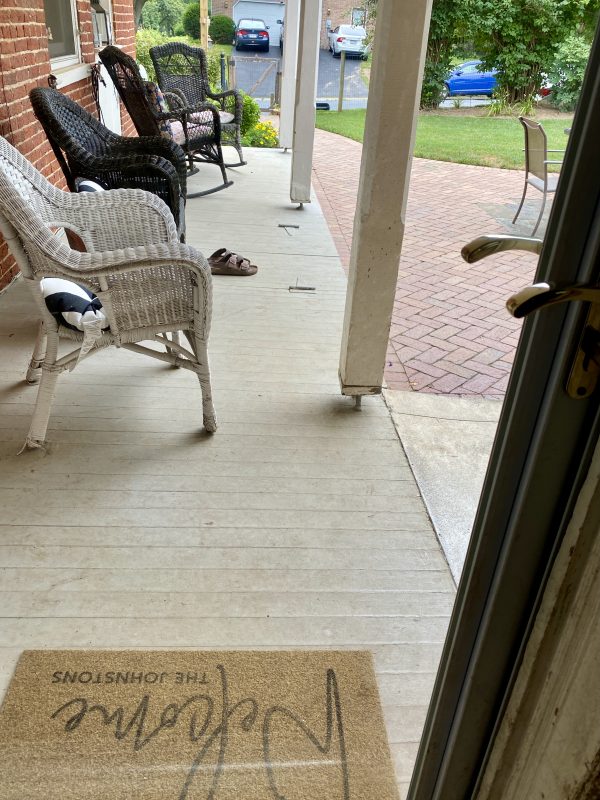 The smell of vinegar smells clean unlike other window cleaners. It doesn't have any harsh chemical and is safe to use. I like that it dries clean without new streaks. In other words, it is easy to use with great results especially on extra hand prints made by happy kiddos we love so much!
Can you make your own window cleaners? Yes, you can.
Why don't I? I like having products that nontoxic to use and are on hand at all times.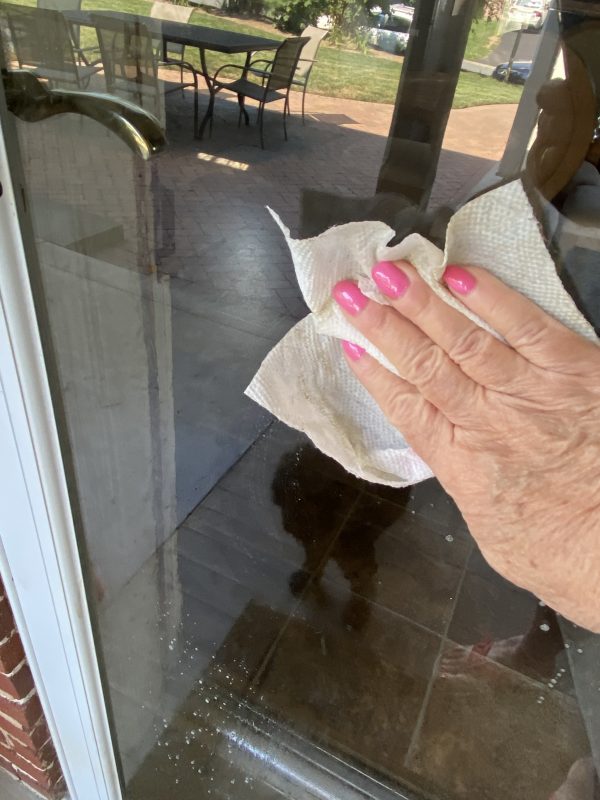 some cleaning products in our home
This is NOT a sponsored post! I have not recieved any products or payment for this psot.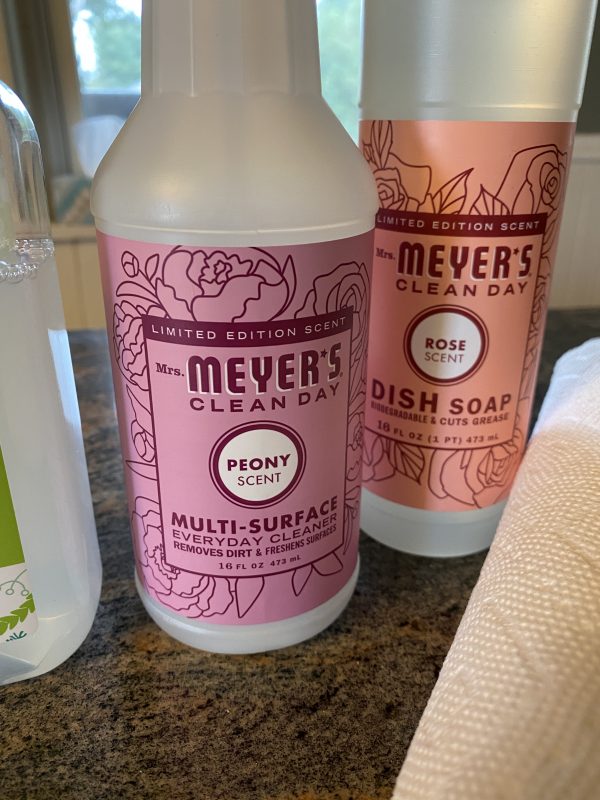 We use Grove Collaborative products for our cleaning needs. Why?
I tried it out years ago thinking I would go with nontoxic products if they cleaned the way I like.
Looks like I need to clean the porch up too!
That day I cleaned the kitchen floor, Jim asked what I used because he really liked the smell. It was Mrs. Meyer's Basil All Purpose Cleaner. Since then, we use many Grove Collaborative products for our cleaning needs from floors to beloved pets!
Large Grooming Wipes for dogs and Aunt Fannie's Glass and Window Wash suit our needs very well without the use of harsh chemical and toxic ingredients and are safe for pets and children. I highly recommend them.
I have provided links below for these and other products linking to my Amazon affiliate account. I may receive a small commission for any purchase made through this link at no extra cost to you.
Hope this post about cleaning muddy paws and dirty glass doors is helpful.
~~~~~~~~~~~~~~~
Please sign uo to recieve emails notices of new blog posts. You can also find me on Facebook, Instgram and Pintrerest too!