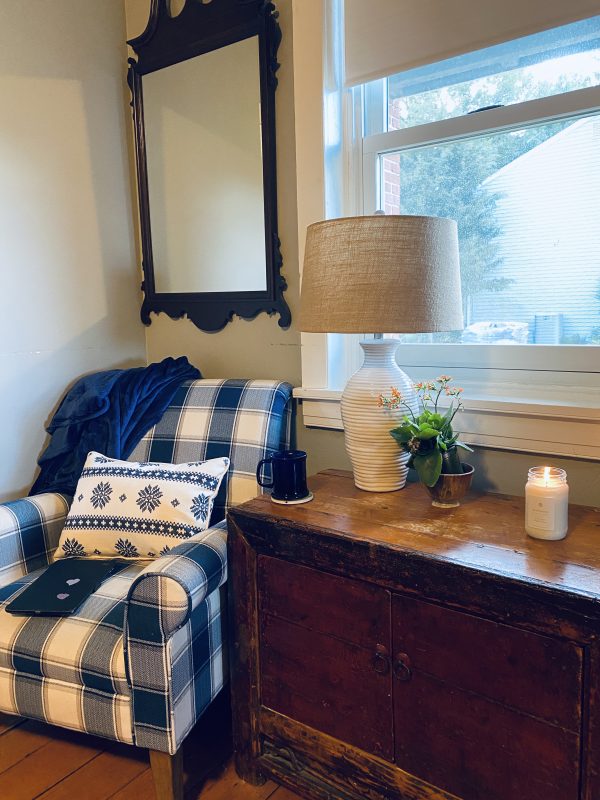 Creating a quiet spot had been a must for me over the years. Moments of quiet is important for me. We live in a demanding world with lots of noise. I need quiet for a mental and spiritaul refeshment. Do you take a afternoon break? A coffee, a snack? It's also know as afternoon tea.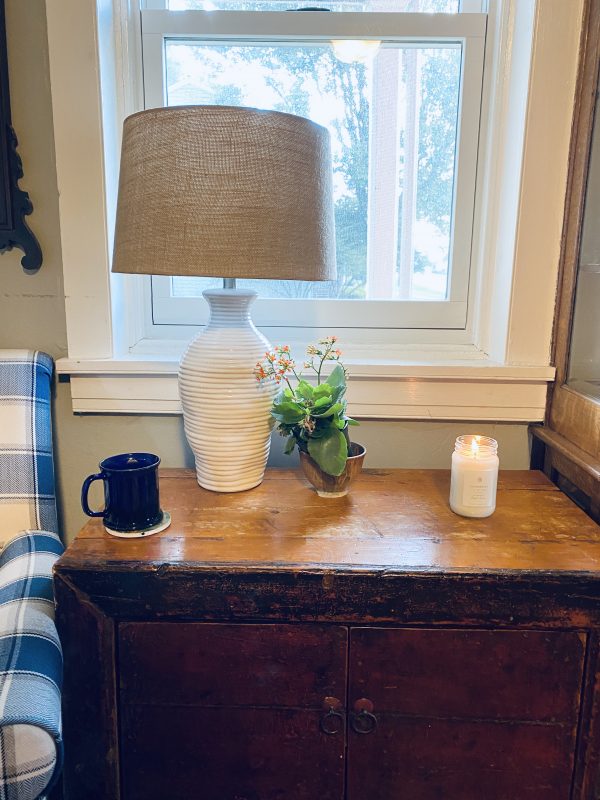 In all the different regions and cultures we have lived in, one thing has stood out. When do they take breaks? Morning and afternoon not counting lunch were common. One neightbor from the Netherlands did both. 15-20 minutes each morning and in the afternoon which conisided with her kids coming home from school. she had a snack ready and everyone paused before heading out to activities and homework. Her snacks were baked or fruit for her 6 kids.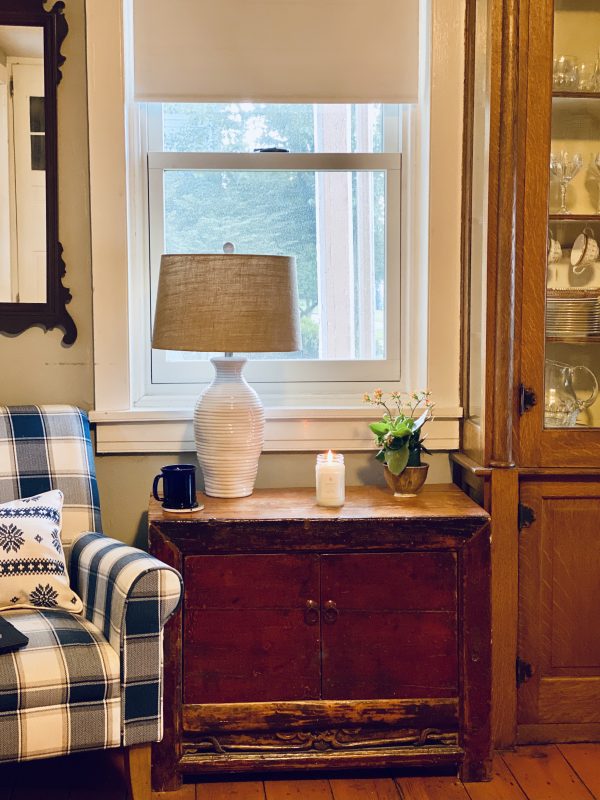 This antique cabinet is from the Chinese countryside. Not many treasures like this piece can be found these days. This one was rescued by local entrepreneurs who were like American Pickers. I love the orginal patina of this piece. We store games and computer paper in it.
In Germany we lived in military housing. Afternoon coffee when the kids came home from school was a good time for a break. There was a group of us moms who got together at one of our homes once a week. We has simple cobbler or muffins for us and the kids. We took turns brnging the goodies.
As much as I loved being with friends I still needed a quiet spot.
Having a quiet spot over the years was a necessity for me. My quiet spot totally was dependent on what kind of home we lived in and the ages of our children. To be frank, I did have high stress times. Having a quiet spot was so helpful.
As much as I loved being with friends I still had a spot for quiet times. I needed both friends, fellowship and time alone. a place to just be still and more often than not, for prayer.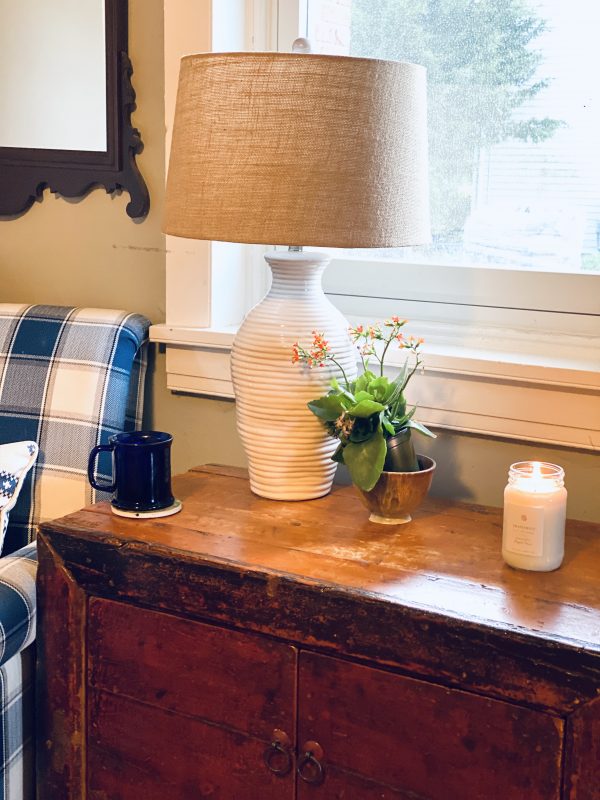 Even as a stay at home mom and wife, I was busy volunterring and teaching a Bible study. We also hosted dinners a lot. Life could be stressful too. Today is no different with increased demands on us with jobs other outside activities plus families.
Let's be honest. Extrovert or introvert makes no difference in our need for quiet from the clamor of life. Mine often has a spititual aspect to that time. Sometimes it was a time for prayer, Bible or devotonal type reading. Sometimes it was doing nothing. I can't deny it; total stillness in the quiet is restorative. We all need it.
my quiet spot
I start my day with devotions and a cup of coffee.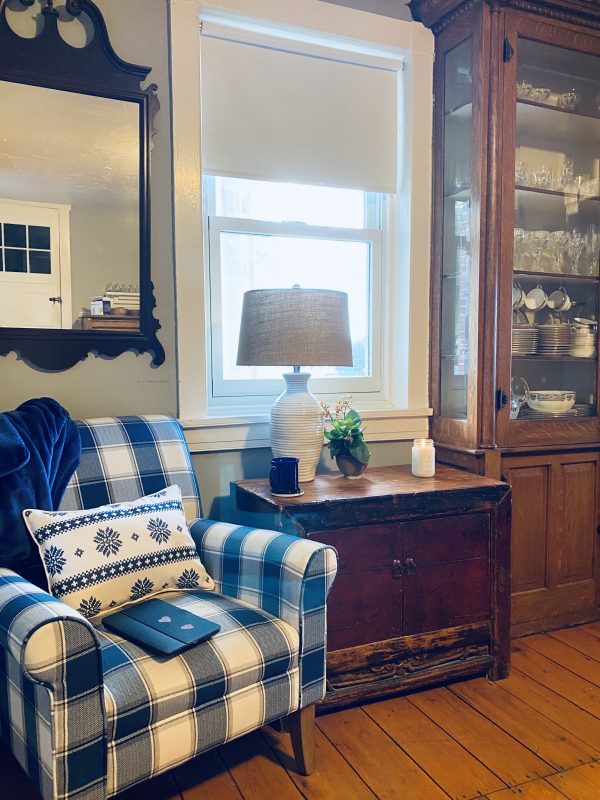 Typically around 3 PM, I take a quiet break. It's late afternoon. The house is usually quiet except the occasional car driving by and Shadow's tap tap across the old pine floors.
Unplug. Disconnect. No lists at hand. Maybe some quiet music in the background. Soothing and refreshing. A candle with its soft light and pleasing scent.
We live in a demanding world with lots of noise. We need quiet. It can be a mental and spiritaul boast.
spaces for quiet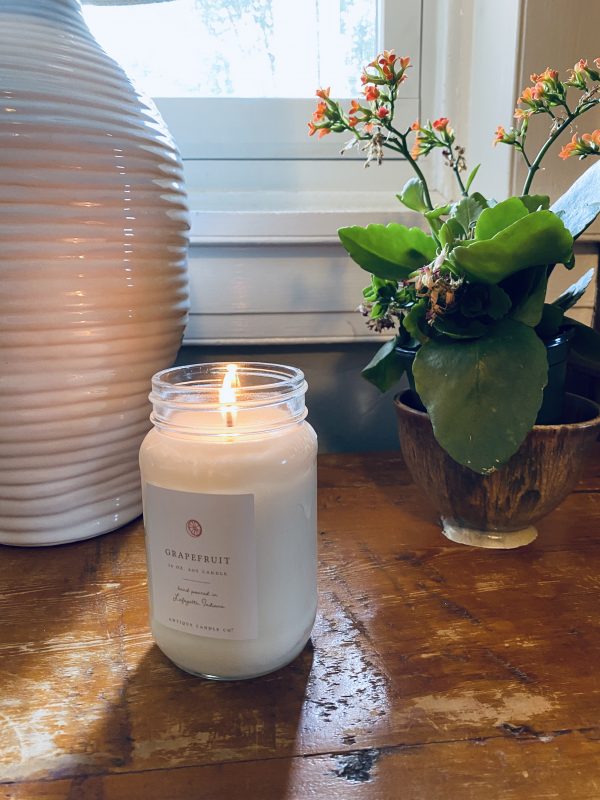 The living room below was one of several we lived in in China. The black rod iron chair from the local flea market for furniture was my quiet spot for devotions, prayer and reflections. I would turn it around to face the large window. The view was wide including the courtyard. Tibetan prayer flags hung in the courtyard and entrances to the complex. I could see the high peaks of the mountains with their temples in the distance. It was the high places. My thoughts often were for those who lived in this place that seemed to me desolate and hopeless.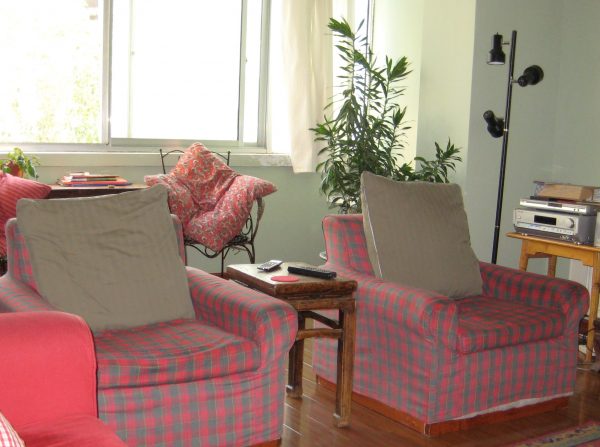 I like having my little corner of quiet and cozy with a candle burning that smell so nice. Casual and cozy. Candles add to the soothing atmosphere. Antique Candles are favorites.
The look of my quiet spots have changed over the years. Sometimes, I go into our bedroom seating area. It is softer and has more of a feminine touch.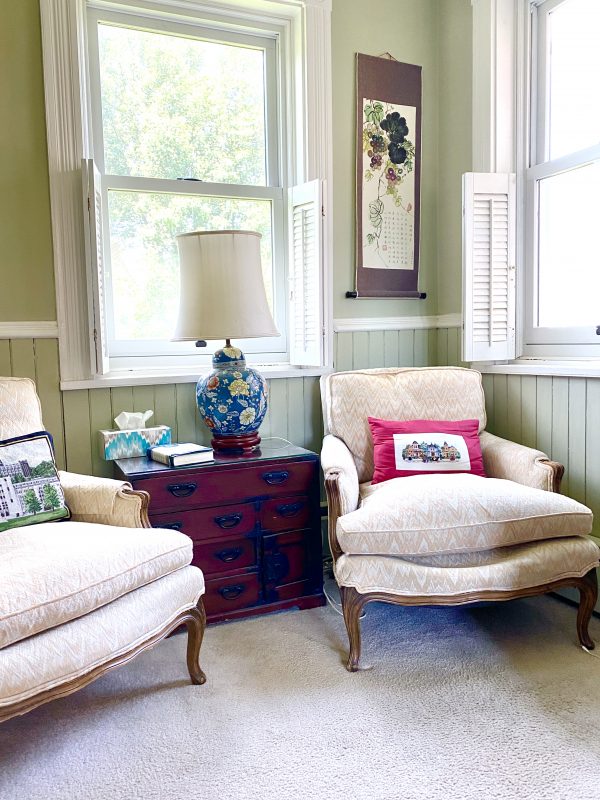 suits our farmhouse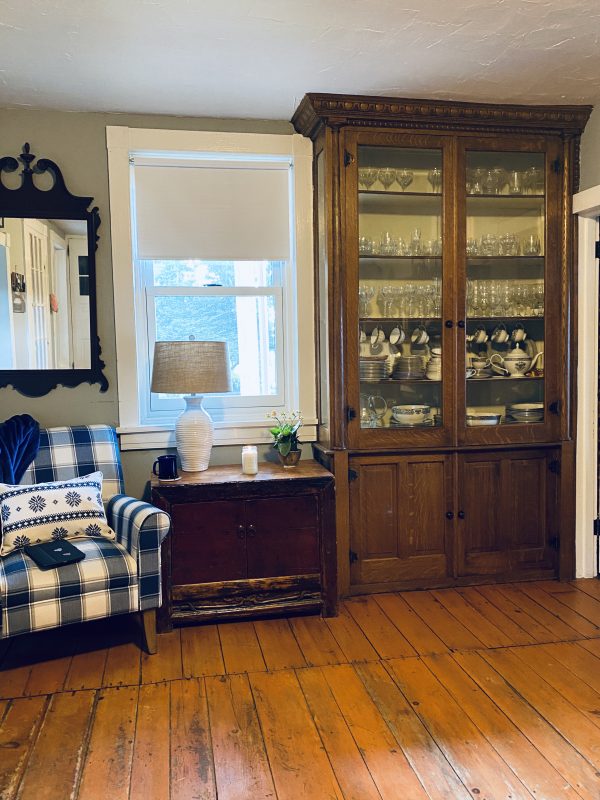 Our home is a collection of many influences garnered over our years of moving and travels. It is decorated with comfort in mind without sacrificing style.
When I walked through the door of our local Home Goods, this chair was right there calling my name.
I bought this blue plaid chair and Ralph Lauren lamp for the look, rustic with the influence of Americana.
Yes, I sat in it. That's a rule for me. Don't buy a chair or sofa without sitting in it first.
Turns out I like this little corner in this currently no purpose middle room in our farmhouse. It's has straight lines that resembles a cube with a medium soft seat. No fluffy cushions. The arms are a great height for my petite body and perfect for my legs. No hanging feet.
This cozy chair is the anchor of this central room to find some stillness and quiet. I like to sit here while supper is cooking.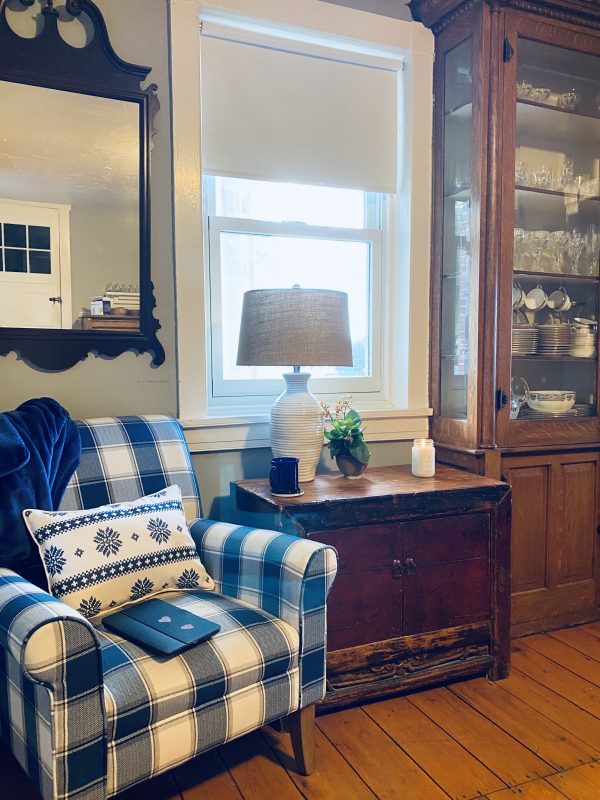 The blue plaid with the cross stitch pillow and navy soft blanket are down right cozy in the winter, rainy days and snow ones. It is near an AC vent for those beastly hot days when you don't want to move.
The soft navy blanket is from Home Goods too. Are you like me? I check out the blanket aisle every visit. You just never know what you will find. My husband has given up asking me "Don't we have enough blankets??" My answer is always…no!
The lamp is an cabin rustic style that is the correct height for casting light on my reading. I frequently change what is on top of this antique cabinet from China. A candle is always part of the vignette.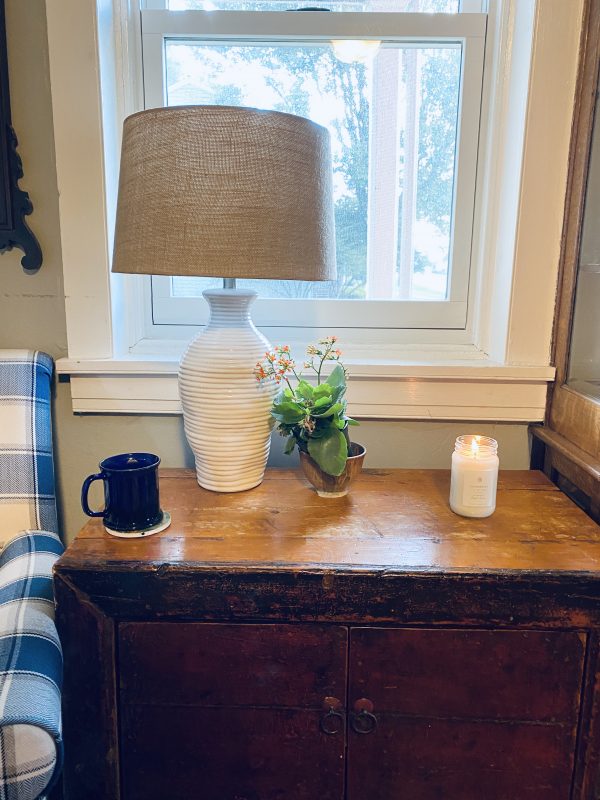 It suits our old farmhouse. It's comfortable.
antique candle co. candles for ATMOSPHERE
I like having my little corner of quiet and cozy with a candle burning that smell so nice. Casual and cozy. Candles add to the soothing atmosphere. Antique Candles are favorites.
In the summer I tend to scale back on accessorizing opting for a lighter touch. A candle and a plant or flowers is typical. A book I'm reading may be there too. I do try to keep the random magazines and magazines under control. They can look so messy which is not good for a quiet spot.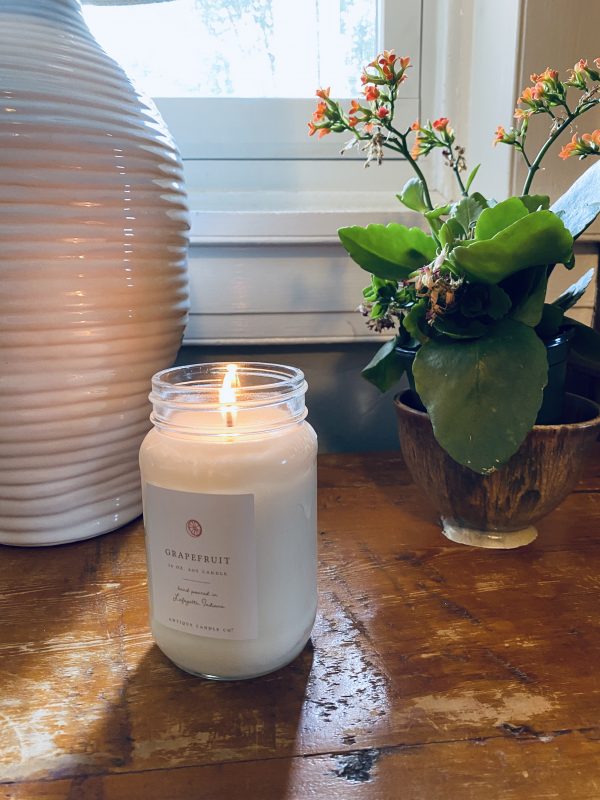 Today it's a flowering plant in one of Amy's ceramic bowls. The Antique Candle Company candle is a new one. The candle scent is grapefruit. Nothing says summer like plump citrus fruits including the round grapefruit.
This soy candle is from Antique Candle Company. That's a bonus because soy candles burn bright and clean. The smell is so light and perfect beside my chair. It makes the reading corner even more cozy.
As a mom of a busy household over the years I often have claimed a space so I could monitor the coming and goings of all as I took a moment. These days, with the last two in and out with their own activites and work this summer, there is less daily activity. But I still keep an eye out.
quiet Time to dream and reflect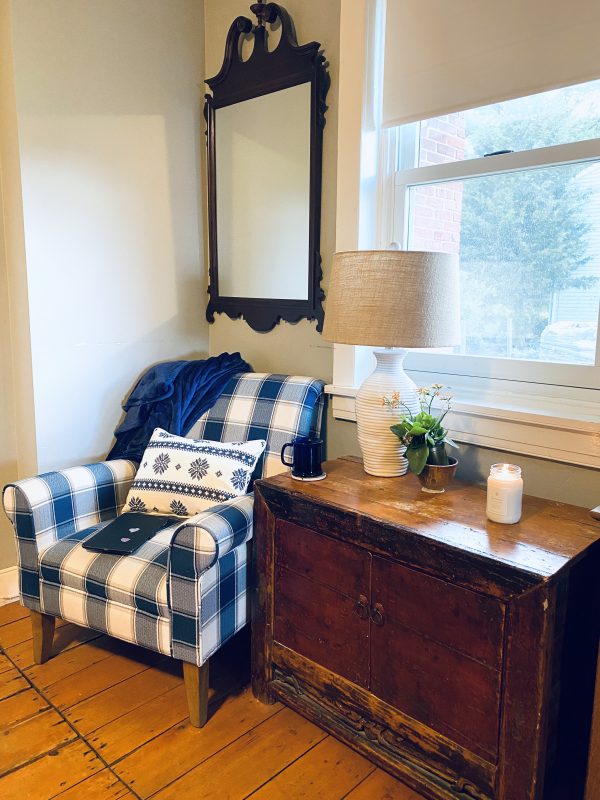 Years ago as I watched one of my kids on my parents' deck laying in the glider all alone, Mom said kids need time to dream. Everyone needs a place of quiet for dreaming and just sitting.
I'm lots older now but I still like quiet spots for reflecting and pondering or reading. No projects beckon me; no must do's. Having a place over the years has been a lifesaver for me. Granted when the kids were young it was often in the family room or nearby living room. Well within shouting distance and at times, within sight.
Do you have a quiet corner, a quiet space for a little respite during your day?
◦
This is not a sponsored post. All opinions are my own.