Sheet pan meals and busy days go hand in hand. Sheet pan meals are so easy! Sheet pan meals are delicious.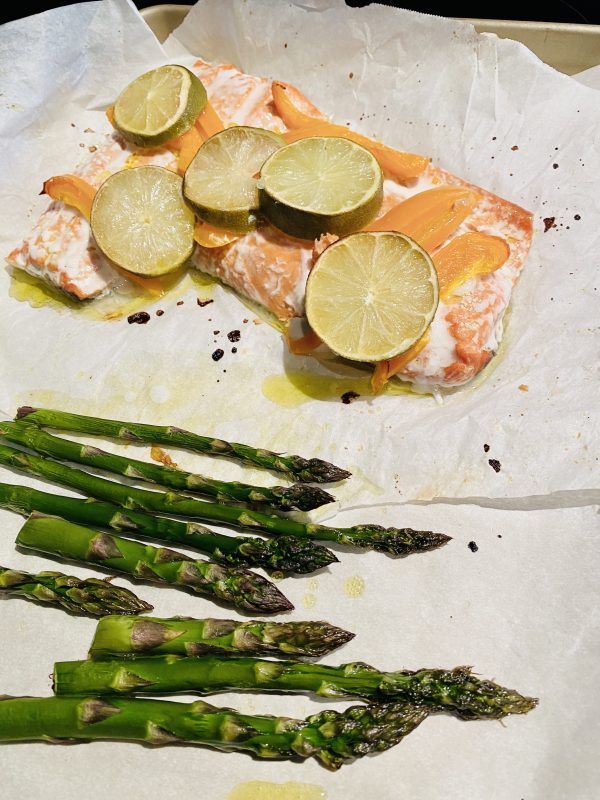 easy delicious meal for a busy day
Sheet pan meals are easy to make and extremely convenient for a busy day. Incidentally, it works for comapny, families, singles and couples!
Does the day pass you by and then it is time for dinner? Keeping a few key ingedients on hand for sheet pan meal is smart and can save a bit of stress over the question of what to make for dinner.
Sheet pan meals also hold up when made early. If you prep ahead of time, even better. Grab it out of the fridge and spread it on the lined baking sheet. That makes this already easy meal even easier.
Meg works retail so you know what that can mean…many late nights. Odd hours. This is a great option for us.
quick and convenient
Having easy meal options like this one with salmon and asparagus is a great one for us. Main dish and vegetables. Perfect!
Most sheet pan meals cook quickly. The prep time is minimal. The clean up is quick because so few pans and utensils are used. That works for me!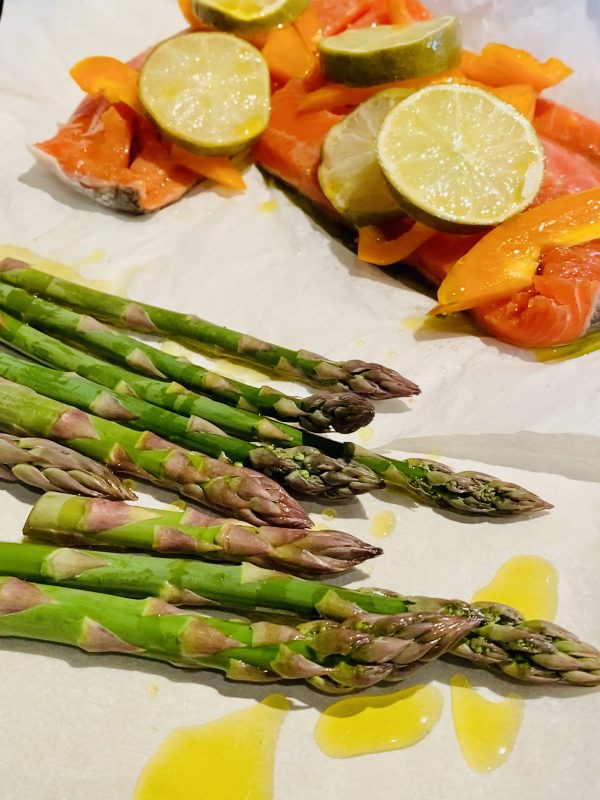 If you line your sheet pan just right, you can carefully fold it up and toss leaving the pan totally clean. Lining the pan protects it from the inevitable brown and black spots over regular usage.
Lining the sheet pan is key in my mind. Why? I want the easy clean up which means no pan to curb! Parchment paper is not just for cookies; it's for sheet pan meals too. Easy cleanup!
Prepping the salmon and asparagus is about as easy as you can get.  
Rice is a great side. It can be white rice made in the rice cooker or our preferre favorite, Uncle Ben's Wild Rice. A green salad can be added to round out the meal.
PREPARe the salmon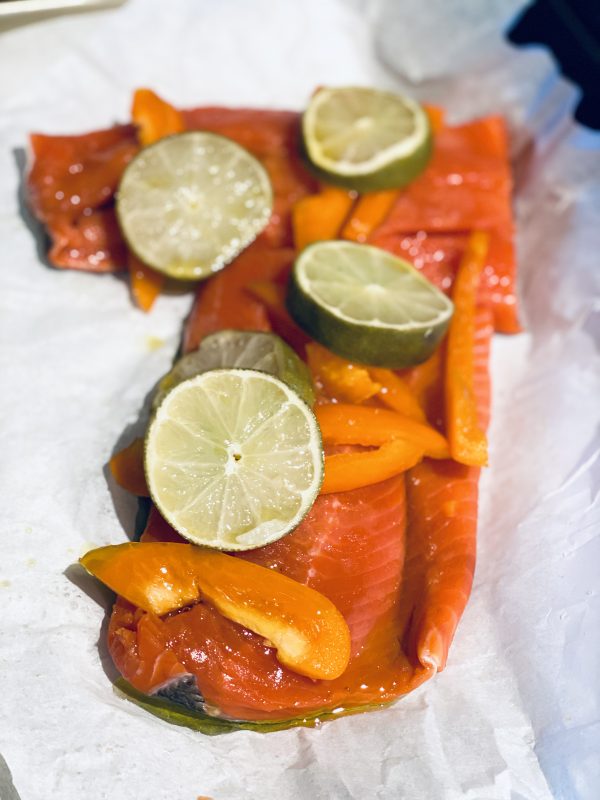 Asparagus with salmon and Uncle Ben's Wild Rice is a standard menu for us. The only change is how I prepare it. Another good side might be cut up red potatoes in lieu of rice.
First, preheat the oven to 350 degrees. Next, line your baking pan with parchment paper.
Prepping the salmon is about as easy as you can get.  
For this sheet pan meal, I used wild sockeye salmon. It is a bright salmon red color. The flavor's stronger than Atlantic or farm raised salmon. When baked, the oil in in the fillet comes and looks white and visible.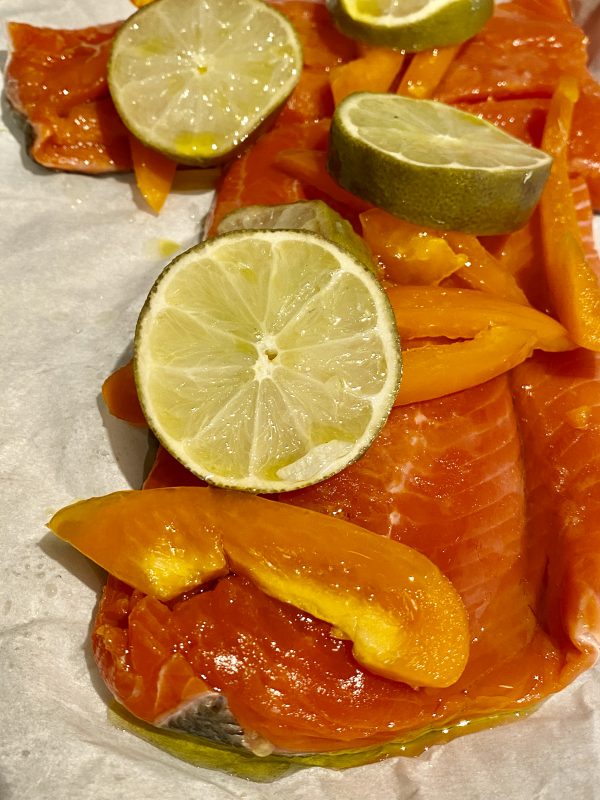 No mixing bowl needed. Just put the salmon pieces skin down on the lined sheet pan. Place sliced sweet peppers on top. Drizzle extra virgin oil lightly. Put sliced limes or lemons on top. Squeeze the juice out the lime end pieces over the salmon.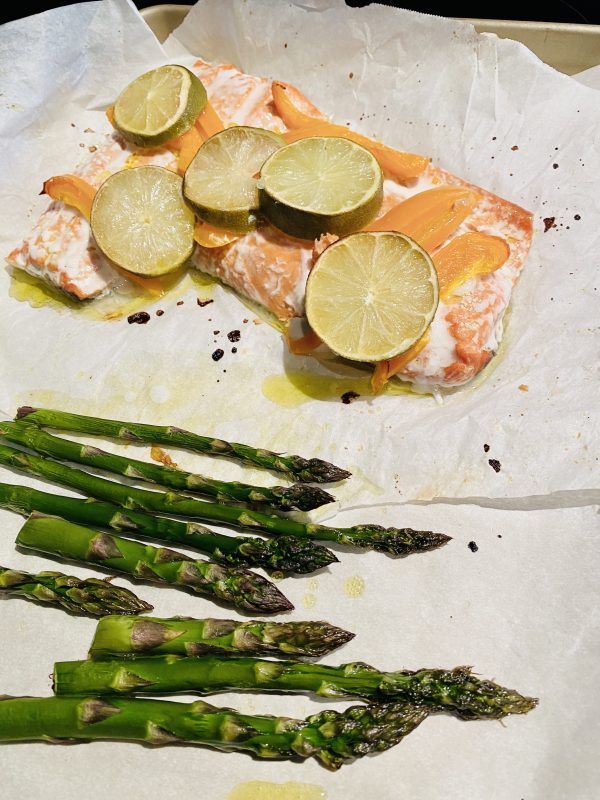 I do not use green peppers because the flavor can overpower the delicate one of the salmon. Using seasoning is meant to enhance and not hide the flavor.
Colorful peppers, limes and lemons, tomatoes, lettuces and berries are staples in my fridge.
I also use extra virgin olive oil. When I decided to switch to a less heavy tasting olive oil, I bought several small bottles to find that fresh taste. If you go to a specialty store, often you can get a taste test to help you chose.
garden fresh asparagus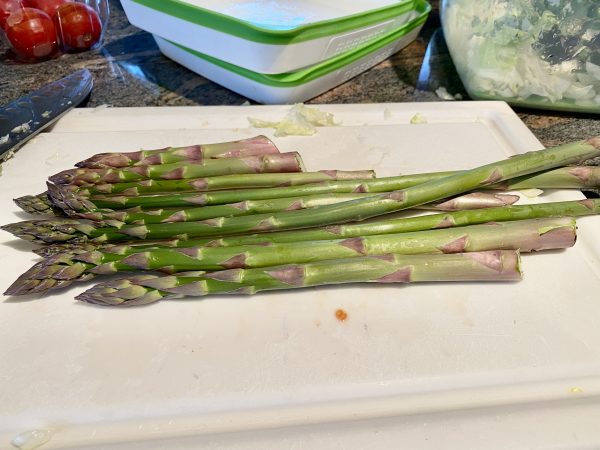 Jim's asparagus is ready! Asparagus is a delicous spring vegetable. Like I said, when it is ready for picking, it needs to be cooked!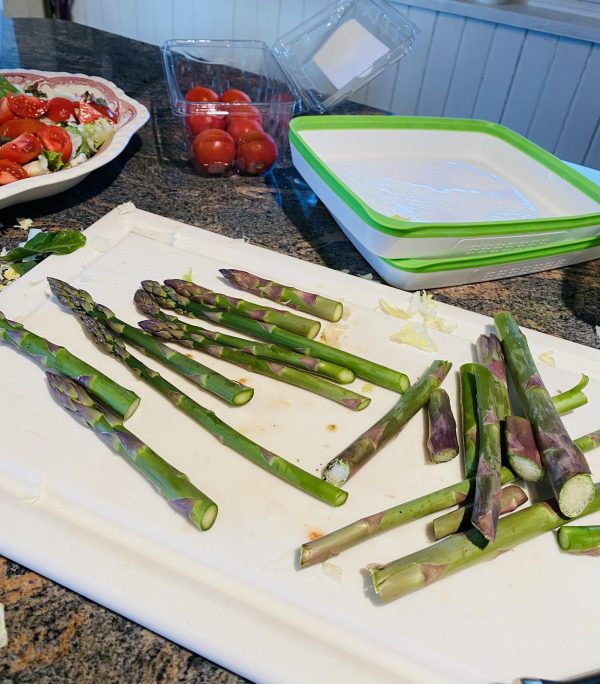 Woody ends of asparagus spears need to be trimmed even when bunches purchased. The ends are tough and stringy. Bend the asparagus to find the spot to trim off. If it won't bend, cut it off. Sometimes, you can tell by the color changing and the extra thickness. Toss the ends into your compost bin.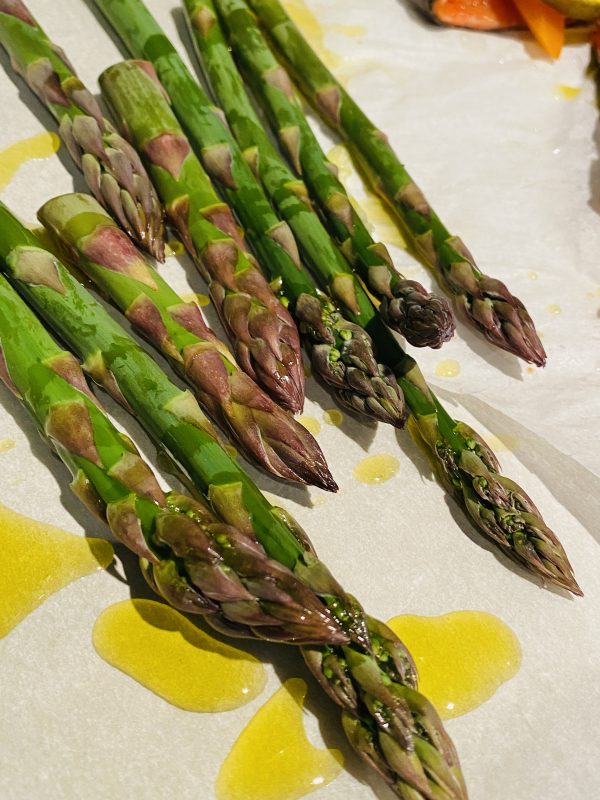 Line the trimmed asparagus on the sheet pan with the salmon and drizzle with olive oil. That's it. No other seasoning is needed.
Pop in preheated oven to 350 degrees for about 20 minutes. Serve from the sheet pan. Now, how easy it that? Here is the recipe.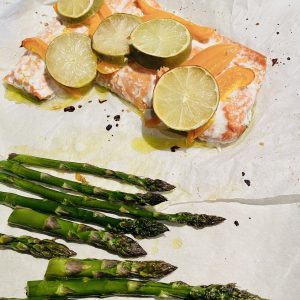 Sheet Pan Salmon and Fresh Asparagus
Easy to make sheet pan meal with samon and garden fresh asparagus that's quick to preapre and bake with easy clean up!
Equipment
sheet pan, parchament paper, knife, cutting board
Ingredients
3/4

pound

salmon

Alternate: use 1 individaul piece per person

12-15

spears

asparagus, trimmed

1-2

tsbp

extra virgin olive oil to drizzle

3

limes, thin sliced

Alternative: lemon

1

red, yellow or orange pepper, sliced

don't use green peppers
Instructions
Pre hear over to 350 degrees

Line sheet pan with parchment paper

Put salmon pieces skin down on lined sheet pan

Lightly drizzle with extra virgin olive oil on top of the salmon

Arrange sliced peppers on top of salmon

Squeeze the juice from the lime ends over the salmon

Trim aparagus of woody ends

Arrange asparagus trimmed spears in a line on the lined sheet pan next to the salmon

LIghtly drizzle extra virgin olive oil over the spears

Bake uncovered at 350 degrees for appx 20 minutes of less until done
Planning meals ahead helps me be ready for our in and out household with older kids so we can catch them when we can! Any ideas for other easy quick meals. Please share.  
Leave your comments below. Also, please consider signing up for email updates too.  Thanks!
~~~~~~~~~~~~~