I love these beautifully painted wooden eggs. They are called pysanky, the Ukrainian word meaning 'to write'.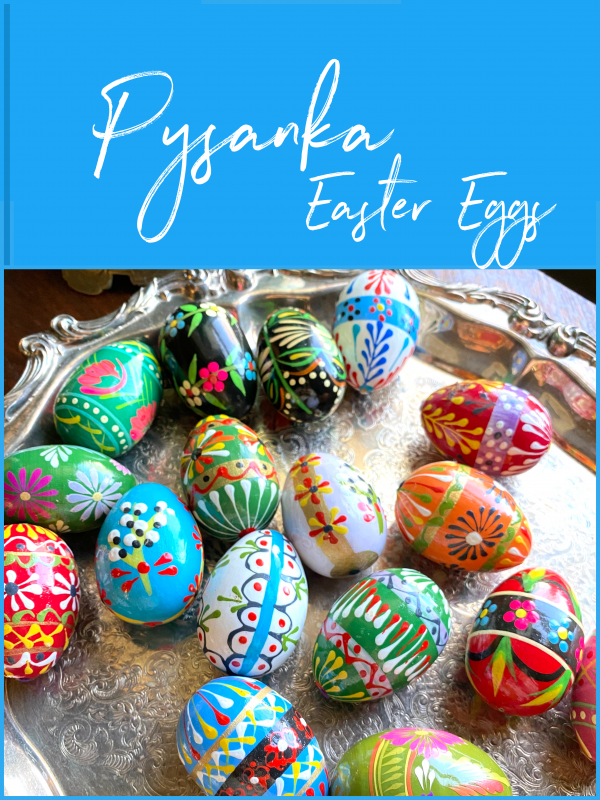 I bought them years ago at German flea markets and bazzars when Jim was stationed there plus the family. People from eastern countires were bring handicrafts and other goods across the border after the Berlin Wall collapsed in November of 1989 to sell. German marks were valuable currency for them.
HandPainted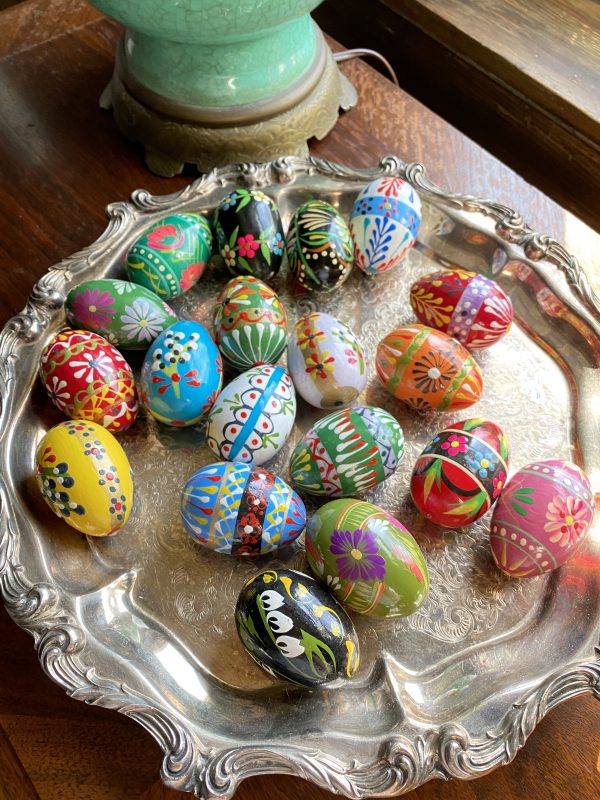 Each one is handpainted in traditional designs and colors. I usually display them on silver trays or in my mom's inerited chafing dish. There are so many ways to show off their beauty. These eggs are stunning for an old world style to the more casual bohemian look.
reflection on the past and a little history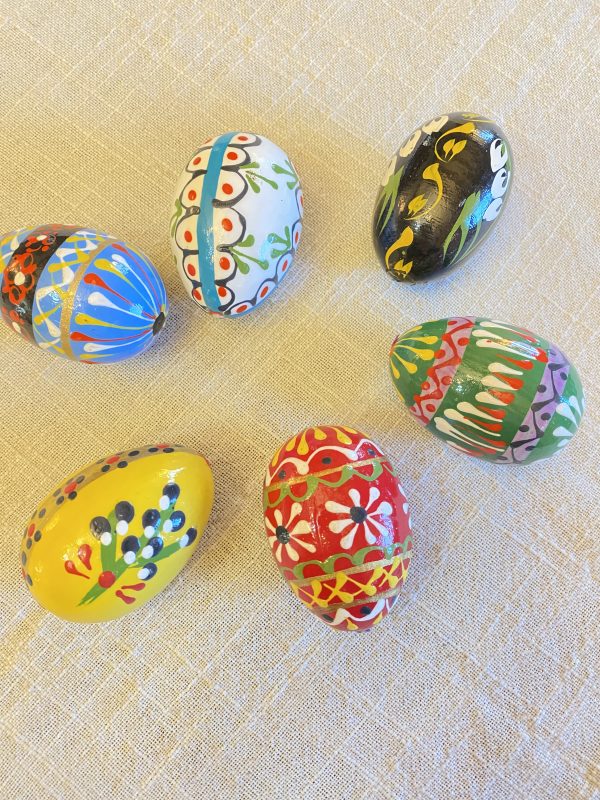 This year, I looked back to the days when Jim and I met in Germany.
Before Jim and I married we both were stationed in Germany during the Cold War in the late 70's. The seperation between the east and west was stark. The east looked grey and sad. Dull concrete buildings seen in towns on the eastern side of the Wall were ugly. We didn't see people, only guards in their towers. They looked serious and glum.
Fast forward to November 1989 when the Berlin Wall collapsed signaling at long last the end of the Cold War. Memories of those days in early 1990's in Germany after the collpase and satellite Soviet countries were breaking away are good ones. The Cold War had been won!
We returned in Januaury 1990 with 3 children and I was SAHM to northern Germany.
The Berlin Wall collapse was the symbol of the collapse of the USSR.
For a spring weekend trip, we drove to Berlin, unheard of before! Previously, special train with special permission was the only way to travel through East Germany to West Berlin. It was surreal for us.
It was amazing to see the closed Check Point Charlie, the large concrete pieces of the wall scattered and to walk through the Brandenburg Gate into the former East German side of Berlin.
When we travel with our kids especially to historical areas or a new country, we read books and watch movies about where we are going. It really helps and adds to our enjoyment! "NIght Crossing" is a Disney 1982 movie about two families from East Germany who made a hot air ballon to cross over the West Germany border to freedom. We watched it earlier then saw the balloon basket in the Check Point Charlie Museum.

pysanky means to write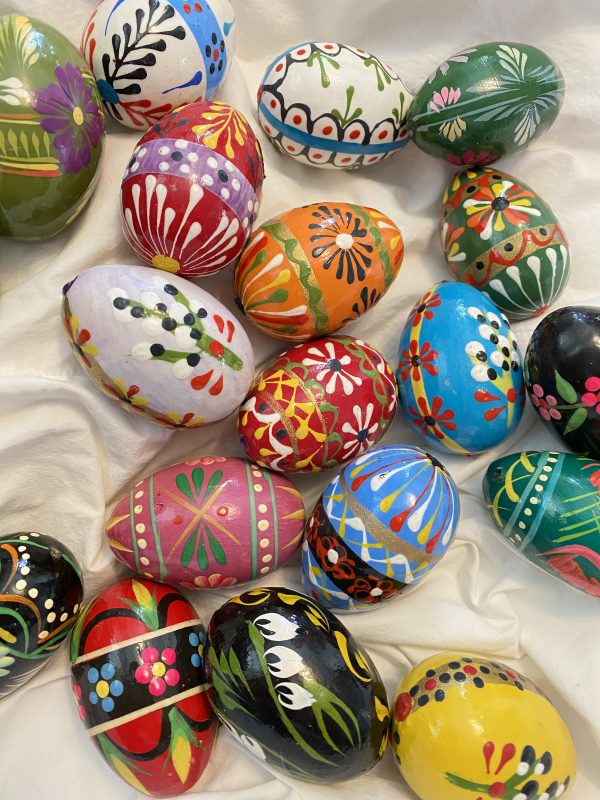 This year as I set these beautiful handpainted Ukranain eggs made of wood I enjoyed the beauty and vibrancy with the delicate designs marking spring and Easter.
How could I not help but think of how freedom is in danger of being lost and the lives have been and continue to be lost and damaged. The landscape, villages and cities are grey with destruction and full of sorrow.
Is anyone making pysanky Easter eggs this year?
Even so, these eggs represent centuries of traditon and the hope of spring and Easter with the resurrection. Families may have cherished ones made generations ago that are now treasured heirlooms.
colors of spring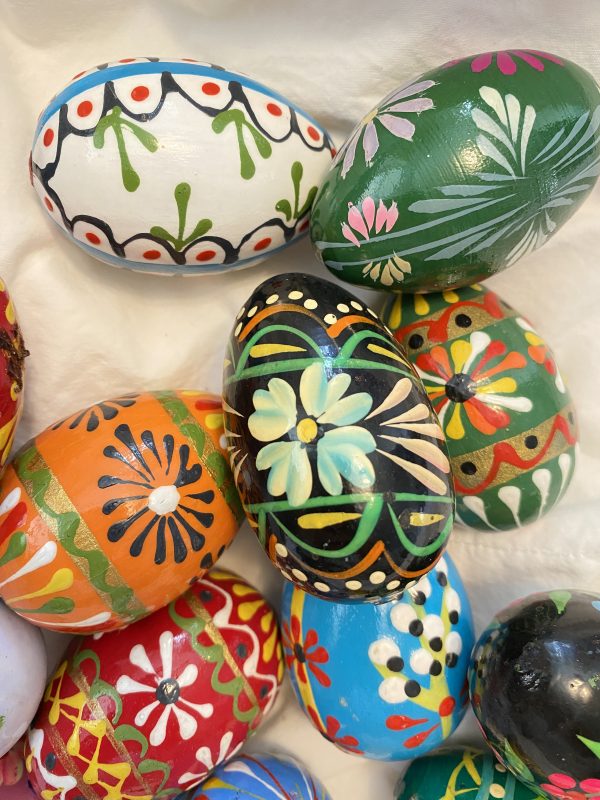 Why black? This color is actually a hopeful one unlike what we typically think of black. Consider this…Black…eternity, darkness before dawn, hopeful. Makes this unique black egg a favorite this year especially.
Who doesn't need hope these days?
Here are meanings of other colors.
Red…hope, passion, life blood, the sun
Yellow…the color of the egg yolk, new life, sun, happiness, youth, hospitality
Blue…sky, good health
Green…hope, new growth, spring
Orange…strength, endurance, eternal sun
White…purity, innocence, birth
Just exactly what we need to be reminded of …new life and hope!
intricate designs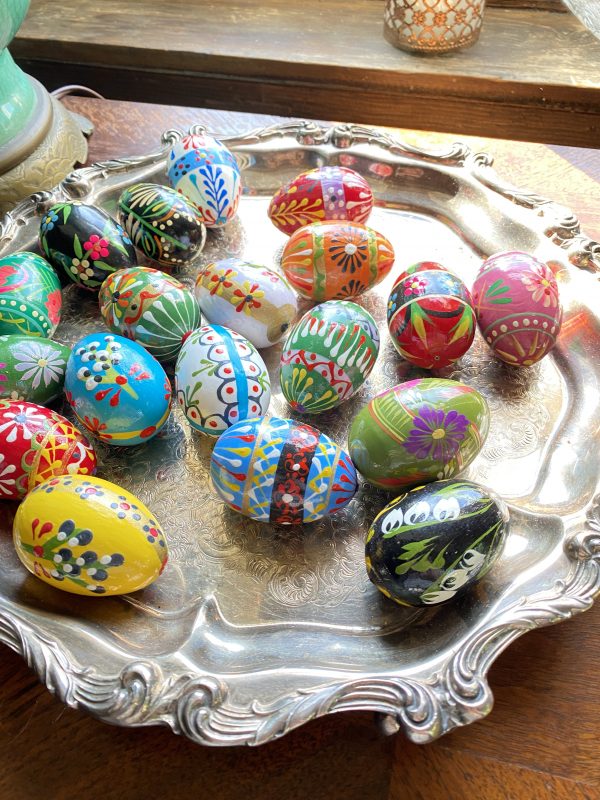 Pysanky, Ukrainian for 'to write' is the name for these intricately designed eggs. Each egg tells a story. Tradition is a word that perfectly encapsulates these gorgeous eggs. Pysanky eggs have been made only by women who passed the tradtion and hot wax resistant method and how to make natural dyes to daughters and grandchildren through generations.
They are made for the Lenten Easter season.
The eggs used are real eggs that have been blown out. Today, wooden ones are used too.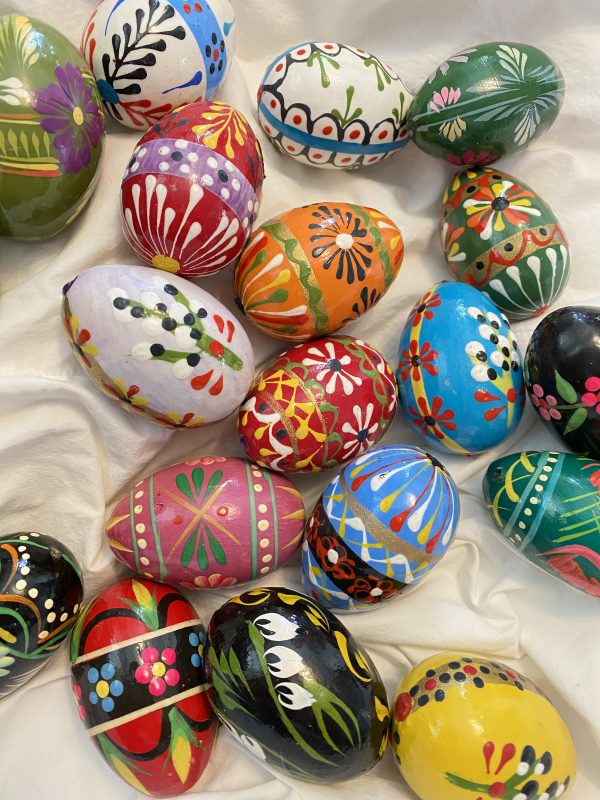 Each egg is individually designed by the artist. If you rotate the eggs to the oppostite side, it is the same. The circular rings represent eternity and long life. The colors are vibrant.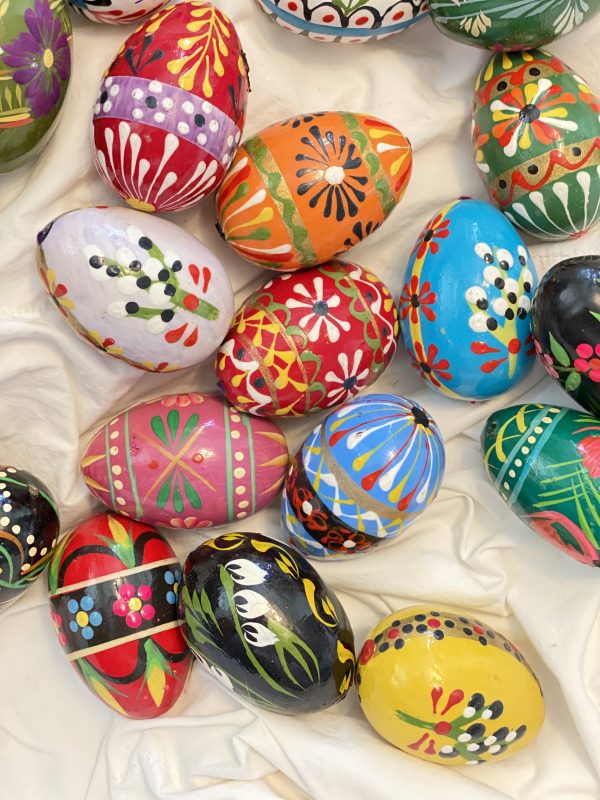 Passing the tradition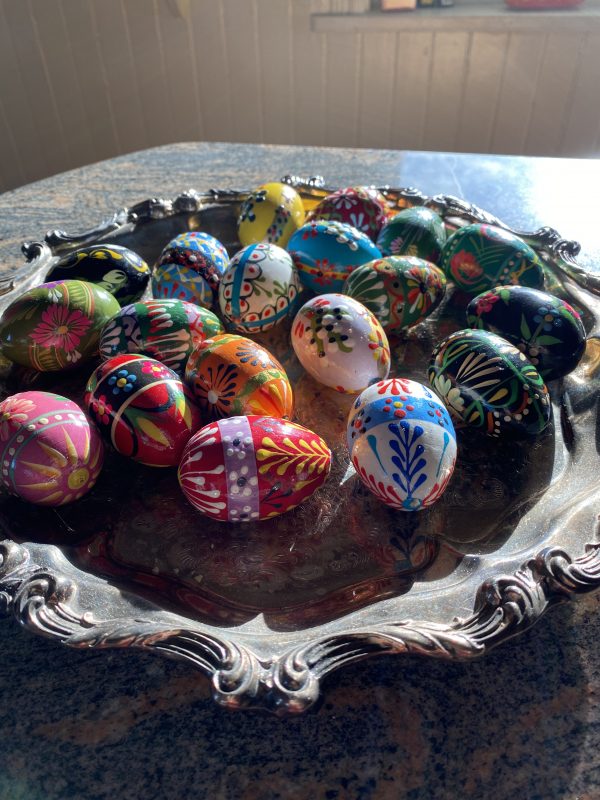 Actual eggs are used traditional to make these beautifully painted eggs. Baltic nations have the traditions of painted eggs with intricate patterns that never the same but follow general 'rules' when to the designs. The handpainted beauties are hand painted using hot wax resistant method. Grandmothers pass this skill and tradition to daughter and granddaughters. Generations of women preserve the tradtions of the culture.
The eggs are given as gifts and often held by the family to become a delicate heirloom.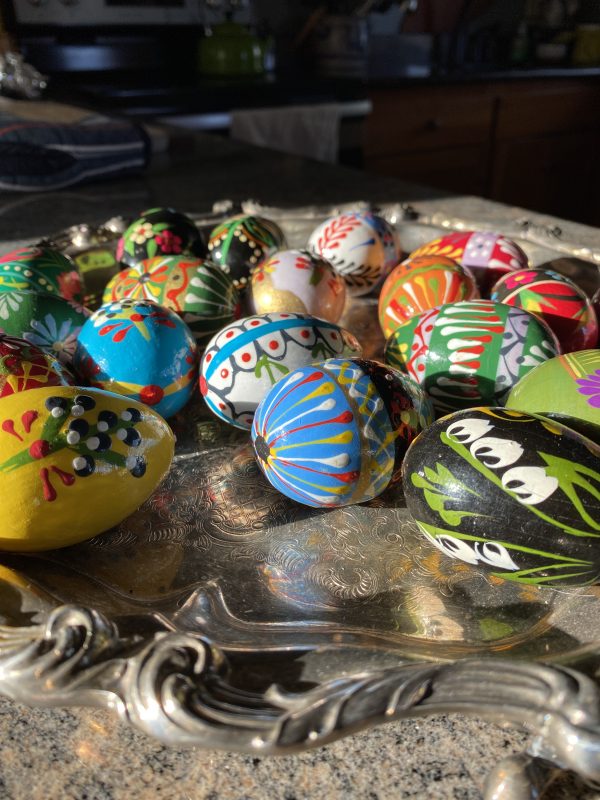 This year as I set these beautiful handpainted eggs I looked like every year to the beauty and vibrant colors with the delicate designs marking spring and Easter. This year I looked with different eyes, praying for peace and hope for the future.
Blessed be the God and Father of our Lord Jesus Christ! According to his great mercy, he has caused us to be born again to a living hope through the resurrection of Jesus Christ from the dead, to an inheritance that is imperishable, undefiled, and unfading, kept in heaven for you… 1 Peter 1:3-4
~~~~~~~~~~
This site contains affiliate links to products. I may receive a commission for purchases made through these links at no extra cost to you. Thank you for your support! 

~~~~~~~~~