Tucked in a hillside in the Pennsylvania Laurel Highland's is Kentuck Knob, one of the crown jewel homes designed by Frank Lloyd Wright, premier American architect.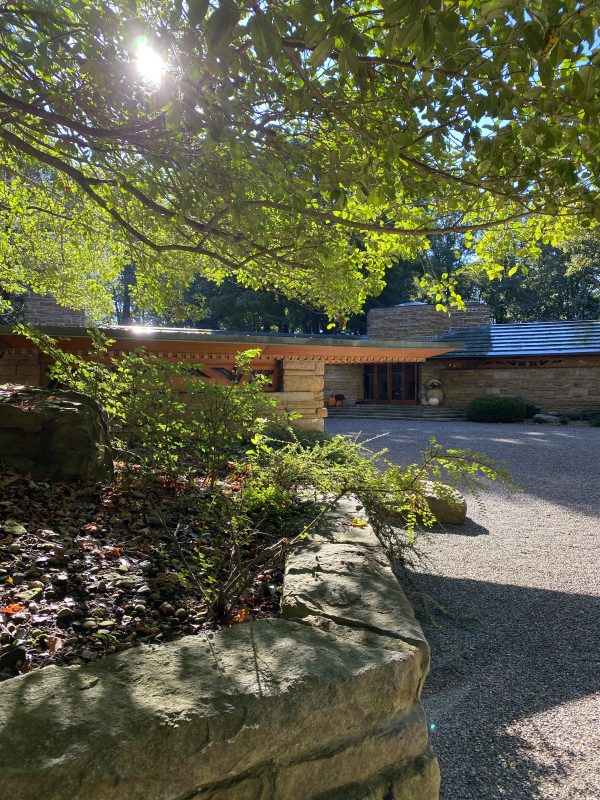 'No house should ever be on a hill or on anything. It should be of the hill. Belonging to it. Hill and house should live together each the happier for the other.'
Frank Lloyd Wright
Kentuck Knob is nestled into a knob both highlighting and blending into the stunning scenery of the Laurel Highlands. The two wings reflect the lot and invite you into this house. Wright uses the outdoor spaces to guide him as he drew up plans and constructed the home.
Trip Planning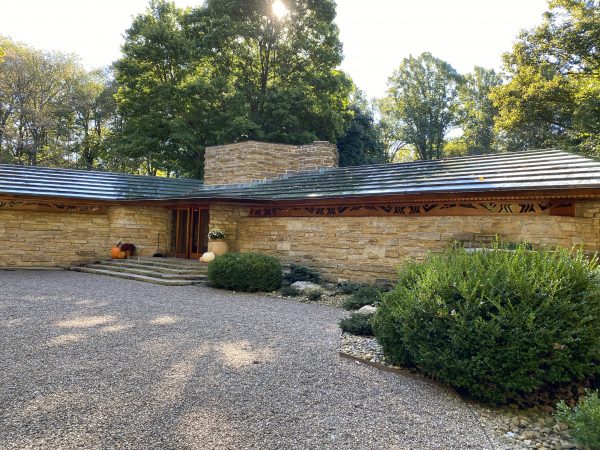 It's time to start planning mini vacations or maybe a road trip. This is a great one to consider! History and Frank Lloyd Wright's Fallingwater and other homes to visit. Beautiful Laurel Highlands have many sites to visit for all ages.
For a longer trip, plan to include other great locations, Pittsburgh, Philidelphia, Gettysburg, Hershey and Lancaster.
We joined my cousins, Don and Rosemary for a day in the Laurel Highland's, home of historical sites including Frank Lloyd Wright's Crown Jewels of homes. It was a stop in their PA road trip including Pittsburgh, the Laurel Highlands, Gettysburg and Lancaster.
Our first stop was the 9AM tour at Kentuck Knob. Because of the early start Jim and I went the afternoon before. Loving history as we both do, a visit Fort Necessity, a key site of the French Indian War was made. We have a nice dinner close to the Uniontown Hilton Garden Inn that has a wonderful lobby and nice room made for a relaxing evening beofre our morninng sttart the nextt day. The hot breakfast was a great start to our day of sightseeing.
Our day also included Fallingwater and Polymath Park. More posts to come about those homes!
Kentuck Knob website is your go to for planning a tour. TIp! Always check age limits, accessibility and other visitor information. It was our first stop on our Frank Lloyd Wright homes. Next was Falling Water ending with Polymath Park. All tours must be booked ahead.
Kentuck Knob Exteriors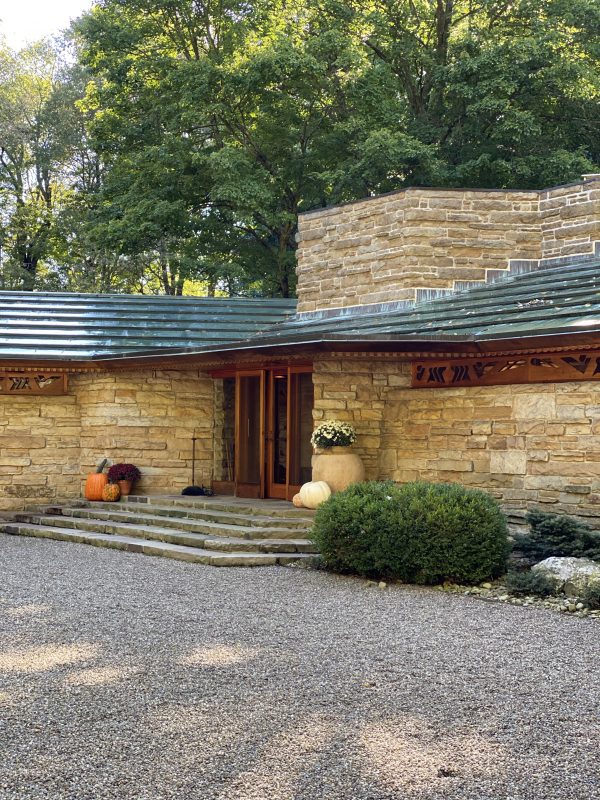 Kentuck Knob named by an early settler who though the knob reminded him of Kentucky. The owners of this Frank Lloyd Wright commissioned home kept the name. It was later sold to its current owner as a second home. No indoor photograpy is allowed. You must purchase tickets on line prior to visiting. Check the schedule when you are planning. After seeing this amazing home, I was glad it is open to visit.
A tour of the interior which was stunning was included! It is a marvel of woodwork, modern style and function. The original owners had to insist on a larger kitchen for the entertain they planned. Wright was not much interested! She had to insist.
three bay carport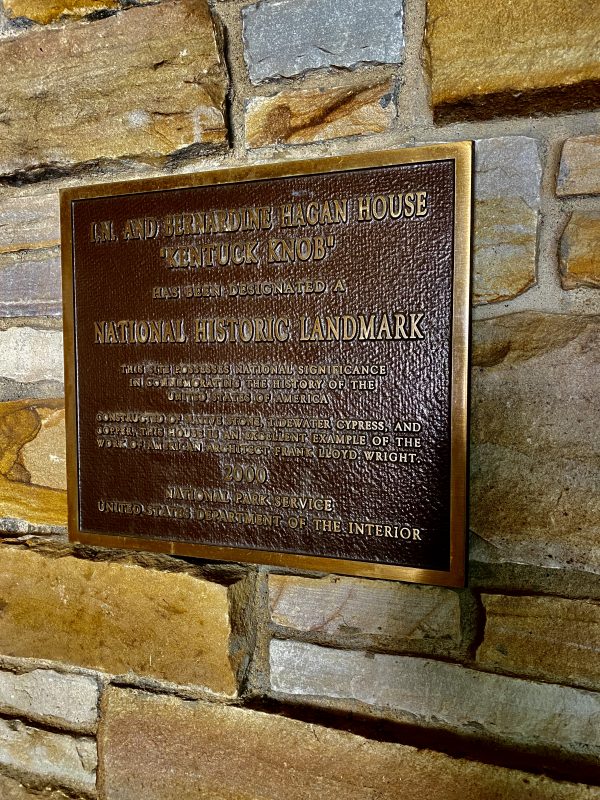 Like all national historic sites, there is a plaque. Not all of these recognized sites are publicly held.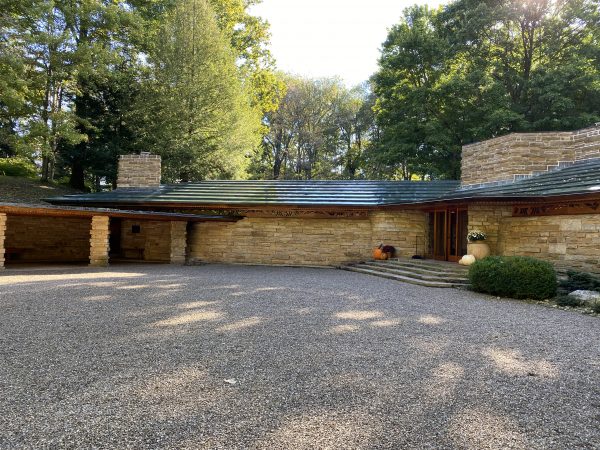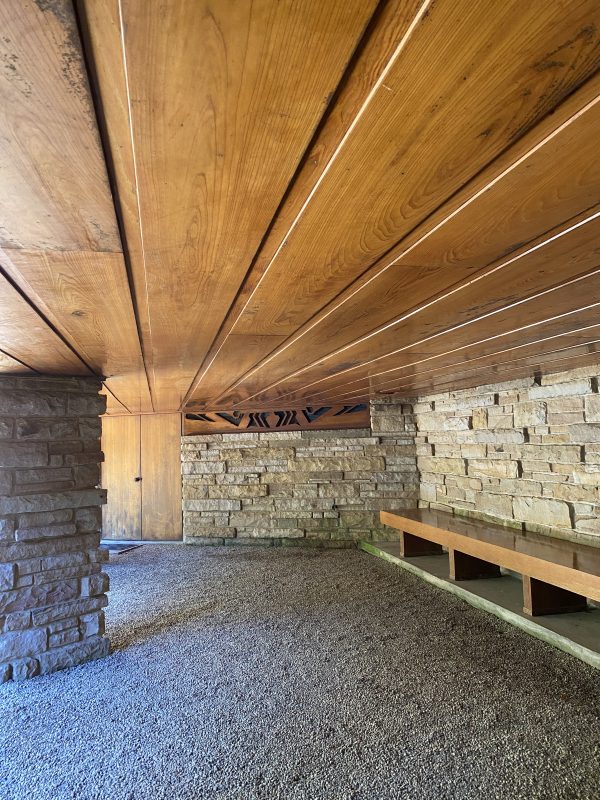 Carport interiors to die for!
Constructed as much as possible with native organic materials is all part of blending with nature's space. Pennsylvania blue stone is a beautiful choice. We have some as part of our back porch and patio.
Wright's attention to detail is part of the spectacular look of this home. The under the eaves trim made by regional craftsmen continues along the back walkway and exterior. It is visible from the interior through all of the windows.
Notice the linear design to the right. That open design allows the mountian breezes can still blow through the high windows along the living room exterior wall.
There are 2 wings The owner had to insist on a basement. Extreme cold and hard freezes in the Laural Highlands meant it was difficult to get food to the house for periods of time. He didn't like basements but the owners were the clients!
He also wasn't much interested in kitchens. Once again, the owners made changes to the plan. They wanted a better functioning and larger kitchen. They got those changes!
welcome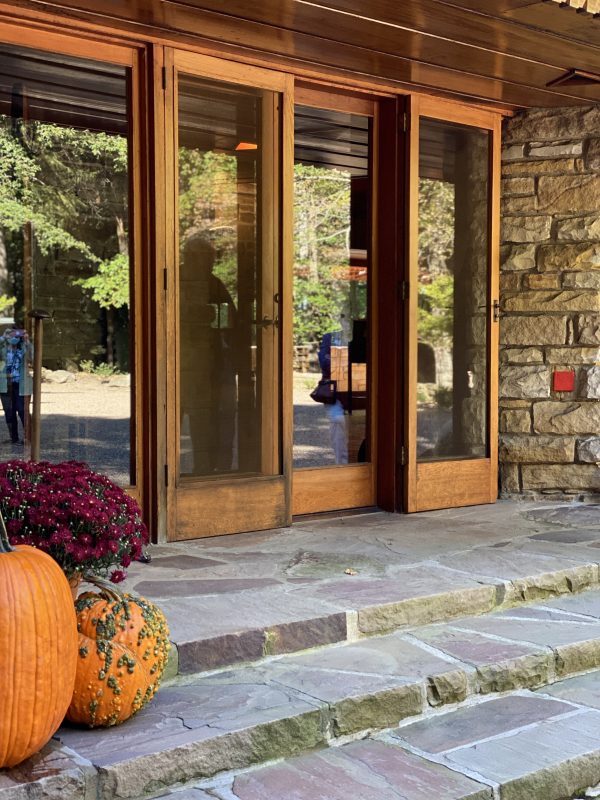 Our guide met us here. Notice the multipe doors that can be opened. More folding glass doors are along the rear of the house so the beautiful view can be seen.
We could not take photos inside but understood the owner wanting some measure of privacy.
The original furniture is intact. The current owner left everything in place. We were told rugs are often rotated. Could there be updated appliances behind the closet and cabinet doors?
spectacular rear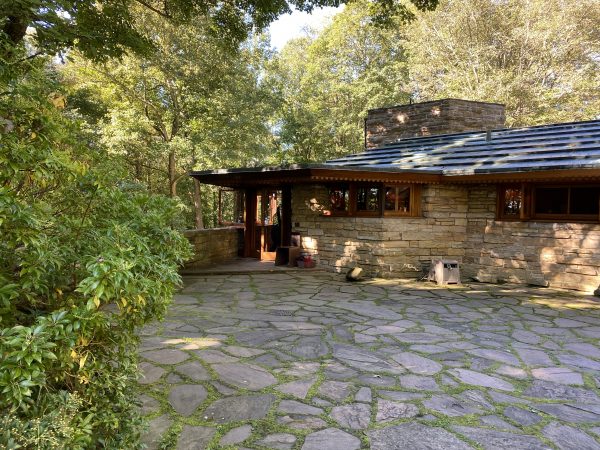 Along the side is a walkway with a beautifully designed cover. Again, mountain stone is used. The craftman's ship is stunning!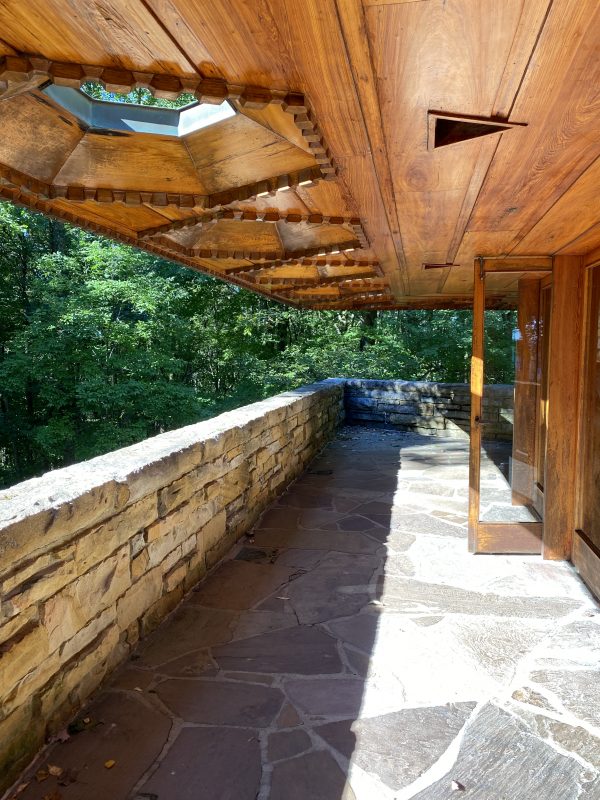 Natural light plus the triangle space for recessed lighting with the geometric linear design is common to Wright's designs.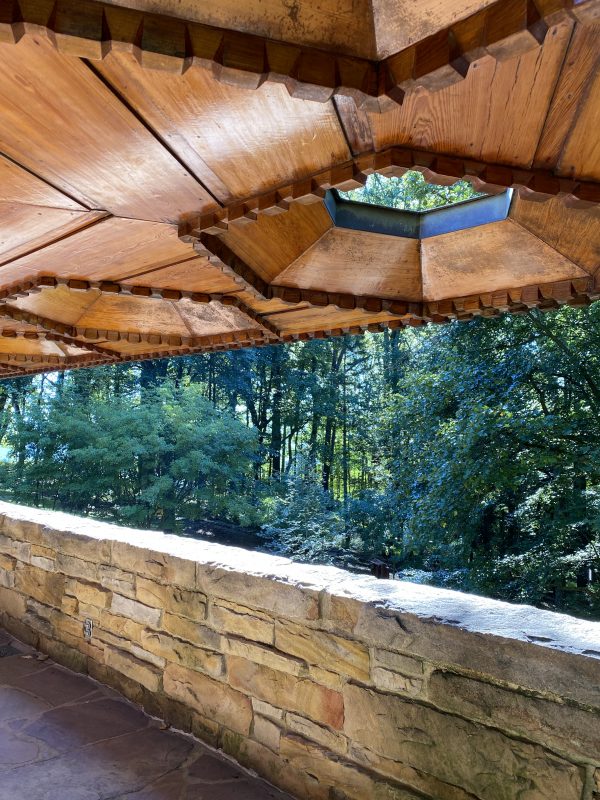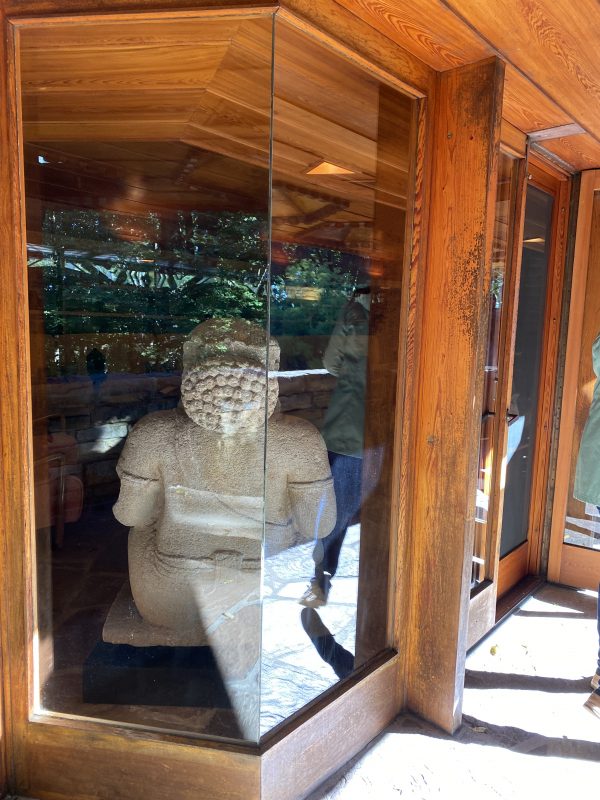 Sculptures are always part of the interiors with rich textures and stone floors.
If you look closely you can the the high narrow windows that are along the front of the house with geometric design. There is a long built in bookcase. There are art pieces and books placed on top and open shelves.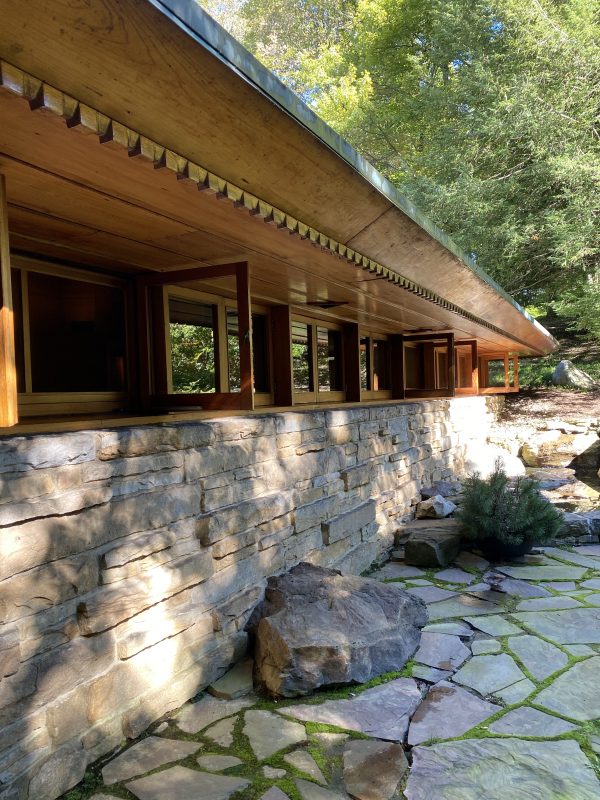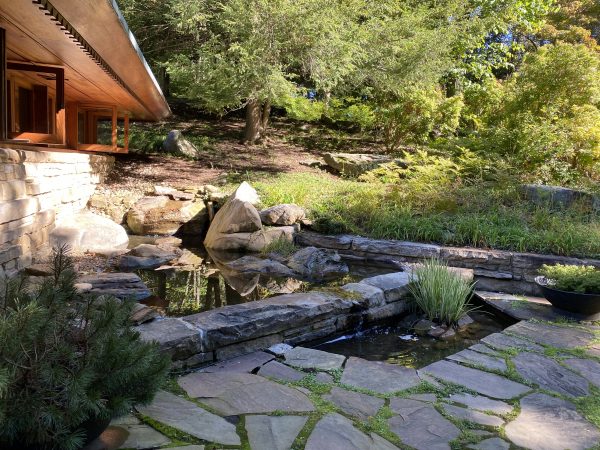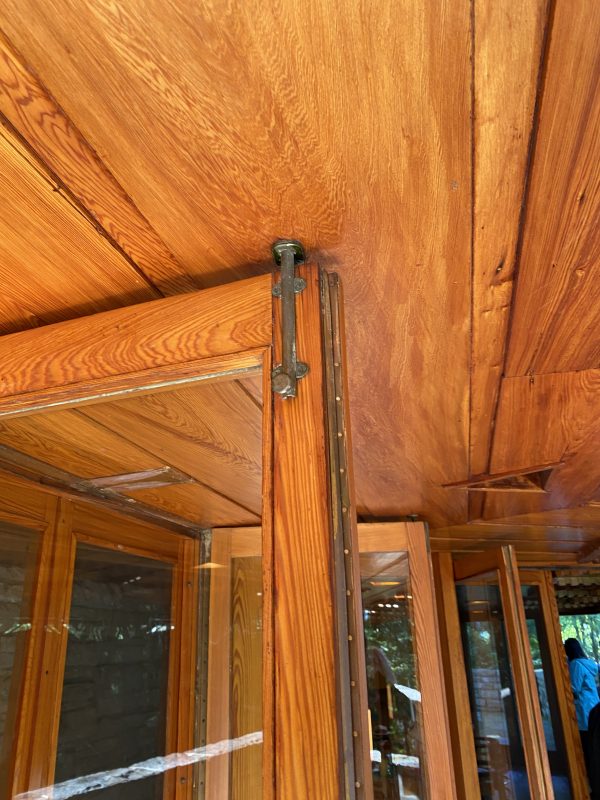 No metal sliding doors! Instead these wood framed doors fold back. There are some screen doors too.
summary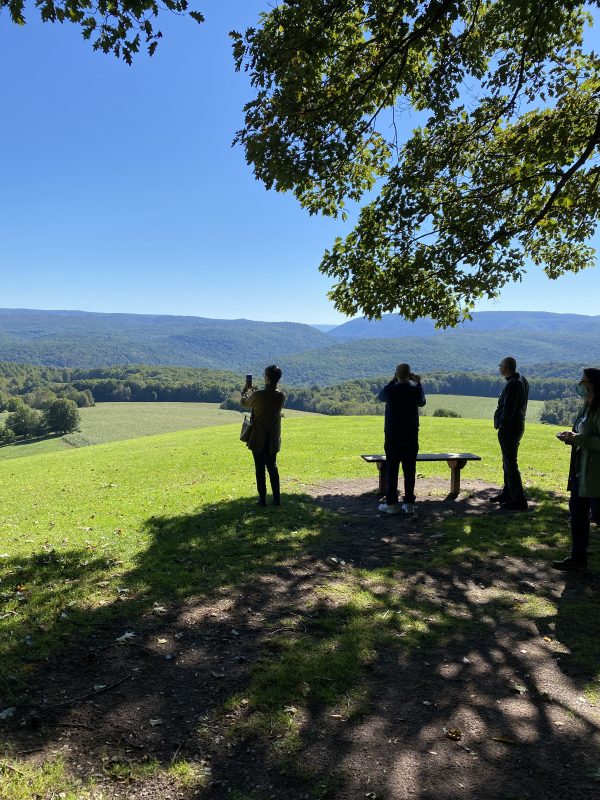 Is this worth a visit? Absolutely! Note children 6 and under are not allowed inside. There are accommodations for handicap needs. Check the website. We did not take the longer walk around the property. Our next stop was Fallingwater. Again, we had a prepaid tour and time set. Interior photography is allowed at the other homes.
Jim and I enjoy historical homes and sites. And yes, some are contempory ones! Now, where shall we visit next? Which century should we pick?
~~~~~~~~~~
Links are included here for your convenience relating to Frank Llyod Wright. I recieve a commision at no extra cost to you. Thank you for your support.

~~~~~~~~~~~