Lot of sparkle with a little red paired together made this Christmas table enchanting!
First, I'm part of Deck the Halls Blog Hop! It is magical to see so many creative bloggers share their creative crafts, tables and decorations! Lots of inspiration tto make your halls merry and bright!
I'm coming from Crystal's post https://sweetvalleyacres.com/how-to-paint-a-winter-scene/. Her painted mirror scene is stunning! Step by step instructions will help you paint your own.
After reading mine and Crystal's post, go over to Kari Anne's at Thistlewood Farms for the first post of the hop and then the next and next for all the wonderful Deck the Hall's inspiration.
I spied these paper charming cottages and church. Vision of tables danced in my head!
I love, love decorating for Christmas! I watch Christmas movies way before Christmas in July just to be inspired and dream. Bet I'm not the only one. I even pause and go back to get a second look at something that catches my eye.
Enchanting village centerpiece
Usually, I am drawn to the more tradtional tables and decorations. These sweet little cottages and church were calling to my decorating heart. They were not expensive at Target.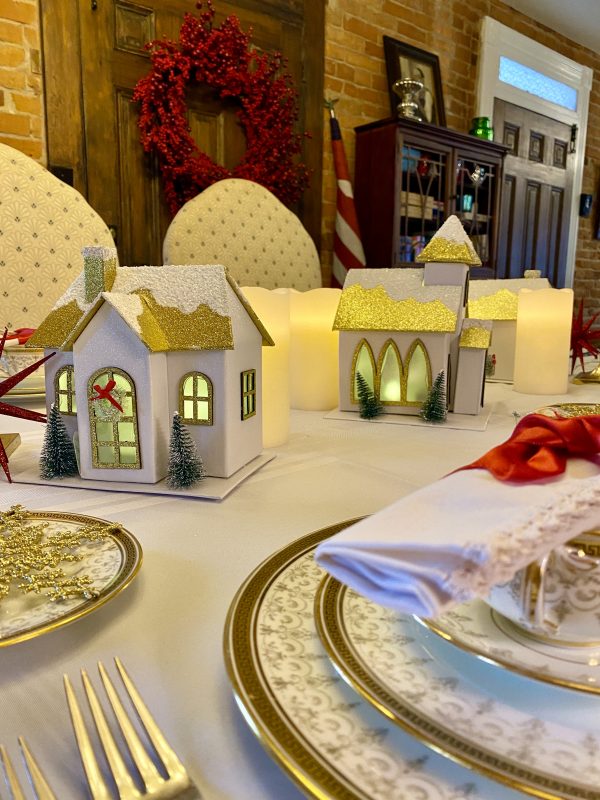 They are so enchanting! Like a dream of an ideal Christmas scene; simple and sweet.
I had already bought some white, snowy ornaments and woodland creatures for the flocked tree for a more woodsy look, not for an enchanted fairy tale.
These delicate cottages remind me of paper ornaments of years gone by. They did come with a battery that can be changed.
setting the table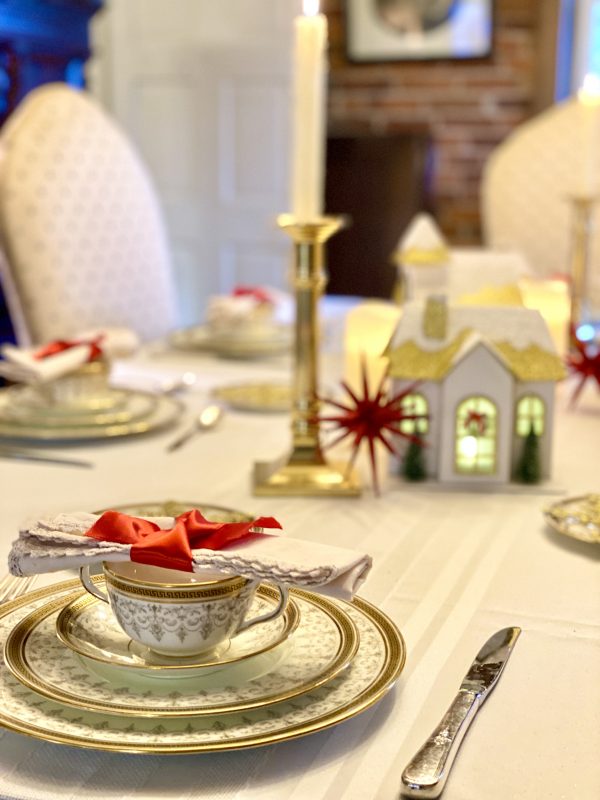 How did I set the table? After the mixing up china did not work, I pulled out Jim's great aunt's vintage china he inherited. I stacked several pieces. When writing this I realized I forgot to put glasses out. Amy said "No Mom , you set up a drinks bar!" A good idea!
The silver is a set Mom bought from friends' who bought it at a flea market. My oldest daughter has Mom's silver.
Next are the small bread plates holding the large golden glitter snowflakes. The shiny glittery gold snowflake added more interest to the table. Guests can even take them home. I put them on the small bread plate but would not do that on the plates or in the consommé cups.
This vintage set has 5 sizes of plates, bread, salad, dessert, luncheon and dinner! There are consommé bowls and tea cups plus small bowls for fruit. No soup plates though! It's fun to use them when I formally set a table.
Accent with christmas red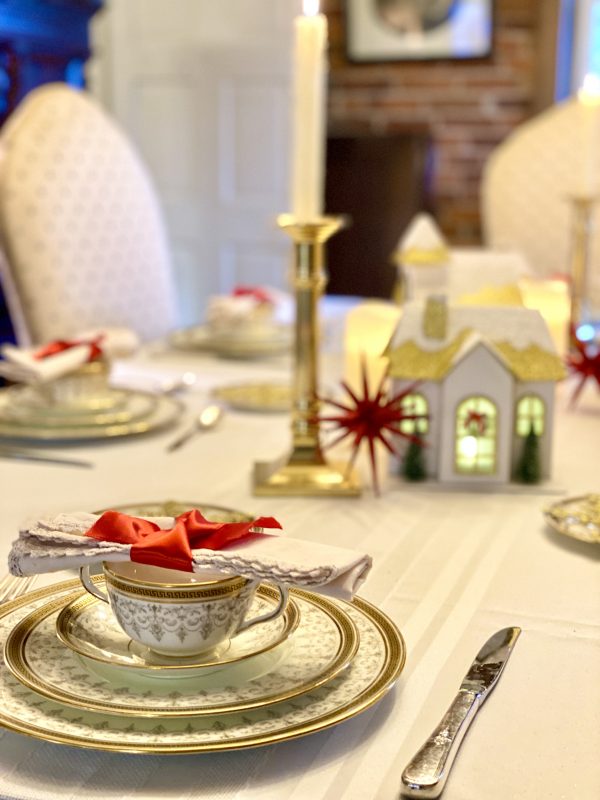 Keep those left over ribbon pieces! You never know when they might come in handy like this 60 inch length I had. Perfect for the napkin roll, don't you think?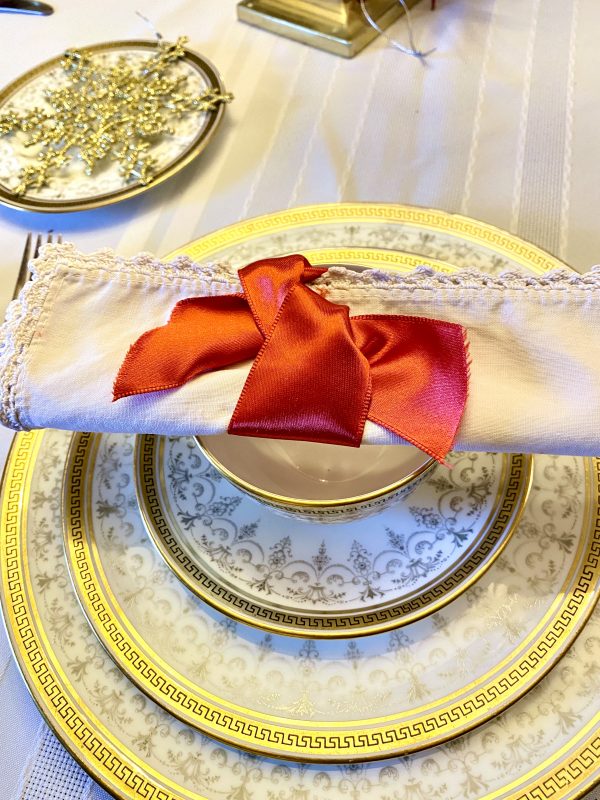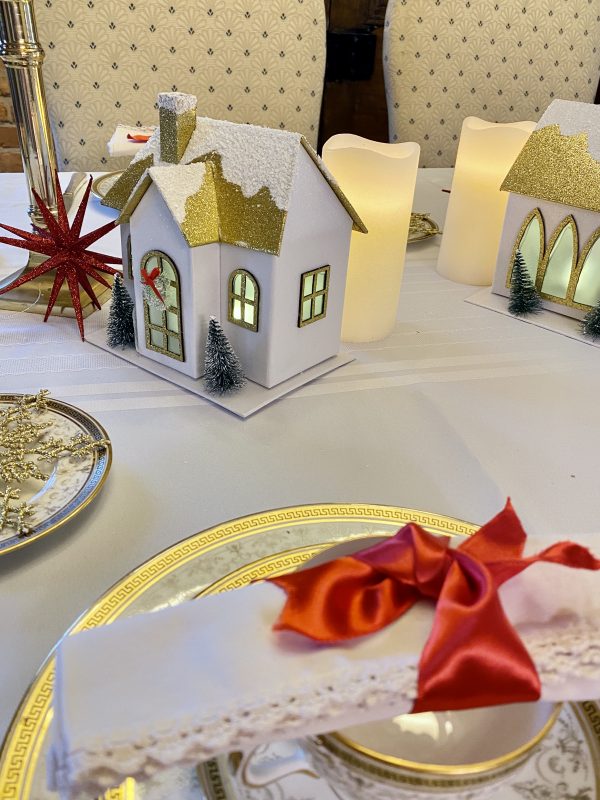 After I got the place settings, cottages and church done with the candles, the table needed more red and height. I also had picked up the Moravian star glitter ornaments. I knew I could use red ornaments just about anywhere! They add more red and visual interest without overpowering the table.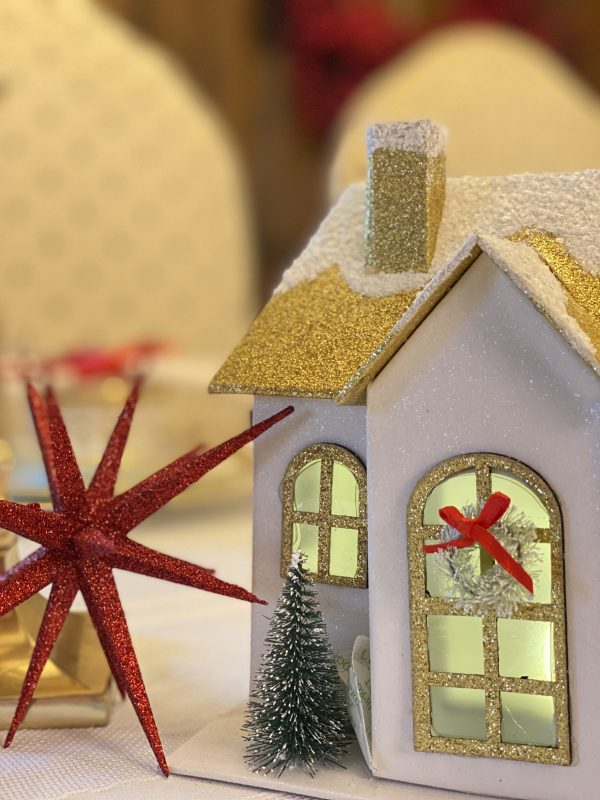 I placed them near the tall brass candlesticks with soft white tapers and close to the cottages and church.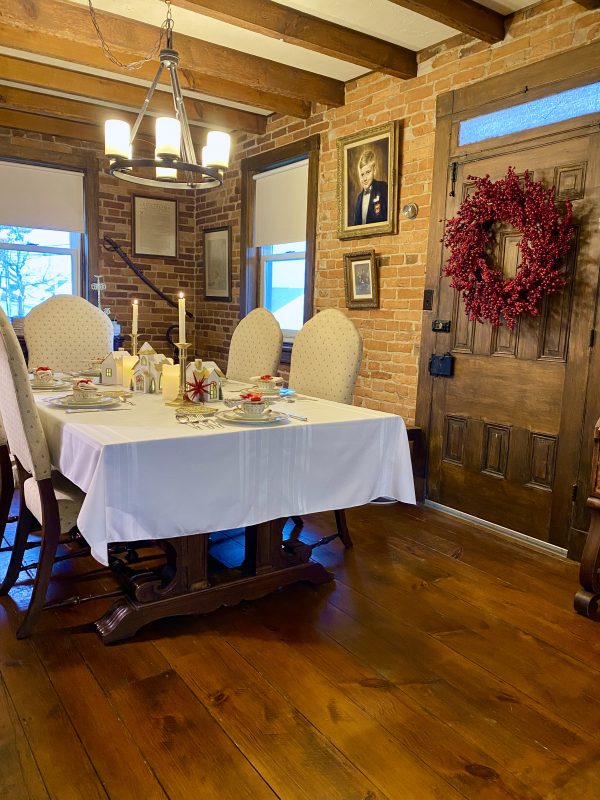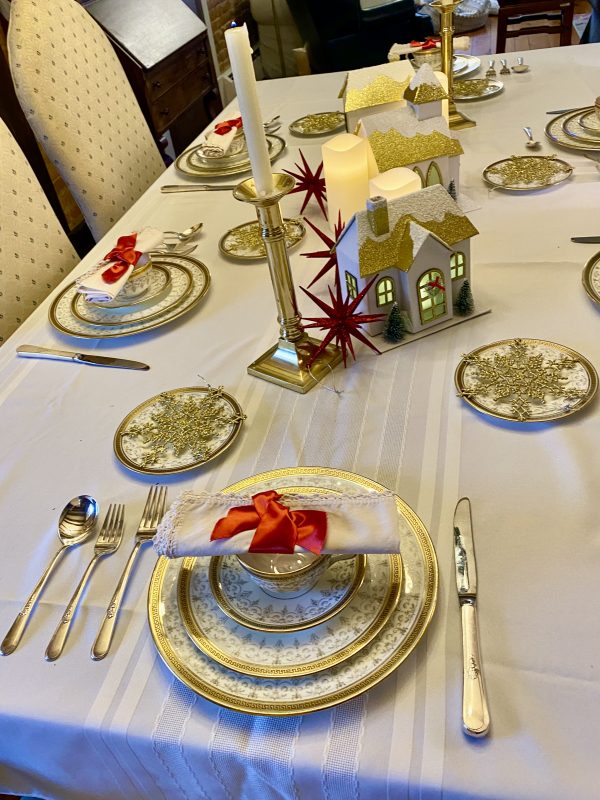 I moved the pillar candles and stars so they were next to the blank side of the village pieces. You don't want to have your diners staring at a blank uninteresting spot.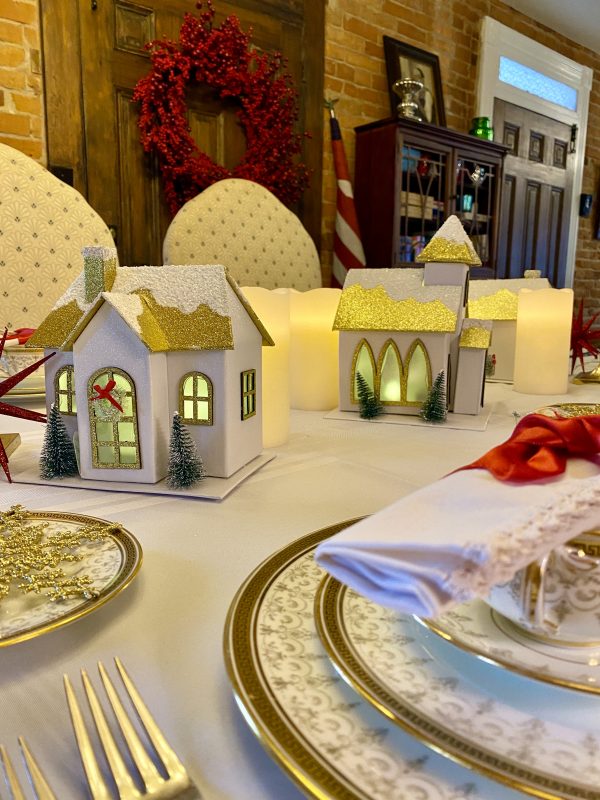 Below are affilate links that I may receive a small commission when you purchase at no extra cost to you!!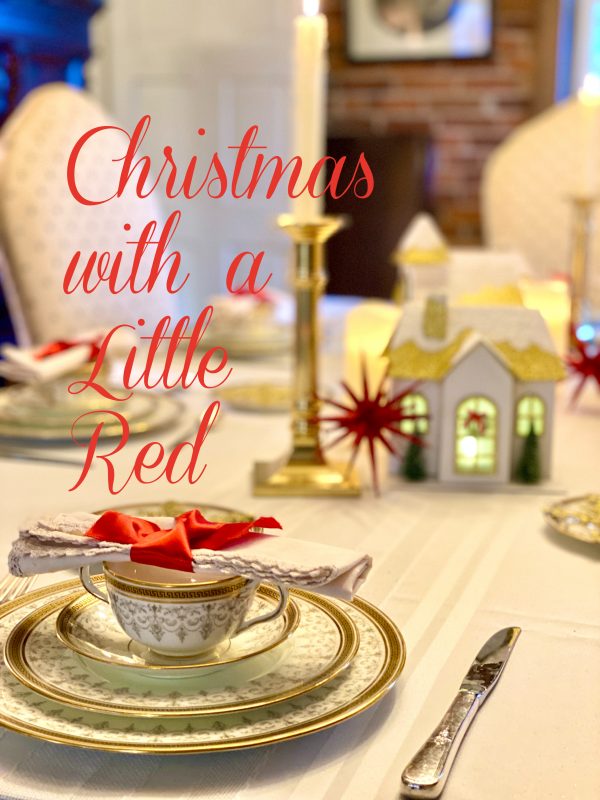 Tonight after dinner I lit the candles and buildings up and got the response I was hoping for! Amy and Jim really like it!
'Oh this is so pretty!! I love it. Is this our Christmas table?' Maybe, not sure yet I told her. Most likely it will be. Actually, it will be!
When you are doing a table or any project, hope it just is a joy and pleasure, Hope you have been inspired!!
Have fun decking your own halls for Christmas!
Thanks so much for dropping by. To see all of our Thistlewood VIP Group Deck the Hall posts, start with Kari Anne's post and hop over to next post and the next….. KariAnne's post here: https://thistlewoodfarms.com/stamped-spoon-napkin-rings/

~~~~~~~~~~~
Please note that items listed may similar but not exactly the same as the ones I used.
This site contains affiliate links to products. I may receive a commission for purchases made through these links at no extra cost to you.

~~~~~~~~~~~~~~