Welcome to the Amazing Creators Holiday Blog Hop! As a special treat today, I am joining together with a group of my friends to share an abundance of Holiday ideas! From recipes to decorating ideas to tablescapes and more, I know you will find ideas and inspiration for your holiday celebration! Once you are finished visiting everyone, you will have a sleigh full of holiday ideas!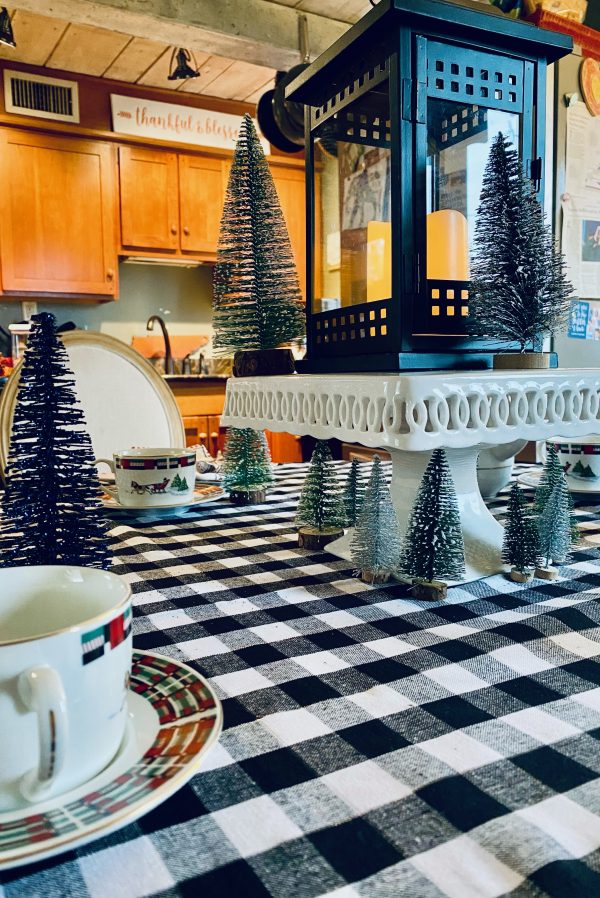 Nothing says 'Welcome' more than a beautifully set table kitchen table with candle light when you walk through the backdoor into the kitchen. It tells everyone. Welcome! We are ready for family and guests.
My mom always had seasonal kitchen tablescapes. It was the first thing you would see when you walked through our backdoor. It was where all family and friends came in!
I am following in her footsteps.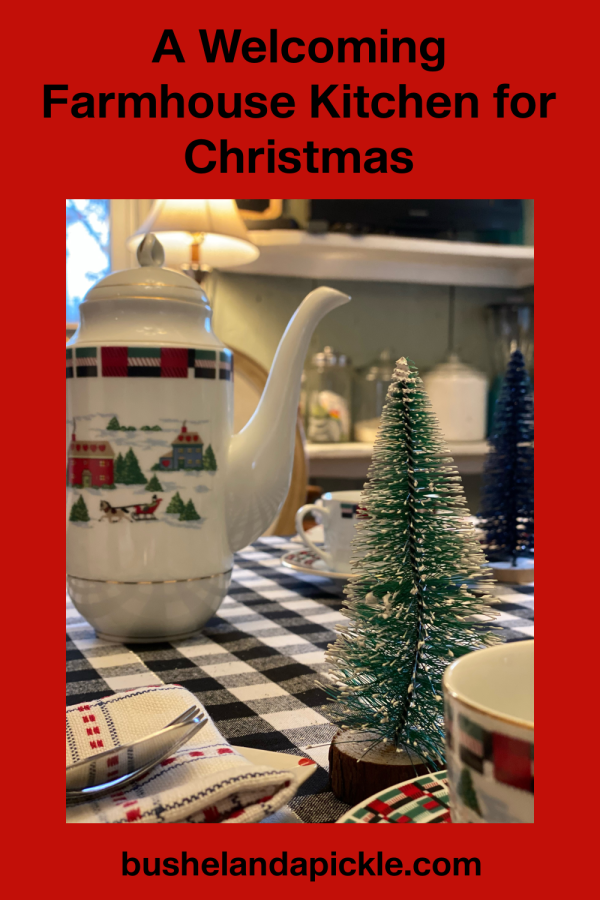 'Welcome to my home' is significant for anyone who comes to our home, even the kids coming home. That includes our 7 grandkids.
Home is safe and comfort, warm and says you are loved!
farmhouse is always in style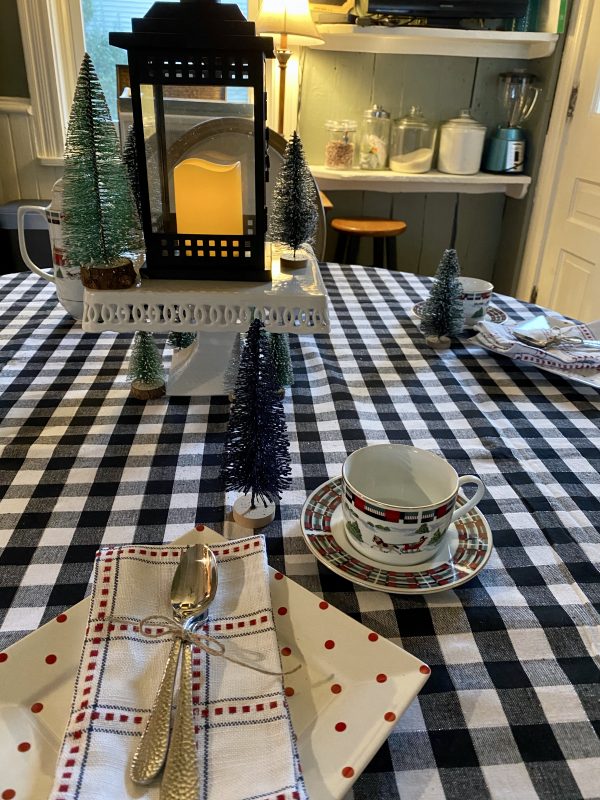 Amy loved how the table and big coordinating wreath looked when she first came through the door after a long semester several years ago.
We all sure did miss each other. Lots of hugging went on when she walked through the door! It will be the same when she arrives from her new city. It will be the same for all of them!
checked patterns are always farmhouse perfect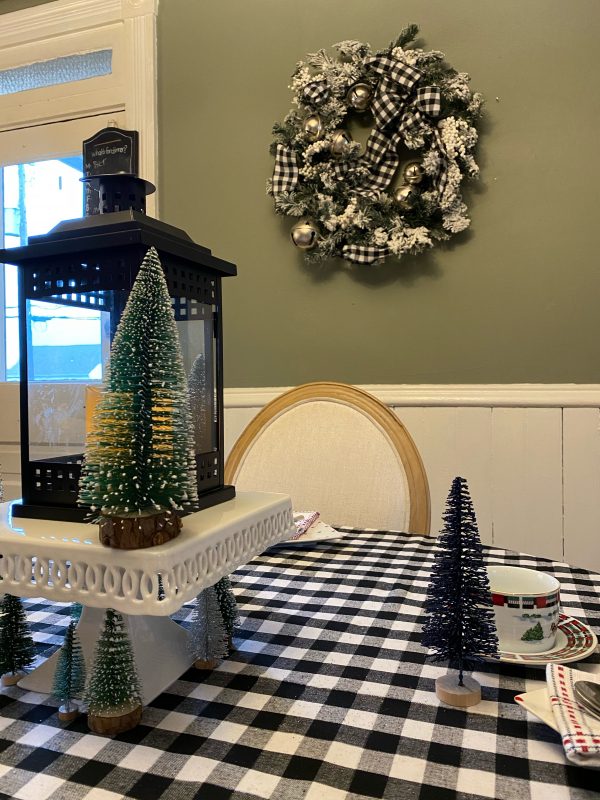 This farmhouse tablescape came together so easily after I found the black plaid round tablecloth. Knowing it was going to look great with the wreath from a previous year too was an added plus.
I always try to build on what I have. Sometimes, eventually, the look becomes something very different.
LOOKS A LOT LIKE christmas
It really begins to look a lot like Christmas when the "Core 4", our youngest 2 plus Jim and I are home. Our cute nickname was given to us by our adult kids. In my heart, there is lots of joy and Christmas spirit is coming too!
It begins to be Christmas when we celebrate family together with not only decorations and food but also with Advent and worship times.
using what i have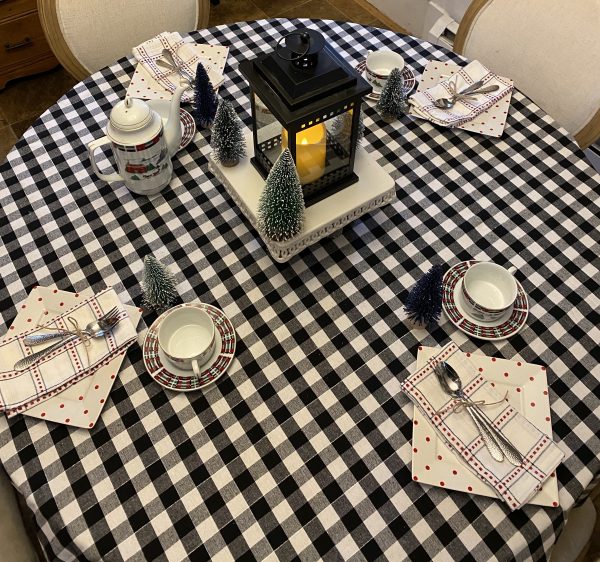 For this table as I noted earlier, I spread the round black plaid tablecloth on the kitchen table. I nabbed my pristine white cake stand for the beginnings of the centerpiece. The addition of the black lantern I kept after using it for wedding decorations for one of the kids with a battery pillar candle and bottle trees of different colors of green and heights this very simple centerpiece was done!
Use what you have and when you make new purchases, I do think about how I might use it again.
The centerpiece is easy moved when we eat. I like to see all of our faces when we have a meal together.
christmas woodland theme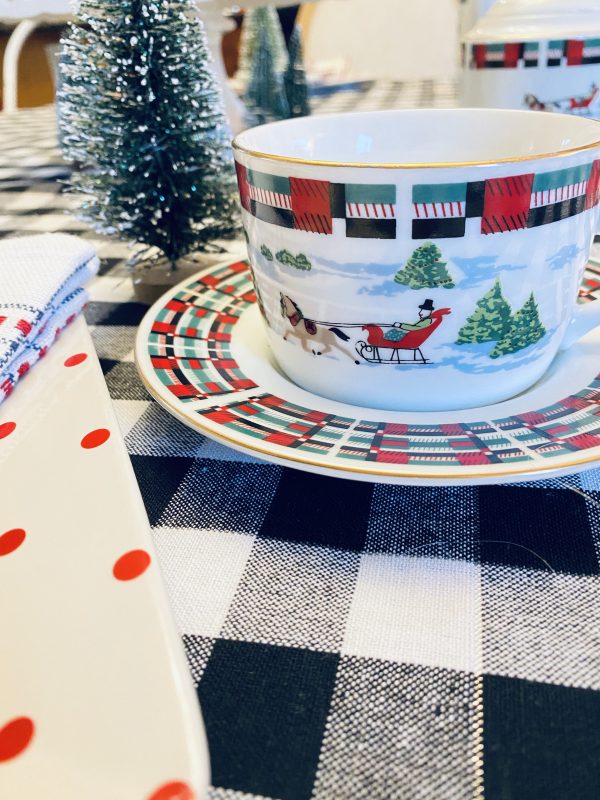 I wanted a Christmas woodland theme for our farmhouse kitchen and middle room this year. Plaid and tartan are favorites. It works beautifully for our old farmhouse home. It is over two hundred years old. No worries; we have renovated and updated.
Backstory of coffee set
This coffee set has a backstory. We arrived in China where we would live for more than 13 years one very hot August night. Though I had packed a few Christmas treasures with us, I had no thought of Christmas trees or dishes.
My homemaking efforts included searching the open markets for dishes, towels, pots and pans. you know the basics you need. The selctions were varied and odd at times.
Like unexpectely finding a pretty Chriistmas coffee set during late fall at a local open air market. This was the only Christmas thing I had spotted so far. You might think Christmas decor would be plentiful but it wasn't!
The Japanese department store, Isetan did have Christmas decorations and trees. None were super quality but there was trees and garland! We paid an obscene amount of money for our not too bad tree. It did hold up ad was our tree for all of those years. You could call it sturdy.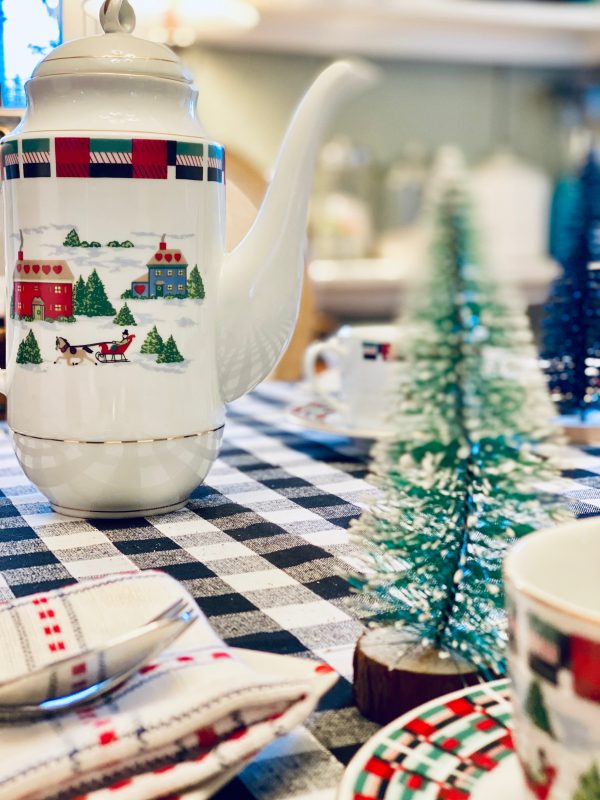 I cried as we drove away in the taxi with homesickness triggered by the high cost of the garland feeling we shouldn't buy it. We were on a tight budget. My husband was wonderful! When I told him the reason for my tears, he had the driver turn around in the congested traffic of taxis and bikes in wet cold rainy weather to go back to buy those garlands!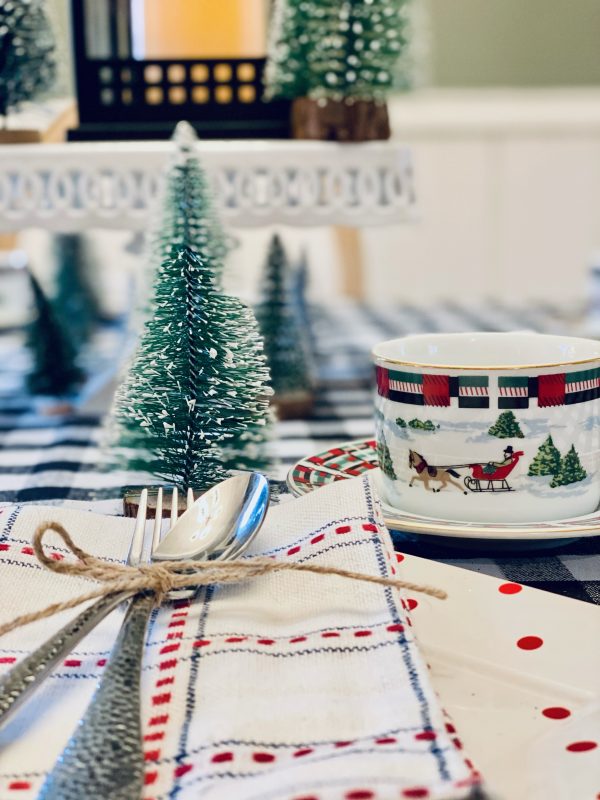 We hung garland on the concrete beams. I ripped the blue plain cotton material from the local street market into rag strips for farmhouse style large bows for the Christmas spirit touches. Our apartment was decked with greenery and cheer!
Making Home Full of Christmas Cheer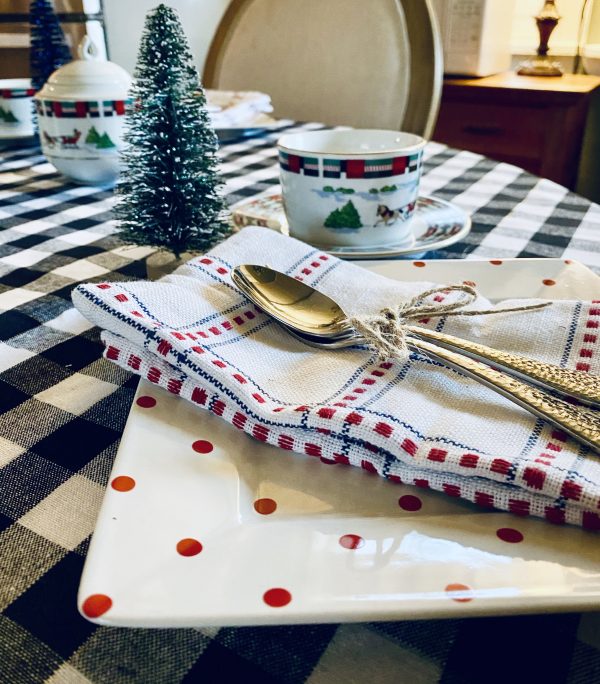 I added the polka dot small plates. Those cute plates come out not only on other holidays but through out the year.
The napkins were ones I bought because of the versatility of the colors knowing I would use them often. The frayed twine tied the silverware together added an extra touch to the farmhouse woodland theme.
Using the bottle trees was a no brainer. See those trees in the snow scene decorating the coffee set! The black plaid brings out the black trim in a cheerful way; the blue seems bluer too.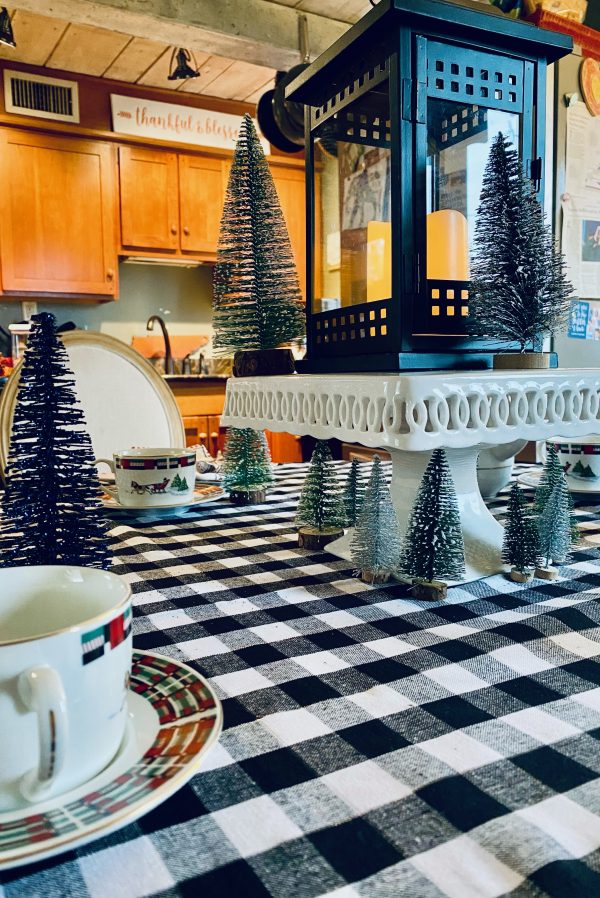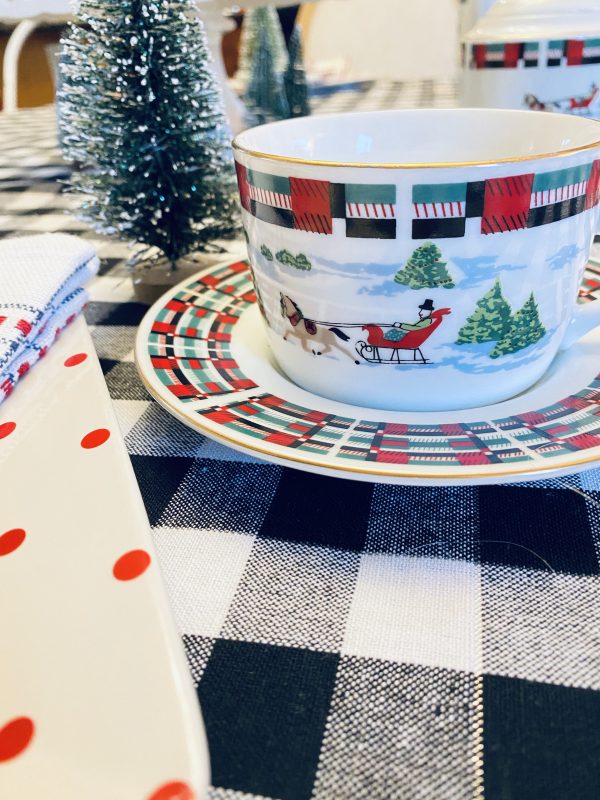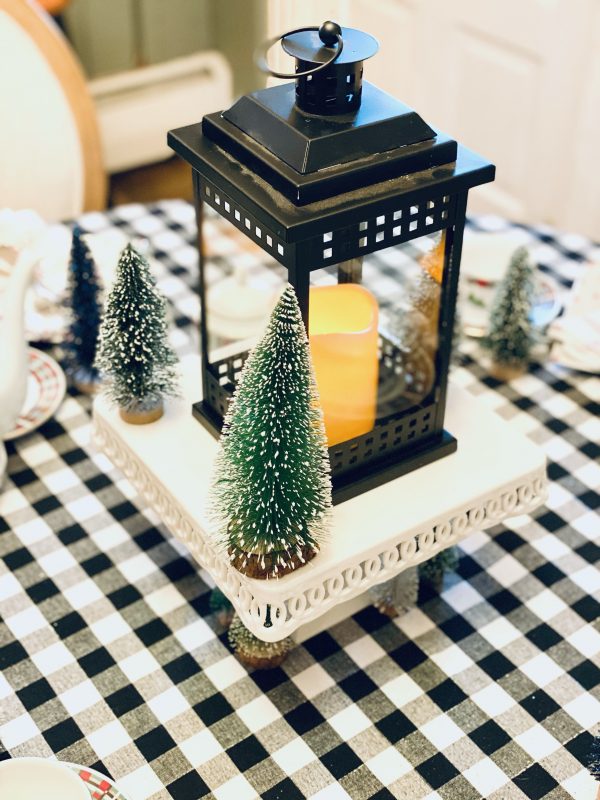 That first year in China was so hard. Each time I bring this set out I am reminded how God met us during that year in many ways, including expensive garland with rag bows!
Having our home say welcome to family and guests is so much a part of Chrsitmas as we also celebrate the coming of the Christ Child.
Welcome to Christmas !
~~~~~~~~~~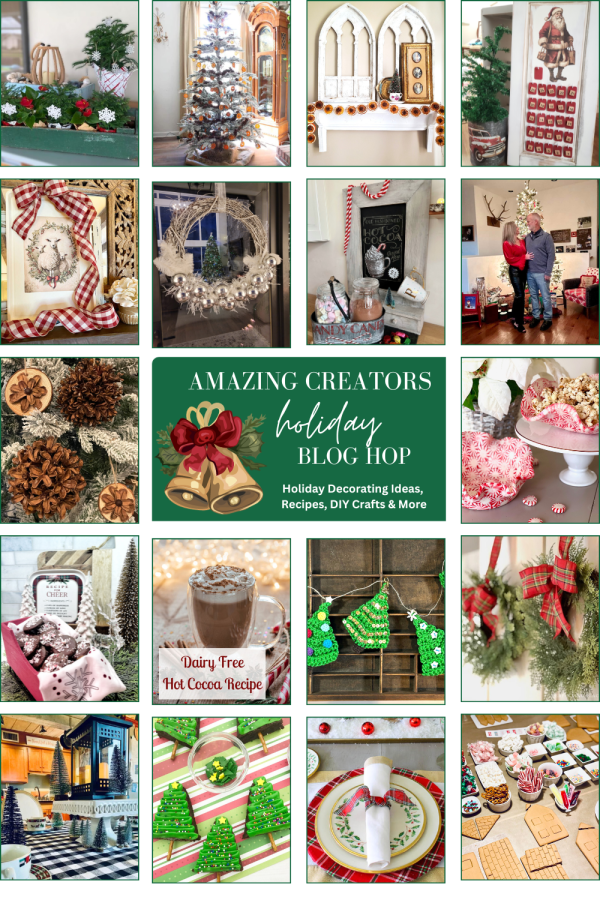 For More Holiday Inspiration, Please Visit My Friends' Posts! You will be inspired and delighted by their creativity!
---
~~~~~~~~~~