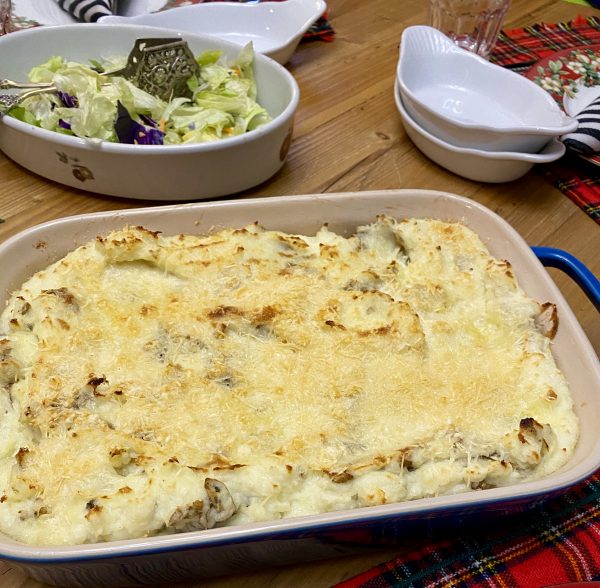 Do you just want to kick up a typical meal up a notch to make it extra special? It's so easy just prepare the same routine meal. Of course, it is for ease and planning in our busy days. Isn't that why we have Taco Tuesday and Fajita Fridays? Growing up, it was always Hamburger Saturday and eventually was Weekend Burgers.
I have my set menus for sure. But there are times when I look to some of my favorite recipes that take extra effort or different ingredients for sprucing up the routine. Honestly, there's not much better that traditional buttery mashed potatoes! Right?
However, this is one recipe that does add flavor and and zing to the traditional mashed potatoes! It's delicious treat for weekly dinners or special occasions.
When I made this, my hand was already aching from a previous broken bone hand injury so I didn't peel the potatoes. Typically, I would. The baked peels show up in the photos.
We are almost empty nesters and I still am adjusting my baking dishes and recipes to be for fewer people. For years, I have doubled recipes. I splurged when I bought this Le Creuset 12×9 baking pan from Williams Sonoma. My larger ones have been relegated to the bottom of the stack. Slowly over the years I have added and related older pieces with Le Creuset pots and pans, when they are on sale! Love the bright blue. As a classic color, it shines in all seasons. I've been using Le Creuset since before I married 40 years ago and I still go for the classic colors.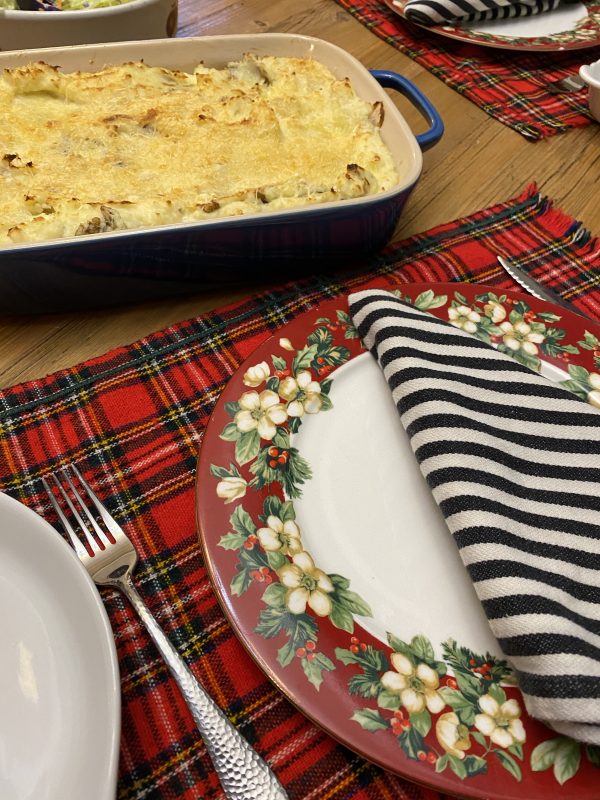 Fancy Mashed Potato Casserole
Ingredients
2

pounds

russet potatoes

washed and cut into large pieces, peeling optional

1/4

cup

thin sliced fresh garlic

1

cup

chicken broth

1/2

cup

sour cream

2

tablespoons

butter

Salt

pepper to taste

1/4

cup

thin-sliced scallions or green onions

in a pinch use less minced onions for delicate flavor

1/2

cup

grated Parmesan cheese

fresh is best

1

tablespoon

extra virgin olive oil

other types will overpower the dish
Instructions
Boil potatoes with the garlic and broth added to the approximate 2 cups of water to cover the potatoes until tender.

Preheat oven to 400 degrees. Butter baking dish.

Set aside 3/4 cup of potato water then drain cooked potatoes. Return potatoes to the pot and set on medium heat. Toss potatoes until dry and remove from heat.

Mash potatoes adding as needed reserved potato water.

Add sour cream, butter, salt, pepper and remaining water.

Beat until fluffy.

Stir in half of green onions or scallions and 1/4 cup Parmesan cheese.

Put into basking dish.

Drizzle with olive oil.

Bake for 30 minutes.

Sprinkle remaining cheese and sliced green onion tops for garnish.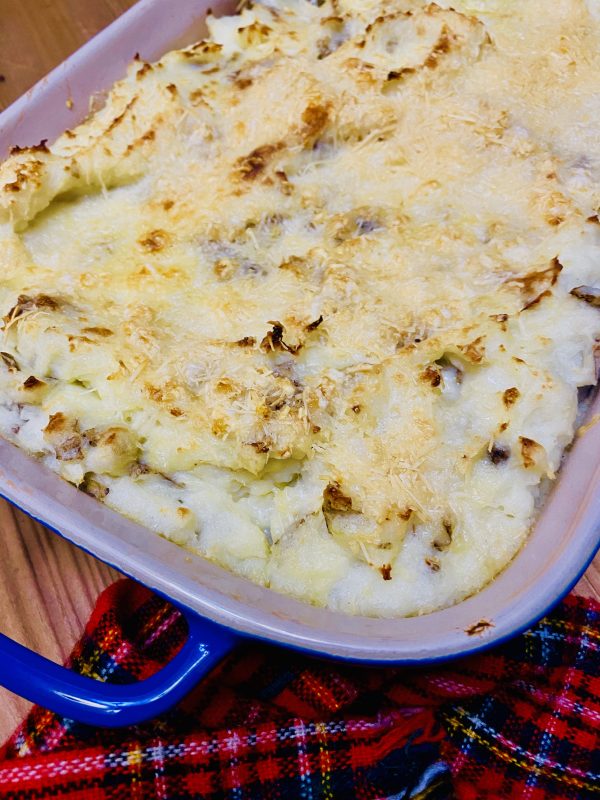 Hope you enjoy this delicious dish! How do you spruce up your routine weekly meals?