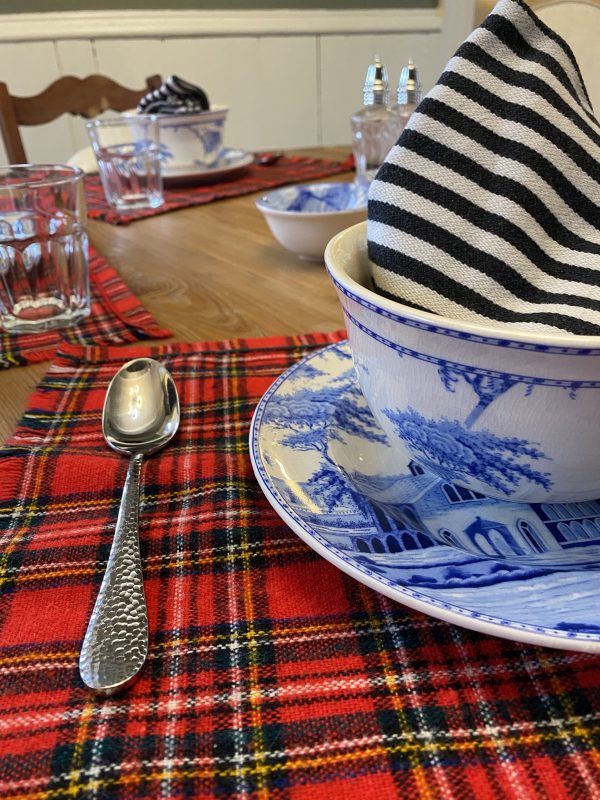 HI! Taco Soup for lunch today with our daughter and her two youngest kiddos. It doesn't sound all that elegant, does it? Between my hopscotch busy and her full schedule with 5 kids, well, we take time when we can.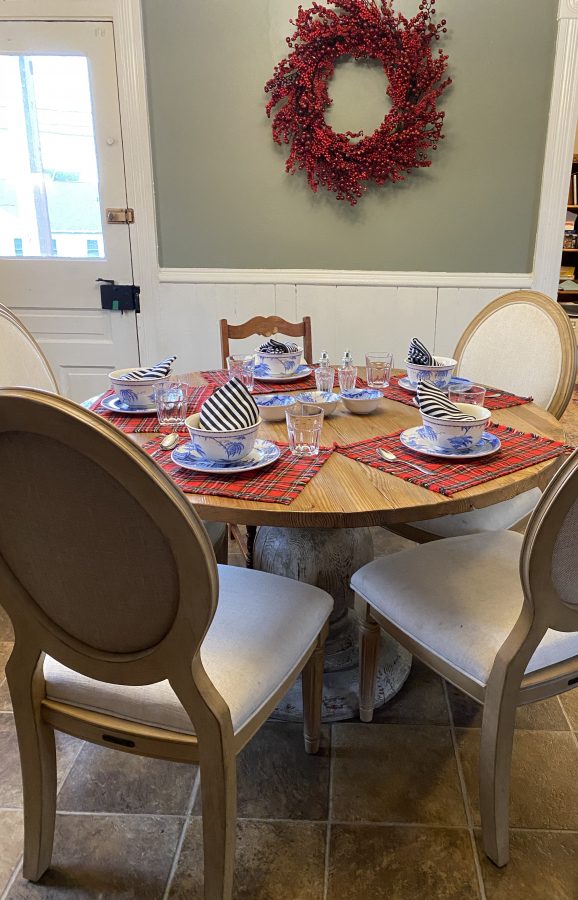 Recently, I admit; I've been lazy about setting our table nicely. It only takes minutes. I have no excuse. This morning I read Chloe's 10 Ideas for Elegant Living. That's something as a homemaker and keeper I've aim for… elegant living with comfort and an open welcome for our home. Chole's post was the little nudge I needed to get me on my toes again!
Today, I mixed up patterns for the table setting. Plaid place mats with classic black ticking striped napkins paired with the Pottery Barn blue dishes bring in classic elements for our lunch. Having the table ahead of time says welcome to family and any guests when they walk in our door. Our kitchen table was transformed to farmhouse elegant for this lunch.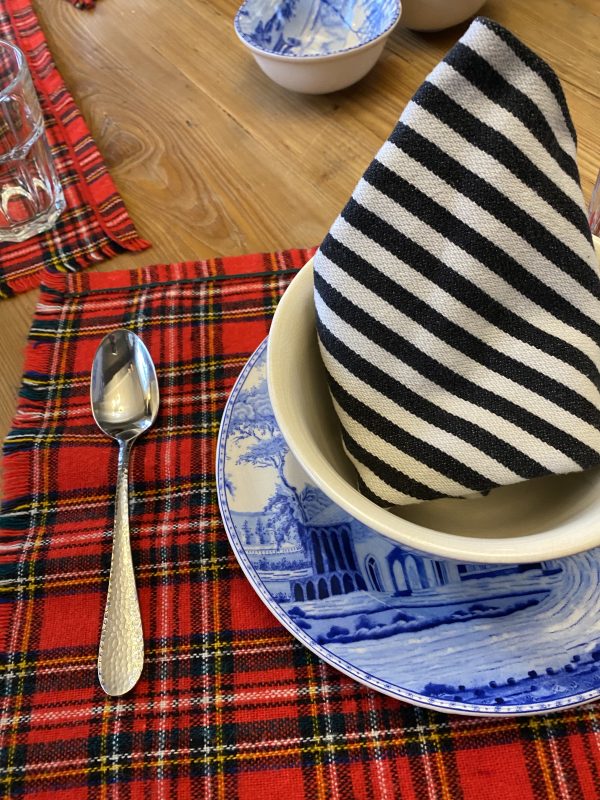 What are we having? Taco soup that I made last night in the crock pot. Earlier in the week I browned several pounds of ground beef for spaghetti and taco soup. The little bowls are for sour cream, salsa and shredded cheddar. I have to add a large bowl for tortilla chips.
Taco Soup is sooo easy. The hardest part is chopping up an onion and browning the meat! I used a crock pot because I was doing errands but one the stove top is just as easy. It's great for busy days and large groups too!
Taco Soup. Great for crowd and teens! Freezes beautifully.
Ingredients: 1 pound of ground beef 1 medium onion chopped 1 package of taco seasoning 1 large can each of unseasoned diced tomatoes and tomato sauce 1 can each of kidney beans and corn (I drain mine but many cooks do not) Optional 1 small 4 oz can of chopped green peppers
Thoroughly brown ground beef and chopped onion together. Drain. Put all ingredients In crock pot or large soup pan. Stir throughly to mix in taco seasoning well. Cook in crock pot on low for 4 or more hours. On stove top bring a low boil and reduce to low simmer for 2 hours stirring frequently. Enjoy!
Even with a crowd pleasing simple no frills taco soup, you can set an elegant table to make you, family and friends feel extra special. Your meals can be simple, easy to make and easy clean up. Great for large gatherings too like Super Bowl Sunday.
What do you make your meals, your life feel elegant?