It's raining today. No snow this winter so far but soul and body hearty soups still chase the damp cold away. This soup is a favorite, right up there with French onion soup.
I have meeting tonight starting at 5 PM. These usually last until 8 or longer. Making soup during the day to keepin a crock pot is an excellent meal. Who knows? There maybe some left for lunch tomorrow!
This post contains affiliate links to products for your shopping ease! I may receive a commission for purchases made at no extra cost to you.
Back in the Day
Back in the day, I made lots more than I do these days. It's easy to adjust recipe for the number of serving you want to have. For soups, I usually make more so there is enough for another meal.
Winter is not over yet! We never know when our older kids come rolling in for the weekend exactly what time they will arrive. I like to have food ready that is easy to serve and can stand waiting and reheating.
Table is farmhouse simple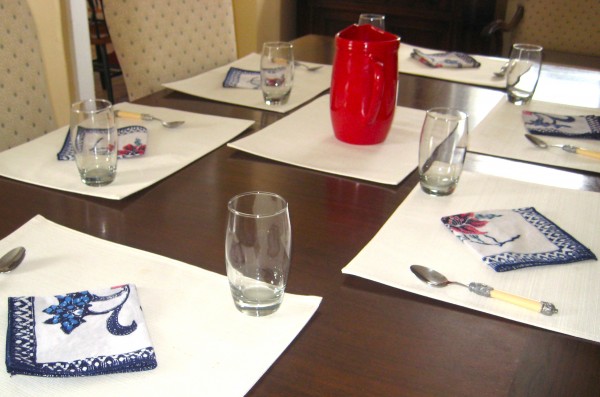 Bowls are on the kitchen peninsula. Soup's hot in the crock pot. It's a self serve meal.
What is the tall red vase looking thing in the middle of the table? Just like my farmer relatives who always had a pitcher of ice water or better yet iced tea on the table. This is one of my many pitchers. Mostly we drink water these days.
Garnish of chives, cheese and bacon not only look pretty but add extra zip!
Farmhouse Baked Potato Soup
Baked Potato Soup for family and company
Ingredients
6-8

large baked potatoes

1

stick butter

1

pint

heavy whipping cream

8

oz

sour cream

salt

pepper

2

cups

milk

2

cups

chicken broth

1

med onion finely chopped

4

slices

of bacon

1

cup

cheddar cheese

2-3

Tbsp

fresh chives
Instructions
Bake the potatoes.

Sauté onions in butter.

Scoop out baked potatoes from skins.

Reserve skins to freeze for afternoon snack.

Crock Pot Method will take longer to cook.

Toss sautéed onions with all the butter and scooped out potatoes into crock pot.

Warm whipping cream, milk, and chicken broth in microwave;

Pour in crock pot to taste.

Smash and stir together.

Cook several hours until blended and throughly heated.

Adjust liquids as needed for desired consistency.

Stove Top Method

Use a heavy bottomed pot to prevent scorching.

Add sautéed onions with all the butter.

Add liquids then potatoes.

Cook on medium to low heat depending on pot's properties.

Omit the preheating of liquids.

Heat slowly and stir frequently to prevent scorching.

Stir well to break up potato pieces.

Simmer on low until well blended.

Garnishes

Cook 4 pieces of bacon until crisp.

Drain.

Break into small pieces.

Cut chives into pieces.

Shred or finely chop cheddar cheese.
This hearty soup is a delicious meal for cold weather days to warm body and soul! A wonderful way to say welcome! Come and get it!
~~~~~~~~~~~~~
This post contains affiliate links to products that I use or very similar.They are for your shopping ease! I may receive a commission for purchases made through these links at no extra cost to you. Thank you for purchases you make!

~~~~~~~