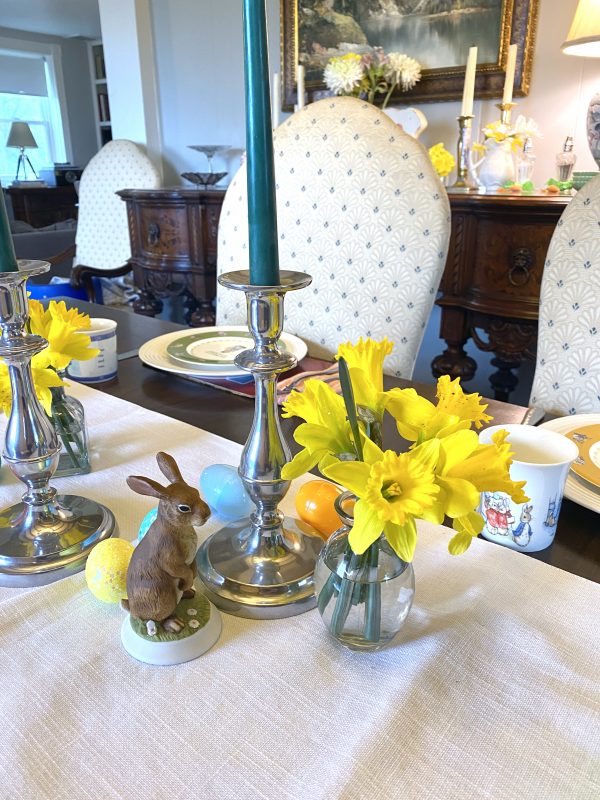 easter is a happy season
Easter tables need color and other seasonable symbolic elements like eggs, chicks and bunnies.
Colors can be natural, embracing gardens and a woodsy feel. You may want to be monochromic. Colors often seen are soft pastels or saturated reflecting more bold colors.
That's not as hard or as formal as it sounds. Easter is in the spring. It is a season of spring colors that can be saturated or soft pastels. The looks can be whimsical or formal. Whatever you do, it should a table for gathering family and friends.
the basics
Do you need fine china and silver? No, not at all. There are a few basics that can be building blocks to any pretty tablescape.
White plates that are dishwasher safe. Unadorned white plates come in every price point!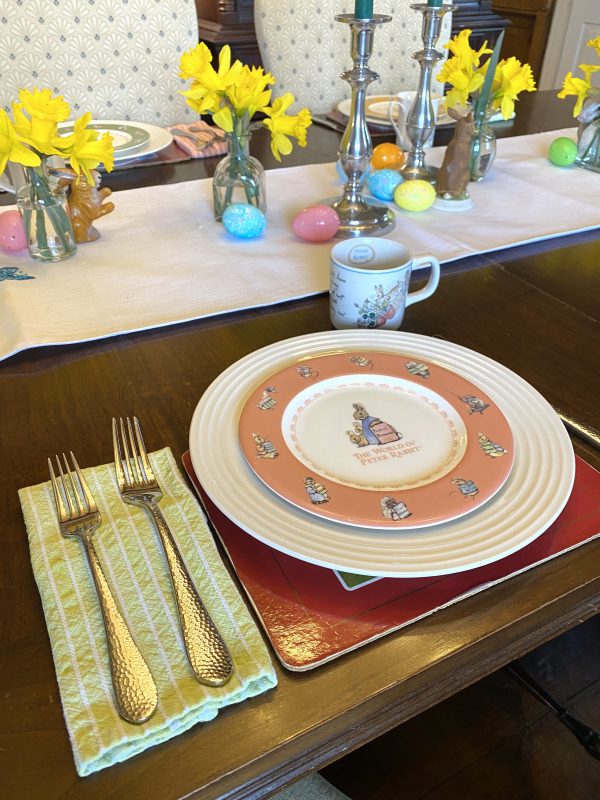 2. Fresh or faux flowers or other natural elements. Cut fresh flowers in the morning.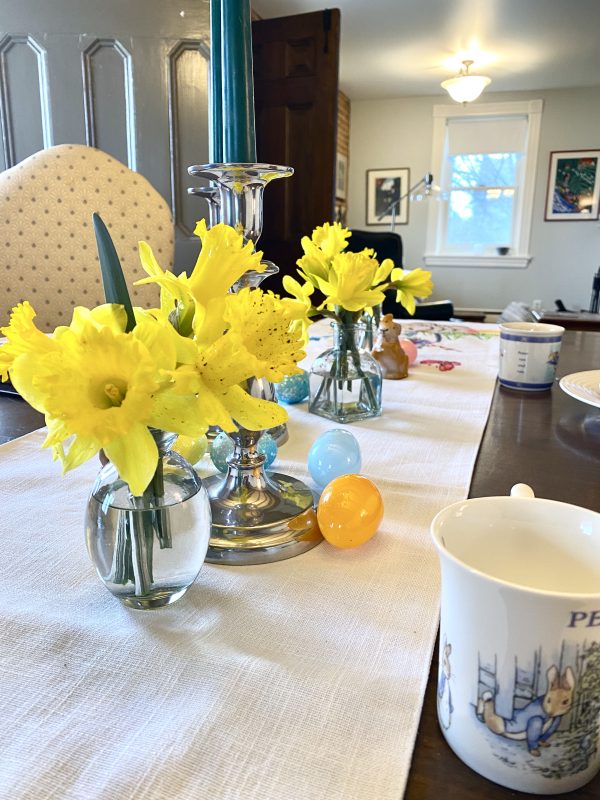 3. Variety of vases and containers
Napkins. Cloth or paper. There are so many choices in paper napkins these days. I prefer cloth and keep a look out for colors I like and easy to wash.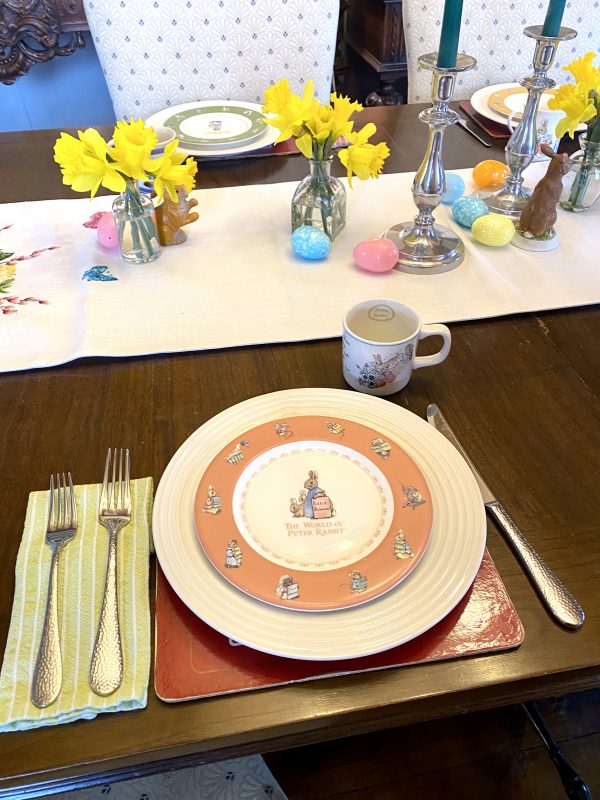 4. Table cloths, place mats or runners. All of these can be made from fabric or even wrapping paper! I use cork small placemats to protection the table.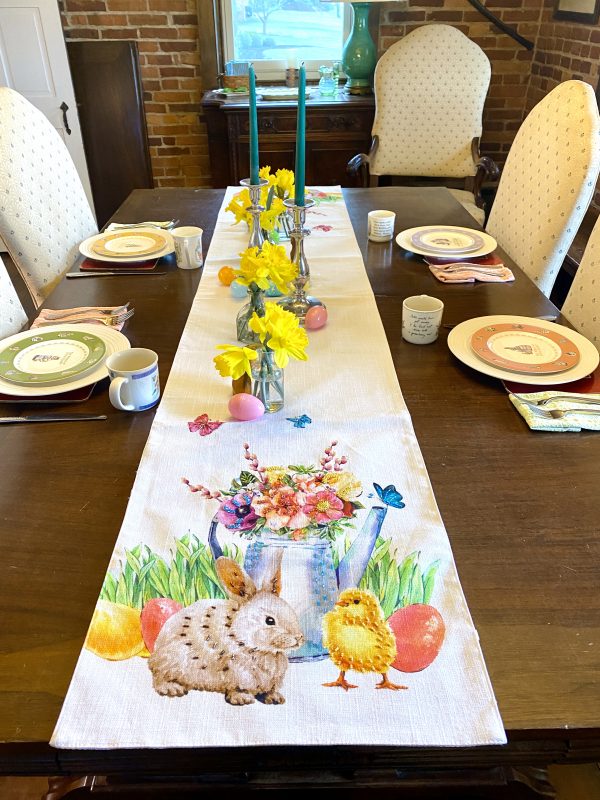 5. Decorative accessories. Spring means bunnies, chicks, eggs and flowers and maybe a few mini bird nests in many colors, styles and sizes added to the centerpiece. Votive, candles and candle sticks.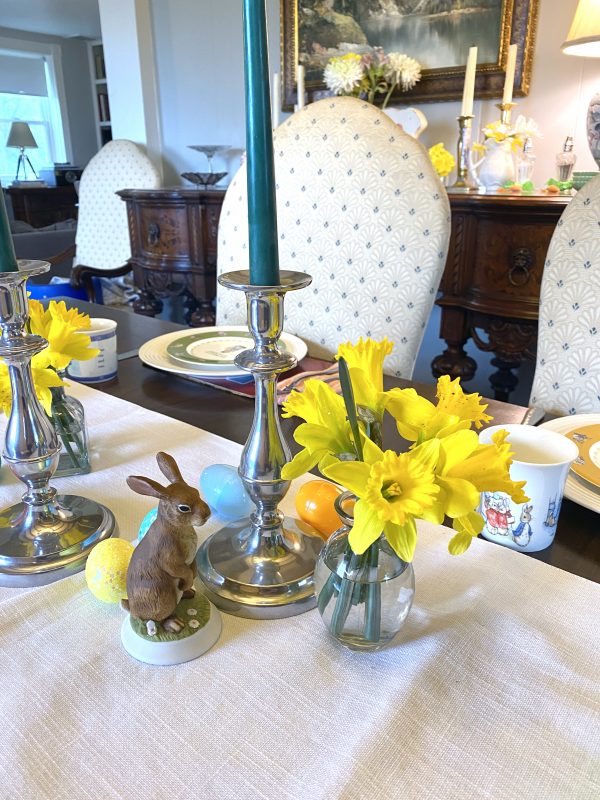 6. Bonus additions. Small plates come in many patterns and colors and prices. Pick these up at thrift shops, yard sales and store like Home Goods and Dollar General. Another option, edit for it1@ Paper plates! There are so many very cute and pretty options They can looks wonderful. I have friend who mixes and matched her dishes with paper for wonderful fun tables.
now what?
building tablescape for everyday
This table is more informal. We will be eating in the dining room this week. Often we eat lunch for our main meal so we can share it with Meg before she heads out to work.
I cut the daffodils first thing in the morning. Cutting blooms in the morning make for fresher looking flowers that last longer.
I put the color saturated table runner down the center. You may remember these candlesticks and green candles from my Saint Patrick day tablescape. They add height variance.
Then I added the randomly arranged flowers in small vases ansd scattered plastic eggs around along with natural colored bunnies.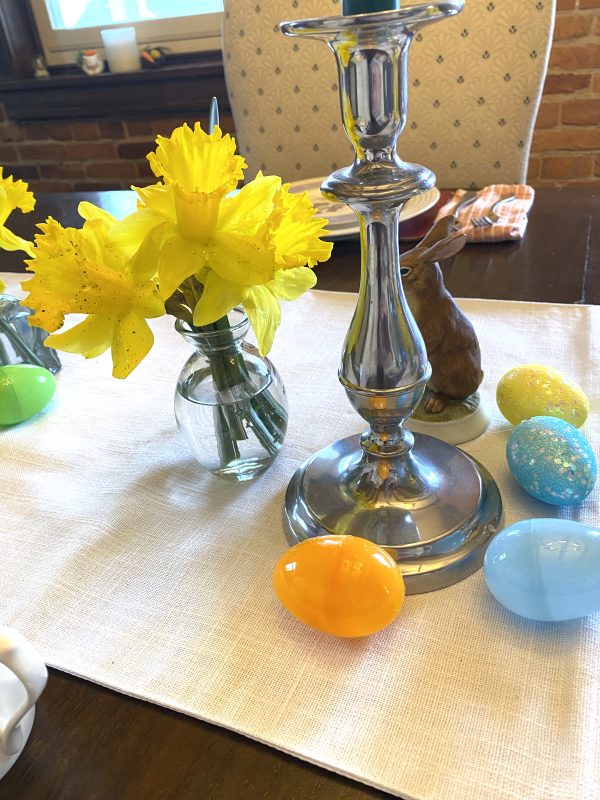 Next, I set the table with white plates first on the cork backed small placemats. I use them because my dining room table can't take heat or water. It leaves rings.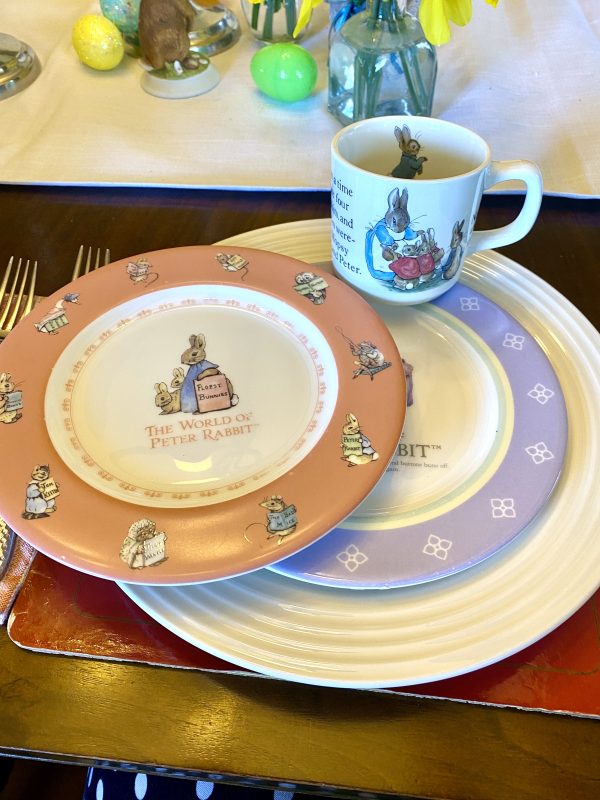 Beatrice Potter animal character small plates came next. Aren't they cute? There are several colors and designs.
I used my Peter Rabbit mugs in lieu of glasses. The triple fold for the napkins is easy one. I then folded them again to fit the silverware's length. The easy care napkins are great for every day use.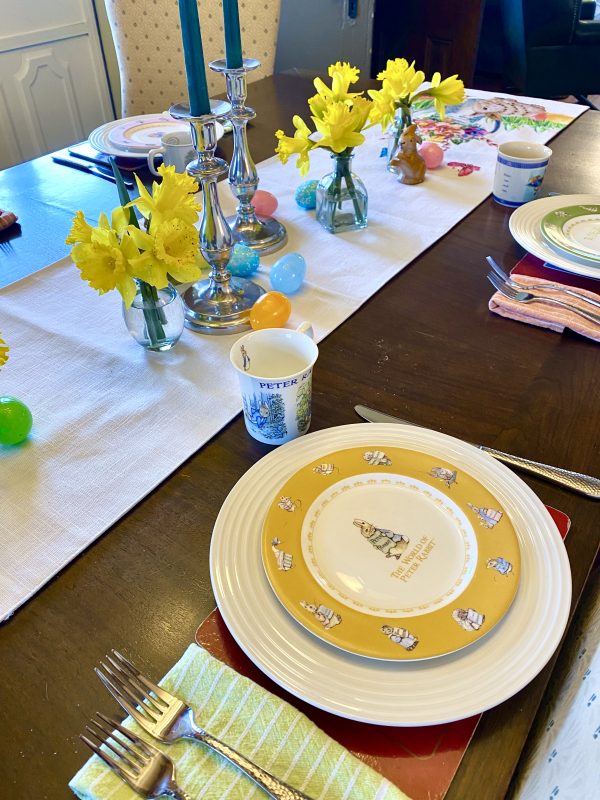 My silver is Oneida Danialli adds a touch of contemporary to the setting.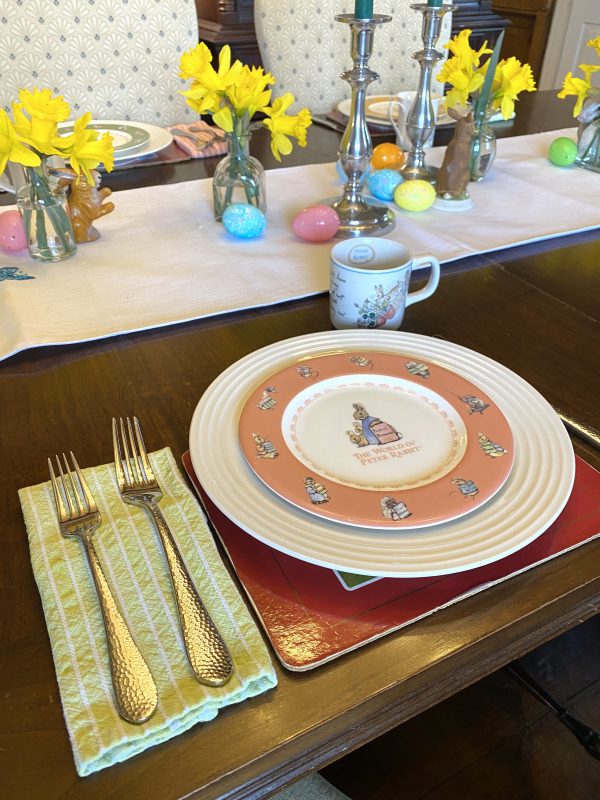 We have already eaten at this setting a few times. I change out the napkins and white plates after we eat. We eat at the tablescapes I set in both the kitchen and dining room. There may be 2 or 4 or many of us eating.
Did I mention I have about 16 white plates? Why so many? Our family of 5 children, spouses and grandchildren are frequent guests. With the collection of different styles, patterns and colors of bowls, cups, mugs and small plates I have all I need.
Tablescapes are one of creative outlets. It is an integral part of me making our home welcoming not only for us everyday but loved ones who come to our home.
Hope you are enjoying getting ready for the coming holiday. What ways are you doing just that, getting ready?
Links to same or Similar products
Here are similar items to purchase. Please note I may recieve a commission on any purchases you may make. Thank you!

~~~~~~~~~~~~~~~~