How to make the classic BLT is all about crisp bacon and vine ripened tomatoes!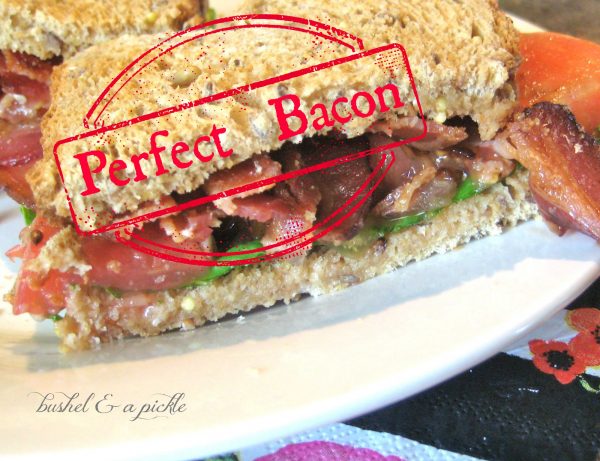 Who doesn't love a classic BLT?
Who hasn't hated the clean up or burning those delicious slices?
Tips for perfect bacon
Tip #1.  Bacon on the stove top should always be made in a heavy bottomed skillet for an even crisp.  Cast iron is really good too.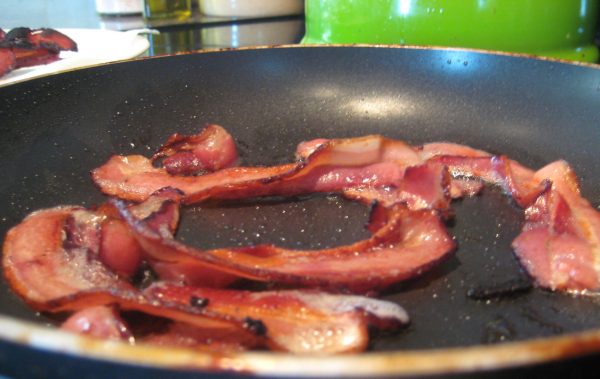 The trick to cooking perfect bacon without lots of splatter came from my Daddy.
You see, I was always in a hurry. My biggest cooking burns usually came from being in a hurry.  You know, where you turn the heat up just a little.
My cooking bacon also involved spitting and splattering making one big mess!  Simple advice often comes in a few simple words.
Linda, if you turn the heat down it won't splatter as much.
Mentally I am thinking really, that's it?  Daddy was right.
Tip #2.  If you turn down the heat your bacon will cook more evenly and won't curl up as much.
See my burned bacon…it can happen in a flash.  I walked away.
Guess what? I didn't follow Daddy's advice.
Why, oh why did I think I had a few seconds longer when I walked away?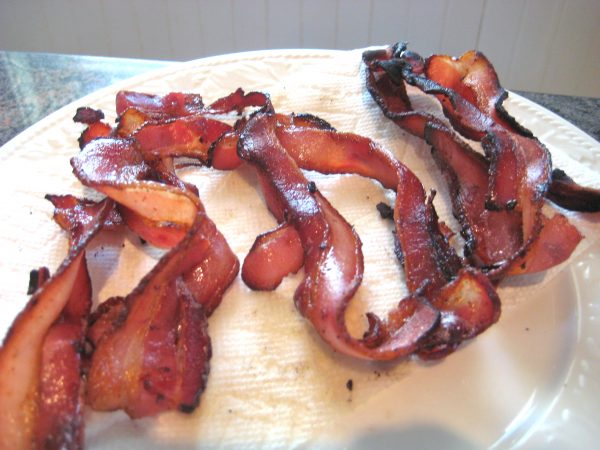 Perfect bacon just takes a little bit longer at medium heat with steady watching for time to flip and to take out of the skillet.
It is so worth the wait for a delicious perfect classic BLT!
tip #3 Broil in oven for large amounts using a sheet pan
I have been using my sheet pan for more than cookies recently with success at keeping cleanup easy. No oil leaks to burn on the pan.
Why not try it for bacon? Using a foil lined sheet pan to broil bacon as a trial might just be a better option for easy clean up. I had no idea if the bacon would still be crispy.  
My foil wasn't wide enough so I doubled it by foiling over the edges several times to seal the gap so the bacon grease would not leak into the pan. It worked. I only had to fold and toss and wait for the pan to cool before I put it up.  How easy it that!
When cooking in the oven, use the broil setting.  Broil, then flip for about 6-8 minutes on each side. Watch carefully because every oven is different! The edges may curl so if you smash them it may help to prevent burnt ends.
I was able fit a entire package on the pan; don't let the slices touch!  
It was just the 4 of us; no company. I broiled the entire package so I can refrigerate extra slices  Amy and Meg to make BLT's when they come home after work looking for a meal!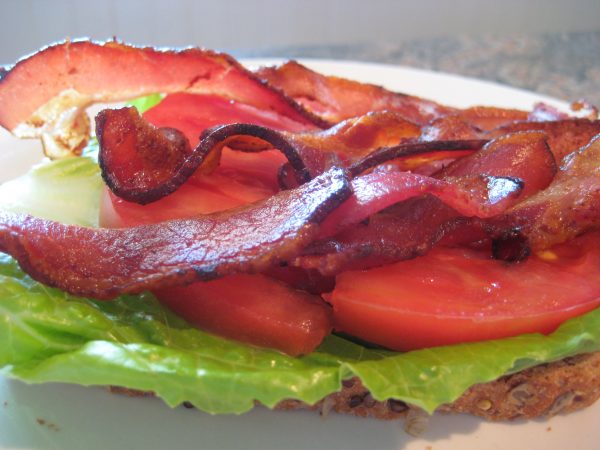 making a classic blt
Our tomatoes are ripening fast so we eat lots of BLT's. We never get tired of them!  
Have a good medium toast on your bread. Too light? The bread can get soggy. Too brown..way too crunchy. Using a multigrain bread instead of white is the only update to this classic sandwich.
Use your favorite mayo. We recently switched to low fat mayo to avoid high cholesterol content to lower Jim's count.
Layer lettuce and thick sliced tomatoes warm from the garden. That is a seasonal fabulous taste.  No salt is needed.
Don't be stingy with the bacon.
Take a big bite and enjoy the taste explosion.
Have a wonderful summer day!
Come by soon for another visit!
(Sign-up to follow is at the upper right of the page)