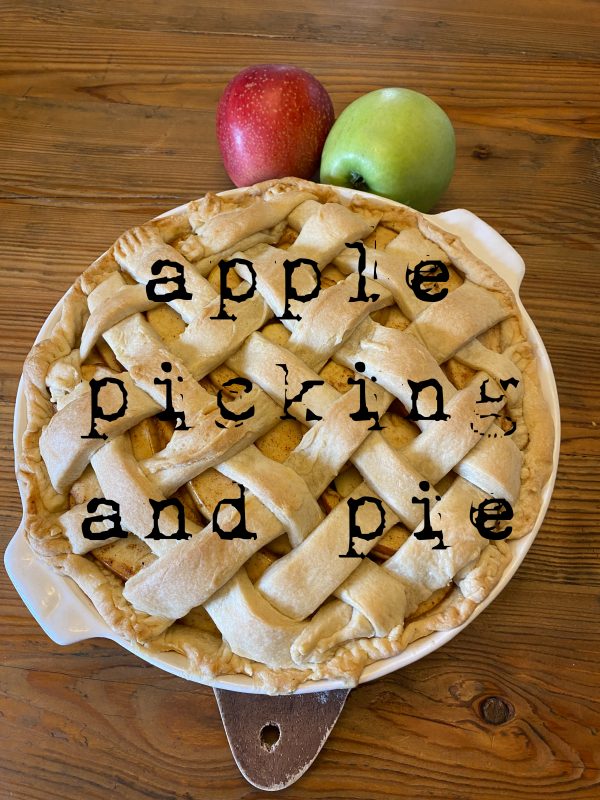 We had apple pie this week. It's 'Pick Your Own Apples' season here.
Amy and friends went. She brought home a peck.
This was going to be a post about apple pickling and pie but I didn't have any apple picking photos for this year's apples.
Side Tracked by memories
Then I got side tracked. It can happen.
Then I started thinking about when we went apple picking at the Great Wall of China,
But the girls don't remember doing that.  I started to look for photos.
Suddenly, before I knew it I was in a "If You Give a Mouse A Cookie" situation!
So I split it in half. Look for the post about picking apples by the Great Wall of China next week!
Meg's Apple Pie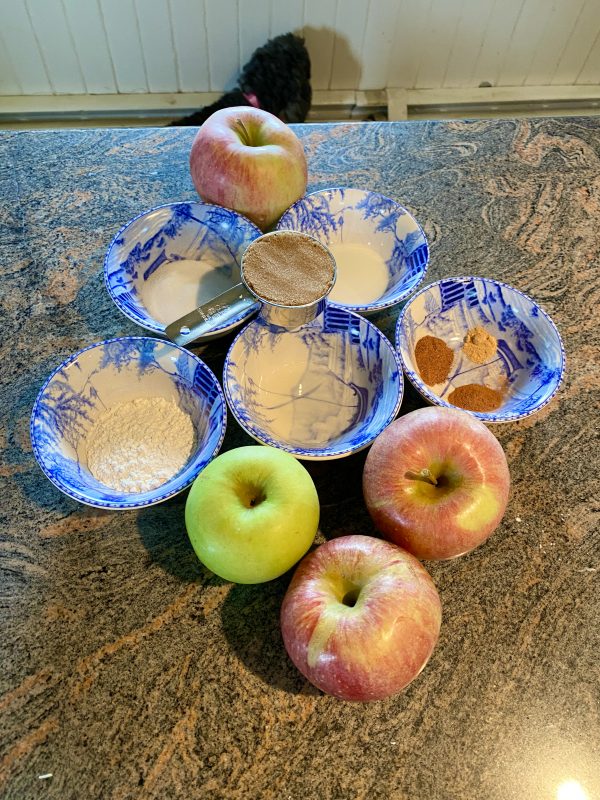 A little flour, cinnamon of course, nutmeg…measure carefully! It can overpower the other flavors. Sugar, salt too. Ginger optional in our house but not butter. Don't forget the apples!
Meg had the morning off so she made apple pie for us. The ingredients are typical.
Peel and slice apples. Dry on paper towels. Lemon juice is a flavor boast and keeps the apples from browning.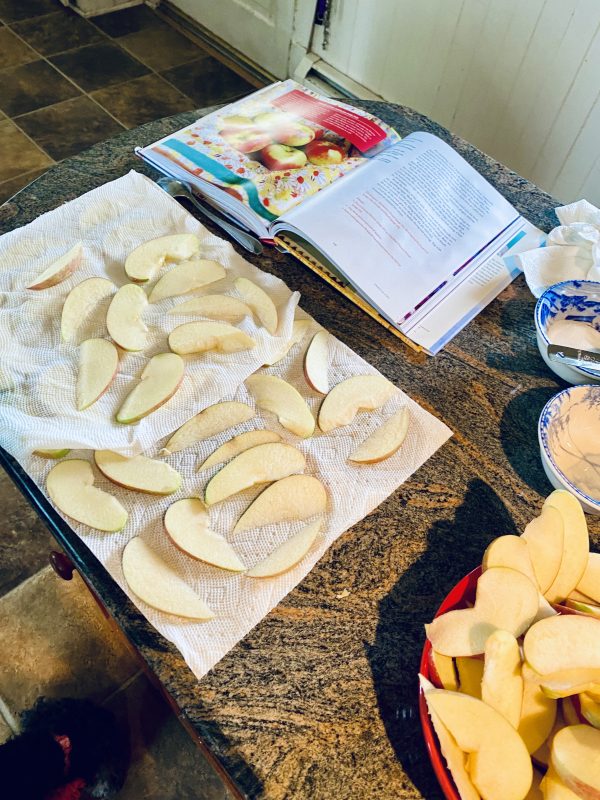 Meg used two recipes to make this pie. She's experienced enough to do that. She is confident too. One from the Pie Squared book and the other is Grandma Omega's.
The author of Pie Squared includes all kinds of slab pies for entrees and desserts. This is a book for the experienced knowledgeable baker AND for the novice.
meg's making apple pie
These days of apple picking is a few miles down the road at Cherry Hill Orchard. Amy and some friends picked apples last weekend.
If you are visiting Lancaster during cherry, peach or apple season, try picking your own to take home. We also have strawberry picking too during the summer.
Our grandsons here here while their parents go on a vacation. I am surrounded this morning with dogs, my first cup of coffee and toys.  It is still quiet.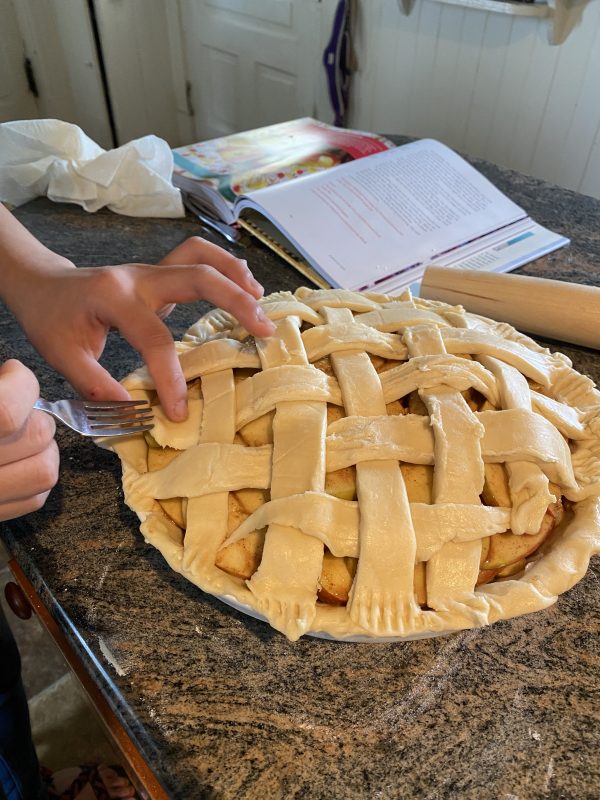 Meg did a lattice top crust. I've never done one! I recommend this book on pie making. It not only has lots of pie recipes for desserts and main dishes, it is loaded with tips! Meg got it one Christmas.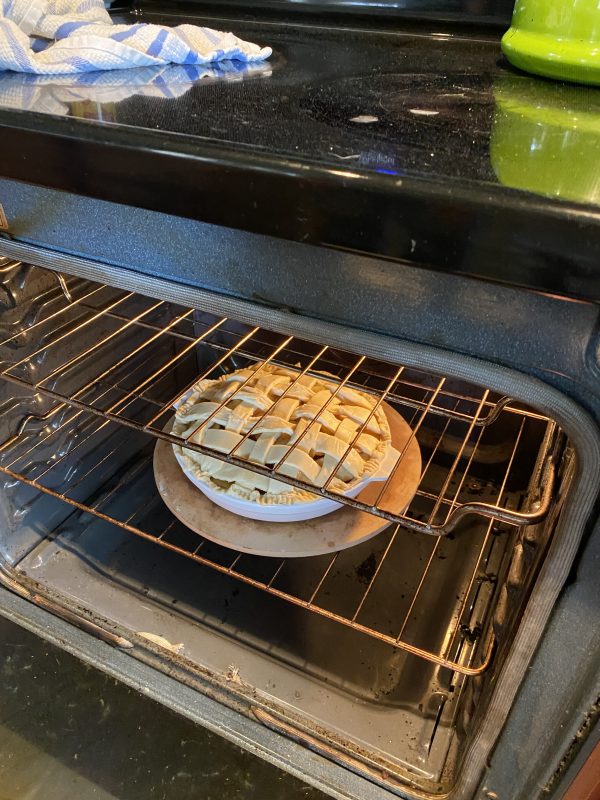 For a golden crust, brush lightly with beaten egg white or milk. Another way to make your apple pie look extra pretty is to sprinkle suger crystals or a mix of sugar and cinnamon on top before baking.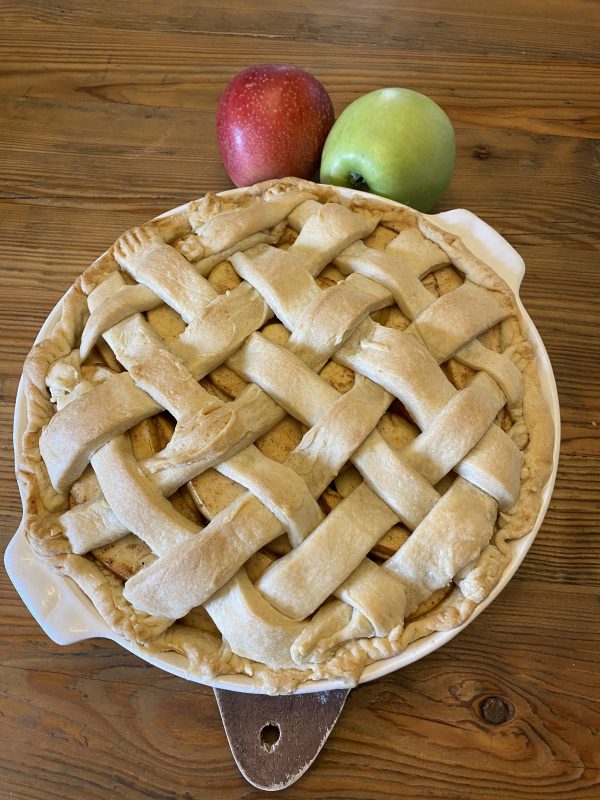 Serve warm with cheddar cheese slices, my favorite or whipped cream, Meg's favorite. Or ala mode…that's fancy for a scoop of vanilla ice cream on top.
If you make two or more, bake one and freeze the rest. Cover tightly with foil, freeze. It will keep for at least a month. Bake the frozen pie according to directions. My mom seemed to always have an apple pie on hand for company.
Meg Apple Pie
Delicious pie with fresh apples. Great for any season espcially in the fall and for Thanksgiving.
Equipment
Cutting board, apple peeler, knife, measuring spoons and cups, rolling pin, marble slab or pastry mat, 2 large bowls, 9 inch pie pan, small bowl, wisk or fork for beating the egg white, pastry brush
Ingredients
7-9

large

apples, peeled

recommend Granny Smith or other firm apples

1

teas

lemon juice

optional, use to keep apple slices from turning brown

2 – 3

tbsp

flour

use more if you like a thicker sauce for the filling

1/4

teas

ginger (optional)

1/2

teas

nutmeg

3/4

teas

cinnamon

1/2

teas

salt

2

tbsp

cold butter, cut up

2

tbsp

white sugar

can use all brown or raw sugars

2

tbsp

brown sugar

1

egg white beatened with a dash of water

1 -2

tbsp

milk

add to apples or use to coat top crust when baking

1

9 inch uncooked pie shell, top and bottom

use Pillsbury rolled pie crust. Roll until thin. If using a mat, roll until the printed words can be seen faintly.
Instructions
Preheat oven to 375 degrees

Peel and slice washed apples. Don't nmake slices thick

Dry apples on paper or cloth towel, stir with lemon juice

Put apples in large bowl. Add all dry ingredients. Toss or stir to coat.

Optional: add milk to the apples and toss or omit

Arrange apples in a heaping pile in pie pan lined with crust. They will reduce in size.

Dot top of apples with cut up butter pieces

Cover with top crust or lattice

If using a solid crust for the top, slit 3 or 4 short vent holes randomly. This allows the steam to escape while baking. Be careful to not cut the bottom crust.

Always crimp the edges to seal the top and bottom crusts together using a fork. You can also pinch edges with your fingers to seal.

Paint egg white with added dash of water beaten together on top crust for golden color.

Options for browning crust Using pastry bruah coat top with milk. Or sprinkle suger and cinnamon over the top.

Baked 375 degrees 45 – 60 minutes until golden! Sometimes you may need to bake a little longer. If it needs to bake more, cover with foil to keep crust from getting too dark.
Honestly, the only tricky thing about this pie or any pie is to not have thick crust but thinner. It just tsstes better, more balanced between the flavors of apples and crust.
Hope you enjoy the little trip down memory lane. And I also hope you enjoy Meg Apple pie; fitting pie for the fall season!
~~~~~~~~~~~
I am part of affiliate programs including Amazon. I have shared these to make easier bto find the items or similar ones we use. I do receive a small commission for any purchases at no extra cost to you.