Mom, known as Sister in her community was a good cook.  Her spaghetti was the best. We loved it.  Let's be clear, my mom was a small town girl from the Arkansas Mississippi delta.  Her last name was Anderson.  I have no idea when she learned to make spaghetti.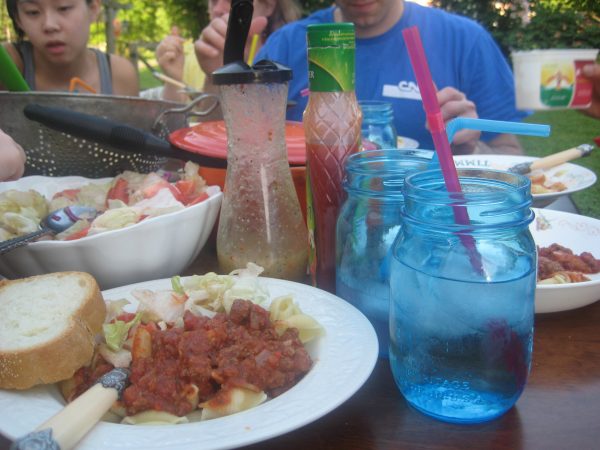 I make it just about the same way.  Simple.  Sure, I make variations on tomato sauces.  But this one makes a regular appearance at our table, in the packed lunches and for a quick easy Sunday dinner for family  gathering.   Don't you love that we can finally go out into the yard!
Add crusty bread, butter and salad…it is a delicious satisfying meal for all ages.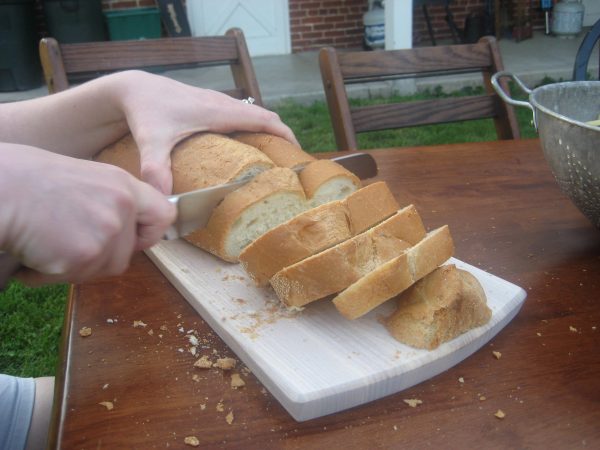 It is a delicious satisfying meal for all ages.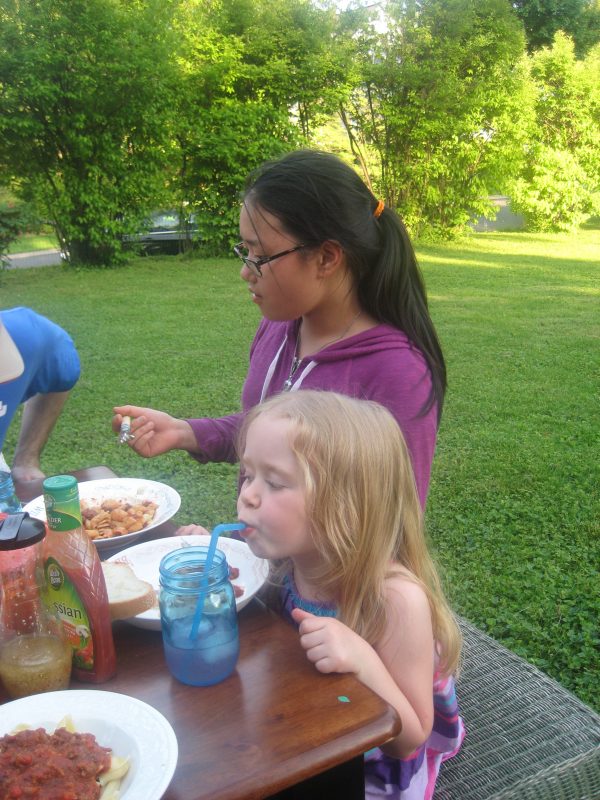 What is the secret?  
Time.
Yes, in our hurried world this easy satisfying meal takes time.  
Your hamburger meat must be throughly browned.  Throughly. No crusty edges, no black charred pieces. Then smash it into little pieces. No lumps please.  If you do that, it will make a difference! It will.
The sauce needs to simmer melting those flavors into yumminess.
You may have noticed the casual table setting.  Jim's mothers aluminium strainer full of pasta shells, pot full of sauce.  A tossed salad and dressing jars.  We carried everything out and there you have it!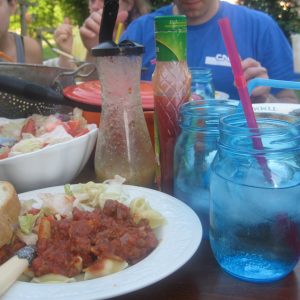 Mom's Simple Spaghetti
Delicious meat sauce for a meal fit for family and company
Ingredients
1

lb

80 / 20 hamburger meat 1 large can of tomato sauce

or puree 1 small can tomato paste 1 small can of water

1

medium chopped onion garlic to taste

about 1-2 cloves 1 Tablespoon Italian seasoning or basil and oregano Salt to taste a pinch of baking soda 1 scant teaspoon sugar
Instructions
Brown meat throughly. Drain any excess drippings. Put heat on medium. Add tomato sauce, paste and water. Stir throughly. Add seasonings. Stir throughly. Cook at a low simmer. Slow simmer for several hours, stirring frequently.

Serve with noodles and crusty bread.
What do you serve for an impromptu gathering and little work?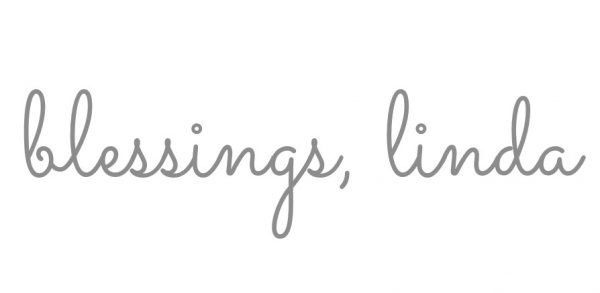 linking here
Savy Southern Style   Full Plate Thursday     Wow Us Wednesdays    The Scoop  The-Inspiration-Gallery  fabulously creative friday linky party   Be Inspired!   Inspire Me Tuesday!   Home Sweet Home   Foodie Friday  Feathered Nest Friday    Fridays Unfolded