This song is about going to Grandma's. That's me!! Love this holiday that focus for us, on being with family.
Over the river, and through the wood,
to Grandfather's house away!
We would not stop for doll or top,
for 'tis Thanksgiving Day.
Our house will be full this Thanksgiving! Five kids, 2 spouses, DIL's mother, and 4 grandkids! It makes my heart sing.
So grateful for our expanded dining room. There is plenty of elbow room around the table. Our dining room get lots of use which is one reason why we knocked that wall down while renovating.
I wanted to try this tablesetting out before the holiday weekend; better to be prepared!
This table setting its a transitional one that can be for any of the winter holidays. I collected the muted slate blue, bronze, olive and white Christmas balls in antique dough bowl for a rustic blend that is warm and welcoming.
Over the river, and through the wood-
oh, how the wind does blow!
It stings the toes and bites the nose,
as over the ground we go.
Next I add a collection of mercury glass votives and tall candle sticks. Around those I placed the coffee set. This table setting could be for any meal. Last added was the small salt aand pepper shakers. The white with blue flower china is so pretty on this tablecloth with the accessories.
The hammer silverware is new. It is a change for me having a more contemporary look. Nancy encouraged me to buy it, saying my style has changed over the years.
"Don't buy something you don't love Mom!"
How many times have I said that to her?!
I bought what I loved. Doesn't it look great with the delicate elegance of the china for this fresh rustic look?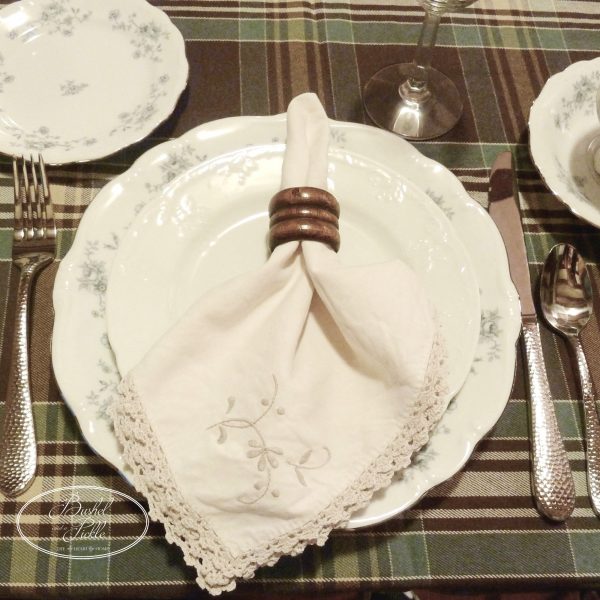 Over the river, and through the wood
and straight through the barnyard gate.
We seem to go extremely slow-
it is so hard to wait!
The tablecloth is from our local Pottery Barn outlet last year. Season end sale made it very affordable. Whenever I find one of an extra long one on sale that are beautiful I snatch it up. The dishes are pure white with blue flowers; the creamy laced edged embroidered napkins suit with the wooden napkin rings that are from our early years. I am always looking for fresh ways to use what's in the cabinets!
Over the river, and through the wood-
now Grandmothers cap I spy!
Hurrah for the fun! Is the pudding done?
Hurrah for the pumpkin pie!
There will be plenty of pies and everything else.
Hurrah for the fun!
How are your Thanksgiving preparations going?
This song originally appeared as a poem written by Lydia Maria Child. The poem appeared in Flowers for Children, Vol. 2 in 1844.
~~~~~~~~~~~~~~~~
The links provided may not be exactly like the ones I have but are similar. They are provided for your shopping convenience.
I am an Amazon Affilate and may recieve a small commision for any purchases you make at no extra cost to you!