This autumn menu is a wonderfully delicious offering of seasonal flavors. On Sunday, our daughter's family joined us after church for this delicious meal. The cooler weather marked the anticipation of changing colors!  Fall means school starting for a new academic year, crisp mornings and evenings and the end of the summer garden vegetables.  After clearing the table, we adjourned to the backyard to enjoy the afternoon.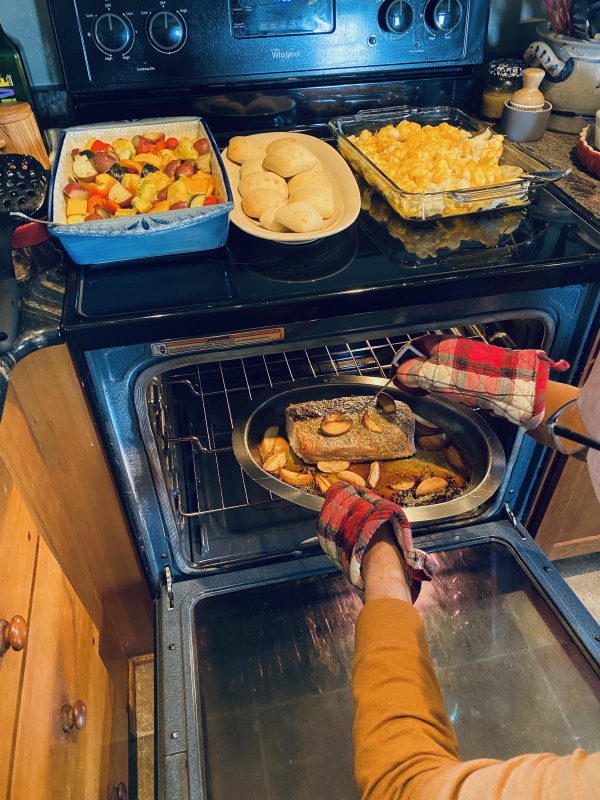 Fall Menu
They came hungry, ready to eat! Timing is important when making a meal with several dishes for your hungry grandkids! Having the meal ready to serve is good for both family and guests.
Caprese Platter Roasted Pork Loin with Rosemary, Thyme and Apple Slices Jim's Roasted Vegetables Cheesy Cauliflower Hot Rolls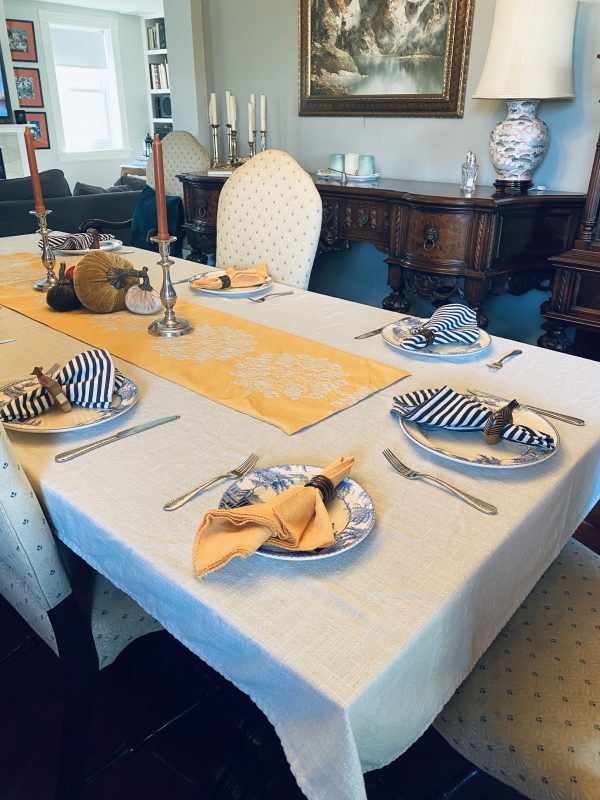 be ready!
Setting the table and preparing and cooking food before everyone arrives makes a better time for YOU! That takes some thoughtful planning ahead and not just for the grocery shopping! Save yourself some frenzy and enjoy preparing the meal to be ready to serve the main dishes at the same time. This meal did not include any appetizers hot or cold. If you do plan to serve appitizers they should be ready when the compnay comes throguh the door! Planning a time line for preparing your delicious meal and following it really can make a difference in your enjoyment and by extension for your guests too!
Slicing and layered the caprese salad first then refridgerating it was quick and done! Just before serving it, I drizzed just plain thick rich balsamic vinegar over the top. Check out StoneGable's caprese tower version here for beautiful individual servings with a different balsamic vinegar.
Backward planning your timetable is the most helpful for me. What takes the longest to cook and what needs to go in last are good start points. Don't forget; often you can prepare dishes the day before. These are lessons I learned years ago!
The hardest part of making roasted vegetables is cutting them up into bite sized pieces. For this menu I used late summer garden vegetables straight from our garden. This is Jim's contribution including making the dish! Cooking the potatoes, zucchini, onion, yellow peppers, tomatoes in phases is key! Check out this other excellent recipe for roasted vegetables with an extra pop of fall flavor with cranberries from our DIL, Hailey.
Scroll down for Jim's Roasted Vegetables and Cheesy Cauliflower recipes.
afternoon lingering
After Sunday lunch we all went outside to sit in the warming sunshine. Emma brought out a new board game for her. It's called Hit the Beach! This old board game was Jim's when he was a kid. She persuaded him and her dad to play.  
The kids played and played in the warm sunshine! Did you know hola hoops make great stepping stones over lava? What an imagination they have!  
Taking time to just linger in the sun was wonderful! The strains of a busy work and school week just faded away. After awhile, we had afternoon coffee and simple ice cream as our dessert.  
day is done
Eventually we moseyed back inside when the sun was going down. Nathan grilled the burgers. Add condiments and chips with paper plates for a quick end of the day supper.  
Hope you can take time to linger over good food and enjoy the autumn afternoon sun!
Jim's Roasted Vegetables
late summer garden roasted vegetables
Ingredients
6-8

red potatoes

1

cup

pearl onions

optional: thinly sliced medium onion

2-3

yellow peppers

2-3

med

zucchini

1-2

med

yellow squash (optional)

1-2

cup

cherry tomatoes

1-2

tbls

olive oil enough to lightly coat vegetables

1

tbls

Italian seasoning mix or mix of basil and oregeno

adjust to taste
Instructions
Preheat oven to 375 degrees

Rinse and drain all vegetable. Peel the onions

Cut pototoes into bite sized pieces.

Toss potatoes and onions with olive oil and seasoning; put in baking dish or on baking sheet

Cut zucchini into bite size pieces

Toss with olive oil and seasoning

Add to potatoes. Bake together for 10 minutes

Cut yellow peppers into bite sized pieces

Toss cherry tomatoes and yellow peppers with olive oil and seasonings

Add to baking vegetables for an additional 10 minutes

Baking the vegetables in stages insure equal doneness without overbaking the more tender vegetables. Adjust the olive oil and seasonings to taste as needed. Bake uncovered.
Cheesy Cauliflower
Side dish that is excellent especially with pork
Ingredients
1

medium

head of cauliflower

1/2

cup

mayonnaise

2

teas

yellow mustard

salt

1/2

cup

shredded cheddar cheese
Instructions
Boil water. Optional: add 1/2 or less salt

Remove core and leaves from cauliflower head. Rinse and drain

Cut into bite size pieces

Boil cauiflower 15 -20 mintues under just tender. Don't over cook

Drain and put into ungreased baking dish

Mix mayonnise and mustard together. Add a little more mustard for extra an extra tangy flavor.

Top with shredded cheddar cheese

Bake at 375 degrees for 10 minutes or until cheese is melted and slighly bubbly
Share some of your autumn dishes and how you get ready for company with us.. Also if you enjoyed this post, please subscribe to my blog and never miss future ones! Looking forward to hearing from you!
~~~~~~~~