Menu for Thanksgiving 2015
This weekend Nancy, my oldest asked me what did I seem to always forget when preparing                     for a large group meal?
She is looking forward to hosting our family Christmas gathering.  I think her whole family is.  Menus are being discussed between her and Nathan.  Some food has been purchased.  We are bringing a card table and a few chairs.
There will be a few pluses there  too; all together.  Nancy has always helped me since she was a child.  But she hasn't usually hosted  for these big day long holiday type special occasions. We'll be hanging out there most of the day eating, exchanging gifts and playing games. There may just be some napping too.
So what did I tell her?  "Hmmm.  Well, I guess this is what I do.  I started going through my plan process."
She started to jot down some notes.
Time to make it official with a post and "formal" list.   I do hope you can take it and adapt it to what will work for you.
Why do I take the time to plan?  So I don't stress out; so I don't forget and so I can enjoy the time with family and friends!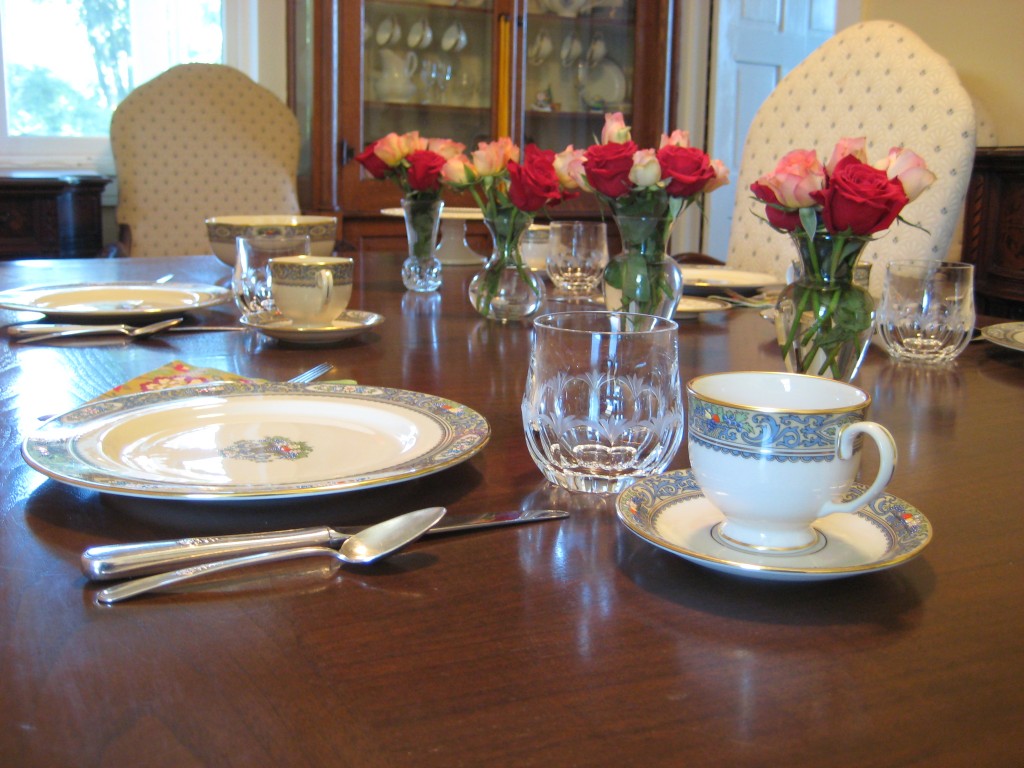 Formal & Fancy… I used paper napkins
What do I plan for?   EVERYTHING!
Hopefully everything that involves the meal from shopping to the last bite.
It isn't just about the food and timing. 
 It isn't just about setting a table.  
           It is all about the coming together and the sweet fellowship!  
Are all the serving dishes washed?  Napkins on hand or do you need to buy some beautiful paper ones?  Is the silver polished?  Are there enough glasses?  What vases will I use?  Candles?  Dessert plates?
Sugar and cream or milk for after dinner coffee.  Decaf or regular?  Flavored creams on hand?
When planning I also include table items needed for all the food, people to eat on and to look pretty and creative.  I want to be relaxed and everyone else too!
So many details but once you plan and get in the habit, it is not overwhelming and can actually be fun and enjoyable.  
Silver  China  Paper… it is all pretty
If you don't have enough dishes or whatever for the family gathering of  6 0r 15 or 20, borrow from friends or family.  There are rental places  or use nice plastic party goods.  The nicer stuff can be washed but do those plates by hand. They warp in the dishwasher, for future gatherings.
Drop by the local Goodwill or scout out flea markets for those extra dishes, forks and glasses.
When planning I also include table items needed.
1. Write out a menu leaving lots of white space to make corrections and additions
This is always my first step, transferring my thoughts to paper.  When I see it I know what to add or subtract. My mind and me can get carried away!
2. Make an ingredient list next to each menu item
I check my fridge, freezer and pantry for items on hand.  I include all the ingredients.  Yes, I have assumed there was sugar and there was not any!  Or garlic or onions or…
3. Make a clean grocery list with extra white space
White space is for the items I forgot. I need room to jot them down in the store.  Shopping can take me a couple of hours if I am buying for the weekend or more than just the crowd meal.  I plan for that and the putting the groceries away.  My preference is to do only that on one day and prepare the meal another.  We all know that is not always possible!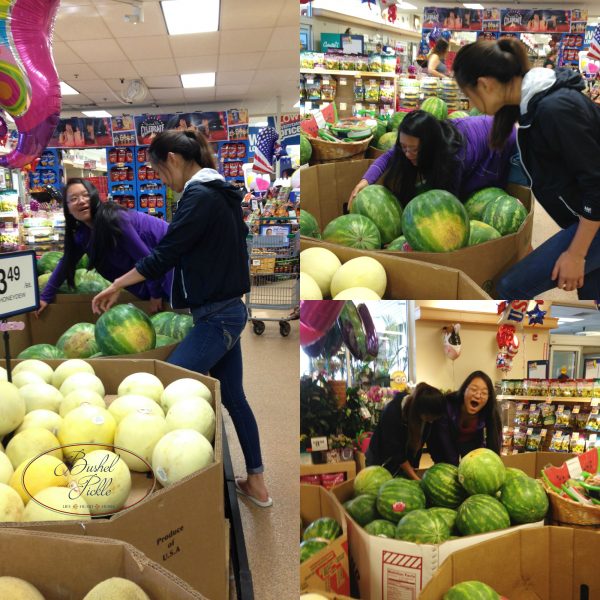 My cute helpers…every trip is an adventure
4.   Make a list of other extras needed to be purchased.
Often I will decide how my table will be set based on the flowers or plant available at the grocery store flower section.  I go to Party City usually for any paper items needed.  I also order from Amazon if I plan far enough in advance!  I don't often use "paper" plates but when I do, they must be sturdy ones (sometimes disposable plastic) that are color and theme coordinated with napkins to match.
5. Make a clean copy of the menu for the refrigerator for all to see
This is especially needed if others will be helping.  For family gatherings we all pitch in.  If it is for other company, my girls may help if available.  This list helps me keep every thing orderly in my mind.
6. Next, make a time line for all the preparations.
Include all the stages of cooking for each dish.  This is when does what need to be done.  First I take each item prep time including cooking or baking.  Then I collate it.  Keeping timer or two is handy. I always need one for the bread or I burn it!   My kids do give me a hard time about that.     My work copy is messy so I make another one to use.
7.  Time to cook and bake! 
Prepping some of the dishes ahead of the day can the day of less hectic.  Frankly, I try to have simple menus, more on that later, except for those extra special holidays or special meal request for my husband or kids.
Do I do this for every big crowd meal?  Yes, even for a simple menu when I have guests.
8. Setting the table.
Set out the baking and serving dishes with serving utensils ahead of time.   Make sure you have enough dishes, bowls, plates and silverware for everyone.  Glasses seem to always be in short supply for our family time.  Add the pitchers and condiment dishes too along with any other extra you might have like bread or cheese boards.  Lay out the tablecloths or place mats plus candle sticks, candles and other decor.  I often use grocery store flowers or plants.  Ours usually has a very nice, affordable selection.  For large gatherings, we need leaves put in the table and extra chairs. Taking the time to plan your meal before diving in the preparation can make your day and time with everyone more enjoyable.  Grabbing this and that and not actually being ready can cause some panic and stress which is NOT fun for you or anyone else!
` 9. Enjoy!
How do you prepare for large crowds at your house?  Any tips for us?