My college girls are in the house!  Between my schedule, Jim's and theirs I need meals that I can cook and leave set out.  Meals together are rare.  Anyone with older kids ho drive and work know whatI mean.  Even your athletes keep odd schedules.
It's all part of changing season of families as circumstances change.  After years of meals together around the table, We have to schedule those times.  Frankly, weekly for the Core 4 as we're called by the adult kids is not as often as I would like.  When they come in around 9 or 10 after work we often slip into the kitchen to join them to hear about their day and to just chat.  I sit at the table with them perched on stools at the counter.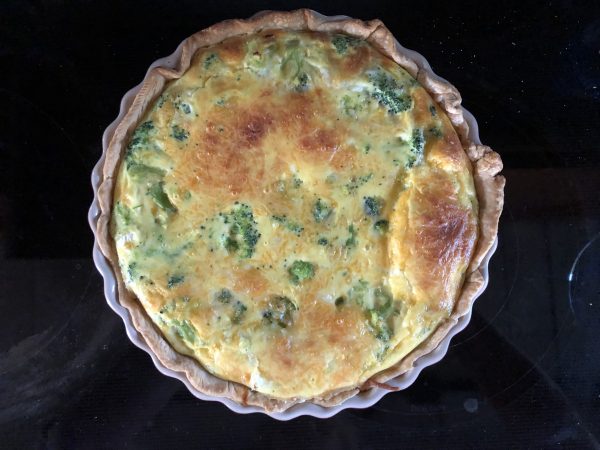 This morning I made quiche.  Pastries and toast are more typical; sometimes with cut up fruit.  Often ham or prosciutto and cheeses are pulled out too.
Yes, I use pre-made pie crust.  My favorite brand is Pillsbury sold in sheets.   Sometime I do get the frozen in aluminum pans too.  I have this great red quiche dish, a gift from Rob and Jess a few Christmases ago that I love to have a reason to use!
This morning I cooked some extra broccoli I had on hand.  While it boiled to a tender state, I minced less that half an onion.  It was fairly pungent.  I didn't want the onion to overpower the delicate flavors of my quiche.  I sprinkled it evenly over the pie crust in my pretty red dish.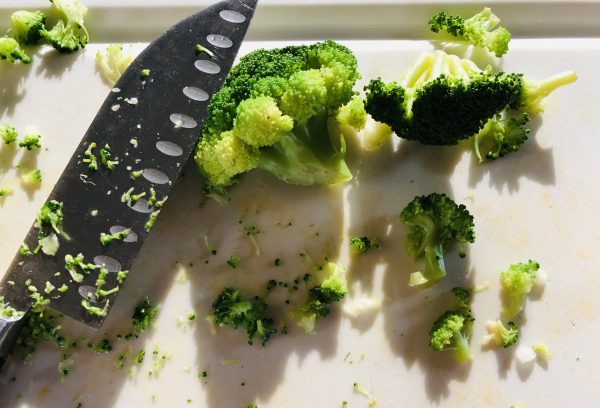 After draining the broccoli, I chopped them into smaller pieces them added them to the dish.
Next I beat my eggs and added milk and cream mixture.  Bet you didn't know quiche could be perfect  for those bits and portions that need to be used if possible before they go bad!  There was 1/4 cup of whole milk and a 4 oz carton of heavy cream that was approaching the use by date.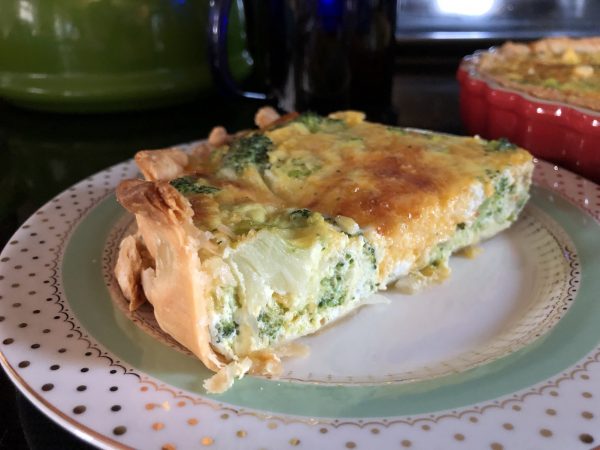 Those partial bags of shredded cheese?  Mine were cheddar and mozzarella.  Confession, I set them out but forgot to mix them in the egg mixture so I add to stir in in the dish.  I used my finger so I wouldn't tear the crust.  If I plan ahead I use Swiss which is a traditional flavor.
I do season the egg mixture with white pepper, a sprinkle of salt and several drops of Tabasco or crushed red peppers to enhance the flavors.
It's a quick bake at 375 degrees for 30 minutes.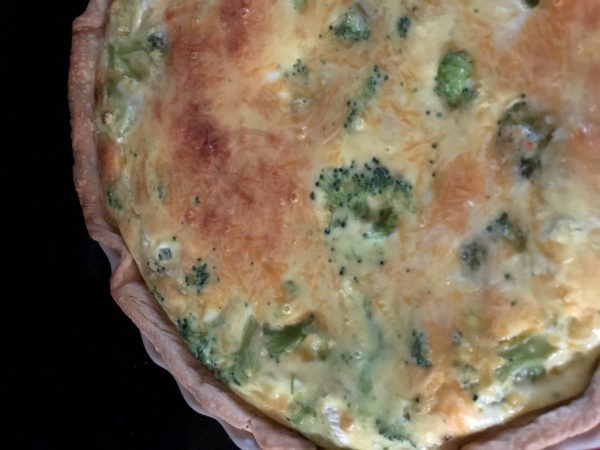 Quiche for 8 -10 inch pan
Prep time is about 15 minutes plus 30 minutes baking time
3/4 cup shredded cheese  Use any other these or a mix Swiss, Cheddar, mozzarella
 4  eggs to one cup of milk.  Use whole or cream or a mixture. When I use my 10 inch pan I add another egg.
**Tip:  Standard ratio is 4 eggs to 1 cup of milk
Added ingredients
1/2 scant minced onion
chopped precooked broccoli
Other options:                                                                                                                                                                                                           cooked breakfast sausage, chopped ham, pre cooked crab, pre cooked cut up shrimp, cooked bacon crumbled pieces
Mix cheese in the egg mixture
Pour into prepared dish.
**Tip: This freezes beautifully which is great to have on hand for guests
Bake at 375 degrees for 30 minutes.
How pretty is that for your bleary eyed family!