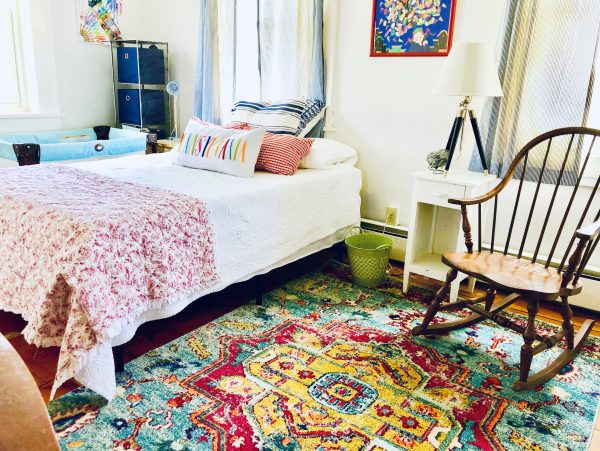 Whew! Got it ready for my grandson with his folks arrived. He's one. See the portacrib? He and his cousin have a semi permanent bed ready for anytime they visit.
It's a catch all room! No doubt about it. It is also officially the guest room after being different kid bedrooms plus the "I'll deal with it later" dumping space. It's storage! It's art and photo room. There's just nowhere to put the hodgepodge of assorted photos, slides and art supplies.
Rugs and pillows have been my key to refreshing. Art and accessories have moved or stored in the attic (where photos don't go).
Spreading the cost over time was prudent as I considered how best to refresh this room. First, I reorganized, gave away and threw away.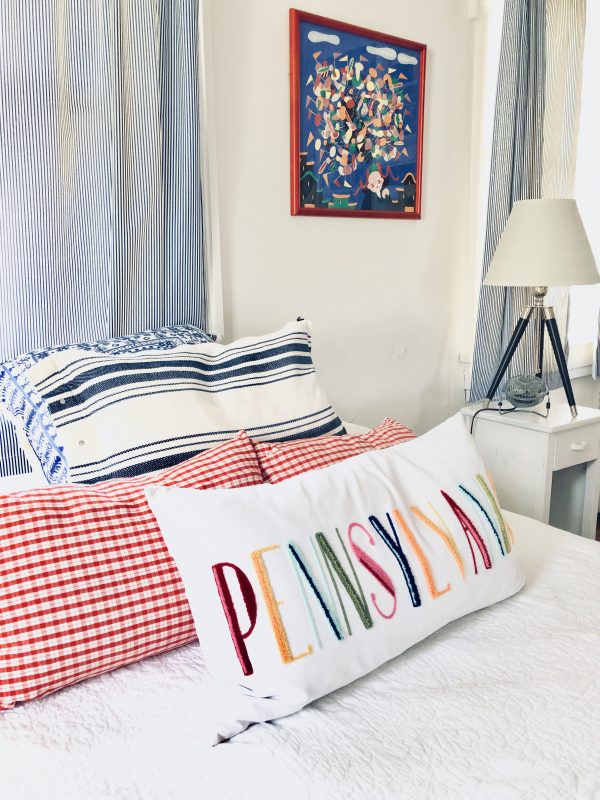 The rocker for actual rocking our baby grandchildren. Plus I like having a comfortable chair in a guest room.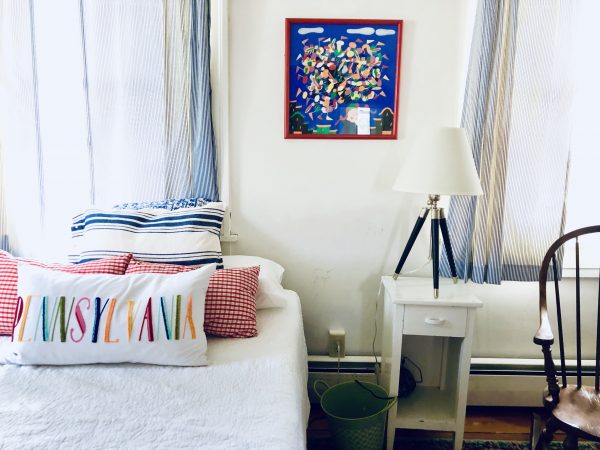 By the way, it will be the preverbal forever before I get this super slick and magazine perfect.  There are not enough closets in our old farmhouse or cabinets with doors.  Evidently, peope didn't have as much stuff as we do!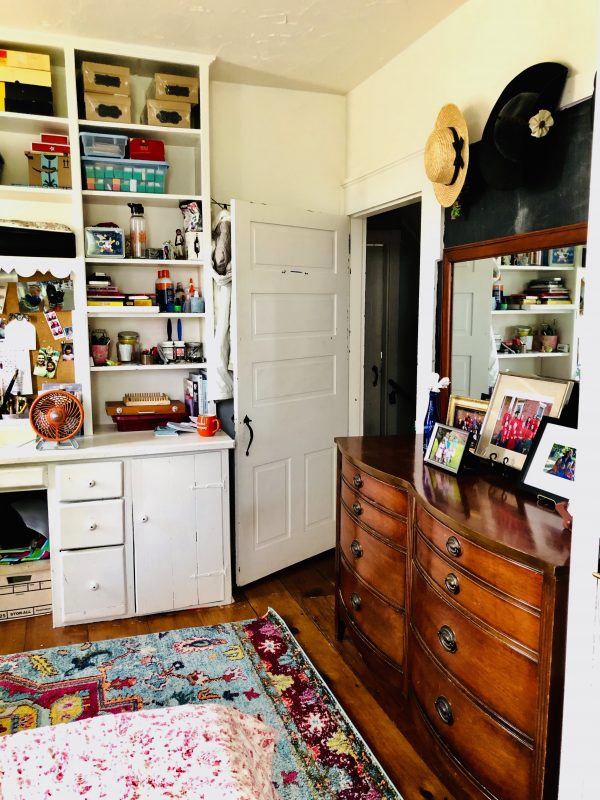 Obviously, the sorting is still going on. Our 40 years of photos and slides needs a lot of shelf space. The bottom half is art supplies and kid memorabilia. But, you know, you can still have a pretty room even with the imperfections.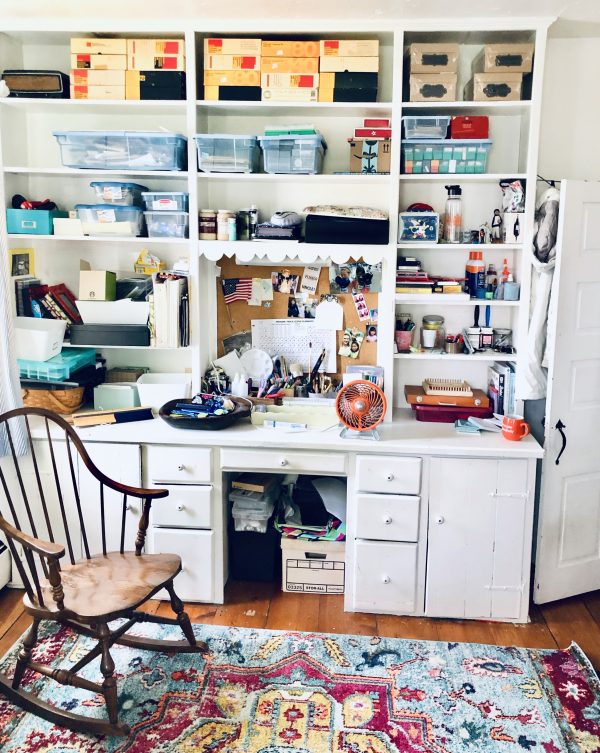 As part of the refresh, I bought new white sheet sets. That meant the linen wardrobe was cleaned out. Fall and Christmas lap blankets are now stored away. Old bed pillows where tossed. Sheets were bagged for give away. A nice tidy linen wardrobe makes me smile.  So does this clean dresser top!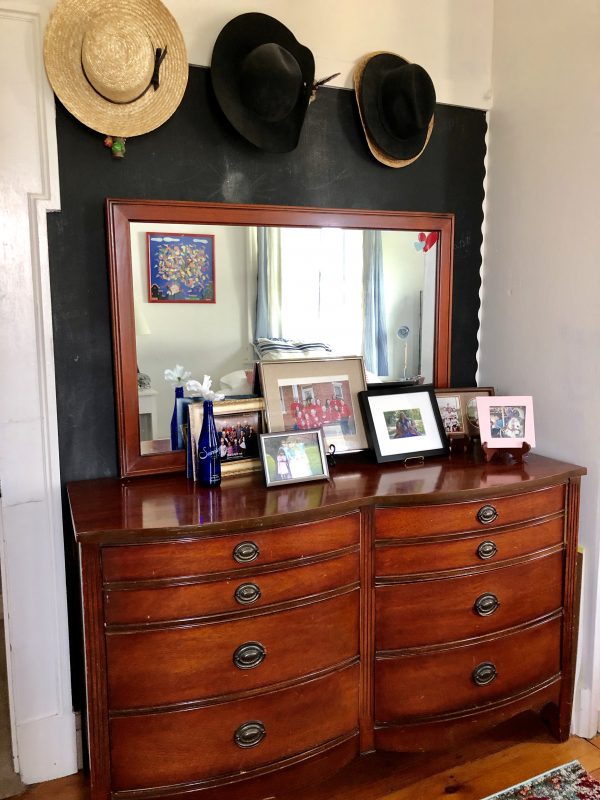 I wanted to continue the homey comfort farmhouse feel with red and blue colors. The curtains and quilts were fairly new and not in need of replacing. The room had been painted last year with Behr Swiss Coffee, our go to white. Blue ticking semi black out curtains are from Target. I don't recall where the reversible quilt is from, mostly likely from Home Goods or Target.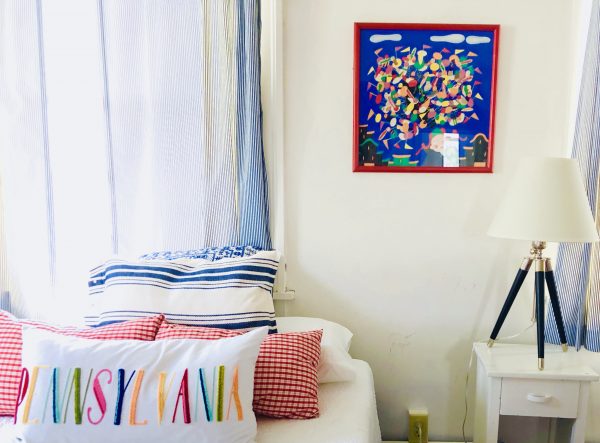 Notice there is a port a crib next to the wall behind the bed. With 2 grandkids who still nap it is tucked away on the far side of the bed. The wooden rocker adds to make the room comfortable. I love a comfy chair in bedrooms plus it's nice for moms and our smaller visitors.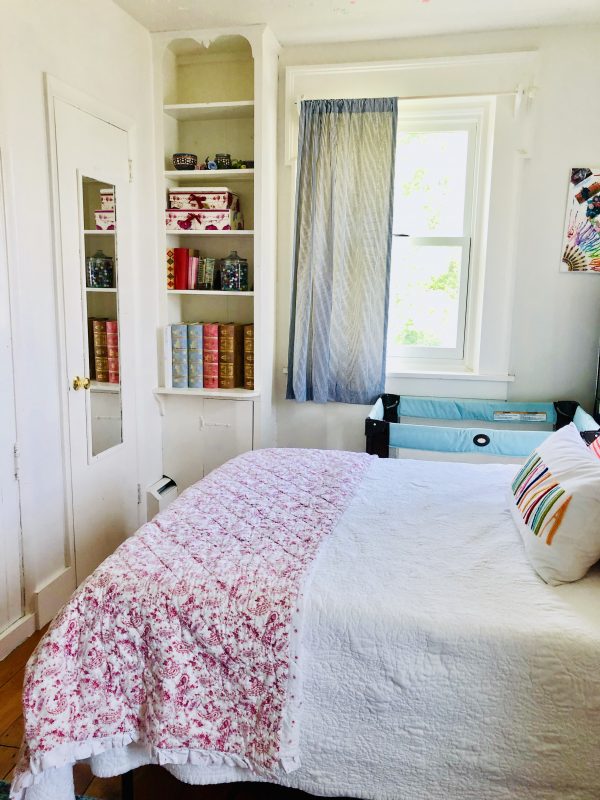 The main change was the addition of this bright colored rug. As rugs tend to be, it was the anchor that brought all the colors together. I liked the fun colors with a nod to traditional designs. The description is boho with a bold Old Wold influence. Find it HERE.
The art is Tianjin peasant folk painting. The primary colors fit the playful subject of the street vendor.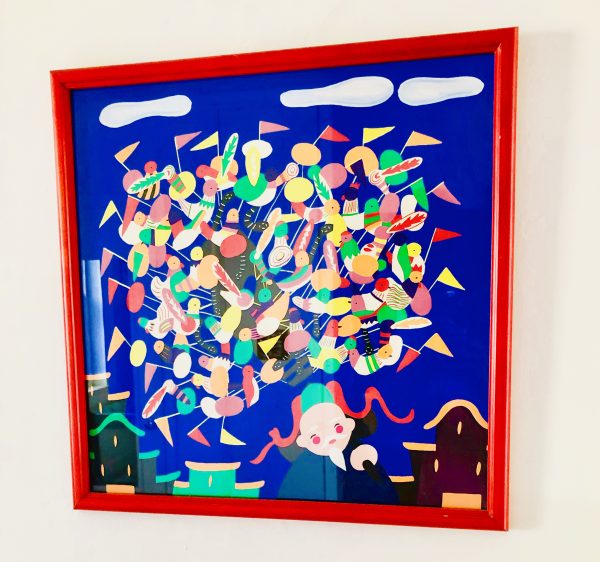 A melted crayon piece Amy made years ago for a gift continues the primary color theme. Blue ticking semi black out curtains are from Target. I don't recall where the reversible quilt is from, mostly likely from Home Goods or Target. An eclectic collection of mismatched furniture adds to the welcoming comfort farmhouse charm.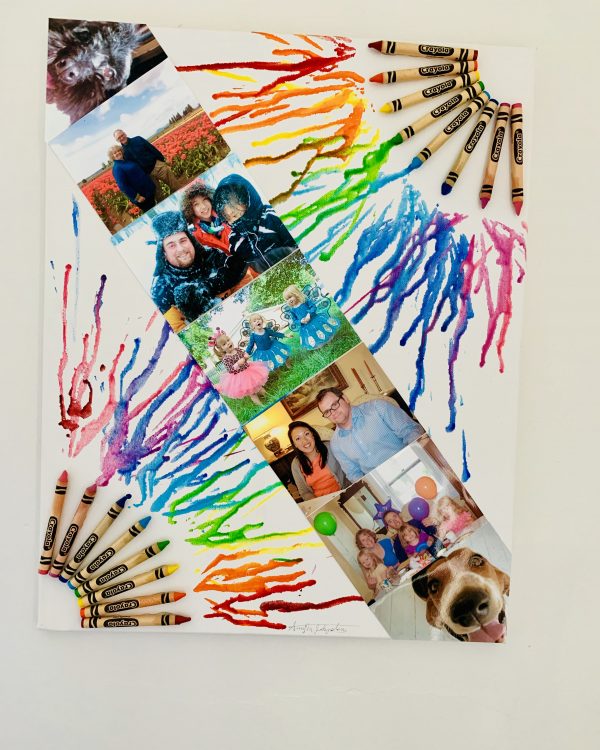 Using pillows from storage like the IKEA ones with red checked backs and the blue ones (Home Goods) were just right for the white bedding and pretty quilt folded at the end. Add the cute Pennsylvania pillow with fun bright colors and it's finished!
Multi-use, not perfect but perfectly welcoming room for our guests. And for Jim and I to do massive amounts of photo sorting!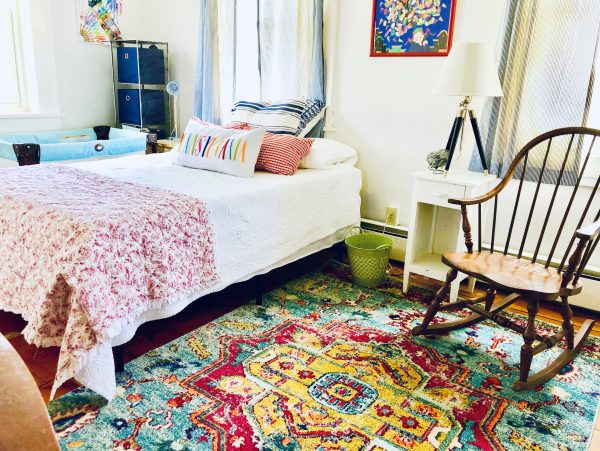 Finished just in time for summer company!