Easy Meal…spaghetti and meatballs is one of my go to recipes for easy prep and easy cooking with great results! Family approved!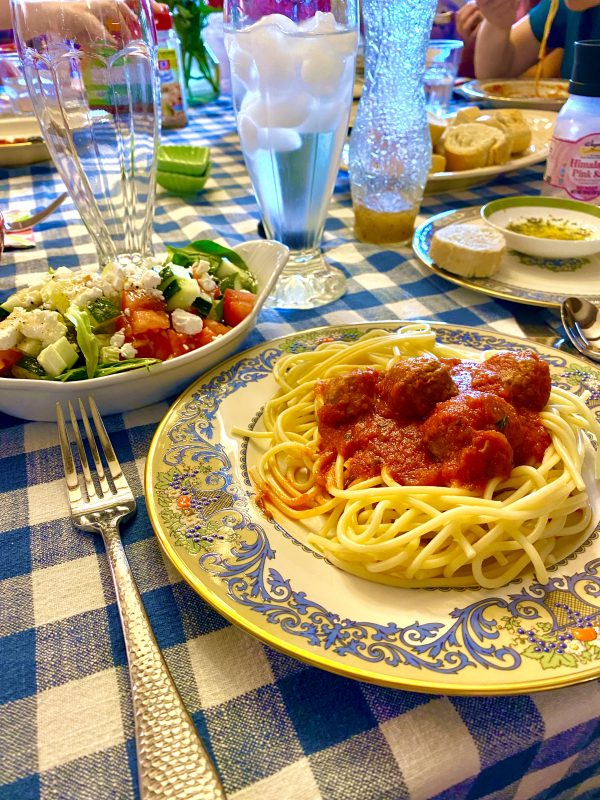 Regardless of who is eating around our table, I want everyone to enjoy the meal. We may have 2 to 18 around our table.
The last two of our children are intransition and still living at home. That's okay with us.
Between their work hours, renovations and time with friends, all of us sitting together for a meal is rare these days. Our tradition was meals together as all our kids were growing up. But now, being supportive looks a little diffierent. These days I have to reminder myself to also be flexible.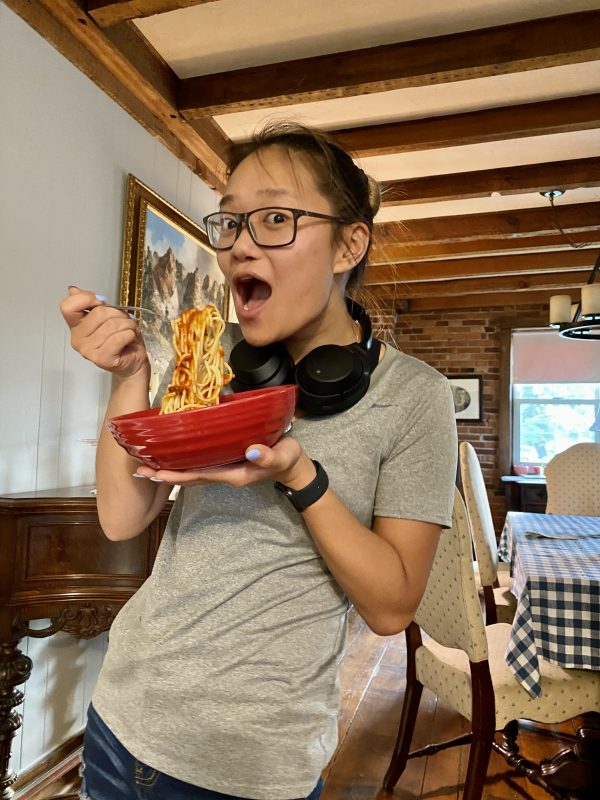 Meg made it home from work after we all ate but still had dinner!
Easy meals are just that. Quick to prep. Easy to make. It can also be a time saver when unexpected events change your day.
Earlier this week the grandkids were here while our daughter had a medical procedure. The plan was for them to be here for a few hours. However, therecovery was a little longer than anticipated.
She's fine by the way. After everyone had lunch she went upstairs to rest. Nathanleft for home minus the kids.
Willing to be flexible when needed is good!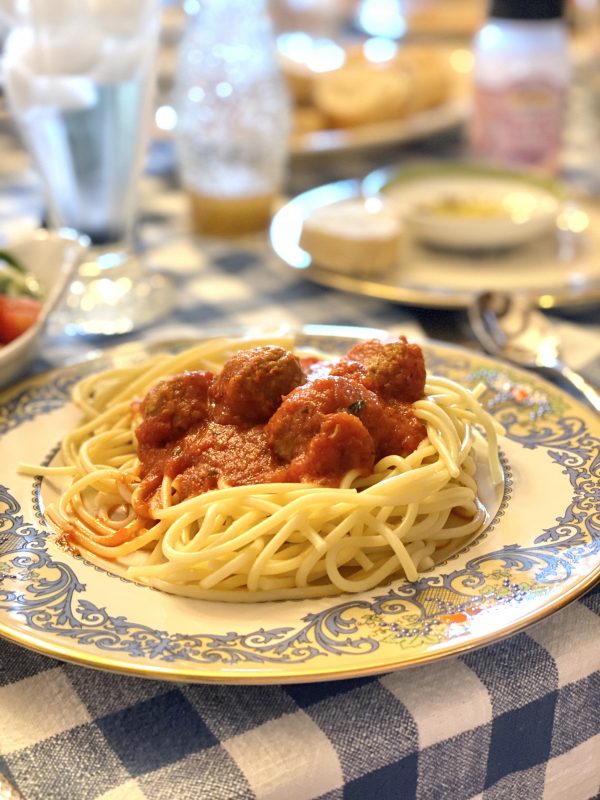 I hadn't made dinner plans yet but I did have a bag of Italian beef and pork meatballs in the freezer. 52 small meeatballs to be exact!
Amy volunteered to go pick up jars of Classico Tomato Basil Sauce and French bread. There were salad makings in the fridge. I don't made this dish with any other sauce. Typically jars of the Classico sauce are a staple in my pantry but I used all of them over the holiday weekend for our Friday dinner.
This easy to make recipe is from a Bible study friend. She told the group to only use this brand to get just the right flavor! She does make her meatballs from scratch. I used to make minefrom scratch too. Simply switching to using frozen makes this dish an easy to make meal easy without sacrificing taste.
Add warm French bread served with olive oil and Italian herb dipping sauce to the menu is a plus. This is the time to use those cute little dishes or saucers! Salad is optional.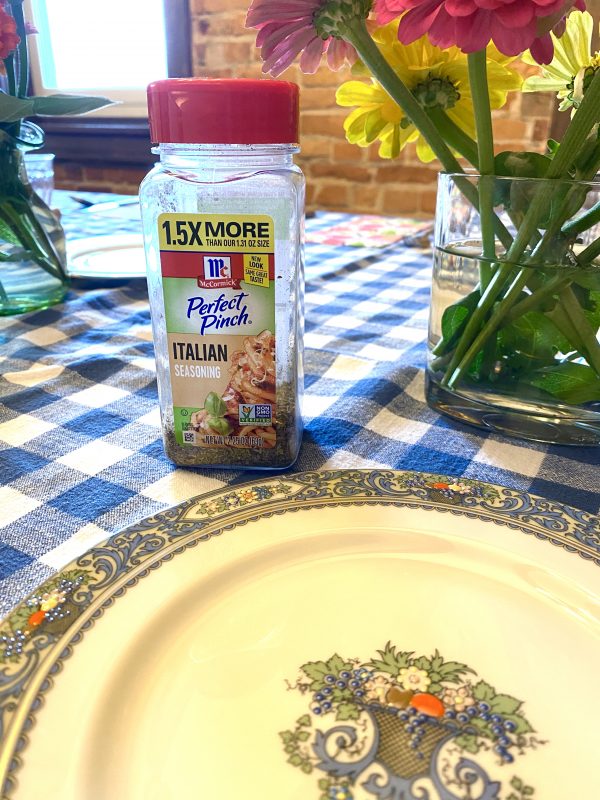 For 12 of us, I used 3 jars of sauce, 2 boxes of spaghetti and three loaves of bread.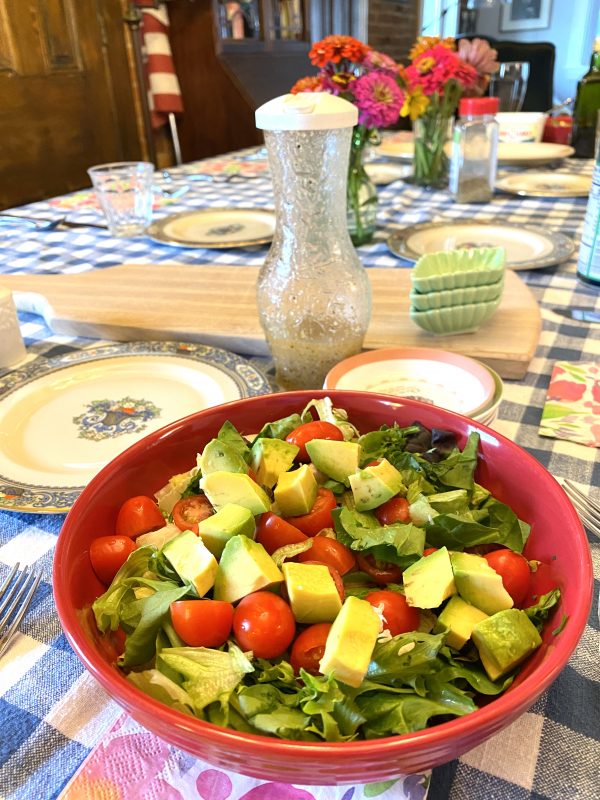 This salad has lettuce, tomato, cucumber. Avocado and goat cheese optional. Our standard is Good Seasons Italian dressing.
I actually do put the italian heb container and the bottle of olive oil on the table for refills. Some of the family really like dipping sauce!
Parmesan cheese is optional, always.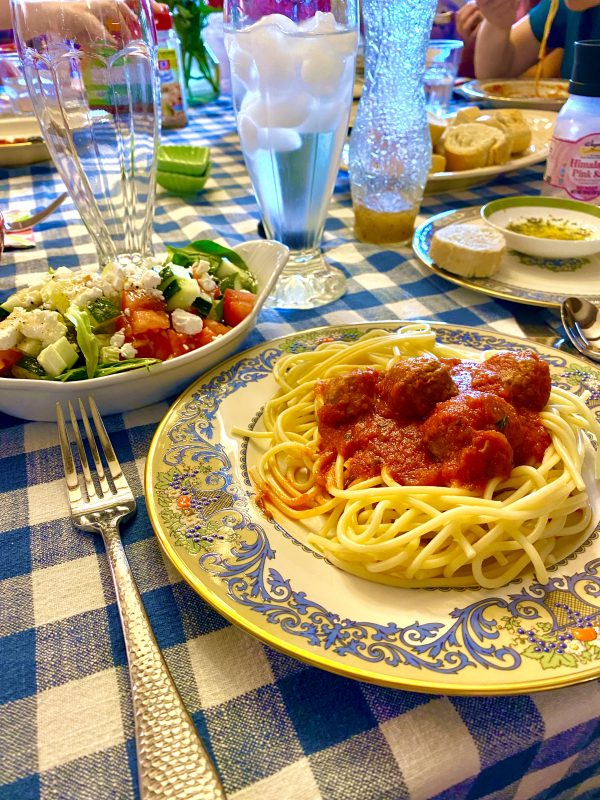 We like soup plates for this dish especially for the younger ones.
Jump to Recipe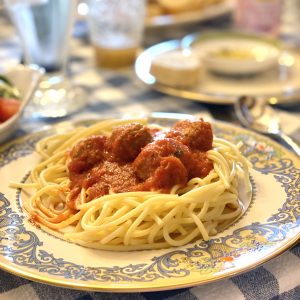 Quick Cuisine Spaghetti and Meatballs
quickk cuisine dish made in the crock pot for a delicious meal for a few or a large group
Ingredients
2-3

jars

Classico Tomato Basil Sauce

26

oz

bag of frozen Italian style meatballs, 52 count

2

boxes

spaghetti noodles

3-4

Tbls

olive oil, adjust as needed

2-4

tsps

Italian herbs, adjust as needed
Instructions
Add 2 – 3 jars of Classico sauce to crock pot

Cook on high for 3 hours, stirring gently about every 30 minutes for even heat distribution

Make green salad, keep cool until serving

Turn down heat to low when sauce and meatballs are throughly heated

Cook spaghetti noodles according to box directions

Warm bread 20 minutes before serving

Prepare dipping sauce of olive oil and Italian herbs in small dishes
This dish is so simple, so delicious for a family meal or a large group! Easy meals that are delicious work wonderfully for meal prep on those days when preparing a meal is just too much! Hope it works for you too!
~~~~~~~~~~~~~~~~~~~