Sabbath Words… Mornings reposted from Jan 31, 2015. Still the same in our home, in the mornings.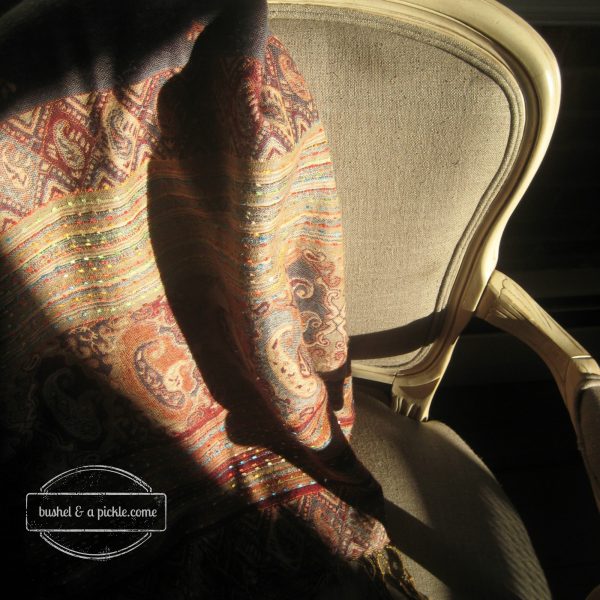 Usually, my husband and I drink our first cup of coffee in our bedroom and share our morning devotions and prayer for the day.
Moms and dads, I expect,  include prayers for their kids every day and their families and fiancées.  For friends, missionaries, co workers…the list can be short or long.  Other days may include national and global concerns, activities, our marriage.
And we talk.  Sometimes serious and other, just talk.
He has been gone 9 days. Tomorrow is homecoming for him and our girls.  It has been a long but good week for me.  I miss the talk, the prayer and the joining in unity as we start the day.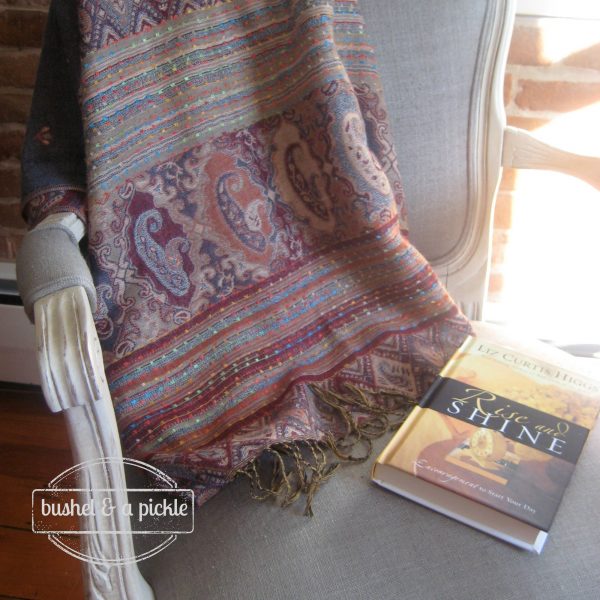 I slip downstairs , let the dogs out and brew my coffee.  It is quiet and the sun is brilliant this morning.  It is cold, the snow's  icy coating is blinding.
I come into the living room for quiet time.  The sun is shinning today; nice it's not be overcast.  I love these chairs for Luckett's Spring Market last year.  They are so pretty and make me smile.  My shawl is not only beautiful but necessary.  Cold weather seeps through the windows; I need the extra warmth.
I have several books I use besides Scripture.  This morning I grabbed Liz Curtis Higgs  Rise and Shine.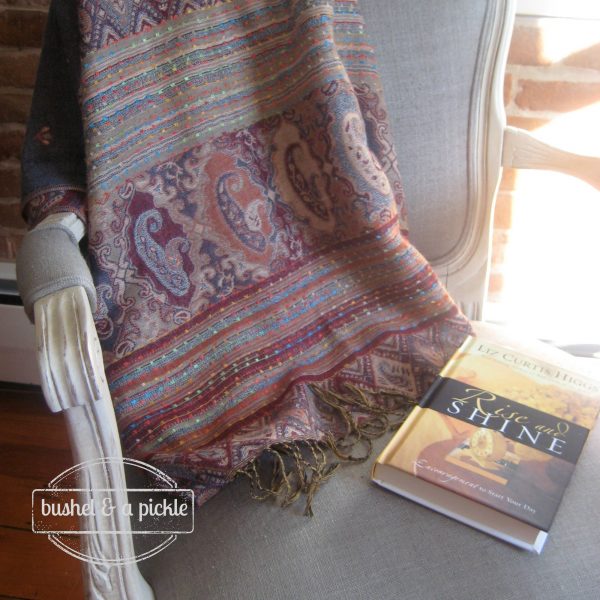 Thankfulness was the focus.   I have enjoyed the time alone. Well, not really alone. Will has been here with me.  He works hours everyday so I don't usually see him until later at night. It is a comfort and I am thankful he is here with me.
I am thankful Jim and the girls were able to make this trip to reconnect with friends who live far away while being part of a retreat. Jim heads off to the meetings of worship and teaching with some business.  The girls will go with a gaggle of teens and with their leaders for small group study and fun events and outings.
My heart is full with the blessing of life and love.  And thankfulness they were able to make the trip.
Therefore by Him let us continually offer the sacrifice of praise to God that is the fruit of our lips, giving thanks to His name.  Hebrews 13:15
What is the blessing God has given you especially in this season?