Fancy Jello Salad…Strawberry Pretzel Salad has been called retro. However, this recipe had been around for several decades and never seems to go out of style. 
I originally wrote this during the summer for a summer holiday meal. Truth is, we always have it for Thanksgiving!  Yes, Thanksgiving! It's a salty sweet dish. Salty for the pretzels, sweet for the cream cheese and jello layer. Yum!  
Don't forget making tis for summer time too!
We all know the meal is an integral part of  happy occasions. We have some dishes our family serves at certain holidays. Strawberry Pretzel Salad is one of those. 
Is it really a salad you maybe asking. Yes, this is a salad. Some folks claim it as a dessert. Hey, I'm from the south and we claim jello as a salad. This one is a fancy jello salad. It does not go on the dessert table. Honestly, I have never seen it served as a dessert. I have seen grown men and women fight over the last square but not for dessert. 
Here's the rule for jello. Add some fruit before the jello sets; it's a salad. 
Add some whipped cream and it's a dessert.
One thing we southerners can do is make great food especially desserts. We can laugh too at our ways including making jello salad.
It is a seasonal dish for summertime; sweet fresh strawberries with crushed pretzel crust and a cream chesse layer. 
It's a meal for Thanksgiving.  It's delicious and adds color to the buffet table.
Last year Amy and Meg set the menu with strawberry pretzel salad along with Rosemary's Cheesy Scalloped Potatoes. Check her recipe out; it is very, very good.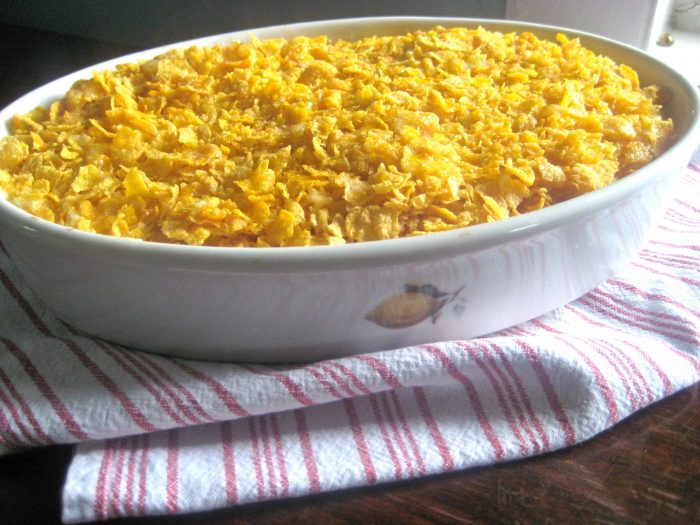 Grandpa's Hash Brown Potato Casserole is another favorite.
I'll add green salad with some arugula and spinach from the garden. Grilling steaks was the main dish.  Sounds good for this year too!
One thing we southerners can do it make great food especially desserts and laugh at our ways including making jello salad. We serve it during the summer with fresh strawberries and on Thanksgiving too.
I kind of panicked one year when we were back in the states over Thanksgiving. Will 's only request was Strawberry Pretzel Salad and I couldn't find my recipe! Frankly, after all the moves, I have lost a few. My cousin, Rosemary came to my rescue. Whew!
Our daughter in law Jessica was assigned the job of making THE Strawberry Pretzel Salad. It ranks right up there on importance to serve with pies. Later she told us she was really feeling the pressure. She's a great cook so I wasn't worried at all; it was delicious!
This is no fail IF you get it in the fridge early enough! Jello not set right is sloppy and messy. Trust me, I know.
Jessica earned herself the position of Strawberry Pretzel Salad maker. Jessica, along with my daughter, Nancy make our pies. See Jessica's Apple Pie here.
Rosemary Pretzel Salad
Strawberries, jello, pretzel crust and creamy layers for special events
Ingredients
Use 9x13 casserole dish

Crust

2 - 2 ½

C

crushed

but not super fine pretzels

1 ½

sticks margarine or butter

melted

2

T

sugar

Filling

8

oz

fresh whipped cream or Cool Whip

thawed

1

C

sugar

8

oz

cream cheese

room temp

Topping

1

lg or 2 sm strawberry jello

2

C

boiling water

2 - 10

pkg frozen strawberries or 16 oz coarsely chopped fresh strawberries
Instructions
Crust

Crush pretzels into small pieces

Melt margerine or butter

Mix all ingredients together using a fork

Pat into 9 x 13 dish

Bake 8-10 min @ 375

Cool completely

Filling

Beat cream cheese and sugar til fluffy

Fold in cool whip or whipped cream

Spread onto cooled crust

Put in refridgerator while making strawberry jello topping

Topping

Dissolve jello in boiling water according to package directions

Add strawberries

Stir until strawberries are thawed and jello begins to congeal

If using fresh, stir well smashing a few strawberries

Pour evenly over chilled creamy filling

Refrigerate for appx 4 hours

Cut with sharp knife prior to serving
A perfect menu to make to start the summer!  A perfect dish to add to your Thanksgiving menu! What are your classic Thanksgiving and other seasonal menus?
Have a blessed day!