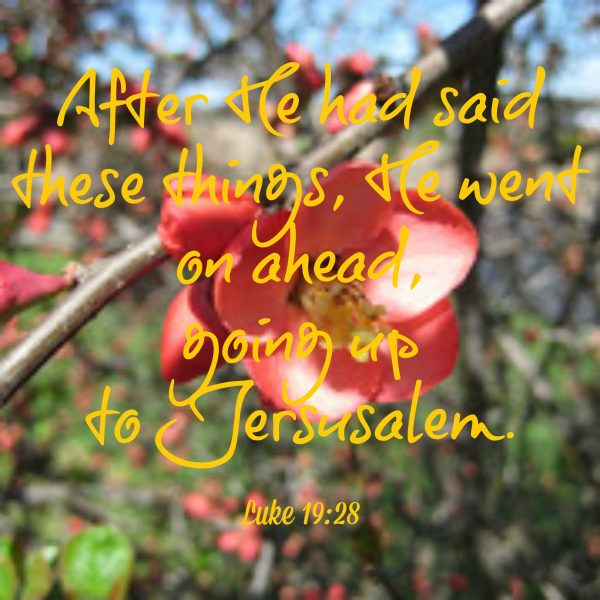 Jesus went up to Jerusalem to the cross…to be crucified, to rise from the dead.  Today is Good Friday.  A somber day of remembrance filled with the hard work of redemption done for each of us on the cross.
This ancient creed brings together a simple statement of faith with a few words what happened so long ago on our behalf.
I believe in God the Father Almighty, Maker of heaven and earth.  
And in Jesus Christ his only Son our Lord; who was conceived by the Holy Spirit, born of the Virgin Mary, suffered under Pontius Pilate,
was crucified, dead, and buried;
on the third day he rose from the dead; he ascended into heaven, and sits at the right hand of God the Father Almighty; from thence he shall come to judge the quick and the dead.  
I believe in the Holy Ghost; the holy catholic Church; the communion of saints; the forgiveness of sins; the resurrection of the body; and the life everlasting. AMEN.
This is a repost from April 2014
As Jesus was about to go up to Jerusalem, He took the twelve disciples aside by themselves, and on the way He said to them,  "Behold, we are going up to Jerusalem; and the Son of Man will be delivered to the chief priests and scribes, and they will condemn Him to death, and will hand Him over to the Gentiles to mock and scourge and crucify Him, and on the third day He will be raised up."  Matthew 20:17-19
He was always going up to Jerusalem.  To suffer for us.  He has shown us the way.
When He was eighth days old, his parents
brought Him
up to Jerusalem
to present Him to the Lord.
There in the temple, Simeon prophesied he would be "A Light of revelation to the Gentiles, and the glory of Your people Israel." He also had words for Mary.
"Behold, this Child is appointed for the fall and rise of many in Israel, and for a sign to be opposed and a sword will pierce even your own soul to the end that thoughts from many hearts may be revealed."  
Jesus was always on a journey to go up to Jerusalem, the place of salvation for us. It was a journey of purpose to be obedient even unto death, death on the cross. For us, our salvation.
This journey is one for us too. We must also take up our cross.  That has always been a tough thing for me to grasp. I think it is much more simple and much more profound. Take up my cross in your life and be transformed into Christ likeness. Obedience and surrender.  Forgiveness of sins. A new heart.
Going up to Jerusalem is the journey for us all who love Christ. It is part of following Him.
Paul asks a question then answers it for us.
Don't you know that all of us who were baptized into Christ Jesus were baptized into his death  If we have been united with him in his death, we will certainly also be united with him in his resurrection.  For we know that our old self was crucified with him…Now if we died with Christ we believe that we will also live with him.                       Romans 6:3, 5,6,8
What does going up to Jerusalem mean to you today?