When the weather turned cooler, we brought the fall storage bins down from the attic. Very little color is showing here so far. It's just a matter of time.
But it was time to acknowledge, it's fall.
Simply put, it was time. This year, I am simplifying. The fall decoration bins have been reduced down to 2 through selective culling.
dining room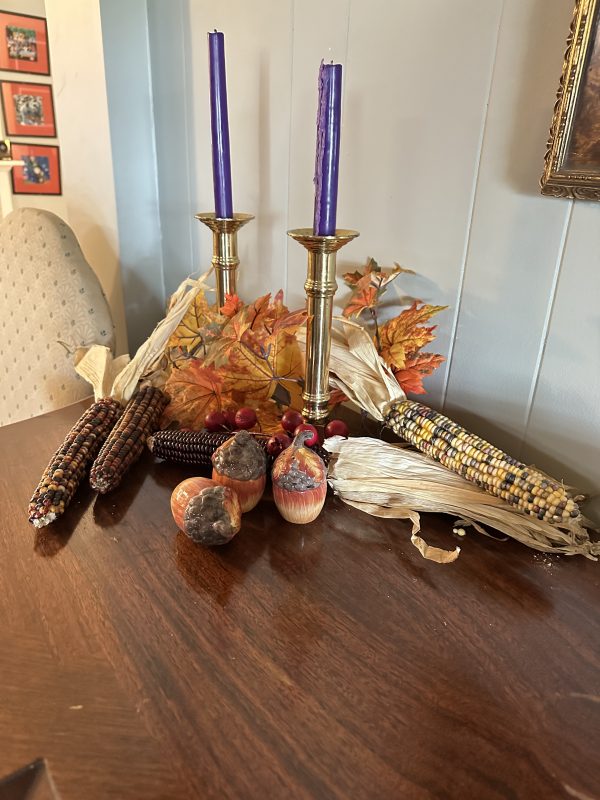 Balance is a basic when decorating. That applies to flat surfaces too. The other end of the buffet gets a small vingette beside the large ginger jar lamp.
The dining room is a show horse! Because it is open to the living room, I pay particular attention to how I decorate it.
For height I used 2 brass candlesticks. During fall; I like brass and pewter for the metal accents. Color candles are a nice touch of color over my usual cream ones.
At the botton of one bin was the Indian corn. Talk about versatile decorative items! There were purchased from our local grocery store in the produce section over 5 years ago!
P.S. Store the ears in an air tight sealed container.
I put the ears in alternating angles and layered. I also carefully seperated the dried husk to add visual depth. With portions of the husks tucked behind the candlesticks and fanned out, the Indian corn ears were anchored so they didn't slide away across the buffet top!
I didn't have to use any wire or other items to hold everything in place. These days, I like to keep it as simple.
Next, I took a stem of fall leaves and slid it under the corn toward the back. I adjusted it to fill out the space.
The acorn salt and pepper shakers plus one were the final touch.
dishes in decorating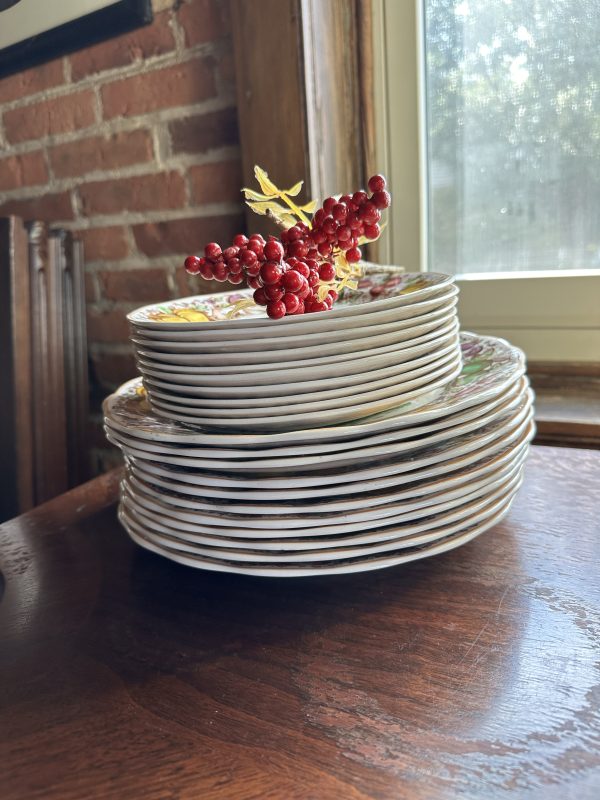 My family made fun of these Thanksgiving dishes home I bought at Conestoga Auction. I'm glad to report they now like them.
I put the daily dishes the mud room cabinets where the fall dishes are stored. I bid on these pretty dishes that had enough place settings; enough for our family of 17 plus a few extras. We used them for every day and for special times together too. I stack the extras on the credenza under the window in the dining room. The single small berry stem on top of the stack is a simple touch that says, 'Fall!'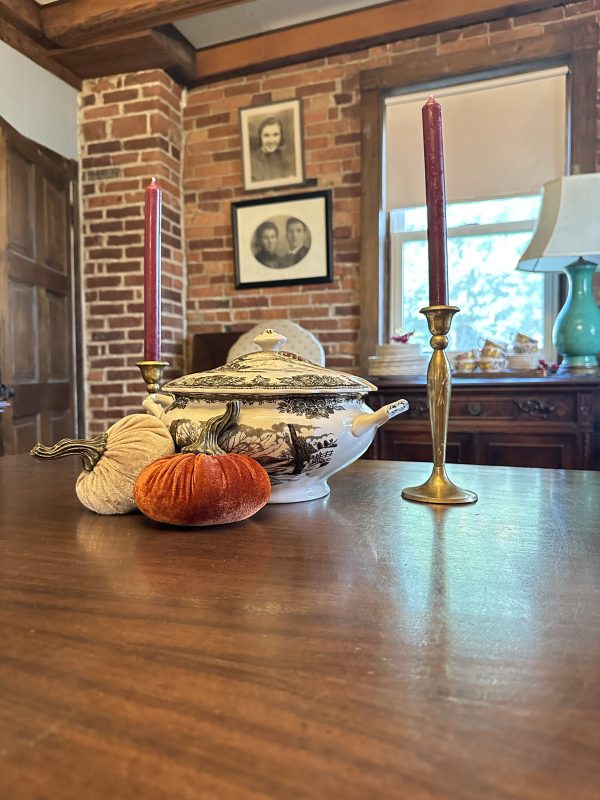 More brass candle sticks with colored tapers. Do you have soup tureen or large bowls? They make a statement on tables. My soup tureen is part of the Friendly Village collection from Johnson Brothers.
The brown design is a neutral color.
Have we talked about velvet pumpkins yet? Very handy to have when decorating for fall.
The burnt orange and creamy colored small pumpkins bring the classic table decor into the fall.
Notice in the back. On the top of the credenza there is a wooden tray filled with cups and saucers.
More fall in other rooms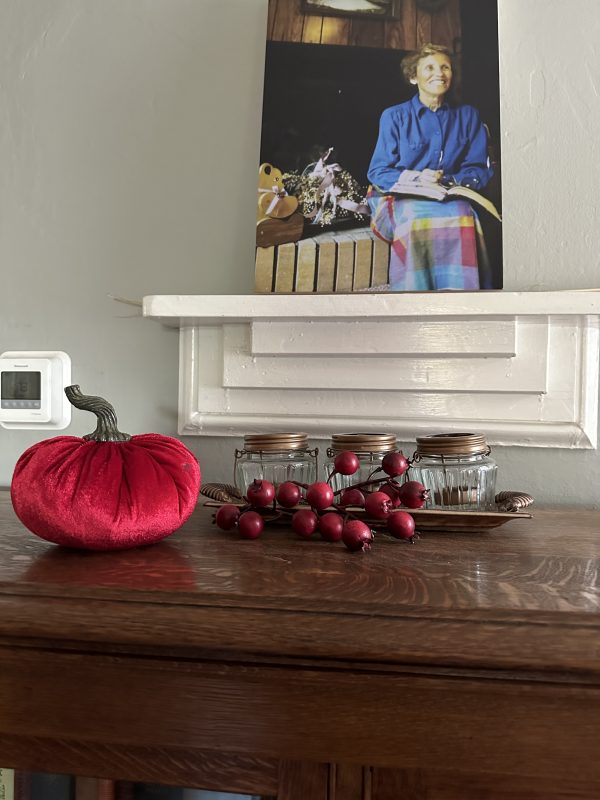 A single red pumpkin with a large berry stem placed in front of the tray of mini mason jar votives for this simple vignette is beautiful!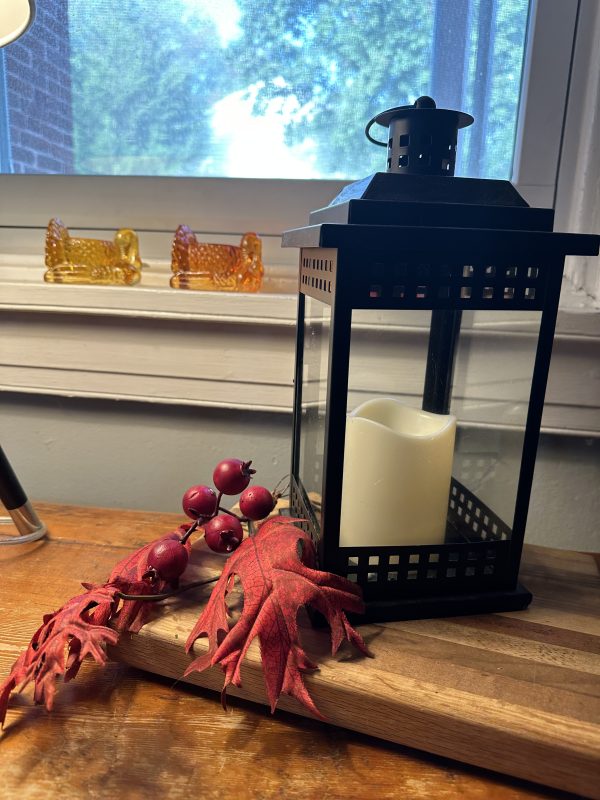 More use of a single stem of berries and a leaf branch. For the top of a small side cabinet I paired the black lantern with the 2 stems on top of a cutting board. Meg made it in her high school wood work shop class.
The black lantern has been around about 8 years. A battery operated pillar candle is inside. Building basics that are reusable year after year.
Use and reuse!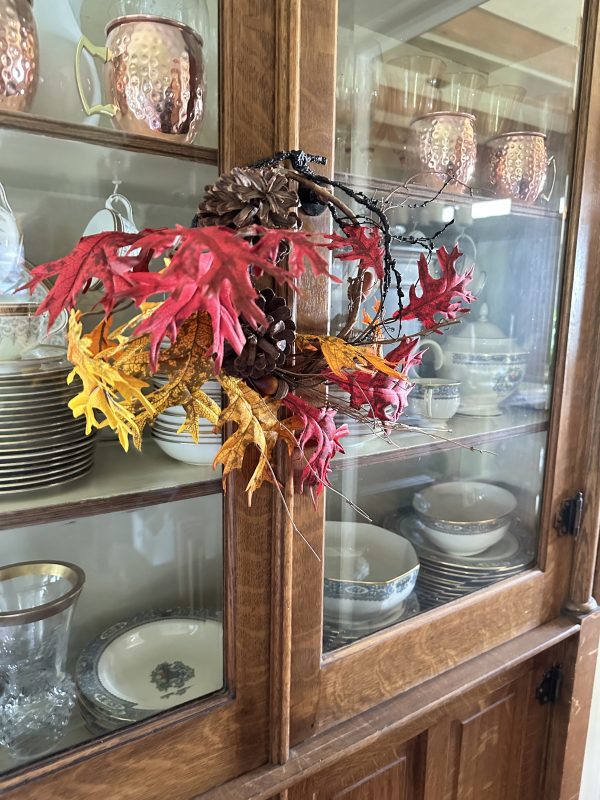 This small wreath hanging on the built in china cabinet in the middle room makes me smile.
It's made by twisting one of the swags twisted into a circle. The swags are made with cloth type leaves of various sizes and small pine cones. The richness suits our more classical traditional spaces in our farmhouse.
farmhouse kitchen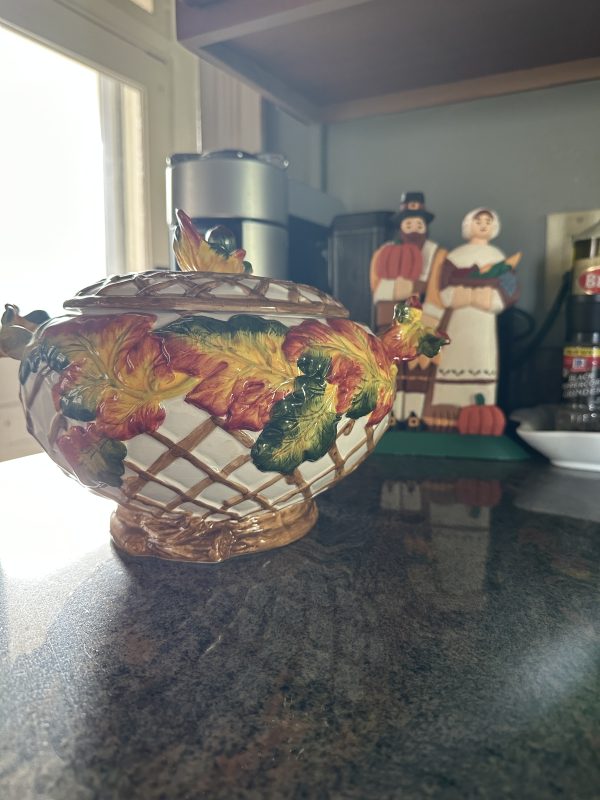 Yep, that's another soup tureen. Nancy, our oldest gave it to me many years ago.
I put in front of the Nespresso coffee maker that is tucked under a cabinet by the stove. Note the handcrafted wooden pilgram couple in the rear too.
building a quality collection
Building a collection of basic quality items for every style of decor and season is smart. I spread out my purchases over time.
Shopping sales, use coupons, yard. sales and search vintage and antique shops to find fun and classic I love the little salt and pepper shakers for holidays and for just plain fun for the table.
Be a savvy shopper! Sales and coupons, on line and auctions. I got my Thanksgiving dishes are the weekly auction. I have posted links be0low of the same or similar items.
If you make a purchase I may make a commisssion at no cost to you.
There are several basic elements for fall decorations.
Medium and tall brass or other metal candle sticks
Berries large and small sizes with sturdy wrapped stems
Swags or garlands with heavy wrapped stems
Cute and pretty salt and pepper shakers and small figurines
If you find a piece that would look perfect in your home, ask yourself, "Is it a good time to add it to your collection?" There are so many beautiful decorations to chose from.
You never know where you will find something great!
It's simple, it's fall! And I am ready!
~~~~~~~~~
This site contains affiliate links to products. I may receive a commission for purchases made through these links at no extra cost to you.

~~~~~~~~~