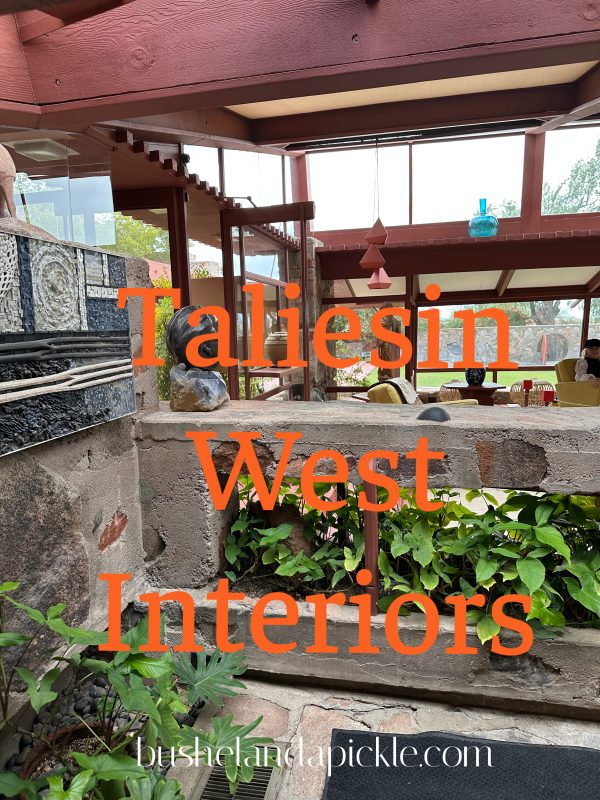 large gathering room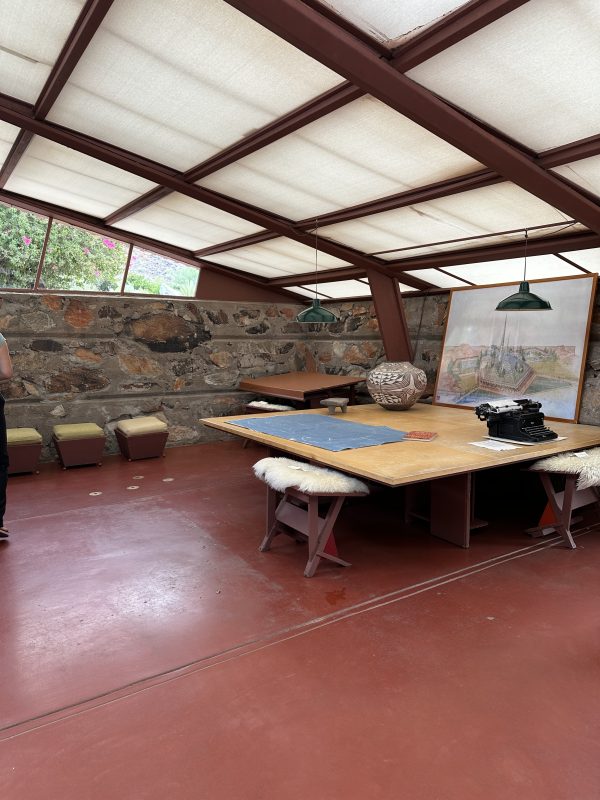 Frank Lloyd Wright, the premier American architect built Taliesin West as a 'camp' for his apprentices and to be a winter home for them and his family. Other times, the Wright's made their home in Wisconsin; he is a son of the midwest. There are many homes he designed are still privately owned and some are open for visitors in the Chicago region.
Taliesin West was a favorite of Wright's and we get to tour the interior that is so similar to other home designs but tailored to his taste.. .not just his clients.
\
'Taliesin West is a look over the rim of the world.'
– FRANK LLOYD WRIGHT, 1943

Bring the outside in
The first space of the audio tour is through the 'Squeeze and Release' entry to the large gathering room that is filled with natural light! Officially it is called compression and release into a large area 'creating tension leading to a sense of freedom'. (https://elizabethmurphyhouse.com/2018/12/10/compress-release-repeat/)
There is also a group tour option that is 90 minutes. The audio tour is self guided and 60 minutes. We used our own ear buds and headphones. Don't forget to pack these extras as you may need at any location with tours.
Imagine. These and all other windows were originally covered with canvas. Later, glass was added with steel frames protecting the interior from dust and other elements. The canvas still acts a a light defuser. Natural light is brought into the interiors with large windows and situated to show off the surrounding nature. This is a hallmark feature of FLW's residential and commercial buildings.
The work residence 'camp' as it was commonly called was established in 1937 and built primarily by Wright and his apprentices over many years. Additional specific work was done by locals as needed.
Furnishings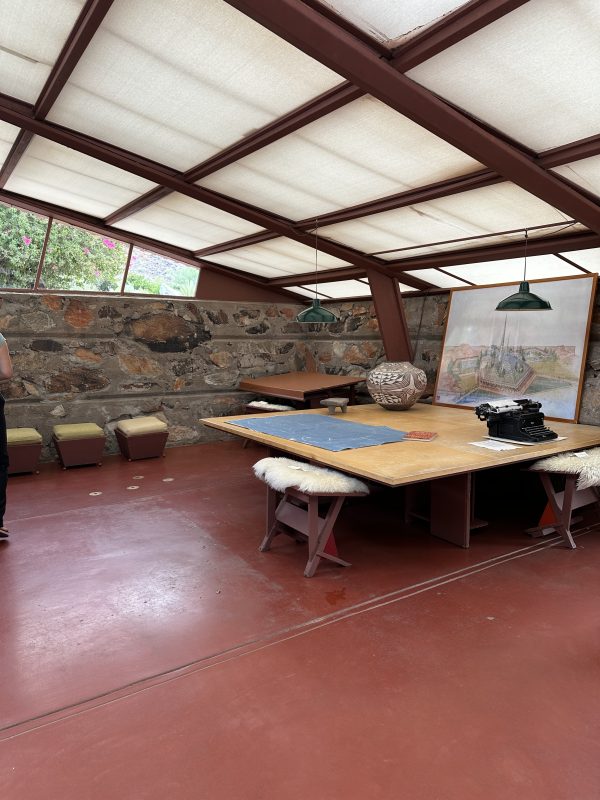 This gathering room was for the apprentices, friends and families. Guests would be welcomed here. There is also a large dining hall. We couldn't go in to that room but I peeked in. It definitly reminded me of a camp dining hall but with much nicer chairs. We did not see kitchen facilities or bedrooms during our tour. There are many tour options listed on the website.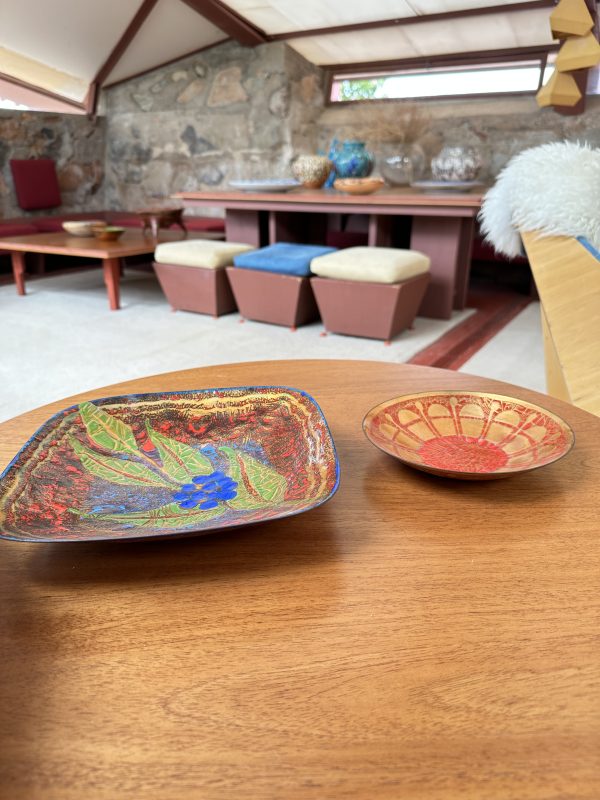 The furniture was made on site according to Wright's designs. Hardy fabrics of colors that reflect the landscape colors and tradtional local designs. The seating is very linear. The stools look like cubes with a stuffed top.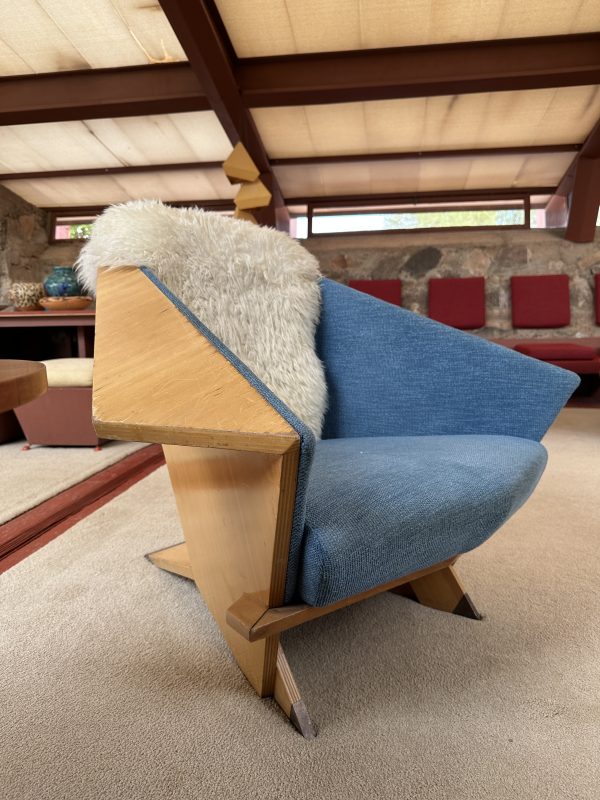 This is called the Origami Chair. Unlike many historical homes, you can actually sit on the furniture! This chair was very comfortable. Not all seating is fixed to the wall with a bench to sit on! There was a person in most rooms to let us know which spaces were okay to sit in. They are friendly guards of sort like in art museums. Children are welcome at Taliesin West.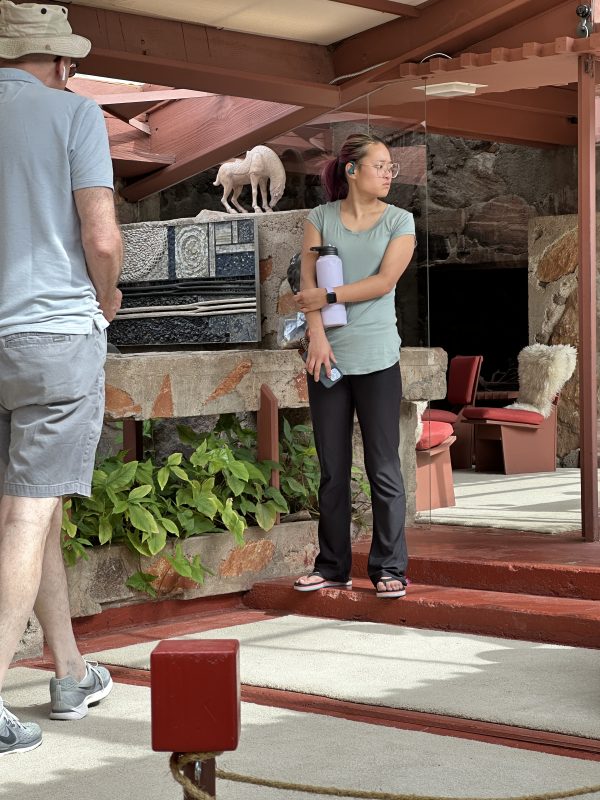 The living room has selected ceramic pieces on shelves slong with sculpted art gifts from friends. When visiting look up, there are artful displays on beam tops. This room is smaller, creating an intimate setting for conversation and relaxing. Meg and Jim are talking it all in.
Notice the red in the stones. As you tour, you will see this red repeated in both interiors and exteriors.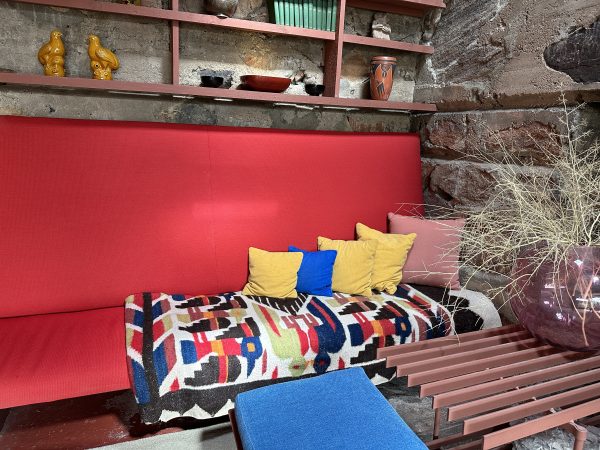 This interior space was originally a family private dining room. Today it is a space for small group seminars, presentations and maybe a private meal on occasion. There is light coming from long vertical windows at ceiling height. The bold colors and blanket are part of the soft furnishing reflecting the location of Taliesin West. There is also a fireplace. The walls are all local stone.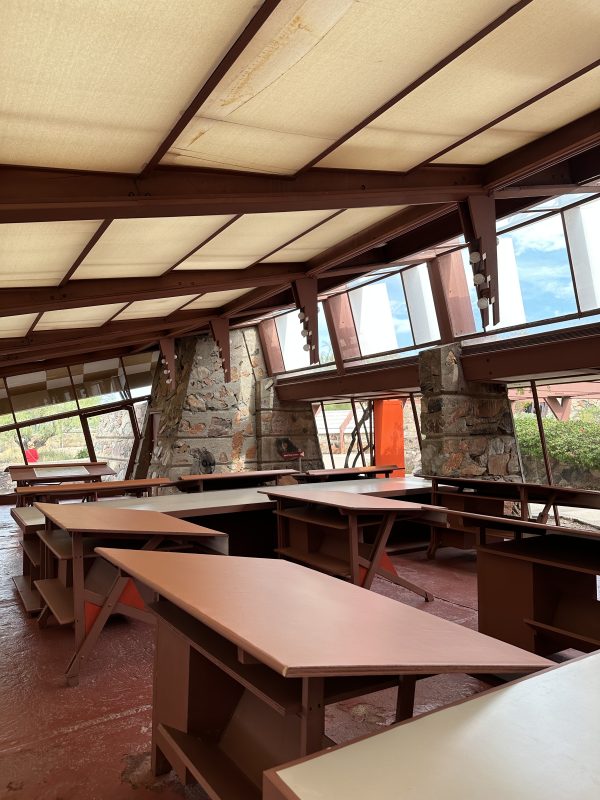 Yes, work other than building Taliesin West took place in this large open well lit interior space. This is the giant drafting studio. At the top left corner you can see a drafting desk facing outward that was Wright's. The flat drafting table was for him also. There is still a program for apprentices or interns as they are better know today to participate in at Taliesin West.
THEATER FOR ENTERTAINMENT AND EDUCATION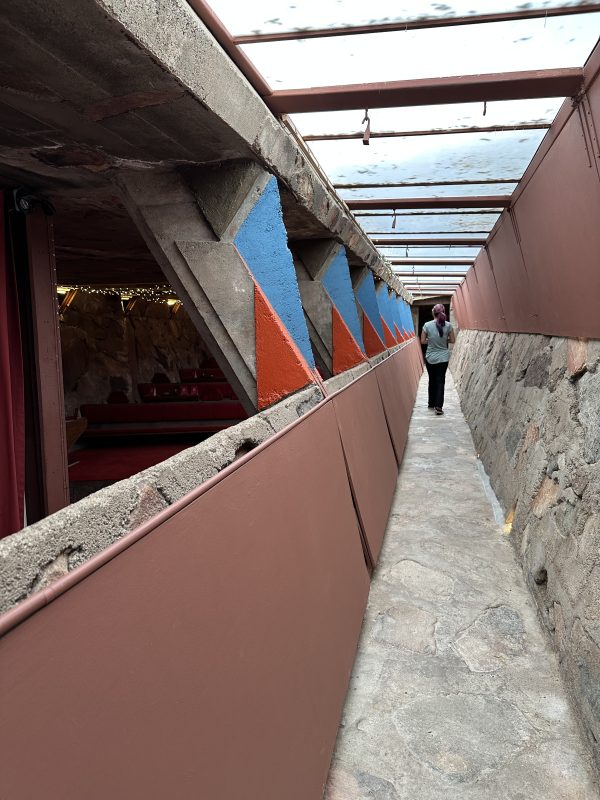 As we walked outside to the final interior space of the theater, we walked down the hall, another example of 'squeeze and release'. He liked the feeling it created and I suspect without any foundation except he liked small kitchens that he also did not want to waste any square footage.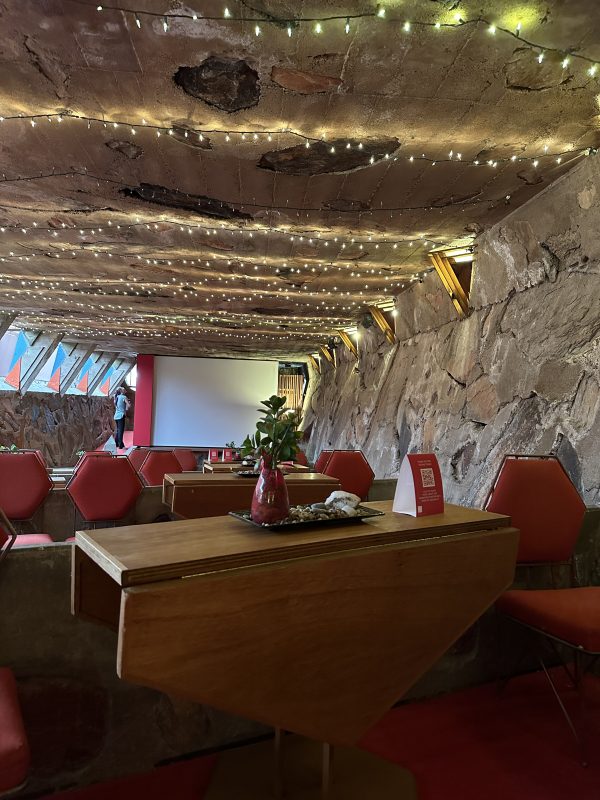 At the end of the hall turn left and enter into the welcoming area, a type of lobby before taking a seat.
A variety of lectures and entertainments were routinely offered for residents and visitors. The room is cool with its soild stone walls, ceilings and floor. It is a beautiful room.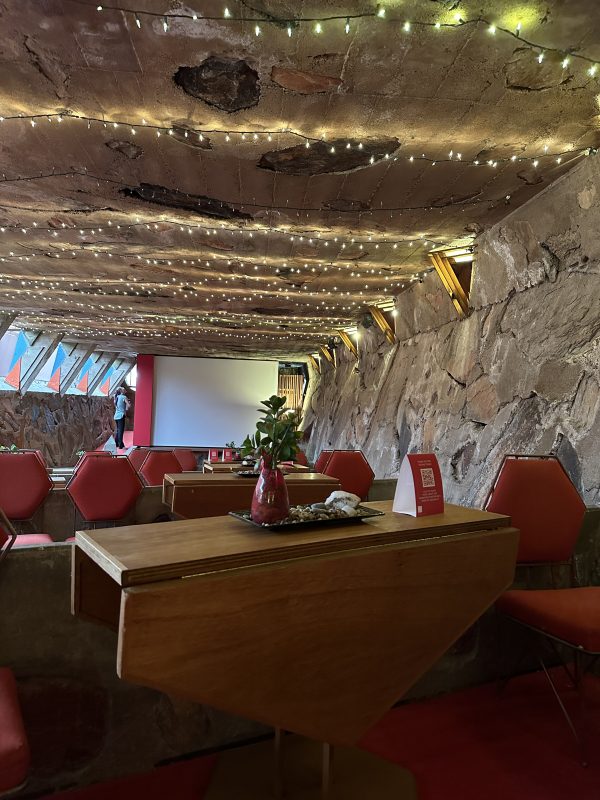 The seating is comfortable and not crowded.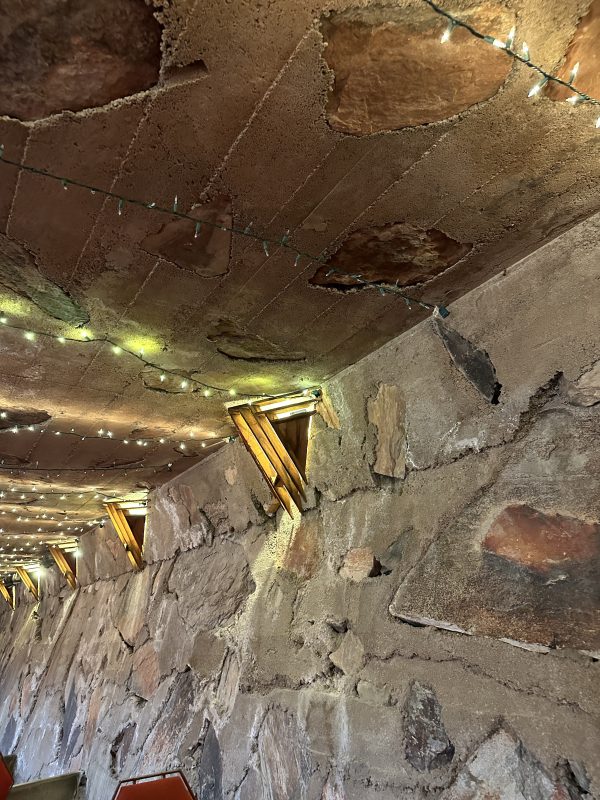 For ventilation and light there is a series of triangular shaped windows with solid wood braces and shutters. Yes, the long pieces can be closed to make the theater dark. What a style statement!
final words
Make reservations ahead of time espcially during the peak season through the app. Bring water and a hat. Wear comfortable walking shoes. All surfaces are concrete or stone. Don't forget ear buds and headphones if you opt for the audio tour. Children are welcome!
There are many programs and tour types for visiting. Visit the here for visitor information. https://franklloydwright.org/tickets-tours/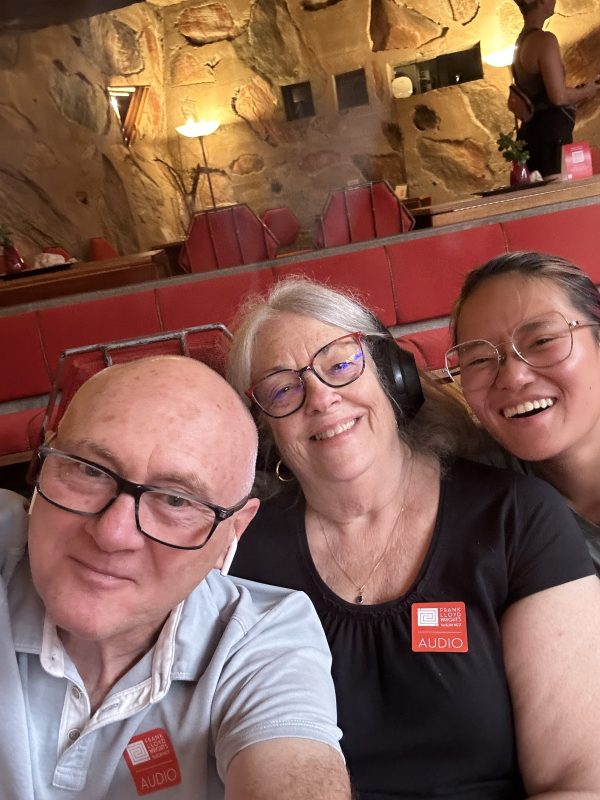 Totally worth a visit! Jim, Linda and Meg
~~~~~~~~~
This site contains affiliate links to products. I may receive a commission for purchases made through these links at no extra cost to you. Thanks for any purchases you may make!

~~~~~~~~