Table for Two! You don't need to go out for Valentine's.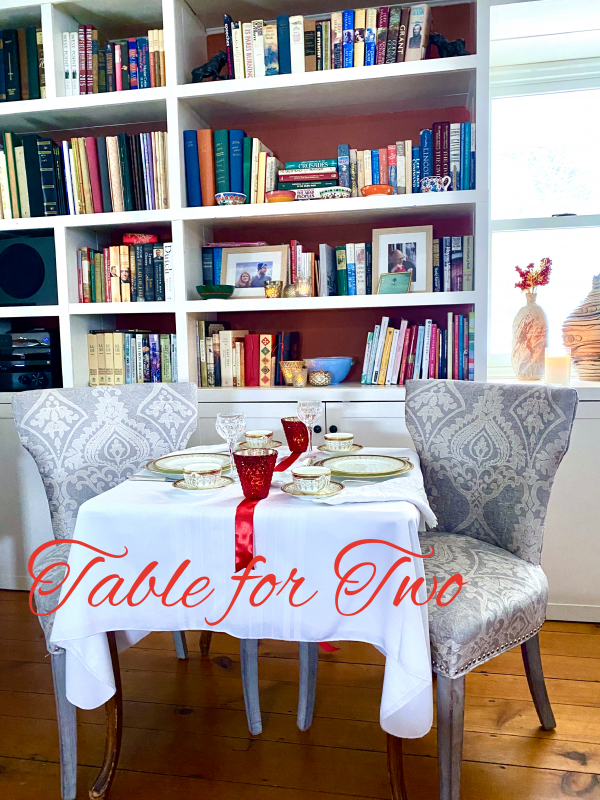 Create a beautiful romatic setting at home! Candle light with touches of the traditional red for creating a soft romantic atmosphere.
My table is simple and inexpensive to set! Yes, I used china and crystal. You don't have to do that!
This table can inspire you with its simplicity. White dishes, a white table cloth and red satin ribbon with 2 red larger votives can easily be used with the same results. So you have wine glasses?
intimate setting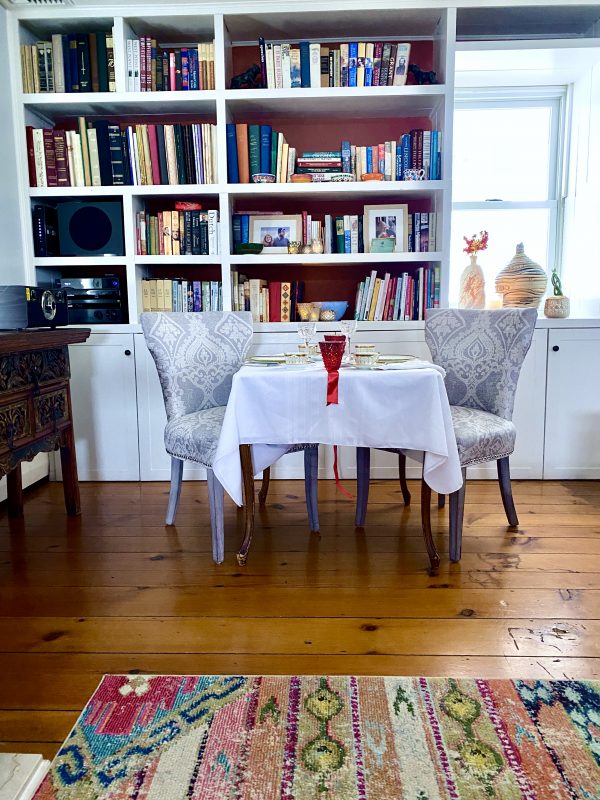 For this intimate setting, I used our game table next to the built in cabinets in our living room. It is a 36 inch square which is a folding card table size.
I also put candles all around the space of the bookshelves and table. Do you see the glow on the pottery pieces in the window?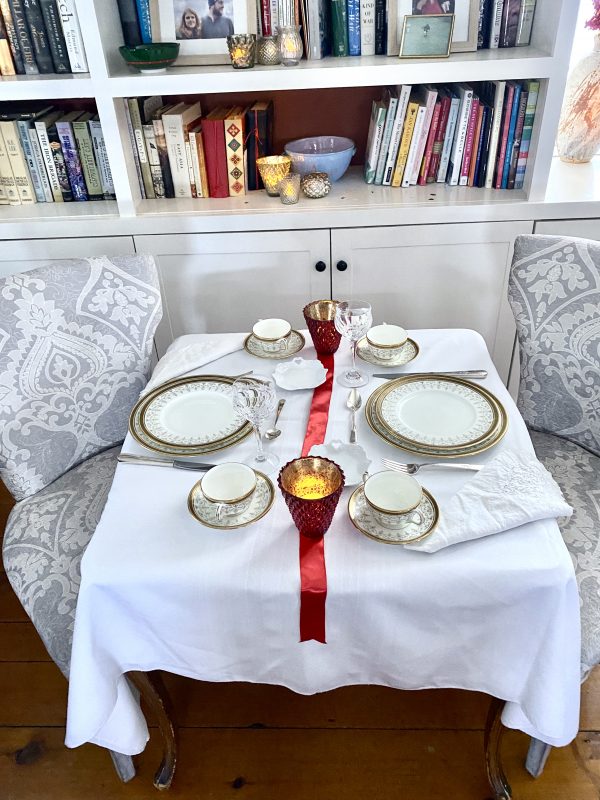 Any card table will do! The same for the chairs. The space to set up could be anywhere in your home.
By the fire. in your bedroom, office or kitchen. Do you live where it is warm enough to go outside? Using candle light sets the atmosphere. Votives are nice because they are both simple and don't take up tabletop space. If you use taller candles, place them so the view of each other is not blocked.
setting a card Table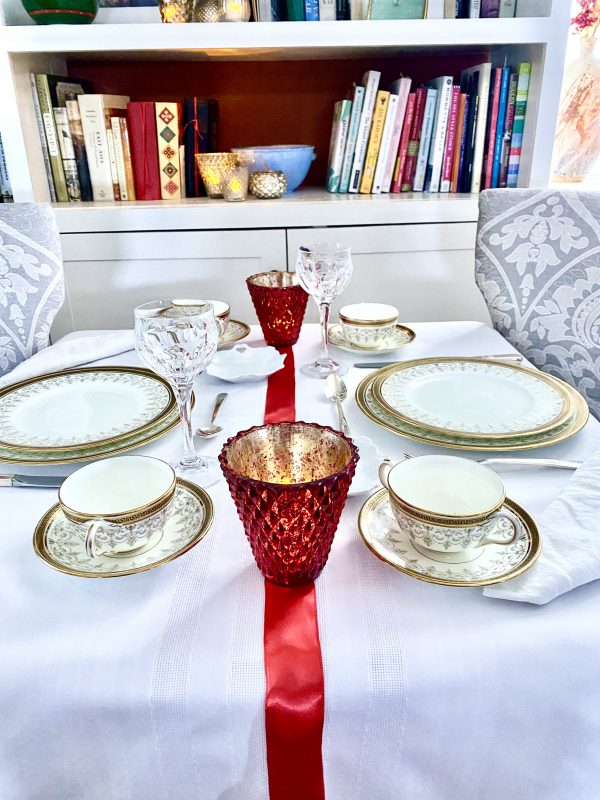 A pristine white table cloth is the base for this elegant table. It is a longer one I folded in half. The decoration is simple; a long piece of red satin ribbon. I placed two larger red mercury votives on each side.
I'm sure you noticed that I did not use a centerpiece. A 36 inch square table only needs a simple few flowers or short votives or candles when setting it for a meal. Did you know it's also a great size for desserts too espcially right before a card game.
The red ribbon could have been pink or gold. Chose a color you like for the holiday! Mine was from my stash I keep readily available for gift wrapping and the odd decorative use.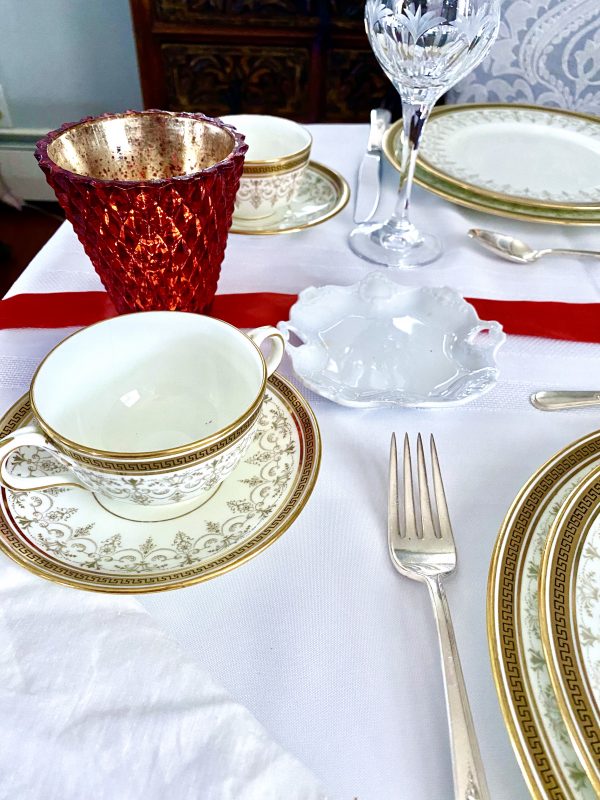 Next I used 2 small decorative dishes with heart cut out handles. These could be for candy, a bread dipping oil or a roll.
Here's tip of what I often do to add both color and a holiday touch to my tables. I use candy. For this I would use foil wrapped heart chocolates. M& M's have good seasonal colors too. Separate the colors out and sprinkle them at each place setting.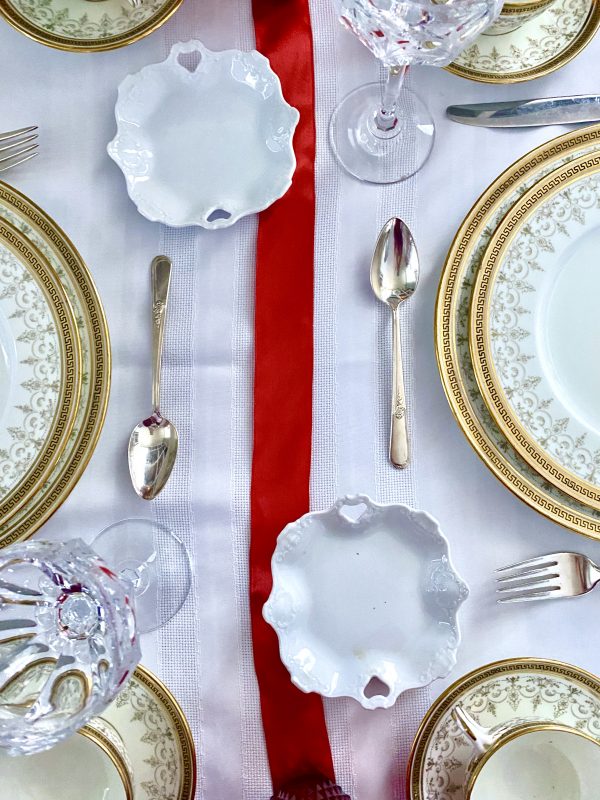 place settings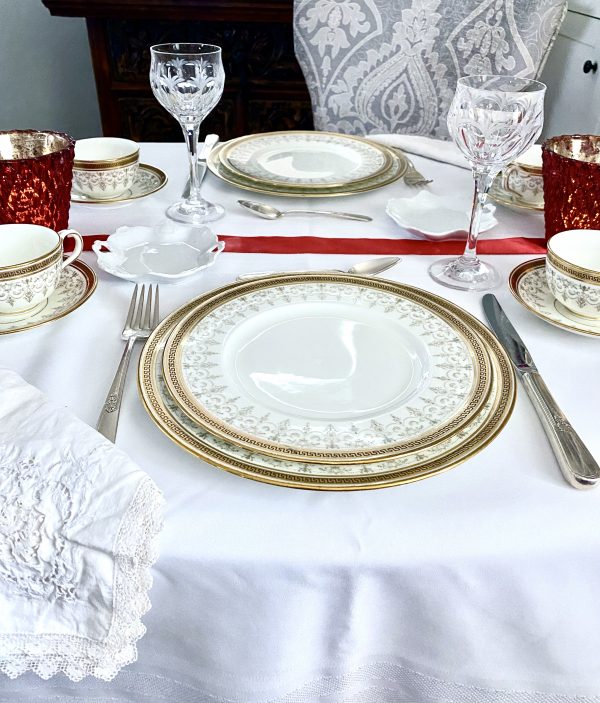 White, red and gold are the only colors I used for this table.
I used our vintage white gold rimmed china. White china, a basic building block for any table, any season, any meal would look pretty too.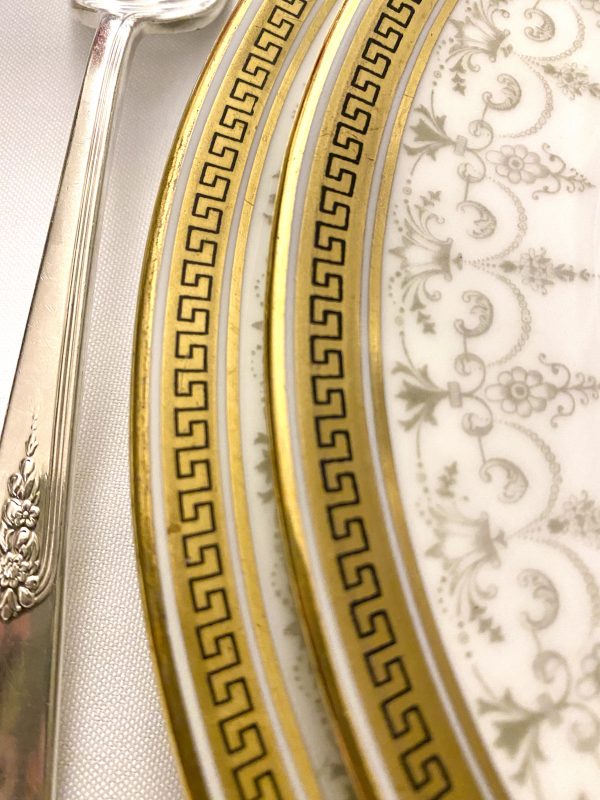 The napkins are not ironed as you can tell. They are lovely vintage ones. I handwash and line dry them.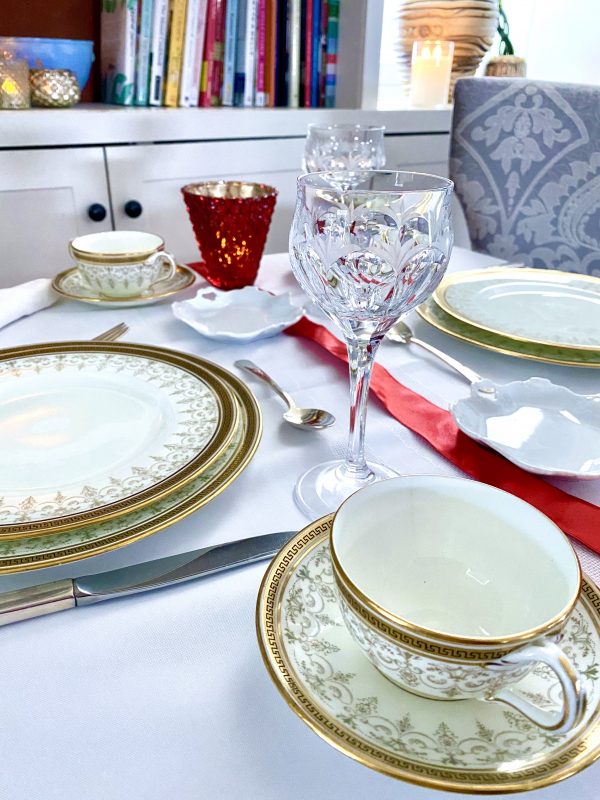 Layering the salad and dinner plates make a striking arrangement. I keep the white theme by not adding any other colors or different china.

~~~~
I love having occasions to pull out the silver. For this table, I could use several pieces at each place setting. When in doubt, look up how to set a table in old cookbooks or on line.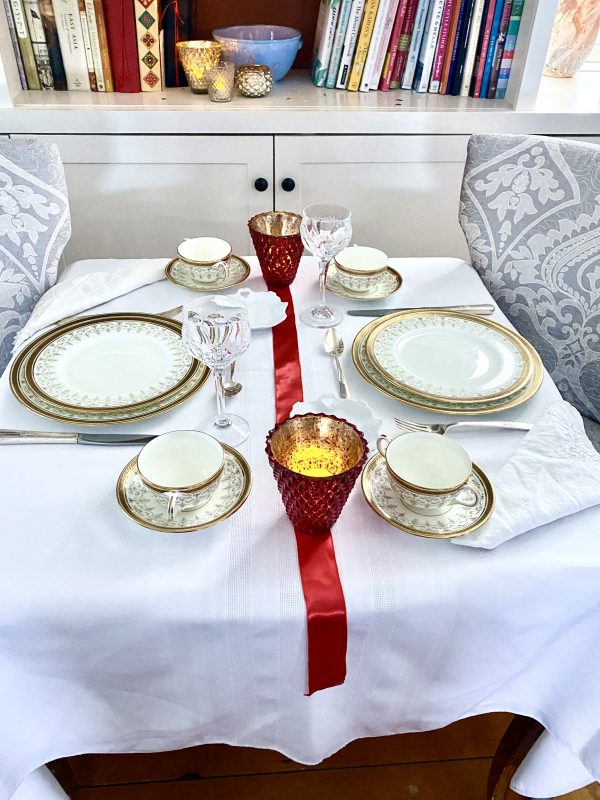 The crystal wine glasses are so pretty especially with the candle light reflected through the design.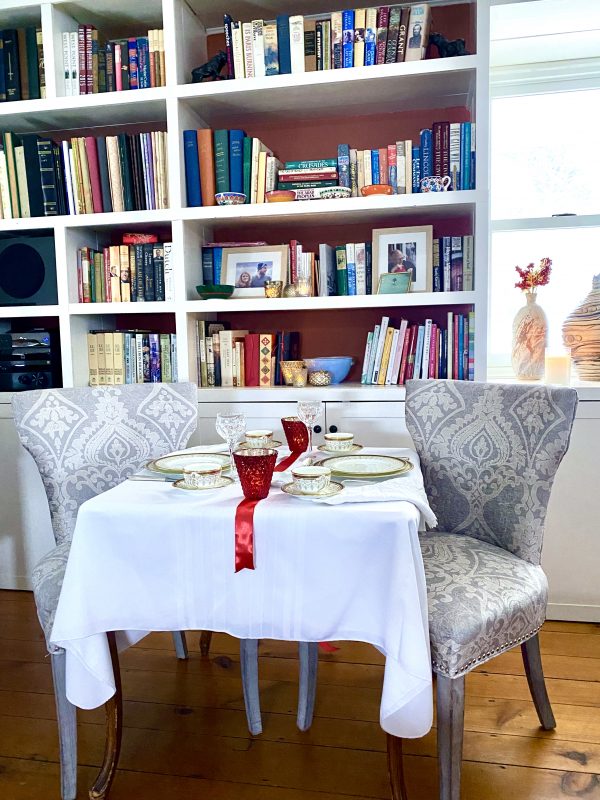 Hope inspires you as you plan your Valentine celebration for a extra special day!
~~~~~~~~~~~
These shopping links are provided for your use. THe products may not be exactly the one in the post but are similar. I may make a small commission from any purchases made at no extra cost to you. Thank you!

~~~~~~~~~~