There is whimsy about a snowman!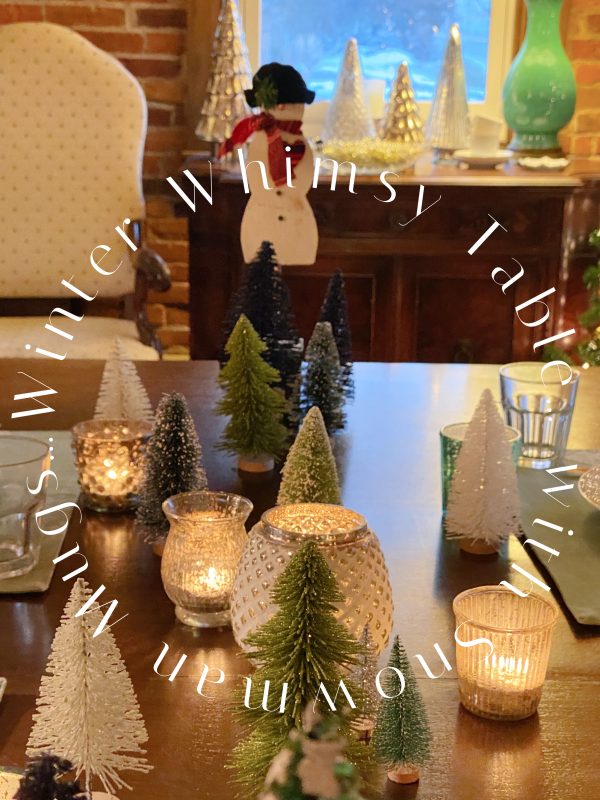 After the Christmas holidays, I kept the snowmen mugs out along with the handcrafted snowman on a pole. The bottle trees also stayed out. When the snow season passes, they'll all be packed in bins and put away in the attic.
snowman for winter
For now, I love having the snowmen out! After all, there is snow on theground!
It's an informal table setting that would be good for your kitchen or dining room.
In the winter we often eat in the dining room because it's cozy with the fire burning. It's favorite space for us that opens into the living room of our old farmhouse.
what did i use?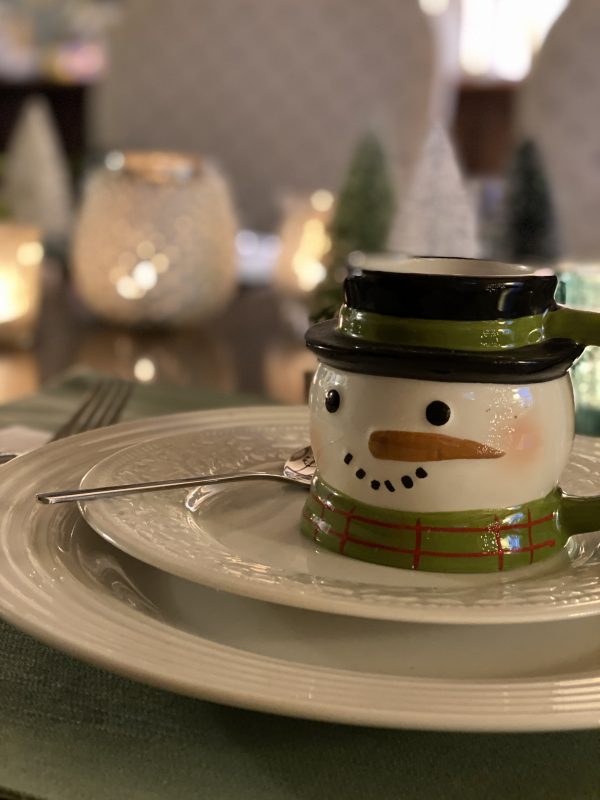 I had the snowman and the cute cheery snowmen mugs as inspiration.
The placemats are from Target over 5 years ago. The sage green and Nordic design is a just the right touch for this snowman table.
How did I never realize the greens complemented each other?
White dishes are basic to tablescapes like LBD's are to your wardrobe. My layered white dishes are a mix of two designs.
The basic white dinner plates are from Home Goods. So many of my white dishes have been broken over the years! I kept a look out for adorable, simple white plates. These clean raised circle design ones fit the bill.
The salad plates are part of an old set from Walmart. There are only random pieces left after years of usage at home and at colleges.
The silverware is Oneida Cabrina, our everyday silver.
The snowman mugs are no name cute ones that show up around the holidays. Perfect for hot drinks. The grandkids like drink juice from them too.
I added the mugs with the green and thin red line base to the plate stack for a cute look. They can be set aside to use for drinks or dessert. The possibilities are limited by our imagination.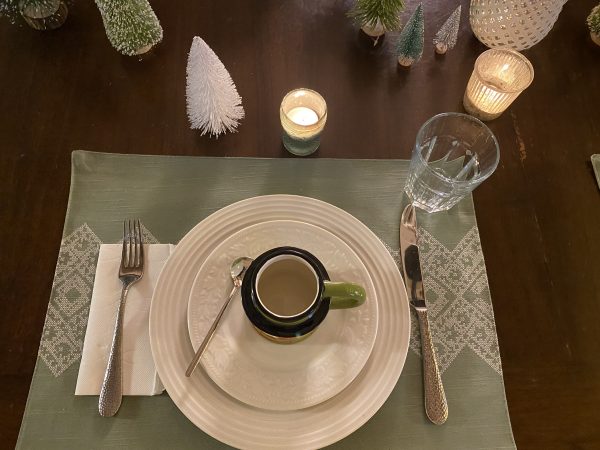 Proper etiquette? No, but it does look cute!
Most of the time these mugs are used hot chocolate when the grandkids come visit. Occasionally, I even fill one with coffee.
The napkins are regular sized paper ones. Yep. Using paper for informal table settings is fine. The glasses are basic bistro ones.
centerpiece
First, I rounded up everything I thought would look good down tthe middle of the table.
I rounded up the white and green bottle trees.
When I looked around for votives, I thought there were only the usual sliver ones. To my surprise I found green ones. A great add to the green color theme.
The large center oval jar votive painted with raised white diamonds is reminiscent of snow crystals. With that at the middle point of the table, I added the white and green bottle trees with votives down the center trying to achieve balance. There was some readjustment of course.
To finish off each place setting, I put a votive and white bottle tree centered on the placemat.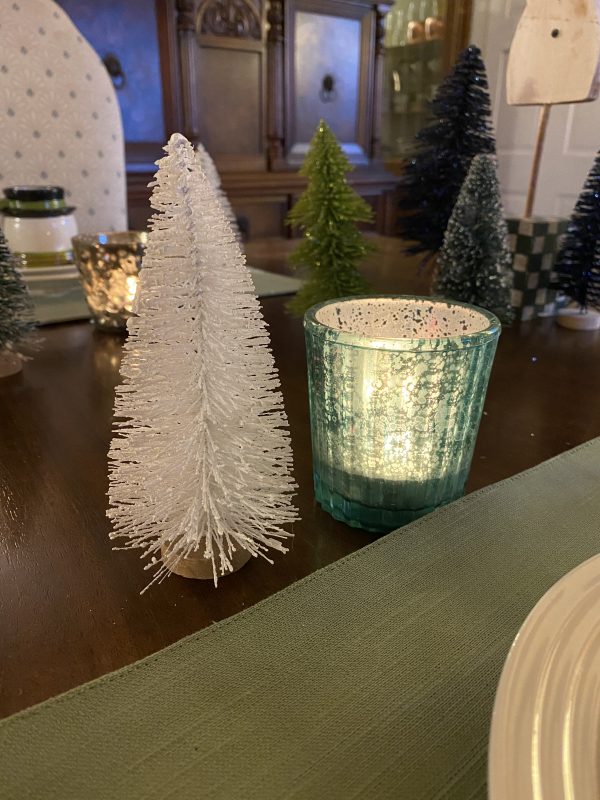 dinner time!
Like nearly all of my tablescapes I share with you wonderful readers, we sat down together last night to share a meal.
There were four of us last night with both girls. A real treat! They are busy with work and friends! Plus. Meg has her own home.
I gave Meg the choice of chicken dishes.
Chicken Marsala, chicken divan or chicken tetrazzini.
Chicken Marsala it was! That recipe can be found HERE.
Sharing a meal with a calm prepared setting is always nice. Add lit votives and a roaring fire on a very cold evening gave us just a little more of gratitude for each other and our blessings.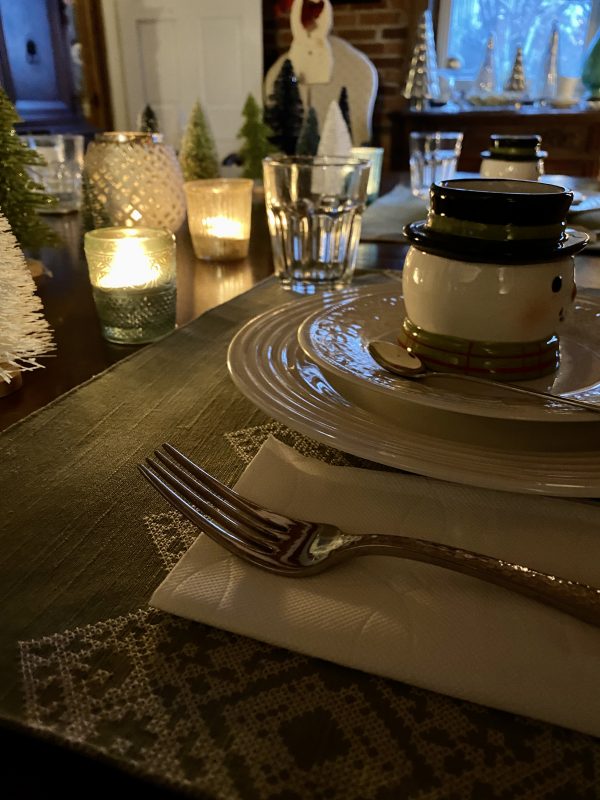 Hope you enjoyed this fun winrter table and are inspired to create your own.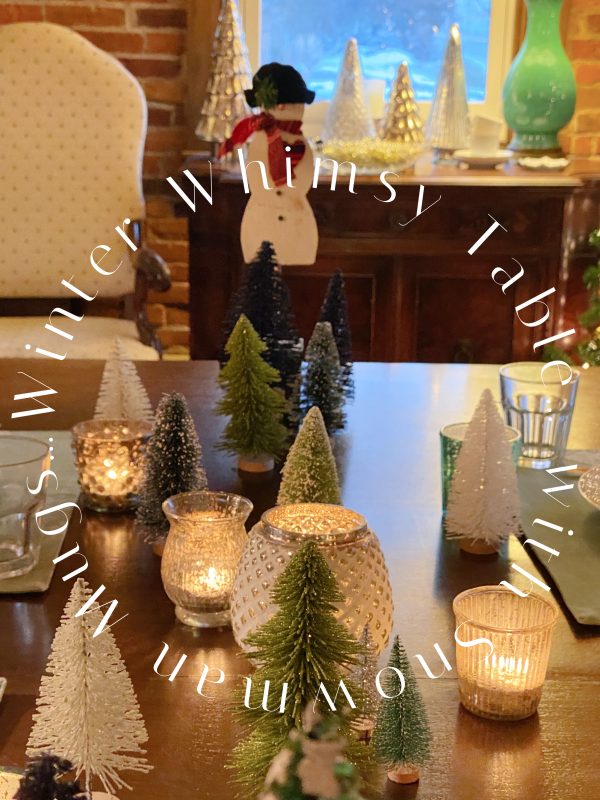 ~~~~~~~~~~
This site contains affiliate links to products that may not be exactly the same. They are similar to help you with your shopping! I may receive a commission for purchases made through these links at no extra cost to you.

~~~~~~~~~~~~~~