The traveling Teacup visits
Good morning! Miss Tessa Rose is visiting! I'm so excited to show her some of Lancaster County, my home.
First, a little background. Miss Tessa Rose came to me from Kari at Me and my Captain in sunny Florida.
The Traveling Teacup was started by Barbara, a lover of tea and tea cups whose idea was to send her to visit fellow bloggers. And has she see a lot! Miss Teesa Rose has been coast to coast, north to cnanda and across the Atlantic to the Netherlands. Read more about how The Traveling Tecaup started and Miss Tessa Rose's visit to my hone at Barb's blog, Mantel and Table. Don't you like Miss Teesa Rose's name? I sure do.
It has been my pleasure to host Miss Tessa Rose, The Traveling Teacup in our home in Lancaster County, PA.
breakfast first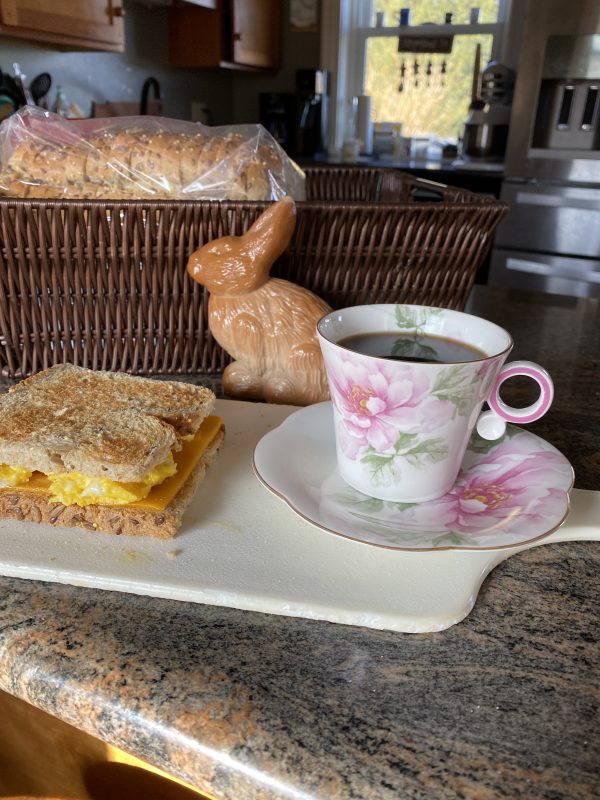 First, we started with a light breakfast. I need my coffee in the morning. Miss Teesa Rose didn't mind at all. Afterwards, we headed out see a few historical and cultural highlights of Lancaster County. I live in a place that is full of history; Lancaster City was founded in 1730. It's also is a great tourist destination with something for all. It was hard to chose only three.
central market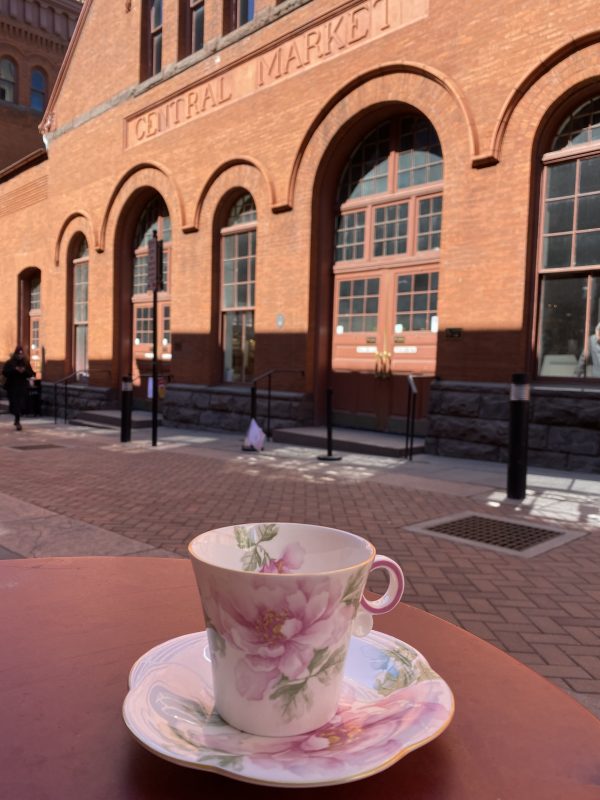 Besides seeing Amish farm houses, wagon and buggy rides, Central Market is an amazing place where you can see the part of the heart of Lancaster Country. Farmer produce and products like fresh goat cheese plush handicrafts and food! It boasts a large selection of international foods too. Lancaster is home to many people of different backgrounds from around the world.
Central Market is the oldest one in America, starting in 1730. It was in a open field. Eventually the current building was erected in 1889. Farmers brought their produce to sell and buyers came from as far as Philadelphia.
Guests from far and near
A former White House chef, John Moeller would come back to his home when different fruits and vegetables were in season to take back to the white house table. Lancaster County had the best corn! Strawberries are the sweetest. Chef Moeller moved back eventually and now owns Greenfield Inn, our favorite brunch place. Sadly, it's closed forSunday brunch these days.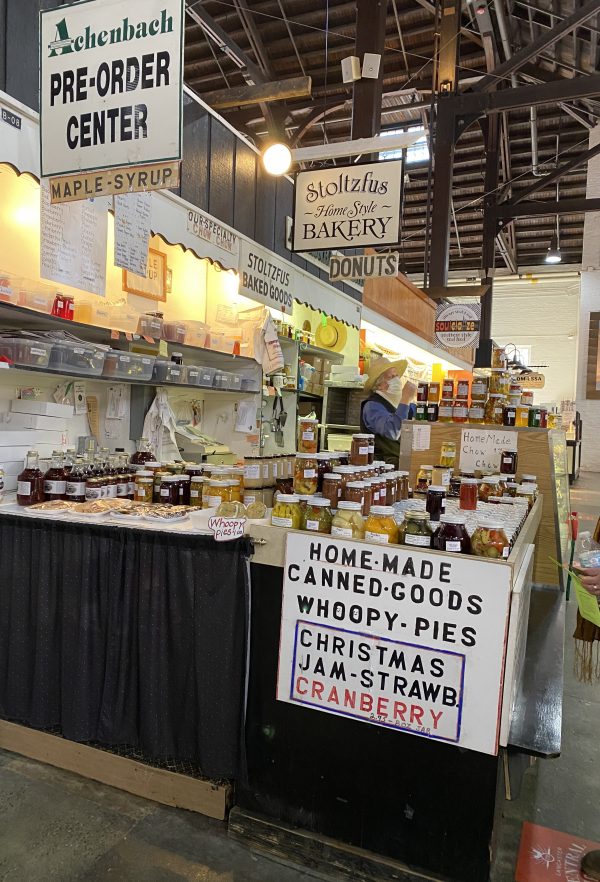 Unfortunately, we could not buy a hot drink to enjoy at the usual bistro tables. They are all stacked up. Many stalls are still closed. The usual drink and pastry stalls were closed. No hot tea and pastry for us today. A local favorite my grandchildren enjoy is Long Johns. They are similar to a doughnut..
historical walk on brick square and alley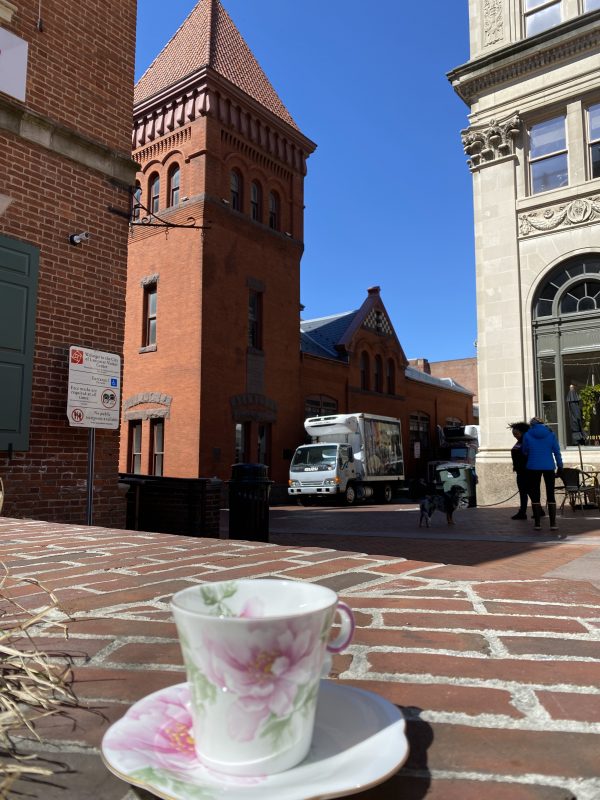 Outside the square was almost empty, like the inside of the market. We stopped to admire the Romanesque Revival architecture. It was a cold blustry day. When Miss Tessa Rose posed for a photo she was shaking in her saucer! We hurried to the side alley out of the wind.
Look! Look Miss Tessa Rose! One of our mounted police! I think we'll take our photo from a little distance though. I'm not sure I can hold you and pet the horse while we chat with him all at the same time. Oh, and take a photo!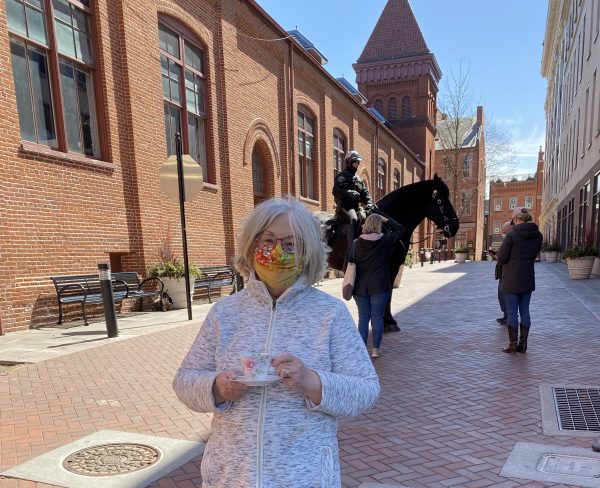 She was a little worried as I tried to take a selfie in the blustry wind. So was I! Two friendly ladies stopped to help us out. I was able to keep her from shaking. But my hair!
home of a passionate man
We made a quick stop to peek inside the windows of the Thaddeous Stevens House. Stevens was a avid abolitionist and supporter of the Underground Railroad. Free public education was another passion he supported. Being interested in government and political affiairs, he ran for public office; his profession was law. Stevens served in the PA state legislature and US Congress to further support his activism and beliefs. Lancaster City and the surrounding area has several key locations for escaped slaves traveling north. It is an underappreciated part of our history.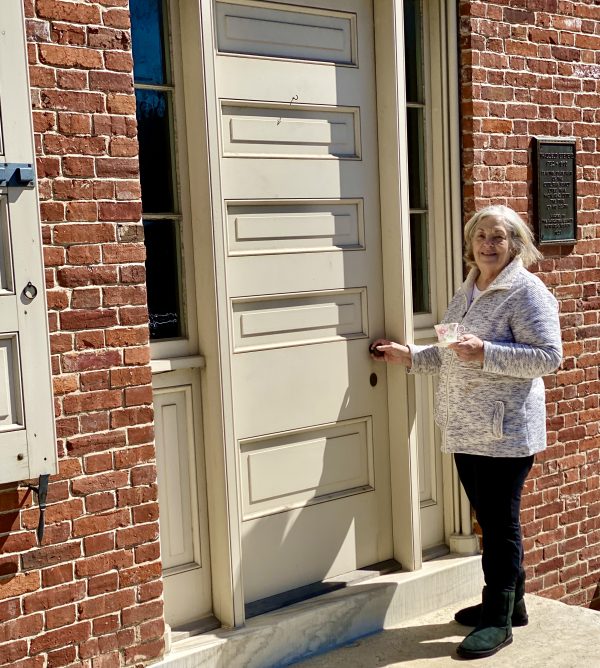 Upholding the tradition, Lancaster still is one of the key reception location for UN refugees. Stevens was also an activist for free education and other social justice issues. Thaddious Stevens College of Technology was founded as an public institution for orphans of Pennsylvania who were willing to learn a trade, combined with an academic education with money from his estate.
buggies
I could hardly believe it! We only saw one buggy on the road as we drove through Smoketown and backroads. There were no buggies to be found. March is the in between seasons for most Amish farmers so no one was out plowing. However, Amish workers can be seen working in many other places particularly on construction sites and in local shops, bakeries and restaurants. The community contributes to the area not only culturally but also economically.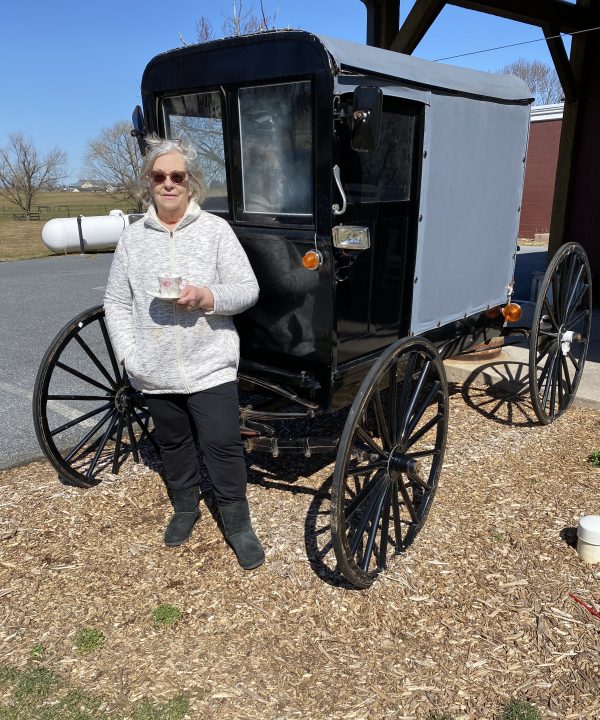 We headed out to the county looking for buggies. Even though we passed many Amish homes marked by propane tanks, no one was out in their buggy so we had to settle for a look at this one. It was still windy.
covered bridge
A kiss with your sweetheart is a must when you go through a covered bridge! Be sure to stop in the middle. I can personally attest to fun stops with my sweetheart, husband of 41 years, Jim.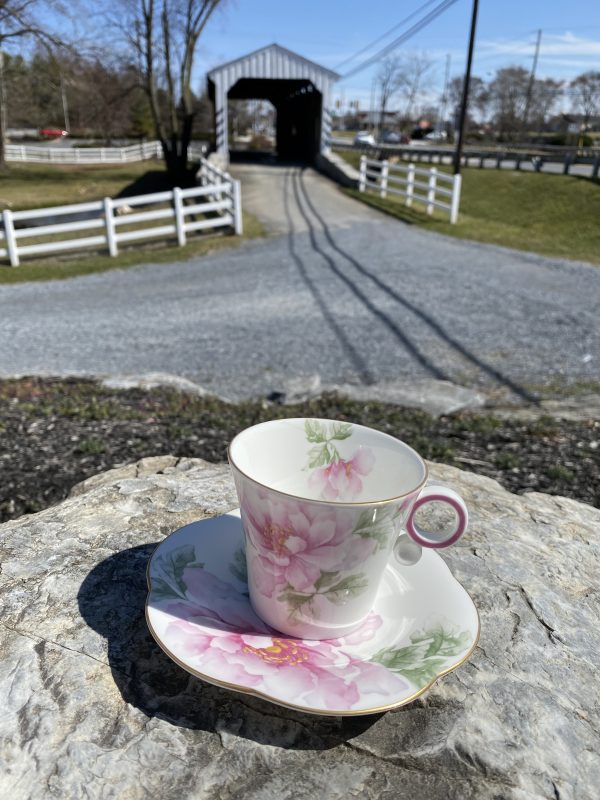 There are a lots of covered bridges in the county. You know Miss Tessa Rose, I just don't want to ever think that they are ordinary.
back home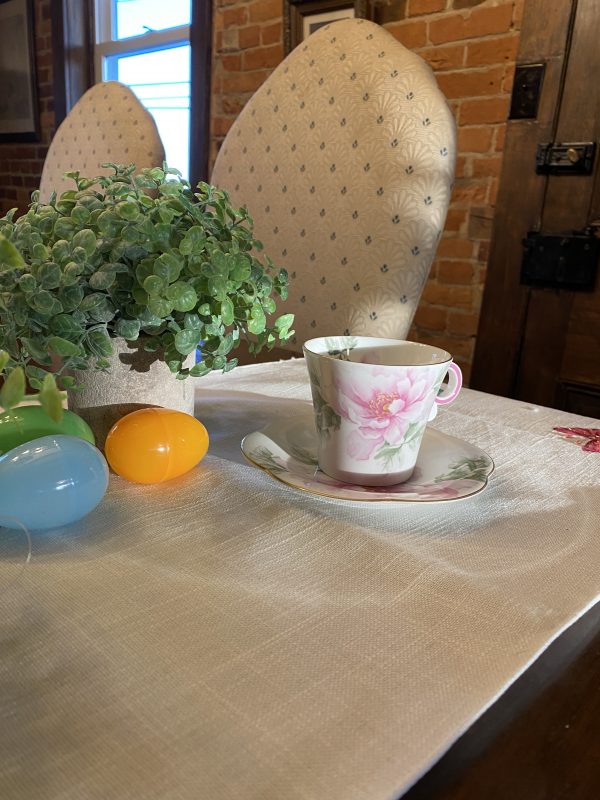 We relaxed at the house after the outing. Our house is part of Lancaster history. It's an over 200 year old plain farmhouse that originally built and owned by a Mennonite family. Mennonites were early settlers in Lancaster. The unique feature is two front doors!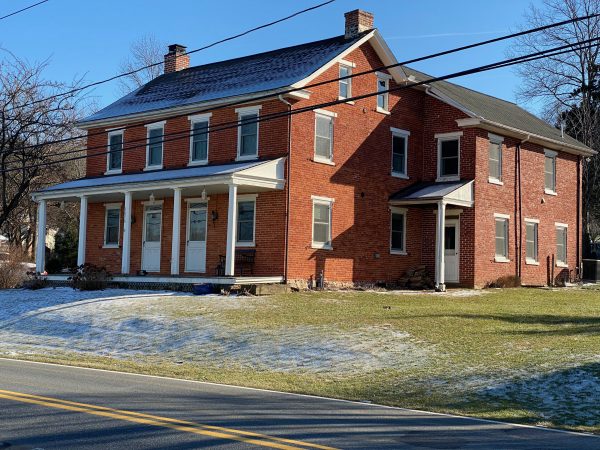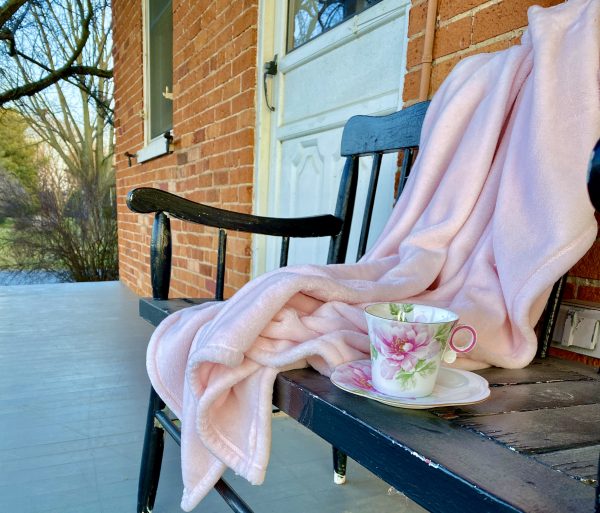 In the back, we have a brick patio with an unusual feature. A millstone! It is orginal to the house.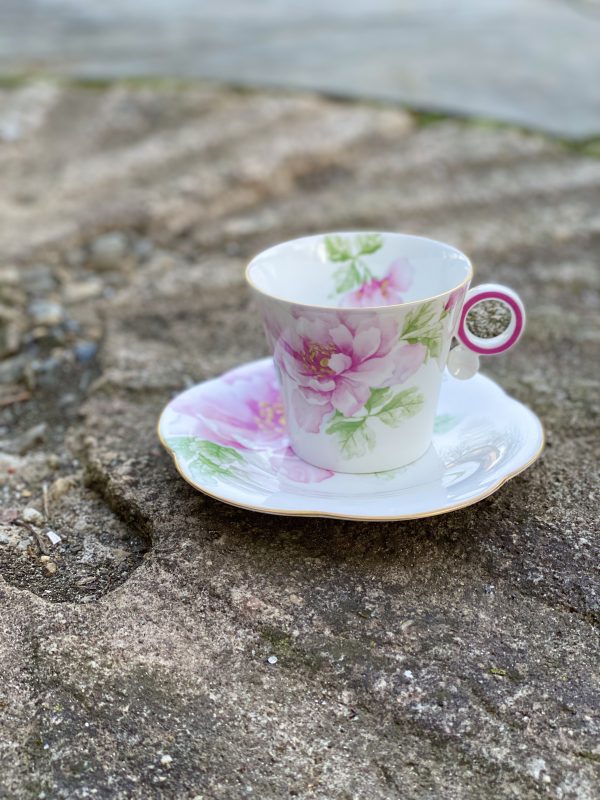 There was a small mill above the kitchen. Our landscaper was able to take the millstone halves still on the property to use in our patio that was put in a few years ago.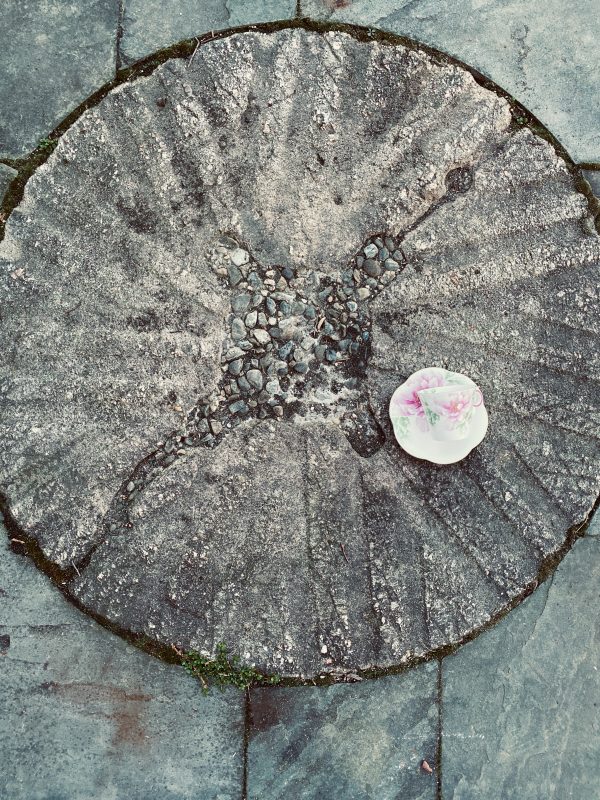 We renovated the upstairs. In what was the laundry room, the layout was changed and the smoke house closet was eliminated. Yes, a smokehouse closet above the kitchen. Sometimes I can still smell the old smoke faintly when I walk up the stairs. History is in the air which is one reason I like it here.
it's time to send Miss Tessa Rose on her way to Laura's in Walla Walla, WA.
Good bye Miss Tessa Rose. I am so glad you came to visit me in Lancaster!
RESOURCES to enjoy
Plan a trip to Lancaster. Start here at Visit Lancaster
Dining at the White House: From the President's Table to Yours. I bought this from John when I was a private brunch he prepared for us and then entertained us with White House stories.
Lancaster Central Market Cookbook. A favorite that's been on my shelf for years and is well worn
Bridges of Lancaster County Who can resist a covered bridge?
just Like Mama An endearing children's book with beautiful art
I am an affiliate with Amazon. I may earn a commission from purchases made through my blog at no extra cost to you. Thank you.
~~~~~~~~~~~~~~~~~